BLACK HARLEQUIN
From Sensi Seeds
Indoor 2x4 Gorilla Shorty - HLG 100 R Spec light - 10gal Smart Pot - Fox Farm Light Warrior Seed Starter
BLACK HARLEQUIN THC:CBD Hybrid
Little hairs!! Nice to see the plant finally hitting puberty! 😂 The PH in the runoff is slowly creeping up, closer to 5.5 now. Will keep working on it. Anyone know the best way to PH test the soil? Should I try and extract some soil by carefully digging down into the topsoil or is it best to just cut a hole in the side of the smart pot? 
4 days ago
Flipped yesterday. Will defoliate more in 3 weeks. Still getting a low ph on the runoff closer to 5 😒 Will keep pushing ph in the 💦 at a low 7 and see if that helps. Lots of potential bud spots. 🤞
11 days ago
Do you think I need to defoliate? 😂 was waiting a little bit for the plant to recover from the nutrient deficiencies. seems to be coming along just fine. will clip some leaves under the canopy today and I'm hoping to flip to 12/12 in the next two weeks. my runoff is still showing about 5.5 pH, I've upped the pH of the water closer to 7 so I'll see what runoff is after this next feeding.  Also started some clones for the first time. Wish me luck! 🍀 
21 days ago
Getting those nutrients in there I think really helped. I also thought I spotted some white mold on some leaves that were pushed up against the wall of the tent, so sprayed the whole thing down with 1:3 milk to water. I want to get in at least one more nute watering before I flip. Also I want to take a cutting this week and start my first clone (I should probably take 2 to be sure) before the flip. I'm also thinking a neem oil spray down too jik.
a month ago
Caliban Smart game plan. Maybe take out more foliage that overlaps where moisture gathers too?
vespathekid Agreed. Wanted to wait before stressing out the plant more and defoliate before flipping. But yeah it's getting like a jungle in there.
Caliban You have a fan under the canopy?
View 5 additional comments
Getting bushy. Days got away from me and didn't upkeep the nutrients ☹️ Trying to recover. Added a scrog to space out the branches Thinking of cloning soon.
a month ago
Easier to see the 5 that came from the topping now as they all grow 🆙 ⬆️ Plant is showing some signs of stress. Had the light too close and hopefully the next watering with nutrients will help.
2 months ago
Getting bushy. And from what I'm seeing my topping created 5 for the price of 1! 😎 Can see better in third photo: 3 along the bottom, 1 top right, stick pointing at 5th! 🌞
2 months ago
Getting bushy or so. Topped and using some LST to try and keep it growing low. Looks like the topping made a growth of 4 from one.
2 months ago
Looking good. Keeping a steady 73° and 55RH. Will give nutes tomorrow.
3 months ago
mrbigglesworth Love seeing a plant rescued like this! Seems to have really responded well to nutes. Looking at the early pics of her, you maybe have done what I did and listened to the seed company when it comes to feeding them when small. I think it takes very rich soil to get away with waiting as long as they suggest. You'll want to see how other people do it for your particular feed system, but starting early with a highly diluted mix ramping up throughout the first 3 weeks has worked out well for me. Happy growing!
Nute day. A touch of burn on those tips. Hopefully it holds steady. Added a friend. Let's see if it perks up.
3 months ago
Definitely looking perkier. The lower leaves took a hit either from overwatering, sitting in very low humidity, maybe underwatering, or getting a bit root bound over a few days whilst I was sick. The repotting went well and the root ball didn't look horrible. Last feeding started nutes.
3 months ago
Need to take better care 😣 fixing issues 🛠️ T
3 months ago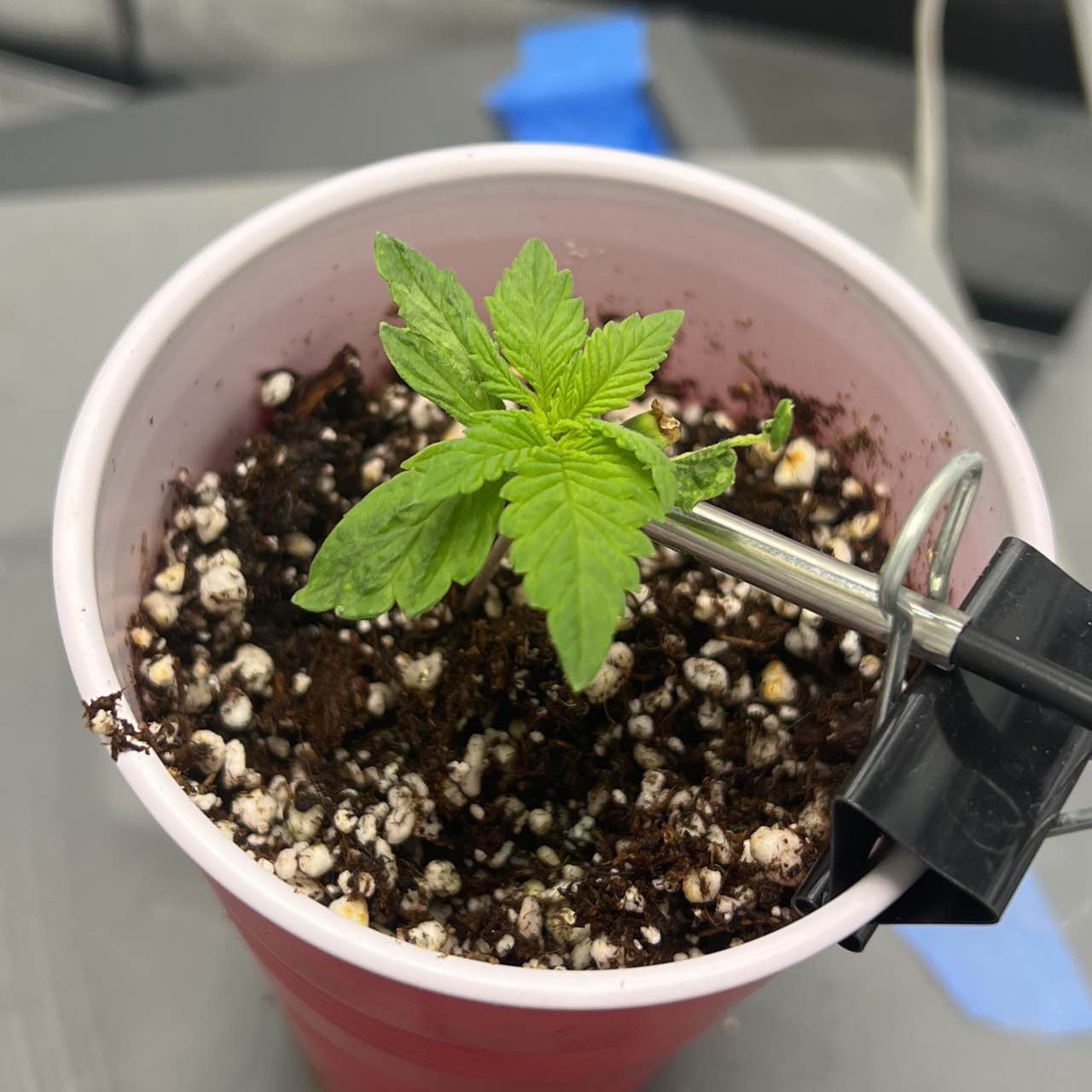 I believe I'm locking in a good Temp/RH ratio finally! 78°F/65-70RH. (humidifier set to 60%/1strngh/3warm) and a radiator oil heater outside tent intake fans. Also mistakenly ph'd my soil and seeing it low I flushed. Whoops 😅 wasn't thinking clearly on that one. Let it dry out a bit with fans on overnight.
4 months ago
Gave a little water 💦 and added SLF-100. Still unsure how long to wait between watering. How dry should that soil be? 🤷‍♂️ It was slightly damp on top and crumbly but not 🦴 dry. Added some heat outside the tent. Brought up the temp to 70°F. Gonna crank it up a little more today.
4 months ago
Caliban I use a spray bottle and water twice a day a few squirts to keep the top soil moist but not wet. We have low humidity so I wet the top once it gets dried out. Once the plants have a deeper root system the waterings have more time interval and more volume. Just don't overwater!
Caliban I use a heater in the tent too. And a heat pad when they are seedlings. You want to keep it above 70 for this seedlings if possible.
Some leaves 🍃 are appearing. Slow growth I think. Having a hard time keeping the temps above 65°F at night. 😕 Will be adding a heat source soon.
4 months ago
Not much movement. Added a bug trap and a humidifier. Will wait and see.
4 months ago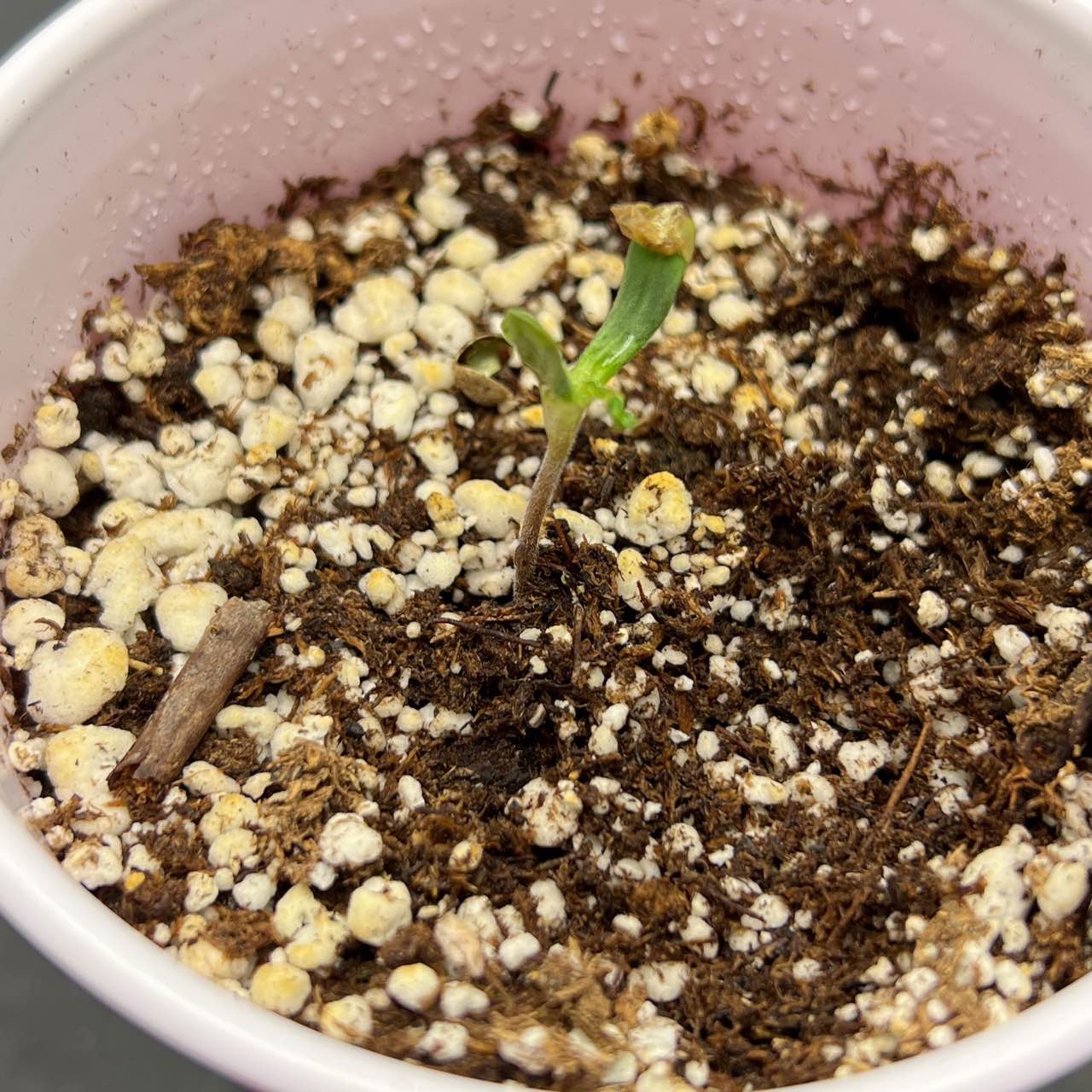 If you look at the prior day, you'll notice how the two leaves are stuck together at their tips. It seems to be a lining (?) from the seed's shell. I was able to gently release one leaf but there is still a glob on the tip of the right leaf that won't remove even after a little misting. Hopefully it won't cause issues but I wonder if all of this caused the first set of leaves to be stunted (?)
4 months ago
Took off its hat 👒 (helmet). Slowly but surely 🌱 Not sure how long to leave on that plastic top for better humidity 90%+ currently at a steady 72° F
4 months ago
Houston we have liftoff 🚀 Was unsure at first as I forgot to flip my light back to day/night instead of 24 🤦‍♂️ and no sign until today. I added this plastic top to get more humid in there. The cup has openings on the bottom. Do I need to cut some holes in it for more air exposure?
4 months ago
Out of 4 seeds only one popped. 🫤 Finally! Used paper towels in the 2 plates. These last 2 I soaked in 💦 for about 24hrs. Have 1 seed left for future use. Wish me luck on my 2nd grow. The last one ended with a possible exposure to a bad fungus (possibly from the garden) and bugs. Maybe a winter grow will help avoid all that. ❄️
4 months ago
ChelaBezz Good Luck! I'm curious about sensi seeds so I'm excited to see how yours turn out