kirkmaximo
GSC Autos and Gorilla Glue #4
June 1, 2020 Started in soil.
4x4 Philzon Tent, 4" I pro carbon filter and exhaust, 1200 watt LED veg/bloom WILLS light, (3) white LED supplemental flood lights at 100 watts each, mini fan, Coco Loco medium, Fox Farm Trio nutes, Cal/Mag, Organic Blackstrap Molasses, 5 gallon Vivosun fabric pots, Ph up/down, Apple Cider Vinegar, Bottled Spring Water. Paper towel method for germination.
3 Gorilla Glue #4 Fem 3 Girl Scout Auto Fem
1 GSC auto is days away from harvest the other has 40 days roughly. GG4 photo Fems have been flipped 12/12 for 3 days now. SOG method in play.
2 years ago
Chopped the largest GSC Auto with the first signs of amber. Leaving the other to go 30-40% amber.
2 years ago
Seeing the first amber in the Trichomes
2 years ago
Scoping close to get a glimpse of amber.
2 years ago
Getting close to harvest Trichomes are beginning to turn :)
2 years ago
Still coming along more fox railing than I would have liked but trichomes are still clear...
2 years ago
Clear tricks lots of quality photos with the new scope. Sticky and aromatic still looking at 7-10 days.
2 years ago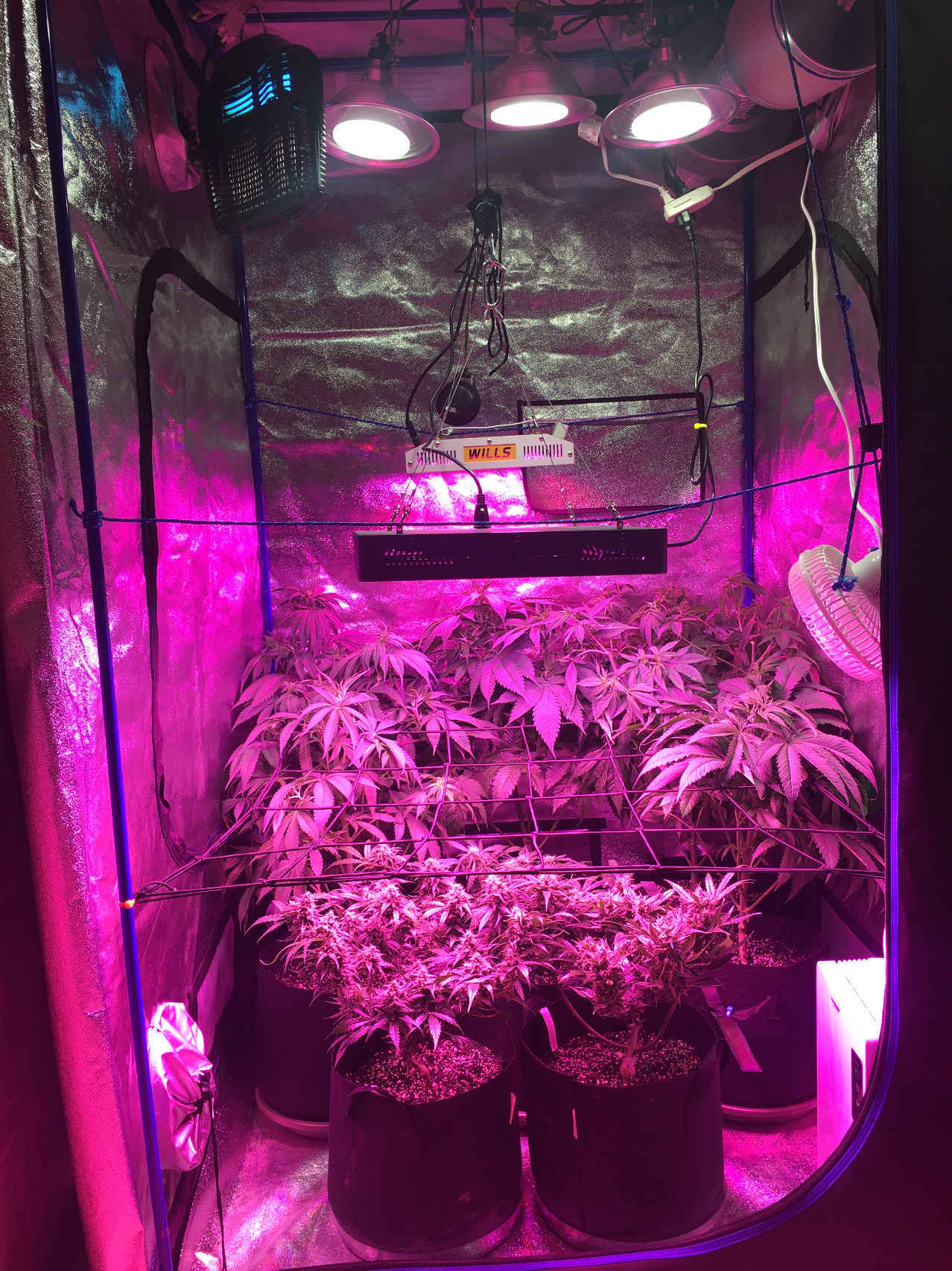 Changed it up and implemented phase 2 for the GG4's that go into 12/12 flower as soon as these GSC Autos are harvested. SROG/massive bottom defoliation/some topping. Clones are in the water 👍🏽...
2 years ago
Final weeks for GSC Autos and GG4's ready to flower... Waiting on Scroggins net...
2 years ago
Clear sticky trichomes looks like 10-14 days amazing bud growth currently....
2 years ago
Running lights at 21" both channels running. Autos have 10 more days to bloom roughly. Running right side with a 10day PH water only flush. Left side full nutes till the day I die...😂😂😂
2 years ago
HeVy water and nutes in the homestretch.
2 years ago
Heavy nutes , dehumidifier is working keeping us under 60% dense bud growth happening.
2 years ago
Heavy flowering on the auto GSC's. GG4 photos in a very long vegetative.
2 years ago
Humidity is around 60% temp 75 degrees Fahrenheit. Tent has stabilized growing well.
2 years ago
New light is installed lowered relative humidity to 50% raised temp to 79*. Clones could not handle the new light, vegging plants and flowering plants love it are loving it.
2 years ago
Adding a Phlizon 2200Watt LED to the grow. Running bloom only, running veg and bloom on the wills 1200watt LED.
2 years ago
GSC continue to thrive. GG4 are set to continue to vegetate for 10 weeks total. Focusing on soil and nutes. Lighting changes tomorrow.
2 years ago
GSC Autos are showing a lot of new growth around the bud sites. Remaining foliage is much more alert and flowers are stretching as pistils begin reaching again. Have the light close and focused while we wait for the new light to arrive.
2 years ago
Defoliated the GSC autos
2 years ago
Defoliated GSC Autos to see if they can refocus on bud production.
2 years ago
Rebound from nutes is well!!
2 years ago
Watered and did 3 different mixes for Seedlings, Veg 2-GG4's, and 2-GSC Autos and King Kong Gorilla Girl 4
2 years ago
LST for the autos and ph water for the seedlings.
2 years ago
Little LST happening while the GSC Autos are blooming. Super GG4 was topped in two different branch sites today around 2pm.
2 years ago
Focus on the GSC Autos that are flowering.
2 years ago
Made it home late so no pink pictures 😂
2 years ago
Nice steady vegetative time GSC Auto are starting pre-flower.
2 years ago
Upped the nutrients and cal/mag to 2/3 recommended because of the Coco Coir holding it. PH of feed was 6.3
2 years ago
Plants are settled in after a lot of training. Tried to get it done early so they would have a long uninterrupted vegetative grow period.
2 years ago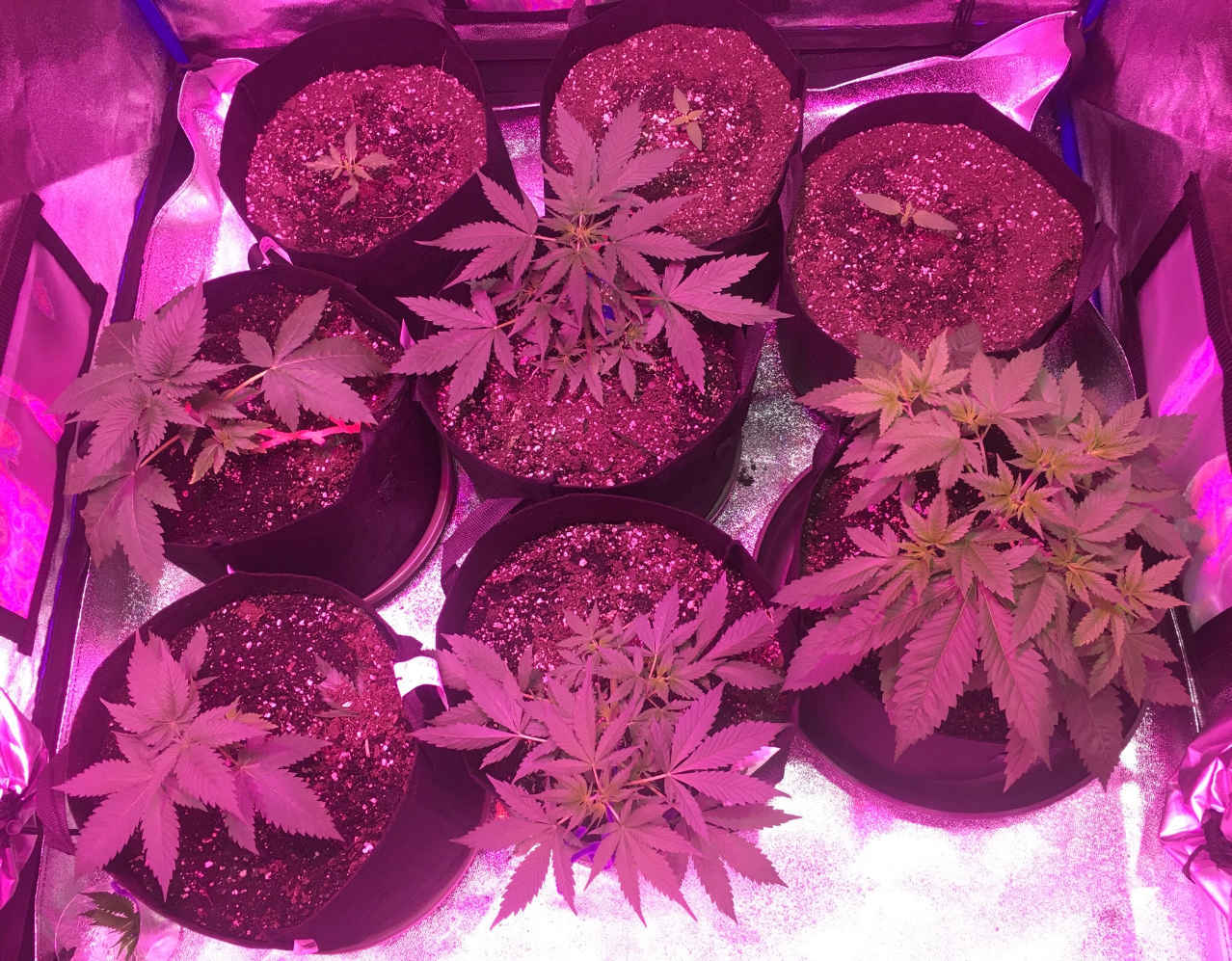 Pruning the short stacked GG4's of large fan leafs blocking grow sites. Rearranged to allow the photos to maximize during the next long vegetative grow cycle.
2 years ago
Settling in to finish vegetative state strong. Bit more LST for the GSC Autos and HST for the GG4 Photos. Repotted the 2 GG4's to to raise the elevation as the Coco Coir has settled and was about 4" low.
2 years ago
Recovering from the topping of the GG4's and the GSC Autos beginning to thrive after the mainlining.
2 years ago
Both GSC auto are recovering from mainlining and all 3 GG4's were topped this morning at the 5th nodes.
2 years ago
More mainlining on the GSC auto. Getting ready to top the fifth node on the big GG4!!
2 years ago
The mainline LST rebound after 7hours of dark. 1st dark in 3 days as they are 24/0.
2 years ago
First attempt at mainline LST on a Girlscout Auto Fem.
2 years ago
Day 22 from germination roughly 17 days of vegetation.
2 years ago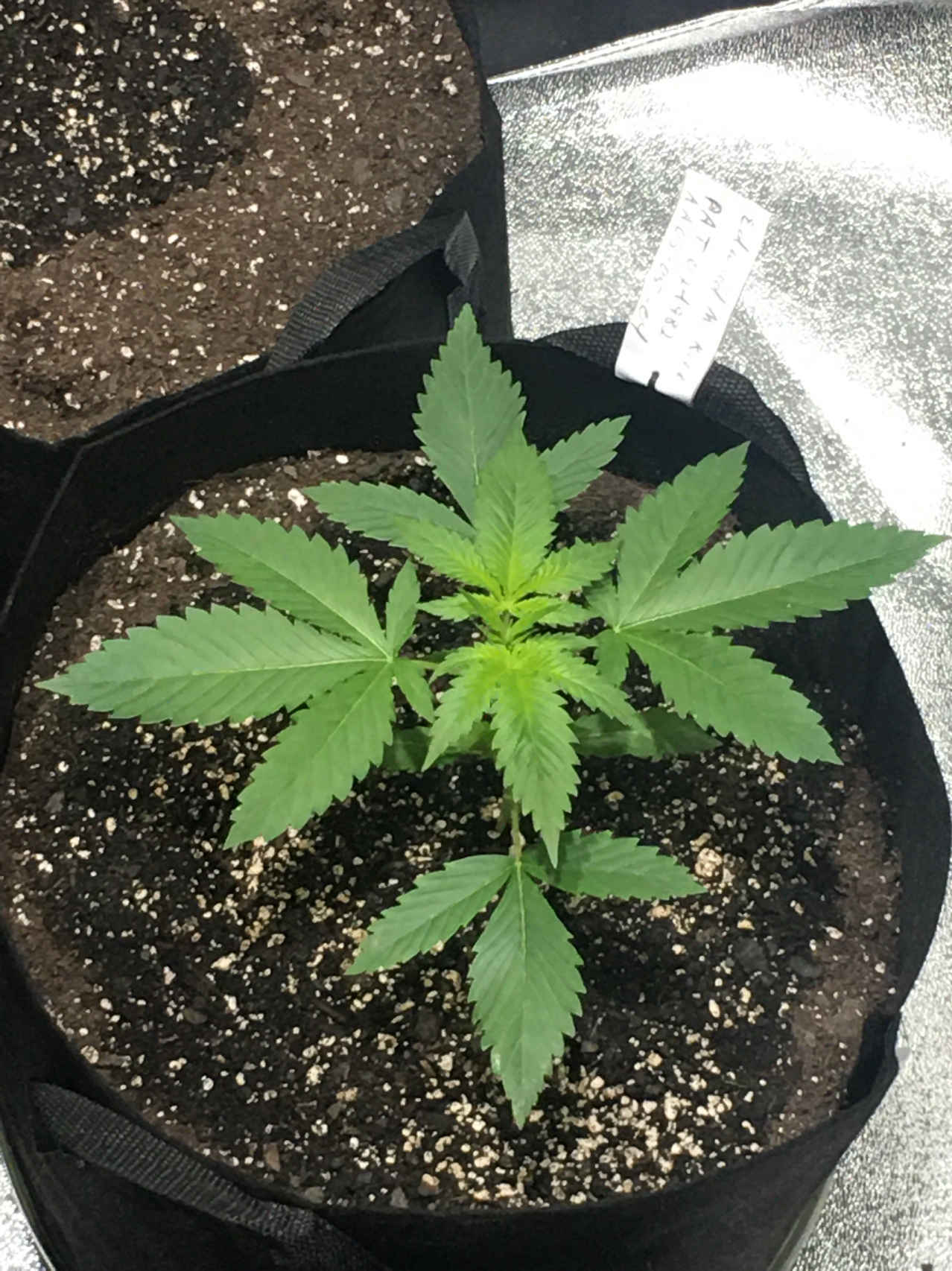 Went dark last night for 7-8 hours to run bug zapper been 24/0 for last 3 days. Looks like they liked the rest. Looks like I need to up the nutes as well. Been running 33% of recommended because of Coco upping it to 50% at tomorrow's water. Then moving on to week 3 nute schedule.
2 years ago
Added Tea to the grow last night 1/3 Fox Farm nutes because of coco, apple cider vinegar to help bring ph to 6.0, 2ml of Cal/Mag and 2 tbspn of organic blackstrap molasses to promote microbe breakdown of nutrients for easier plant uptake. Left running 24/0. Responded 9.0 on a scale of 10.
2 years ago
Mystrain420 What's the point of the molasses if your not growing organic?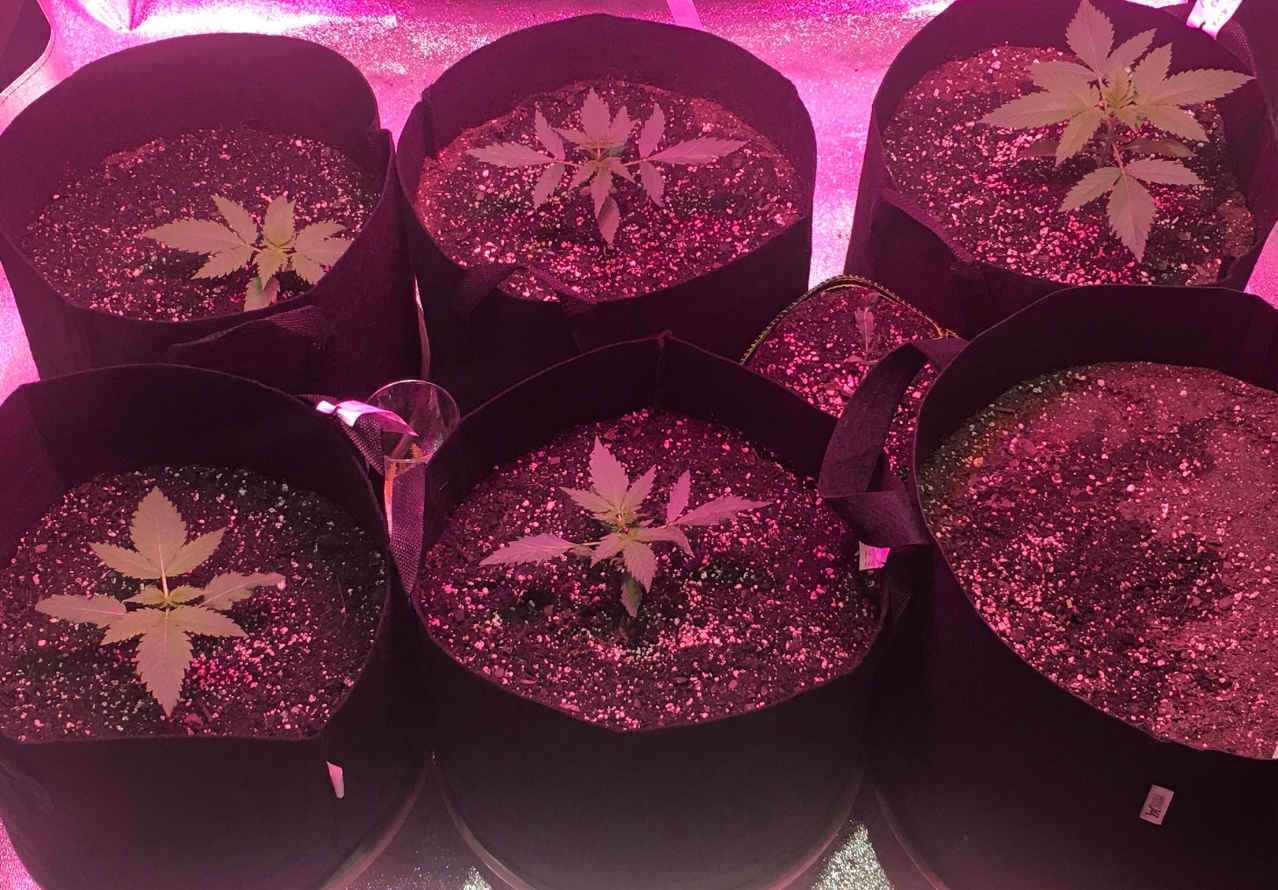 Finishing up flush and drying out soil to begin nutes, cal/mag and molasses again.
2 years ago
Neighbors moved in today also did a flush of 6.1 with apple cider vinegar.
2 years ago
Still flushing, soil has stabilized.
2 years ago
Gorilla Girl still flushing and bringing down soil PH with Organic Apple Cider Vinegar.
2 years ago
The night after flushing a bit PH out of the Gorilla Glue #4.
2 years ago
GSC Auto seed shell had to be manually removed cutting the initial budding leaf.
2 years ago
18/6 light cycle currently 1.5 inches tall.
2 years ago
Growing steady soil PH 6.6 1/3 recommended nutes and cal/mag mixed into ph balanced spring water 6.0.
2 years ago
All seeds germinated in soil watered and starting 18/6 light cycle.
2 years ago
Gorilla Glue #4 Fem breaks through Coco Loco medium.
2 years ago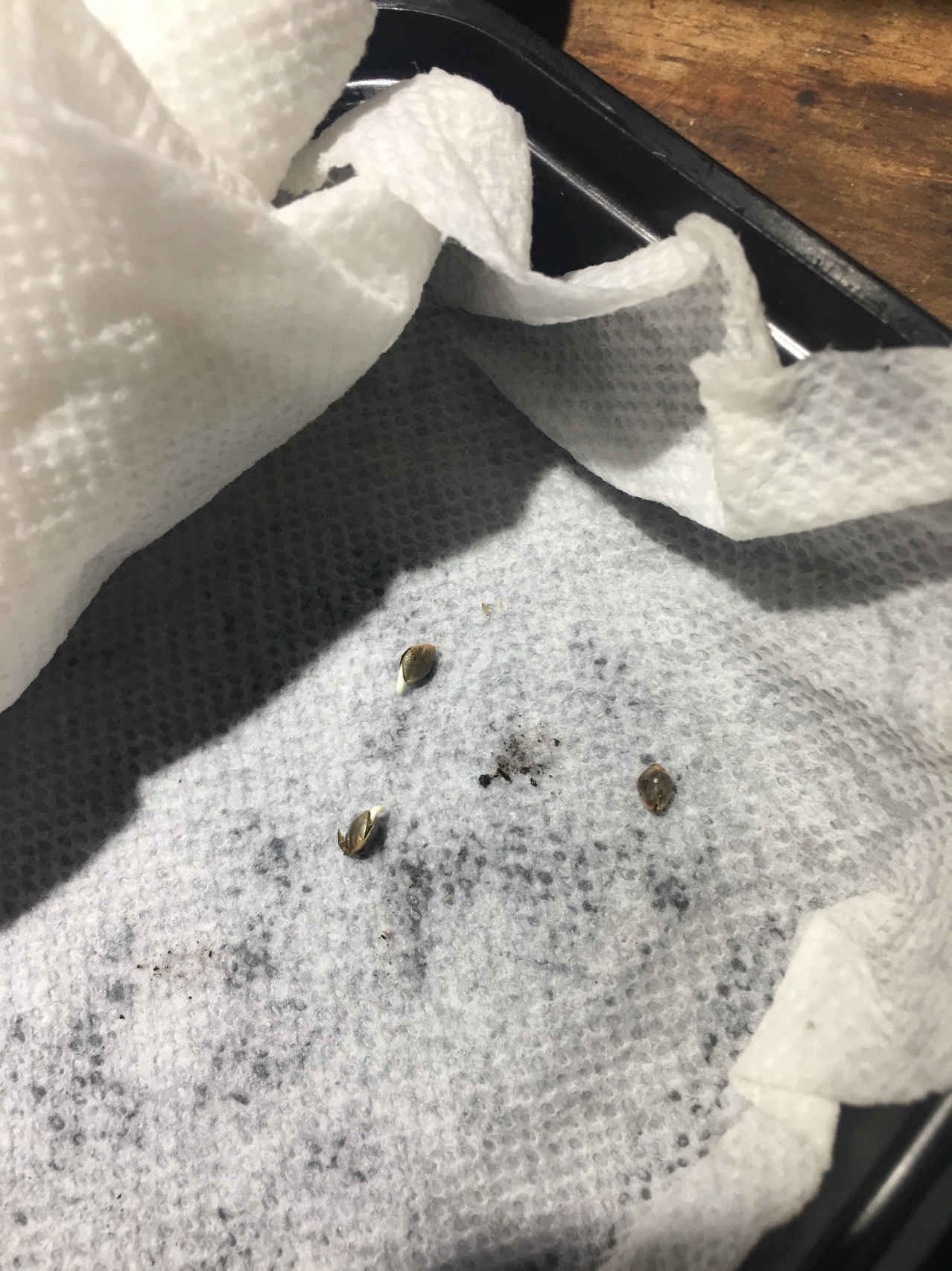 Day 3 GSC Autos cracked.
2 years ago
Paper towel method Gorilla Glue #4 took 2 days to crack. GSC Autos took 4 days to crack.
2 years ago