bfree59
Northern Cheese Haze
First grow
Memphisto Northern Cheese Haze 2x2x4 tent Spider Farmer SF1000 LED Fox Farm Ocean Forest Soil 3 gal pots
One is looking good and the other is struggling.
3 years ago
Zoogy You've got ph problems, which is affecting your manganese up take. Flush the plant with 6.0ph water (4-6L). I would pluck the affected leaves, so you can easily see if it stops or continues to affect the leaves.
Zoogy Ignore my last comment. You're too far into flower.
Mystrain420 @zoogy do u think a calmag supplement would help? A zero nitrogen calmag of course
View 2 additional comments
Having some nute issues still. I dealt with some burn last week so flushed and have been just giving some water and a little bit of Recharge every other day.
3 years ago
I've been under the weather and have been kind of neglecting the girls the past few days. I had a hint of nite burn and they were looking horrible yesterday afternoon. Flushed each one out to figure out my deficiencies. They were looking better this morning.
3 years ago
Defoliated a few dying fan leaves, gave each 4 cups of distilled water with fox farm nutes at 1/2 strength, plus cal mag and recharge
3 years ago
Still just keeping an eye and making sure there's no more yellowing.
3 years ago
Cut off a couple of the dead leaves.
3 years ago
Decided to pause LST in the most stressed plant. Flowering has started!
3 years ago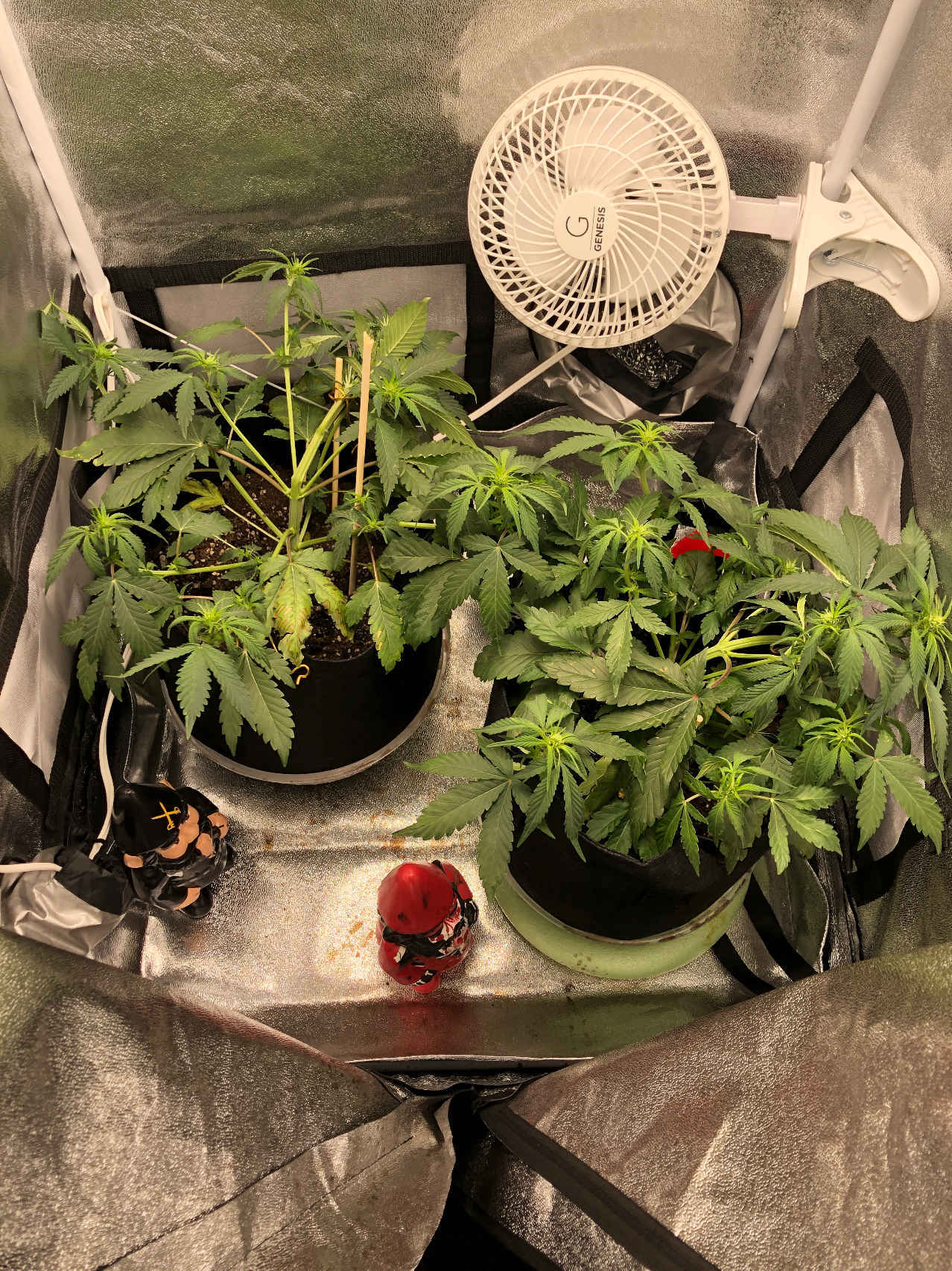 Tied the main cola down to try to LST. Starting to see some bad discoloring in leaves and one that is burned up. Going to cut any nutes for now and use PH'd water as I've just got a gauge and UP and Down in. Any advice is appreciated!
3 years ago
KibaTron Do you know what the ph was after the nutrients? Cuz if the ph isn't correct(6-6.5) the nutrients will sit in soil and burn them. I would say flush them as your doing and catch the water that runs off. The run off water ppm should be around 130 so you can add them after accordingly:) hope it helped a little!
Bfree59 That definitely helped. I'm dumb and still learning. I didn't get a good Ph meter in until this week. This batch I just gave it was in range and the water I was using before is high. I've collected about 10 gallons of rain water the past few days which is at 6.5 ish. So that should help. Thanks for all your help! This is a learning experience.
Watered with 4 cups of rain water in each plant
3 years ago
KibaTron Haha i used to know the guy who painted those gnomes! Are you planing on doing any LST or topping?
Bfree59 Ian is awesome! Lol I picked them up a few years ago and thought what a great place to put them. I'm trying to do some LST. I don't feel confident enough to top just yet. I bought some long dowels and plant wire today so I'm going to try to shape them around some this week. I'll take any advice I can get haha.
Trying to LST by tucking some branches in the pot handles.
3 years ago
9 1/2" tall. 4 cups of water with 1 TSP of Recharge and 2 TSP of big bloom this AM
3 years ago
4 cups of rain water this am
3 years ago
7" tall and about 10" wide
3 years ago
Jesseindahouse Dam bro how does ur shit grow so fast?? Where did you get your seeds??
Bfree59 I honestly have no idea lol. This is my first grow so I'm just figuring things out and it's been surprising. I got my seeds from Mephisto.
4 cups of water with 1 tbsp of recharge and 1 tbsp Big Bloom was added this am
3 years ago
Plant is 4 1/2" tall and 9" from fan leaf to fan leaf.
3 years ago
Watered with recharge
3 years ago
Gave 3 tubes of recharge and water
3 years ago
Added exhaust fan and carbon filter, noticed some leaves turning on the edges but overall looks. Moved light up. Gave first dosing of recharge.
3 years ago
Getting Recharge ready to add next watering
3 years ago
I forgot to take pics of the previous days but it's hit a spurt this week.
3 years ago