bunkerbudsp
Cake Crasher
From Seedling
Got seeds from Seed Junky Genetics off SeedsHereNow.com. Cross breed of Wedding Cake x Wedding Crasher
Well I have some big heat damage due to some cola's getting too big but overall should be a nice haul when it's all said and done. Probably have at least a week or two before I'm done with flowering and will flush
3 years ago
Almost done. Probably another week then flush.
3 years ago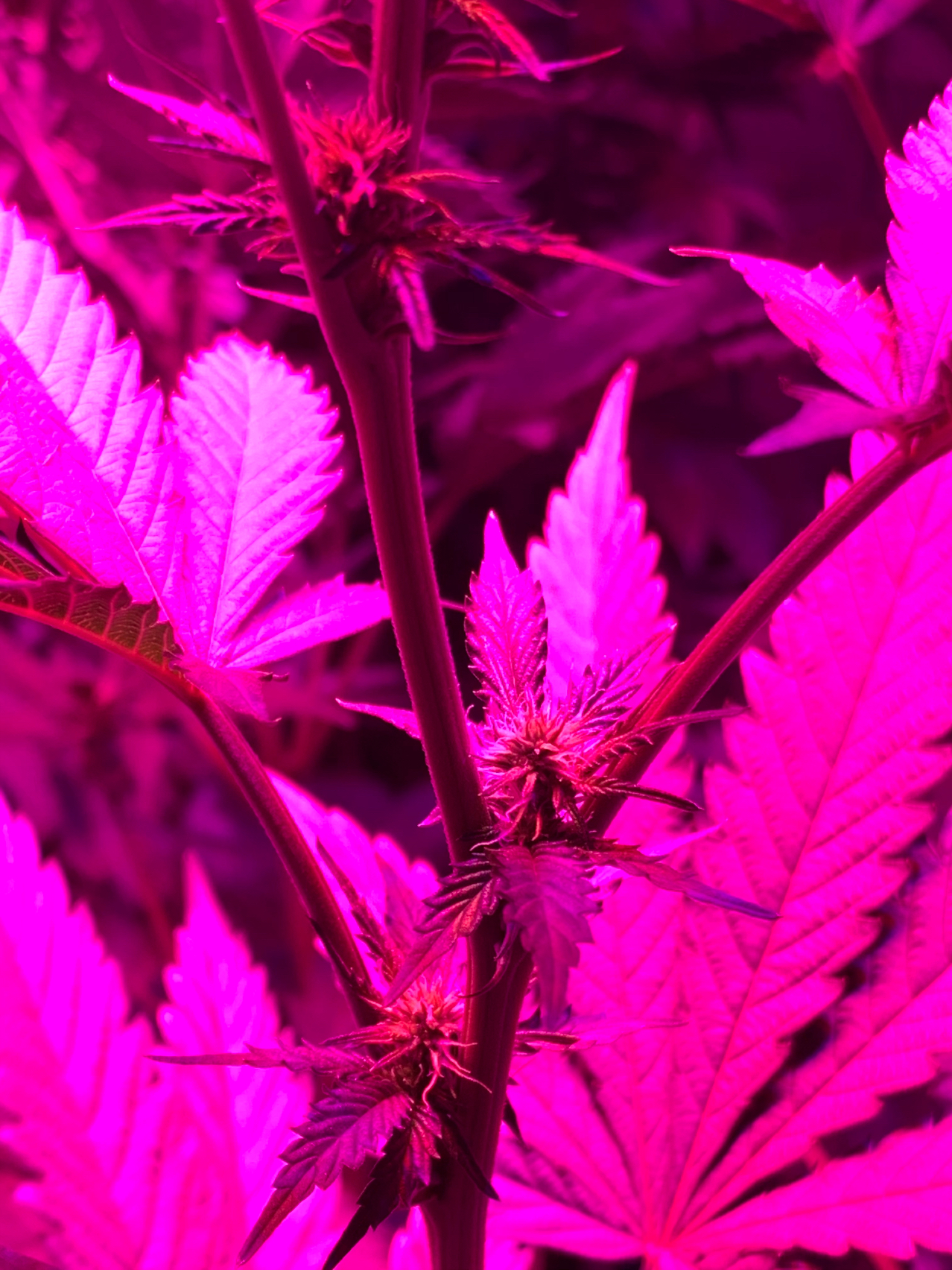 Well full on in week 2 of flower and sad to say, four males came up over the past week or so. Just so sad especially since all but one were in the middle of the tent so hard to get to. Overall, starting to see flowering go into effect. Had to bend some top cola's as they were too tall 🤷🏻‍♂️
3 years ago
Well we found our first male. May have a second but not 100% sure so giving it one more day to determine. Predominance of plants are around 5'10 🙈
3 years ago
Second feed of week 1 of flower. All looks good. May increase feed up a few gallons as they are asking for more feed sooner. Still no sign of males. One more week and should be out of the woods. Plants for the most part are about 5.5ft tall except for two indica in the back.
3 years ago
LED lights have been flipped to flower. Timer has been reset for 12/12 and first flower feed has commenced. Happy new year folks. These things are beasts
3 years ago
It's been a while since my last update. We are in transition phase with the nutrients so next week we switch to full flower and change to 12/12. All but 2 of the plants (both are seeds from bag from jungle boys) are massive. Can't see any signs of males yet which is a plus.
3 years ago
Going to do week 3 veg feed of 8 gallons tonight I think. Some of the plants are a bit droopy as it's been 4 days since last feed. I really, they are growing rapidly and are overall healthy.
3 years ago
Taken yesterday after the 2nd week 2 veg feed. Was able to keep nutes at 100% ratio as no heavy burn has occurred yet. Trellis net is up but only two spots where it's even nearly ready to use. Also did some LST on two of the smaller plants to spread the love to other nodes.
3 years ago
Did week 2 veg feed yesterday. During the feed, the lone sativa in the back was very droopy and leaning over a great deal. While feeding it just flushed right through, with little to no saturation. Thankfully I added some CaMg into the feed which probably helped if it had any lock up. Today, the plant looked like it bounced back. All other lanes look progressing correctly. We hung trellis netting today and adjusted light heights a bit.
3 years ago
Did a full 100% of veg feed finally. Did a bunch of pruning as well. Plants are healthy and looking good. Still a few gnats which means I'll probably have to do another soak of the soil next year plus some neem oil. Overall, happy with the progress.
3 years ago
Finally into veg feeding. Had some gnat issues which are getting better finally. Fed on week 1 of Botanicare nutes but at 75% to ease them into things. Raised a bunch of lights as well as did some LST and a few toppings.
3 years ago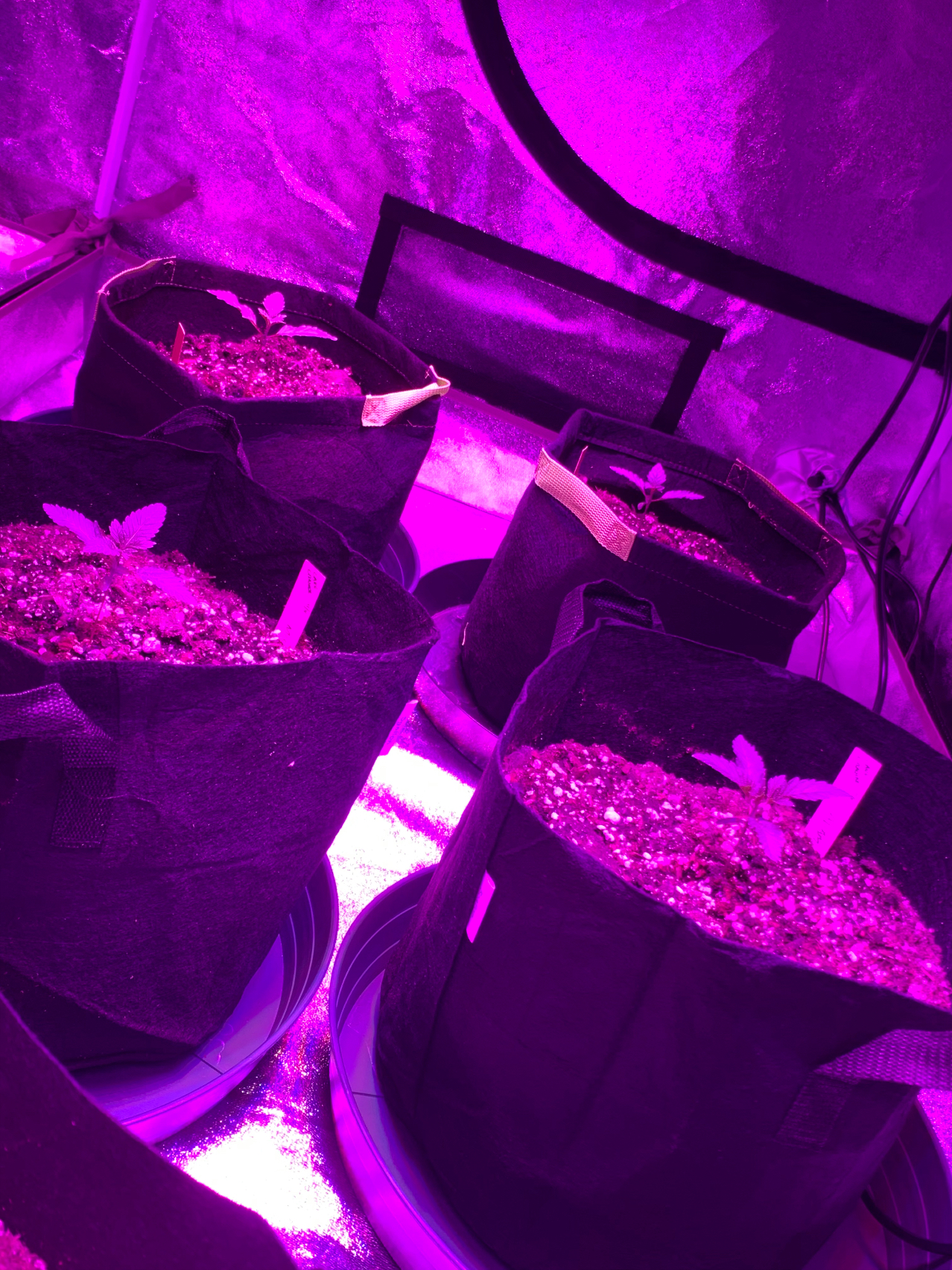 The 3 originals are all looking great. Topped all 3 yesterday post feed. All other 8 are developed their second set of full leaves quite nicely. Starting in 3 days, I'll start to get both on the same feed schedule which will make my life easier. Still weening the nutrient levels up so to not harm them. Got some bug sheets just in case and hung those up.
3 years ago
GatewayGrow I didn't know how many bugs I actually had till I put a sticky sheet done and caught a ton. Those are great. Now I just gotta figure out my yellow plant issues.
GatewayGrow Yea that's what I was thinking so I amended the soil. The whole thing being yellow is weird but we will see.
View 4 additional comments
Coming along nicely now. 3 original Cake Crashers plus 3 younger (by about 7-10 days) and then 4 random Jungle Boys seeds we don't know what they are. All are healthy. Tomorrow will be doing a 75% nute feed to the large 3 and 50% or a little less for all the rest.
3 years ago
Transplanted all remaining seeds (7 in total). 3 cake Crasher and 4 jungle boys unknown bag seeds. All new ones are in 5G or 3g bags with fox farms soil. Added two more platinum LeD lights and got our first 3 OG cake Crasher seeds on 1/2 dose of nutes. Yay🥳
3 years ago
Well the three are still growing at a steady rate. The one seedling i replaces the one that didn't pop correctly, is looking nice. And to top it off I have currently 7 more seedlings now in soil under a T5 before transplanting. Grow is on basic veg 18/6 light cycle and still just straight water feed. Tomorrow probably moving to nutes on the 3. Be about five to seven More for all the rest to go to nutes
3 years ago
Well, as expected, one of the four isn't going to make it. I expected as much so have other seeds cracking and will be transplanted probably tomorrow. The other three are settling into their 7g pots. Sticking with straight water feed for now. Move to nutes next week.
3 years ago
Transplanted the four seedlings. Serious doubt one is going to make it but we shall see. Fox Farms soil. Platinum LED x 4. Also added a humidifier for the room since I'm in the desert and it was 10% humidity.
3 years ago
This is RJ. Most promising one based on leaf structure initially.
3 years ago
Looks like 4 of the 6 seedlings are super healthy and growing rather fast. Planted directly in FoxFarms soil which can be risky as it has nutes already n it but wanted to try something new.
3 years ago