leroybrown1980
White Widow 1'st grow
Summer 2020
5 Photo period White widow started in soil
Into week 6 of flower, and they're looking great. Had a power outage yesterday which gave me a chance to see them under white light for a change.
2 years ago
Day 37 of flower
2 years ago
Things are looking nice on day 21 flower. Seems to be some good size flowers forming. Fed full strength flower nutes last watering, which they seem to have responded well to. I stripped the girls pretty naked on day 14, removing many leaves, as well as lower larf branches.
2 years ago
Day 10 since flip. Will get home from work tomorrow to do one last little bit of bending, to even out my canopy. Last feeding was transition nutes at 75%, and today just water with pure tea blend.
2 years ago
HPS went on this morning. Ladies are defoliated and spread out. Officially day 1 of flower.
2 years ago
Fed everyone transition nute mixture at 85% recommenced strength. They seem to be loving it. 3 day till I flip these. Also trying a mainline with one of my clones.
2 years ago
Put the girls under some stress today. Fairly hefty lollipoping, and transplants into 7 gal containers for flower. When I got into the one girl, she was showing some early stage calcium deficiency, so fed with Diablo Cal, Sea, Thrive, and also Terpinator. Once we're moved i'll redo the tie downs, and spread it back out for flower. Clones are looking nice as well.
2 years ago
Ladies all liked their feeding. Canopy is evening out. Can't wait to flip these!
2 years ago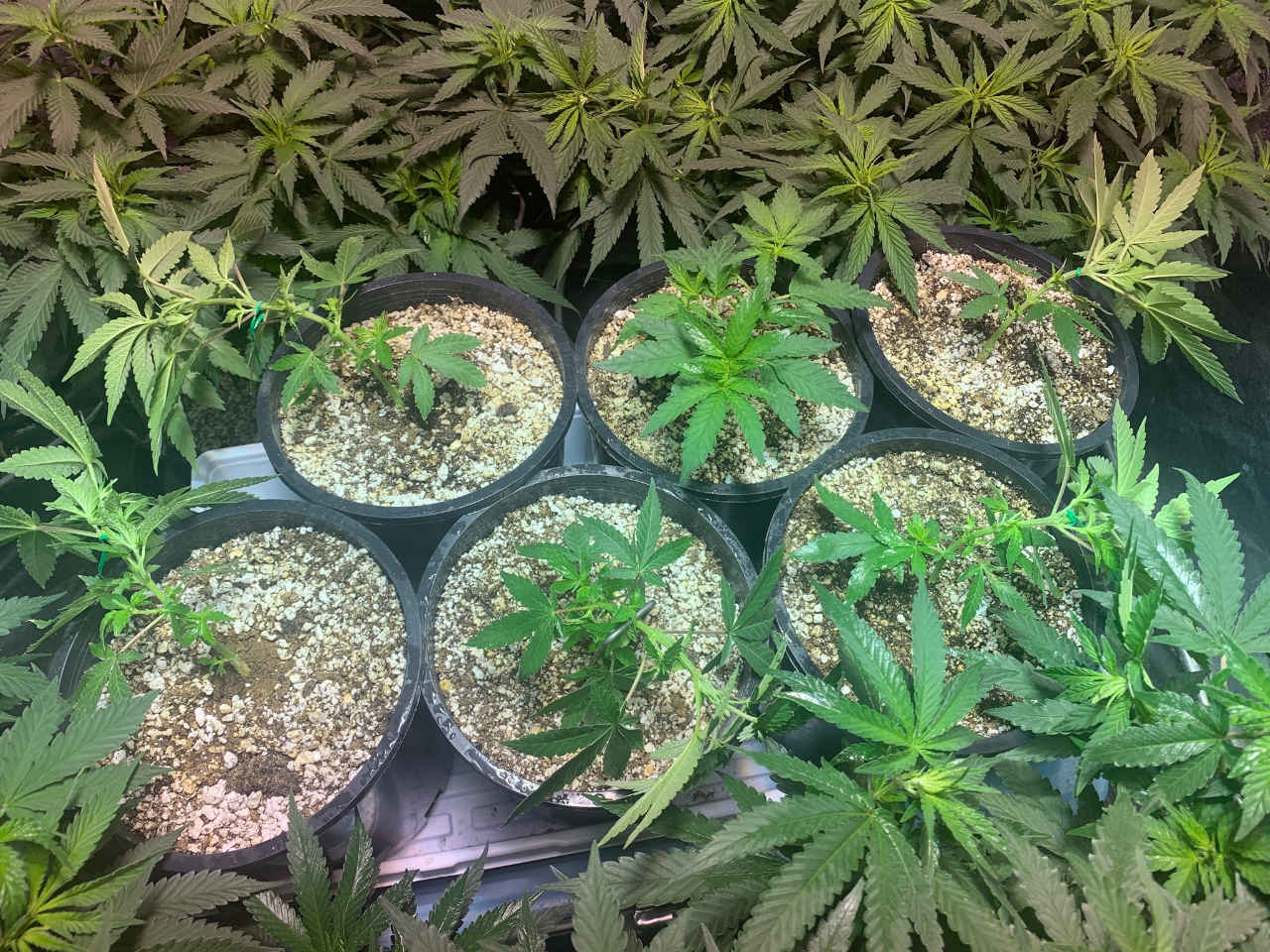 1'st LST on the clones today. Just misting, and a little cannabis chiropractic on the big girls. Also they all seem to be enjoying the Pure Blend Tea I rotated into their schedule. They were all fed yesterday with it; Diablo Thrive, and Terpinator
2 years ago
Seeing a little something on one, but not sure if it's anything but new growth.
2 years ago
Fed everybody today with my Diablo lineup, and added Terpinator for the duration. Lots of stem spinning and supercropping these days. Every time I open the tent.
2 years ago
Still growing them out. Added Terpinator to the Diablo lineup for the remainder. Feeding tomorrow night. Really want to get moved so I can flip these. Thinking I'll transplant up before flip too, so that'll add what, 10 days? I'm supercropping every day I'm home now, trying to beef up stems. Feeding at 6ml/gal micro, 7.5/gal grow, 3.5 bloom, 5 Thrive, 2.5 cal/mag, 5.5 Terpinator in Ph balanced water 710 ppm's. I'm watering about 1 1/2 gal per with runoff, every 48 hrs. Temp is 82 day, 72-75 night. RH around 40-45 lights on, 55 off
2 years ago
Defoliated a bit tonight
2 years ago
More moderate temps outside have really helped with conditions in the grow space. Much better time with temp and humidity. Thermostat switch for fans is making huge difference. Fed yesterday with Diablo Thrive, Cal Mag, and Pure Tea Blend by Botanicare. My outdoor stepchild began showing sex today as well, but she's likely a lost cause this late.
2 years ago
Well big news, had a baby boy today! Fed Pure Blend Tea, Calmag, and Sea Monster. Move up and adjust light. Front plants were more dry and shorter. Too much heat... Snapped a branch by bending carelessly, where I had just bent 2 days before. Taped her, we'll see... Also shook off the giant fan to make room, and upgraded to a wall mount. So much better!
2 years ago
Prepped a good feeding for today. Runoff coming back at 1100ppm. Stopped nutes and flushed all of them which were all similar ppm. Took down to 600-750 ppm. They all look happy. Also 3 clones have been potted. Took a week to see good roots but happy for 1'st attempt.
2 years ago
No changes today. Timed exhaust is making a huge difference on temp & humidity.
2 years ago
Just a little LST today to even out my canopy. One lady showing verigation. I was warned in early stages that it looked to be the case, but saw no leaves of this sort till today. Prior, whole leaves looked miscolored.
2 years ago
Decided I'm 2 weeks out from flipping these. Gave them all a haircut and took cuttings from my favorites. Nipped a few tops.
2 years ago
Home from work. Plants have had nothing but ph'd water the last week. I did a A A little training, trying to even out the canopy a bit. All my ties pulled free while I was gone. Temps & RH are fine. Oh & I snapped a branch today for the first time today. Taped it up while it heals.
2 years ago
Girls have been getting just water the last few days. I know now that I shouldn't have given nutrients directly after a transplant into fresh medium. Seems that levels in the soil are normalizing and plants look healthy. Home from work in another day or two, so I can have a look myself.
2 years ago
Just misting and very minor LST today.
2 years ago
Transplanted into 5 gal final pots today. Fed 6.5ml/gal Micro & Bloom. 10ml/gal Grow. 4ml/ gal Sea Monster. Nutes balanced to 6.2 Ph 585 ppm Watered 1 gal each plant. Temp 83 RH only 25. Also added another humidifier to tent. Allowing passive air rather than forced seems to be lowering temps and increasing RH.
2 years ago
46 days from sprout. Home for days off. Spent some time defoliating, retraining, and topping the ladies. I found a single leaf which had a cluster of insect eggs on it.
2 years ago
Still away working. Wife has been feeding and trying her hand at LST. I'm looking forward to getting home and giving the ladies some love. Transplants to finishing pots, and topping are priority. Looks like some nute burn as well???
2 years ago
There hasn't been any LST in 10 days, until today. Wifey's first experience with training as well as mixing nutes, etc. Temps are down which should be nice for dealing with stress. 75 finally, 50% RH. I look forward to topping when I get home, but may be another week or two
2 years ago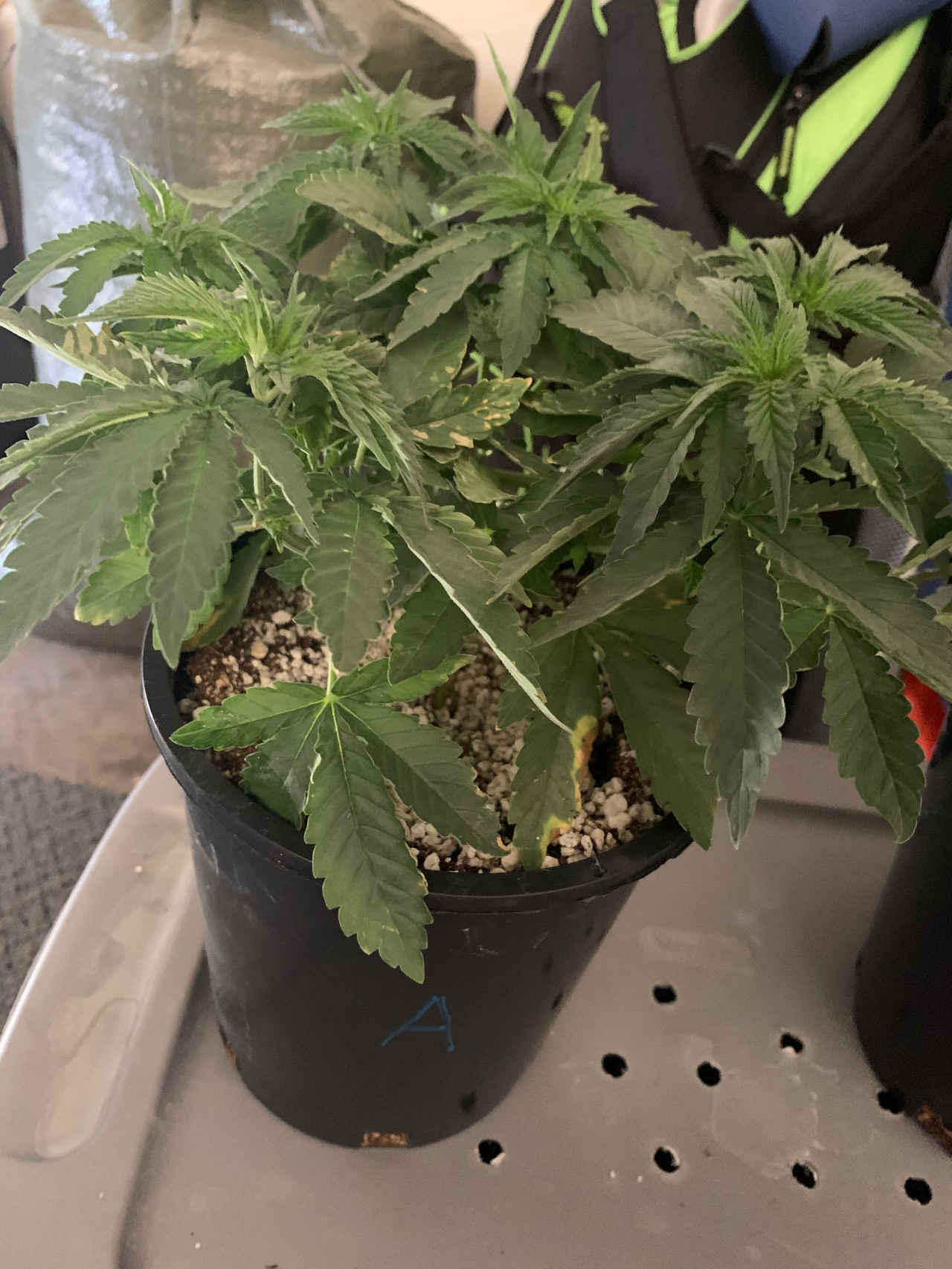 Being away from my garden after paying so much attention for the first month is frustrating. They just won't get the love they need. Anyway still feeding a 6ml/gal 3 part, and still fighting the extreme heat. All my ties have been removed, and wifey hasn't given any LST. I just hope they survive till my days off. They will all be getting transplanted in a day or two.
2 years ago
Away at work for a few weeks so wifey has to try her best. All fed with 6mg/gal 3 part. Heat is still killing me, but doing what I can.
2 years ago
Wow it was hot today! Lots of it to contend with for the next couple weeks. Ladies have enjoyed the feeding, but still questioning "B" for health. New growth does look healthier after Cal/Mag treatment. We're at 80.5 F and 35% humidity. Tent's open, and so is every door in the garage. Daily LST on all these girls.
2 years ago
Fed 6ml/gal 3 part. 3ml/gal Cal/Mag 6.2 ph TDS= 400. B plant at 450 runoff, so gave a drink of demineralized water, followed by nutrient mix. Also foliar Cal/Mag @ 0.75/L to address suspected issue on plant B Mixed runoff from other ladies @ 715 ppm, 6-6.5ph. Should I avoid nutes next feeding?? LST all around, and trimmed a couple of leaves that shaded my new chutes.
2 years ago
LST today, and misting. I believe I may be seeing a Calcium deffiency due to rust spots on lower leaves. I'll be adding a dose of Cal/Mag with my next watering, so I'll see how that goes
2 years ago
Fed 2 gal @ 5ml each, 3 part nute/gal. Ph = 6.8 TDS = 550 TDS of runoff = 475 LST all around. Pic is morning day 28
2 years ago
Lst for all the ladies tonight. Things are looking more bushy every day, with all plants growing at least 6 tops.
2 years ago
Fed ladies with 4.75ml/gallon 3 part nutes, and 2oz sea monster. Used Ph up to bring solution to 6.5.
2 years ago
"E" was dry already tonight so gave her a small drink of fresh water. Many new tops growing on the FIM'd and LST's plants. One looks to have upwards of 9.
2 years ago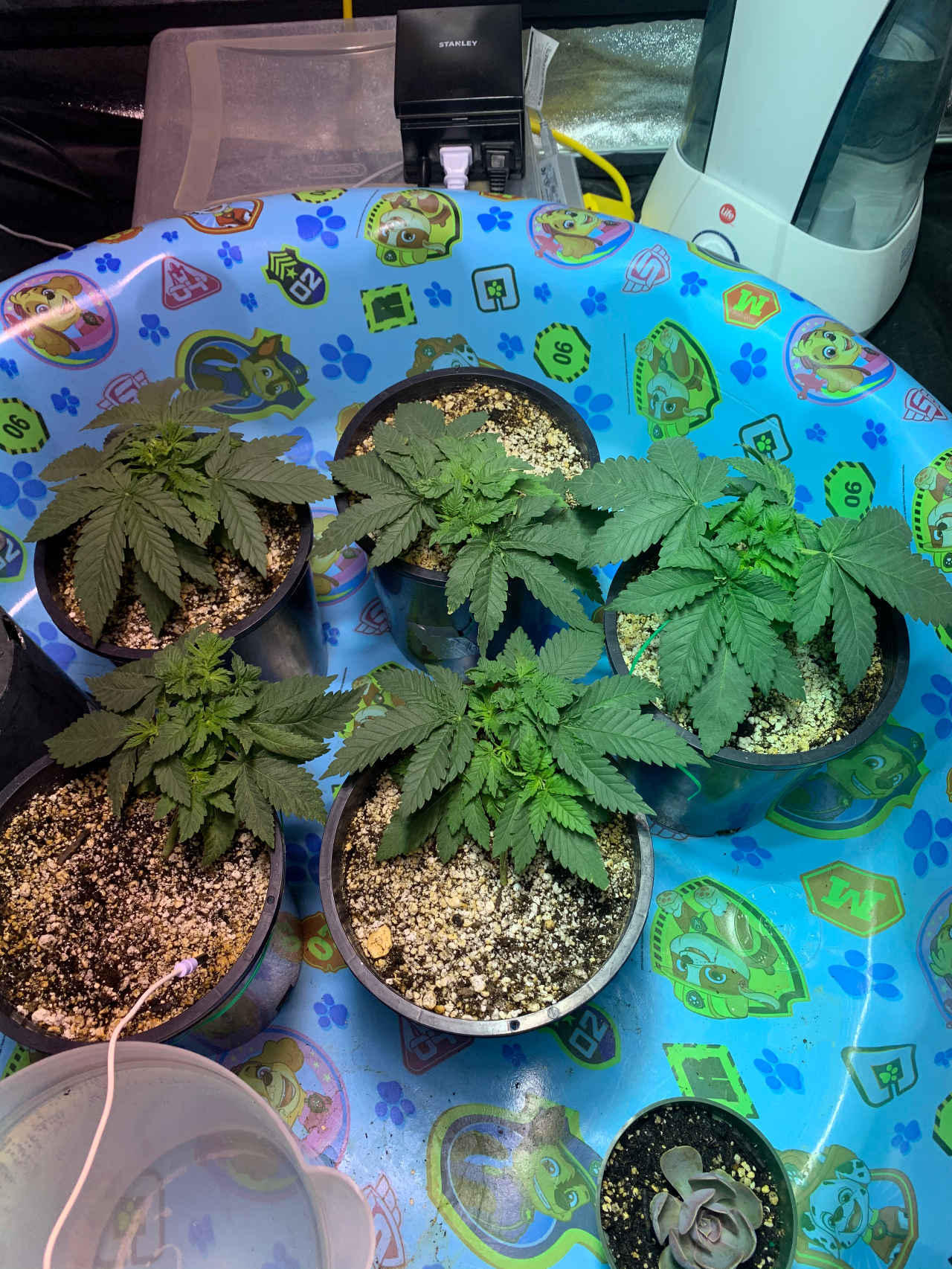 Fed the girls 5ml/gallon each of 3 part nute. 3 ml/gal Diablo Cal 4ml/gal Diablo Sea Monster, with demineralized water. Mix is 745ppm going in, 440ppm runoff. Forgot to check Ph of nute solution before feeding! Runoff is sitting low at approx 5.5-6 Ph. Things are hot due to the weather but looking good so far. Temp 85.5 R.H. 35%
2 years ago
Just misting and a little leaf LST today.
2 years ago
Ladies were given a drink if nute free water today. New tops at my FIM sites are sprouting up nicely. I'm excited to see how many tops are produced, as the one appears to be at least 6
2 years ago
New growth seems to be promising from the sites I FIM'd. I'm sure I've been too eager and have stressed out a couple of the girls. Just going to back off till they're looking happy again. No water today, just misting. Temp 80.3F R.H= 49%
2 years ago
Lots of new growth after pinching. Just misting today. Temp 83, RH 52%
2 years ago
Gave big feeding tonight at 10ml/gal. Recommended is roughly 13.5ml/gal. Hope they're thirsty
2 years ago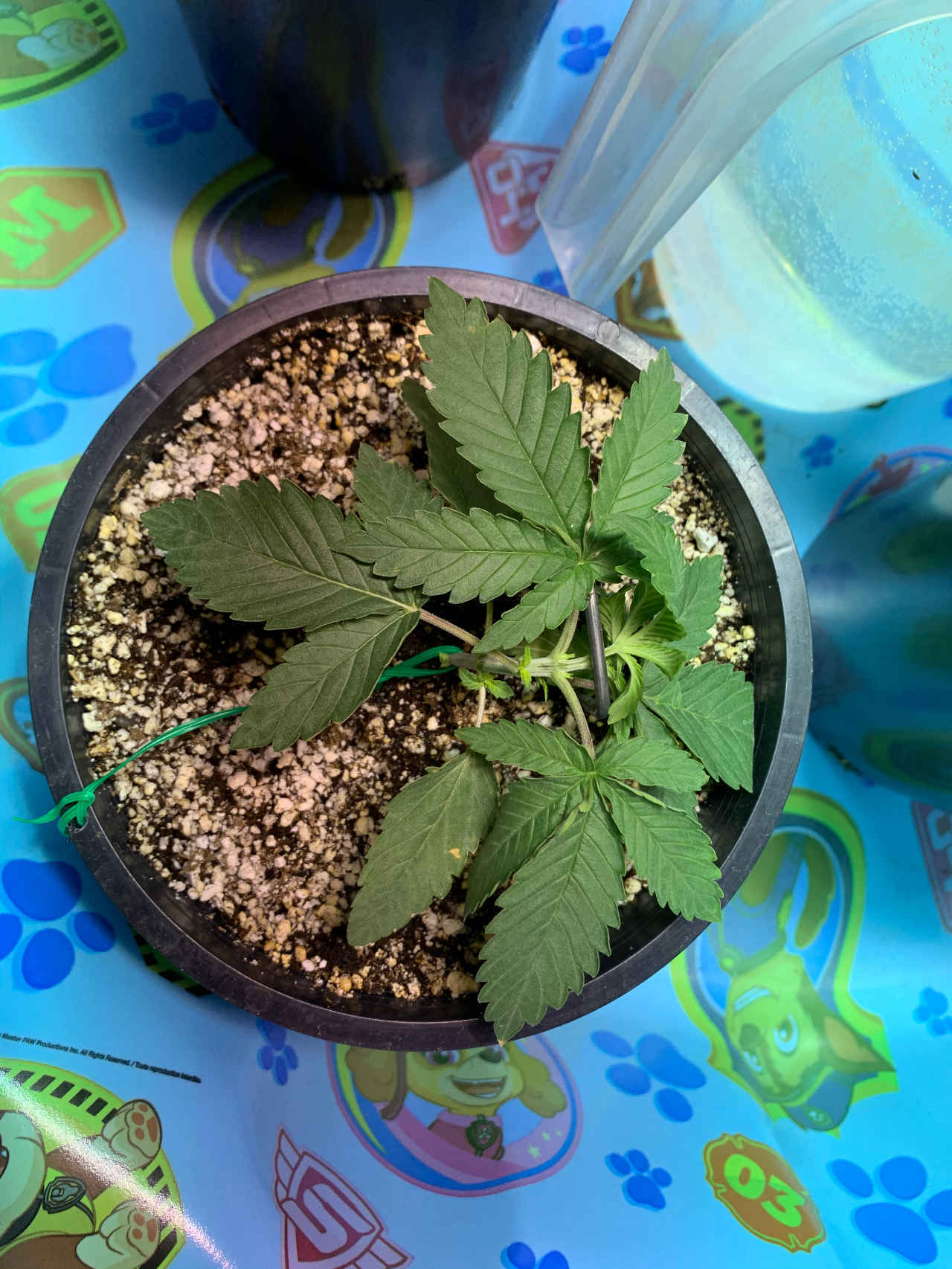 Pinched tops on 3 of the girls today, and applied their first lst. Not so low stress for the one, as I damaged her stem a bit; supercropping babies lol. Misting only. Switching to open door for lights on, to control temp during these hot days.
2 years ago
Just misting today. Moved light down 2"
2 years ago
Plants seem to have enjoyed their feeding yesterday and are looking good. Lowered the light to 26" above canopy top. Temp is 79.5, RH is 45%. Day 3 veg
2 years ago
Gave first full water into the new pots using 3 part Diablo nutes, @ 1ml/gallon each.
2 years ago
Transplant day today! Just stepped up to #1's. Fed some Diablo Sea Monster with the new pot, but didn't soak. More shot for down the root, and around the root ball. No choice but to go under the 1000w now, so I have it as far away as I can. Temp is 81.5, RH at 43. Hudimifier is on full, and I put a jug of water just because there's room. Can't hurt. Also misting. Calling this day 1 of veg???
2 years ago
No water today just misting.
2 years ago
Thinking about moving these girls to 1 gallon pots, and moving them under the big bulb tomorrow with some distance. Also thinking one more watering and a few more days is better? Still in a propogator because my tent saw low temps under the fluo bulb.
2 years ago
Leroybrown1980 watered today with fresh and a mister until saturated. Decided one more watering till transplant. Moved them down off trays
Leroybrown1980 also dropping 18/6 lights to 20/4 time to get them ready for the 1000w
Tried moving them to the tent last night and temps dropped to 65. Back in the house till the big light turns on
2 years ago
Seedlings that started 2 days later have nearly caught up to their sisters
2 years ago
about 3 inches tall on 18/6 cycle
2 years ago
Plants are about 3 inches tall now and doing great. Watered today
2 years ago
Plants are 2 inches tall, still running 18 & 6 in the grow dome.
2 years ago
Growing strong, and next 2 seeds have broken soil
2 years ago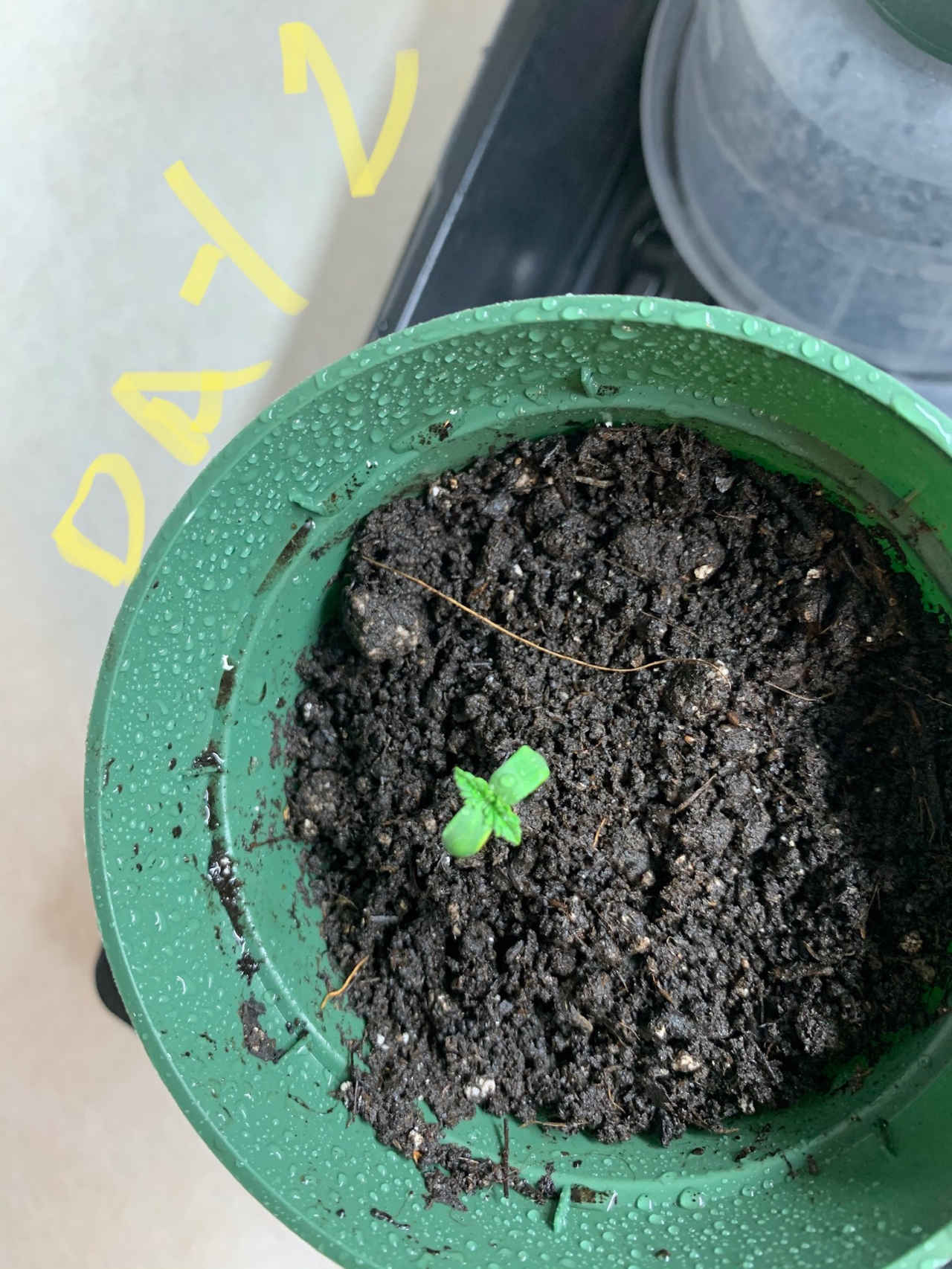 Day 2 seeing leaves. Watered with misting bottle
2 years ago
Poked through soil, and germinating 2 more
2 years ago