spank82
Critical purple auto
Fall 2019
1 critical purple 400w M.H. Light 3 gal pot fox farm happy frog soil, growing with 2 other strain plants
Got 70g not bad I guess out of a 1.56 gallon pot didn't turn purple I grew the same strain of same set seeds and it was extremely purple canned yesterday cut down last Saturday
3 years ago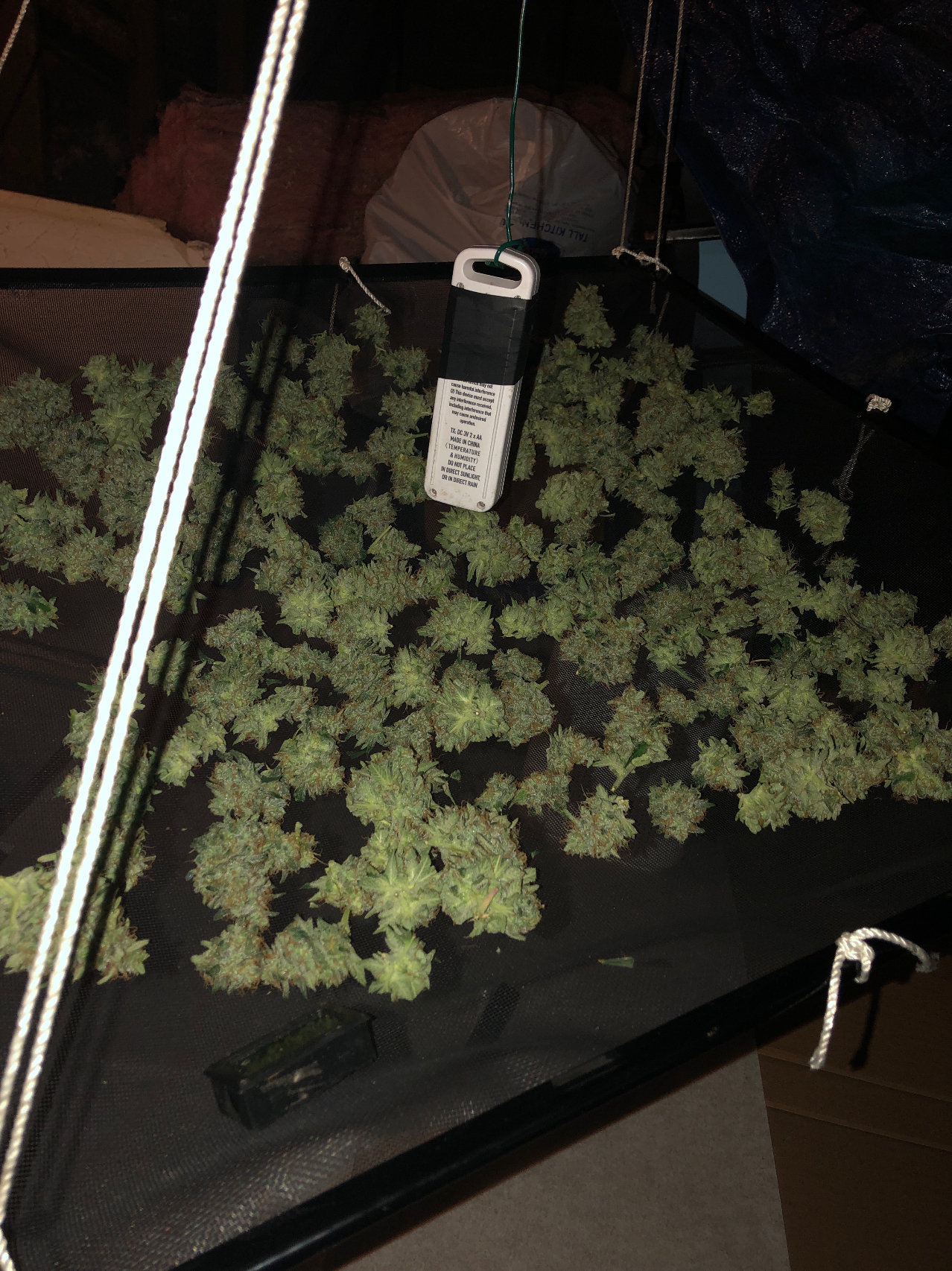 Got a lot more I expected outa it I'm guessing 5oz took limb down few days ago tested it and shits on point ! 🔥🔥🔥
3 years ago
Pretty sure she's root bound bad I grew strain before and it got no where near this big so I didn't use but 2g pot! Thinking like 2 more weeks or so
3 years ago
Half hairs are brown some the trichomes are cloudy still been feeding her
3 years ago
Spank82 Not sure if I should start flushing ??
Starting catch a little purple in buds and lots trichs are starting to develop
3 years ago
Flower fuel gave my baby little phosphorus excess I think maybe not so much next time ! Flushed with rain water budz development is fast af though! I had to pin her down! She's about 3 foot or more tents 5ft light takes up a ft with foot plus pot is a foot I need a biggger fukin tent man 🤦‍♂️
4 years ago
Fed yesterday
4 years ago
Ppm was super low fan leaves looked idk how say it weak ? Gave full feeding of ff schedule and flower fuel ppm is 900s now plant perked up a lot few hours later so I probably should start feeding more often
4 years ago
Plain rain water 24 hours ago she's already almost bone dry gonna try stick every other day start feeding more often and lesser doses just playing around really
4 years ago
Gave half dose ff trio
4 years ago
Well over a foot now fed plain rain water
4 years ago
Hps light in and running f.f. Trio only right now. + cal. Mag I'll never not use cal mag again 1.25 every water or 2.5 every other
4 years ago
Seem be fine after flush gonna start flowering feeding schedule the next watering. ph still pretty low have some lower leaves looking like a cal. Mag. Problem I'm thinking it's the low p.h. Keeping it from absorbing enough cal. Mag.
4 years ago
Not sure what this is? The bottom leaves seem frail and spots maybe cal. Mag. Been using rain water and havnt added any cal. Mag. Or maybe ph to low for plant to get enough
4 years ago
Dayronreyes you put too much nutrients on it try to give it about 2 or 3 days without throwing it back then water it again but this time you see it with water and molasses only what your plant needs most now is nitrogen try to use water without chlorine and a pH of 6.5 6.8
Spank82 Yea that makes sense should I just water it with plain water next few waterings ? Im using rain water btw? ph was low like 5.5 i got it back up to 6 watering plain rain water what should my run off be if I'm watering with 6.5 - 6.8 ?
Showing sex now! Had a really low ph run off so I Watered with G.h. Floraclean and plain rain water and then starting flowing nutrient schedule next watering.
4 years ago
Feed again Everything looks good
4 years ago
Feed week 3 f.f. Plants loved it around 6-7 inches now
4 years ago
Nutes definitely made difference they ❤️ it !
4 years ago
Feed again week 2 f.f. Schedule did little light on the grow big think 1 1/2 tsp ppm 800s and run off was little acidic ppm came out 1200
4 years ago
Plants got first feeding f.f. Big bloom half strength going full strength and grow big next watering
4 years ago
Under 400w hps now
4 years ago
Critical Auto X purple 84* daytime temps 71-75 night time temps
4 years ago