Banana kush
Winter 2020
Banana kush in fabric pots. 2x2 tent 1000watt Mars hydro
This plant has been long cut down but here's a bud from its batch. One of the nicest smoke I've had in a while
2 years ago
More amber tricomes appeared so I had to chop it. Not the greatest return but the quality looks amazing. Will update with the dried yield.
2 years ago
Flushed yesterday because the tricomes were turning amber. Might put her in some darkness and cut tomorrow and or the next day.
2 years ago
justincase How do you do these lovely buds mate? What's you secret? Just the LST?
Bonsorelli I'm not really sure. I do know that when I level off the canopy it really helps the buds grow at the same rate. As far as tricomes and thc are concerned I believe that stress to a point can help. That's why I crop my branches to create that stress. Genetics can have a huge role and also keeping the ph and ppm under control is key as well
justincase Ahh well the ph is somthing we didn't do from the outset but done everything else you say so far... and I'm useing a and b and canna boost? You think they are ok? And is it worth me getting more strict with ph now? I'm just going into flower today or over the weekend you see about to start the canna boost.
View 3 additional comments
Added 1250 ppm of bloom and boost. Possibly the last meal 🥘
2 years ago
Leaves are yellowing, just keeping an eye on those tricomes.
2 years ago
Not much yeild so far. A couple of weeks to go. The quality is there so I'm happy
2 years ago
Gorgeous frosty buds. Can't wait for this to finish up!
2 years ago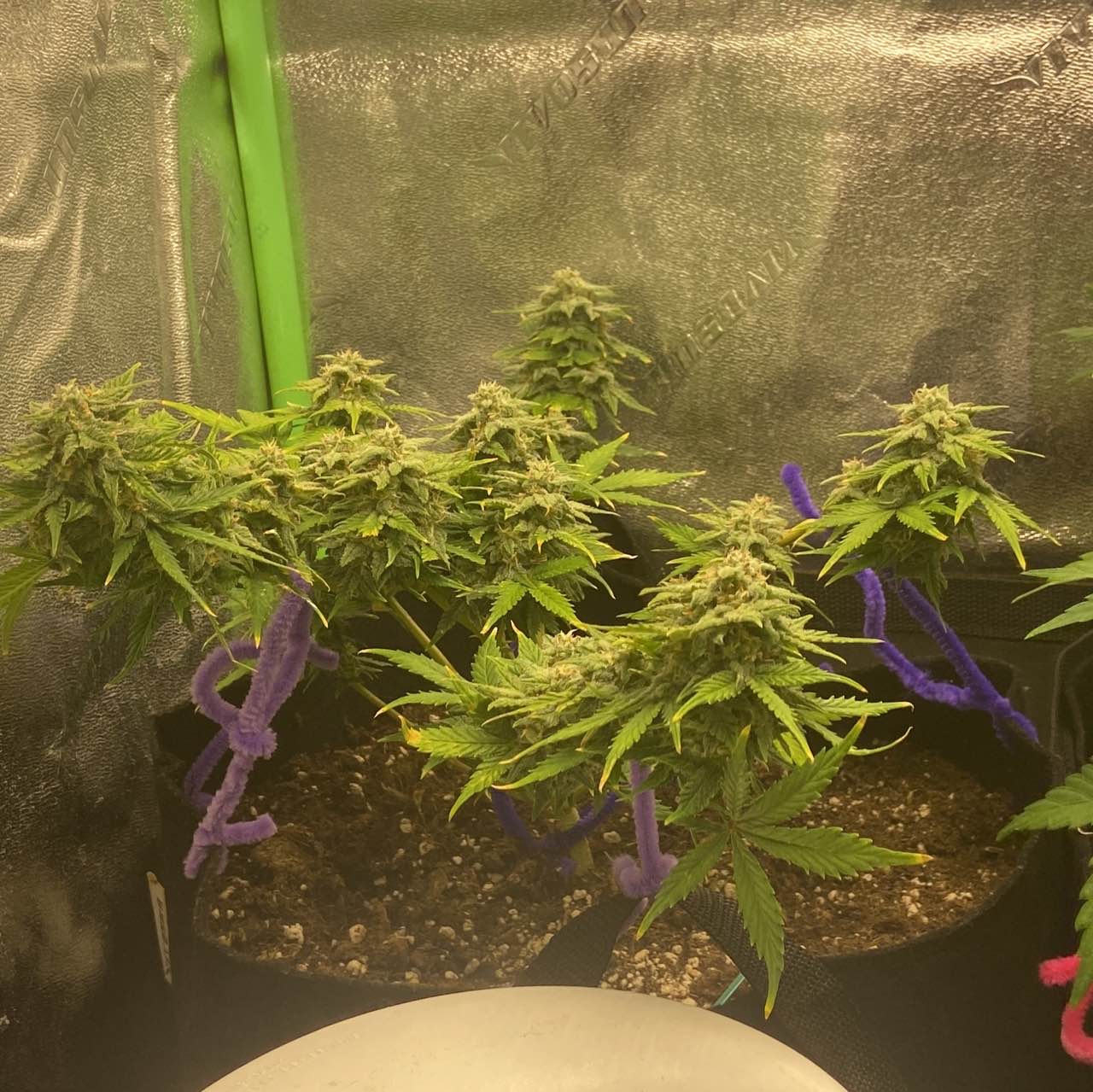 Coming along very nicely. Some of the feistiest buds I've ever grown.
2 years ago
Fed 1.5L of roots and bloom. Buds are getting fatter and more tricomes by the day. Looking awesome
2 years ago
Fed some roots and bloom
2 years ago
Responding pretty good to the cropping. Leaves are green but show some rust/orange spots.
2 years ago
Super cropped tallest branches all buds are on an even canopy now.
2 years ago
Defoliate some of the older yellow leaves. Hopefully can get my ph under control. Other then that the plant is growing nicely
2 years ago
Fed roots and growth 1litre
2 years ago
Reacted well to the top cropping. Other branches have already caught up and has a lot of nice bud sites. I added some ph downed water to try to regulate the soils ph. Getting some yellowing .... I have some epsom salt coming Friday. Hopefully that will green things up
2 years ago
Gave a heavy dose of nutes
2 years ago
Fed her 1 1/2 L with growth and roots.
2 years ago
Cropped the top and fed her a good dose of nutes. Hopefully she takes it well
2 years ago
Bonsorelli No I've read topping autos isn't the best idea. I will crop it the top cola so it's level with the others I think
CraigBengfort Ah I didn't know it was an auto I've never grown them
Looking good so far!
2 years ago