Black D.O.G. Flower
Switched to flower
Switched today. Day 1 of flower. Nutrients Current Culture H2O UC ROOTS. 175ml COCO CAL. 70ml BLOOM A. 120ml BLOOM B. 120ml BUD BOOSTER A. 20ml Light Mammoth 8bar 640watt
Yesterday and today was spent trimming. They are now curing. Can't wait for the first smoke. 17.9 ounces
3 years ago
Leolo Looking awesome! How many Grams/Ounces did you get?
Leolo That's half a Kg. Congrats to a solid harvest!
View 4 additional comments
Harvest day. Don't look like much. We'll see. The smell is amazing.
3 years ago
Leolo Yeah, looked like more before the chop. 🧐 But looks like very dense buds, and you got them really Fast!! Gram perwatt is irrelevant. Gram per watt divided by time is a better measurement of productivity.. and I'm sure the quality is top notch! Looking forward your review!
Leolo Have you had a sneak-smoke yet?
Graveyard9 I want to say yes I have. But I'm gonna wait for the first week of cure to try. Then wait another few weeks. Cure for 1-2 months.
View 2 additional comments
Branches are all tied up. So close to ready. Buds are getting and bigger ever day.
3 years ago
24 hours flush so far. Can't believe the added weight they got over night. I have to tie up a bunch of branches that looked fine yesterday.
3 years ago
Leolo Sounds like you're having a hard time with those branches ;) If you plan on doing the same strain multiple times, maybe a small early harvest could give info about best harvest time for this particular pheno. /Sativa guy, who's slightly allergic to CBD..
Graveyard9 Ya it's my own fault for not chatting all the lower branches or irony them up. Easy fix. When I get home they are being tied up. Buds are getting so thick.
Today is day 1 of flush. RO Water phed to 5.8
3 years ago
So today is the timeline for harvest. The trichomes say different. I'm gonna give them another week.
3 years ago
Finally starting to see a little black. But so little Camera don't pick it up (tiny bit on edges). 4 or 5 more days till flush. Then I will flush till harvest
3 years ago
Second dose of Bud Booster. Buts are thickening. Looking great Wish the color would come in but I can't get the temps lower than 70. So guess I won't get the black.
3 years ago
Leolo Looking great! The buds fattening up, and I'm totally stoked about how Shockingly fast your strain is. Maybe one of those "fast" varieties that contain some auto genetics..? How does it smoke?
Graveyard9 Thank you. Ya I'm loving how fast it is too. The strain flames harvest in 48-55 days in flower. And it's looking close to the 48 but I'm not gonna rush her. As for how does it smoke I don't know yet this is my first for this strain. I've heard it has a psychedelic high. That would be different.
Leolo No, don't rush it! But wouldn't be surprised if it's a 50 day strain from how it looks now. Maybe you got a fast pheno. HSO claim that the high first is energetic and then turns into a body high. Some reviewers call it their favorite night time strain which sounds more mellow, and indica-ish.. than a lot has to do with pheno and harvest-time. Looking forward to a review in a near future if you have the time!
View 2 additional comments
Ooooh the aroma.
3 years ago
Getting thick. Today they got their first dose of bud booster. (In hydro reservoir). About 2 weeks of that then 3 days of flush. Getting close.
3 years ago
Leolo They're Fattening up nicely!
They are beautiful. Buds are getting thicker. About 2-3 weeks left.
3 years ago
Leolo Must say that your buds look extremely mature for day 33.. reading up on your strain tells me that it's an extremely fast one. Any extra far red I your fixtures helping with speed? Have a few green crack seeds from humbolt's waiting.. would you vouch for them or any other humbolt strains?
Graveyard9 Ya I thought they were going fast for their age :). As for Humboldt. A friend of mine swears b
Graveyard9 By them. That's where I got this strain. A clone from him. I will say. This grow was extremely easy. Only issue they had I caused.
View 3 additional comments
Not a huge change. Ph has been constant at 5.8 Temp 70-80 Humidity 45%
3 years ago
Leolo Sweet set up! Kudos!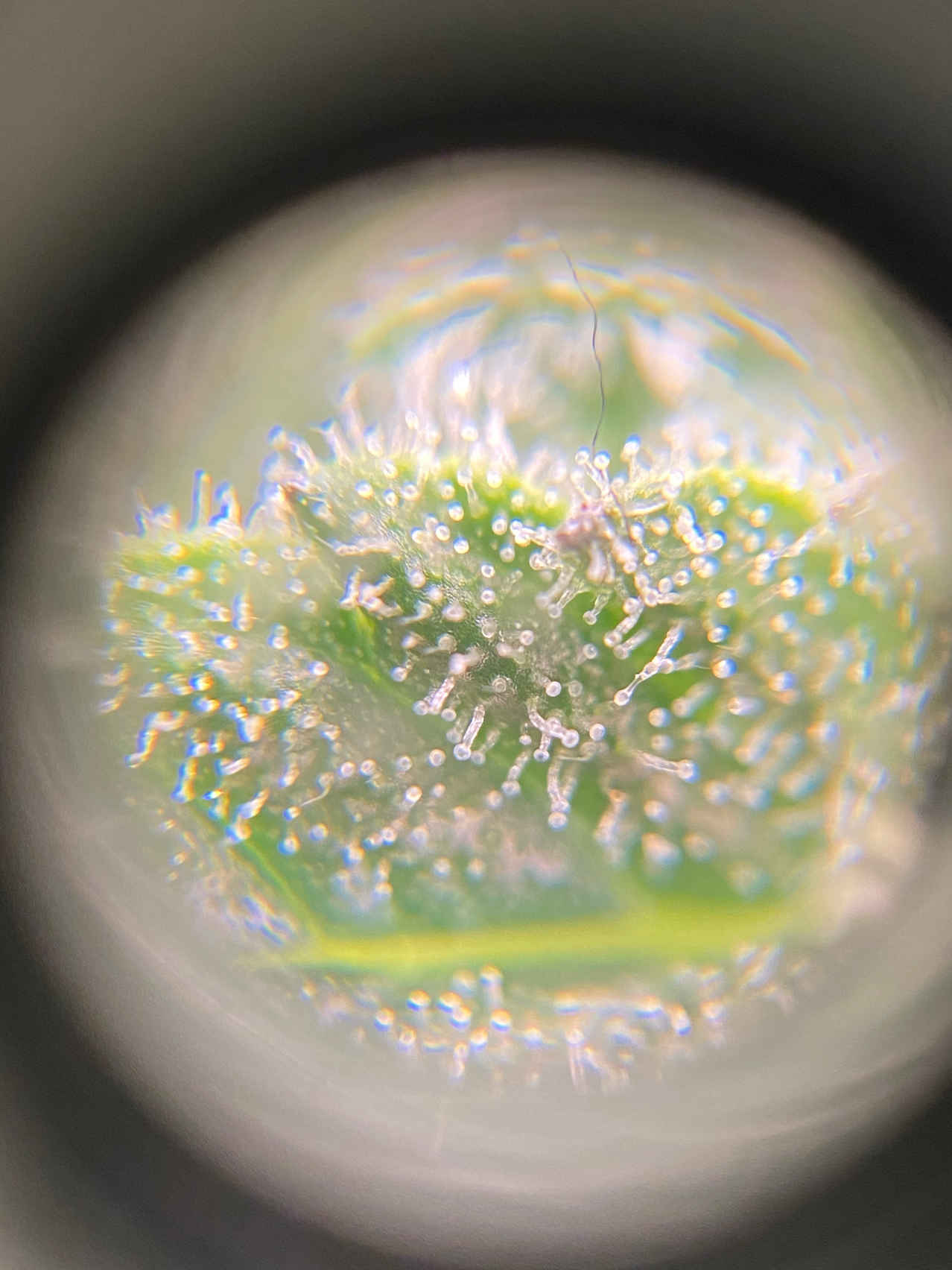 Colors are changing. Camera don't pick it up but some of the smaller inner leaves are studying to turn black. Love it. And trichomes are starting to turn. Girls are getting close
3 years ago
Final big trimming before harvest. Still have a few weeks to go. They are filling in nicely
3 years ago
Buds are finally started to thicken up
3 years ago
Buds are getting bigger. 1 bud hairs actually are changing already. I know it's not even close to time for that. But it's funny.
3 years ago
Dehumidifier keeping humidity at 45-50 but adding heat to the tent. Had to makeshift a vent for the dehumidifier. It's working but tent is staying 75-80°. I want it lower. I want the colors to come.
3 years ago
Graveyard9 Wish I could remove photos. Some how 2 pics was adding on day 19 ended up here.
Tricomes are starting to show up nicely. About a month to go. (Strain is 55 day flower)
3 years ago
After a huge defoliation they are looking kinda empty but good. Buds are forming nicely. Can't get humidity lower than 60. Added dehumidifier and after 16 hours still at 60. Looks like need a bigger one
3 years ago
Major trimming today. Took off 3 5gallon buckets packed worth of leaves. Still a few branch's under the net if they don't make it my next week they will be cut. Don't wanna deal with popcorn buds this time. Looking good.
3 years ago
Plants are getting bushy. Not much light getting through already gonna have to defoliant soon. Tiny buds are starting to form
3 years ago
Trimmed lower growth yesterday. Ppm at 770
3 years ago
Beautiful lady's
3 years ago
Looking good girls
3 years ago
Grow baby's grow. Lol Looking healthy and happy
3 years ago
They really are loving the mammoth light. Put scrog net in today.
3 years ago
Day 1 flower.
3 years ago
Switched today. Day 1 of flower. Nutrients Current Culture H2O UC ROOTS. 175ml COCO CAL. 70ml BLOOM A. 120ml BLOOM B. 120ml BUD BOOSTER A. 20ml Light Mammoth 8bar 640watt
3 years ago
Dukeshaba Wow man your shit is always in point... hows the peppermint kush?
Graveyard9 Thank you. And the peppermint kush is amazing. Very happy with it. You can smell the peppermint in the flower.
View 1 additional comment