splifswiftns
Bubble bomb
Baby jesus grow, #2
Bubble bomb grown in 2x4 room under two 300 watt viparspectra led lights.
Nice dense buds. Ready to dry and cure. Here goes nothin.
4 years ago
Splifswiftns Smoke report. After a nice long cure, the buds finally don't smell like hay. They pretty much smell like nothing. It seems the issues I had at the end of this grow definitely affected the terpenes. It smells very mildly when ground up, and sweet at that, but otherwise you may not think it was weed. Inhale is smooth, which hopefully means I'm flushing well. It tastes like typical smoke, nothing to write home about, but I've had much worse. ( flashes back to high school...shudders ) It works. The high is relaxing, but not quite couchlock. Great with a Java and an easy start to the day. I regret nothing.
Not much longer now. Buds are really thick. Probably the best looking I've ever grown. I'm thinking that I had a light leak, and near the end of flower my garden started to re veg. I've hopefully covered the leak, and these last bunch of days will help correct whatever my issue is. This is the second grow in this room. First time was fine, so leak is a bit of a surprise. If you notice anything in my last few updates, feel free to set me straight.
4 years ago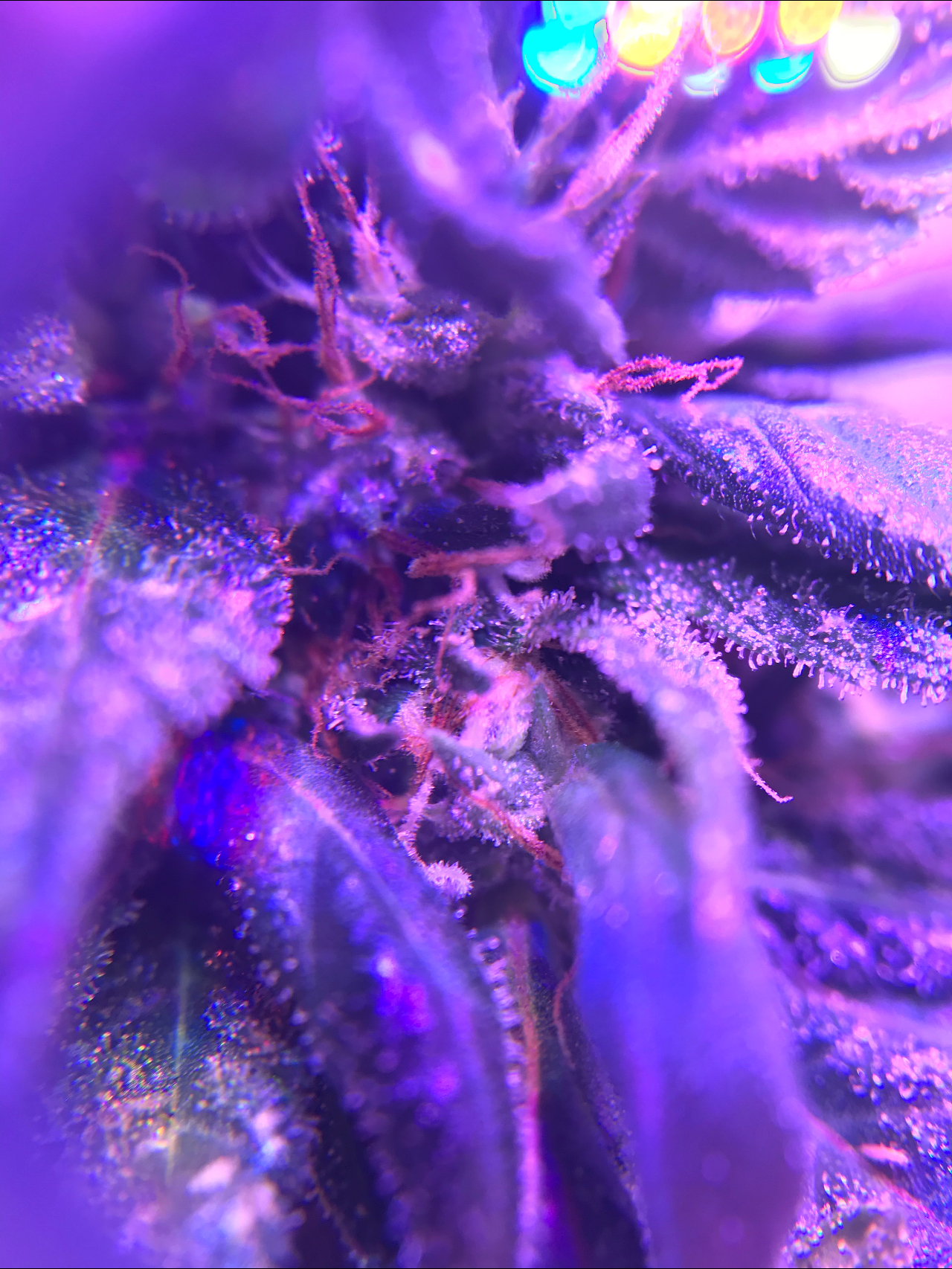 Trich's starting to get milky. She's pretty leafy, so a bit difficult to get a great pic of them, but looks good so far.
4 years ago
Sorry for the lousy pic, things are a bit cramped and it's tough to single out just the one plant. Well into flush mode right now, as I've overdone it with the nutes a bit. Need more room in my next grow, as you can see with all the foxtailing. Lights are now as high as they go, so I'll have to reconfigure a bit. Buds look fine and are thick and coated, so no biggie, just a p.i.t.a. when I go to trim. (I'm sure quality/quantity has been affected but I'll still make out ok)
4 years ago
I've cut back on the nutes. Leaves were curling and clawed. Not that worried, at this point, I'll start flushing a bit early. Buds look nice, and overall I'm happy. Have been adding molasses to help condition the soil.
4 years ago
Thick juicy nugs. Can't wait. Not much else to report.
4 years ago
Buds are getting thicker. Being patient will be the tricky part from here on out.
4 years ago
Gave her her 2nd and last monster bloom. She's chunkin up a bit. I like it.
4 years ago
Bubbles are getting bombed. Buds are growing. More monster bloom at week 3.
4 years ago
Big stretch for a little plant. Pistils shows she's really a girl. Used monster bloom just after first buds started to show (approximately five days into flower).
4 years ago
Three days into flower. Don't see any pistils yet, but still pretty early. Coming along nicely
4 years ago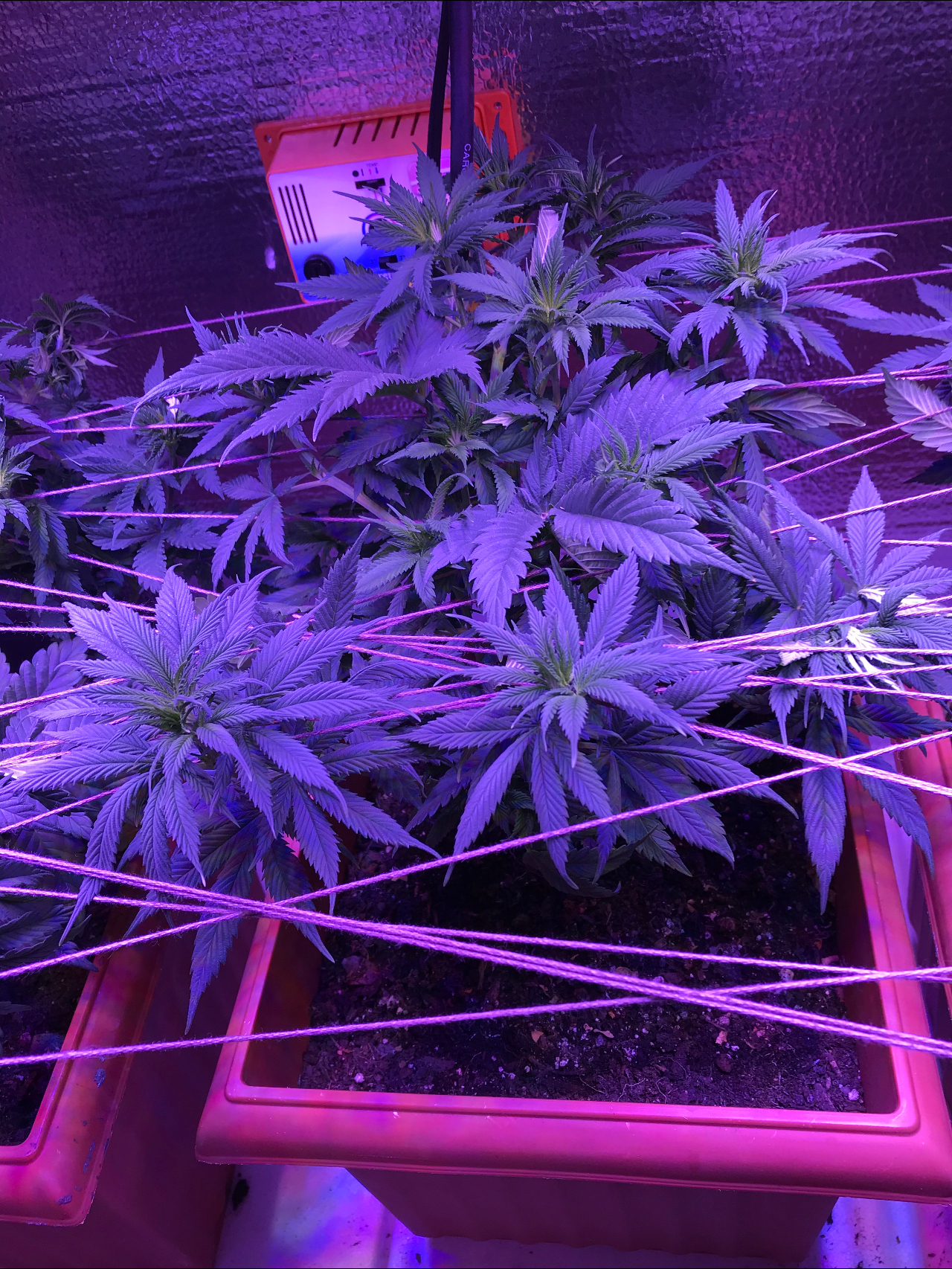 Screen went up on day 33, just before I went to Ottawa and then Disney. Much needed vacay. Spreading them tops around. Start of flower switch in the next few days.
4 years ago
Definitely excited about this one. Growing twice the rate of the other two in the grow room. Looking for a good haul here. Topped/fimmed yesterday. Screen and lst to follow.
4 years ago
She's growing quite nicely, best of the three in the grow room. Looking forward to this one. Top/fim after fifth node.
4 years ago
Coupla more leaves.
4 years ago
Much happier after transplant and move to grow tent.
4 years ago
Finally in her forever home. Slow to start but things will improve now.
4 years ago
Germinated. Lookin weedy.
4 years ago