ryo
Blue gelato 41 /pink kush
Barney's seeds
One blue gelato 41and one pink kush mother's, 2x4 grow box. 2.4 amp at the wall cob light. 8" fan, fox farm soil, will be in 20 gall smartpots. Vented with a 6" cent to a 4x4 flower/veg chamber. With two of the 2.4 amps lights, but running them with 220 so drops to .9 amps at the wall.
Blue gelato 41/ pink kush
On YouTube now, Okiegrownbuds
4 years ago
Released lady bugs into the grow, next is marigolds.
4 years ago
Second trellis is 7" above the first
4 years ago
Pulled cover crop, found spider mites. Started removing them manually, sprayed with cold water, raised humidity lowered temp. Going to get blue dawn soap to make a neem seed meal spray.
4 years ago
Spread the pink kush out, and gonna start flower now.
4 years ago
Top bg 41: now 4" above cage Second bg41: 5" above cage Third pink kush: 4" above cage
4 years ago
Top to bottom: blue gelato 41, b41, pink kush. The first bg41 2.5" above cage just about everything under has been striped. Second bg 41 3.5" above cage striped just about everything under. Pink kush 3.5" above cage, same as before
4 years ago
Top dressed with bio live neem seed meal bar and sea bird shit. Top pic bg41, bg 41, pink kush
4 years ago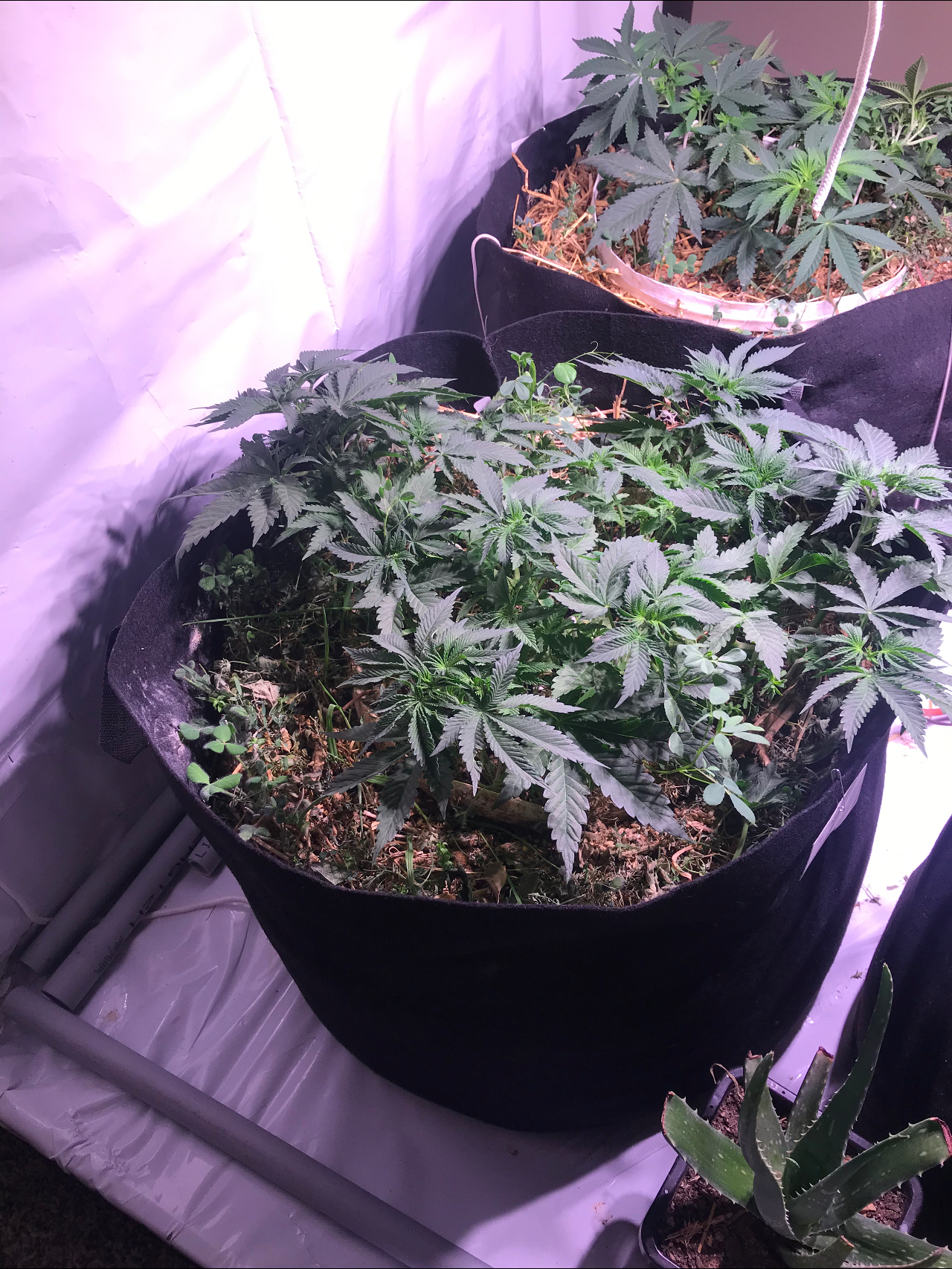 Thinned the girls out, gonna shut the whole thing down after harvest. Top to bottom Bg, bg, pink kush
4 years ago
Cloned the bg. Top dressed with epson salt and sea bird shit. Watered with veg ss tea. Maybe .25 gal for a 20 gal pot. The ss tea was 1oz of alfalfa seeds, 1oz of malted barley seeds, and 1/4 cup popcorn seeds. On top of a stump compost tea. Started lst on the girls. Clockwise from bottom right corner: blue gelato mother, blue gelato seed, pink kush mother.
4 years ago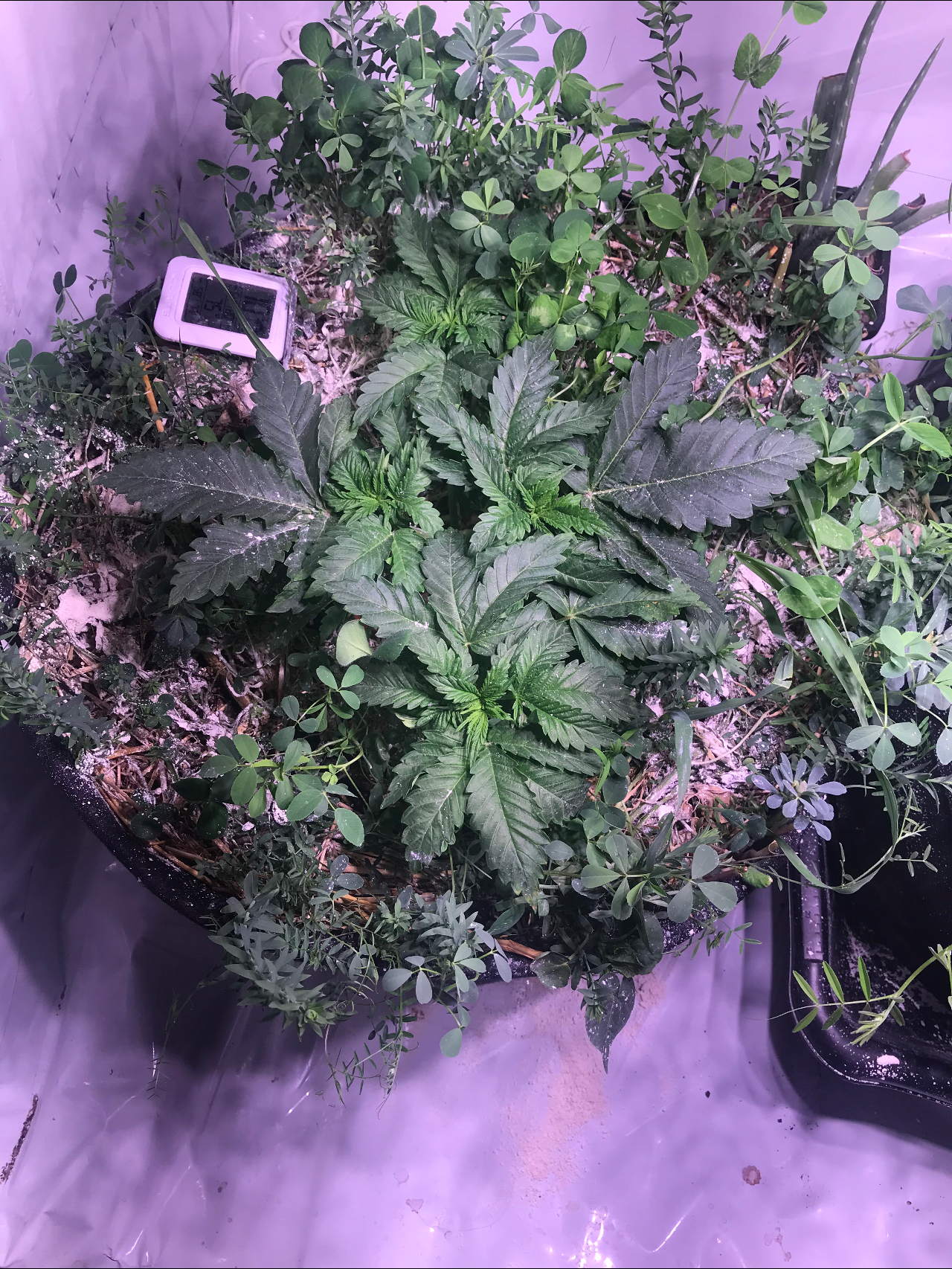 Bad shit happen, my auto watering system failed and dumped all my pots full of water. Lost one girl. The super skunk auto is gone.
4 years ago
Girls has grow a bit. The super skunk auto started flowering already, darn thing is only 11" tall smh. Chopped down the cover crop. Fed with veg ss tea with recyclesil. And moved the mother plants into the mother chamber.
4 years ago
Mystrain420 Love the way they look. What is that growing around them it looks great
Ryo It's my cover crop, adds nitrogen to my soil
View 3 additional comments
Super skunk is now 7.5 in I topped her, bg41 mother is 3", bg41 is 3", and pink kush is 4". Top dressed everyone with bio live, insect frass, neem seed meal, bat and seabird shit. Started a veg ss tea. Pop corn, malted barley, alfalfa seeds.
4 years ago
Got my other carrots installed with soaker hose.
4 years ago
Transplanted the girls into 20 gal pots, going clockwise starting in lower right: blue gelato41, blue gelato 41, super skunk auto, and pink kush
4 years ago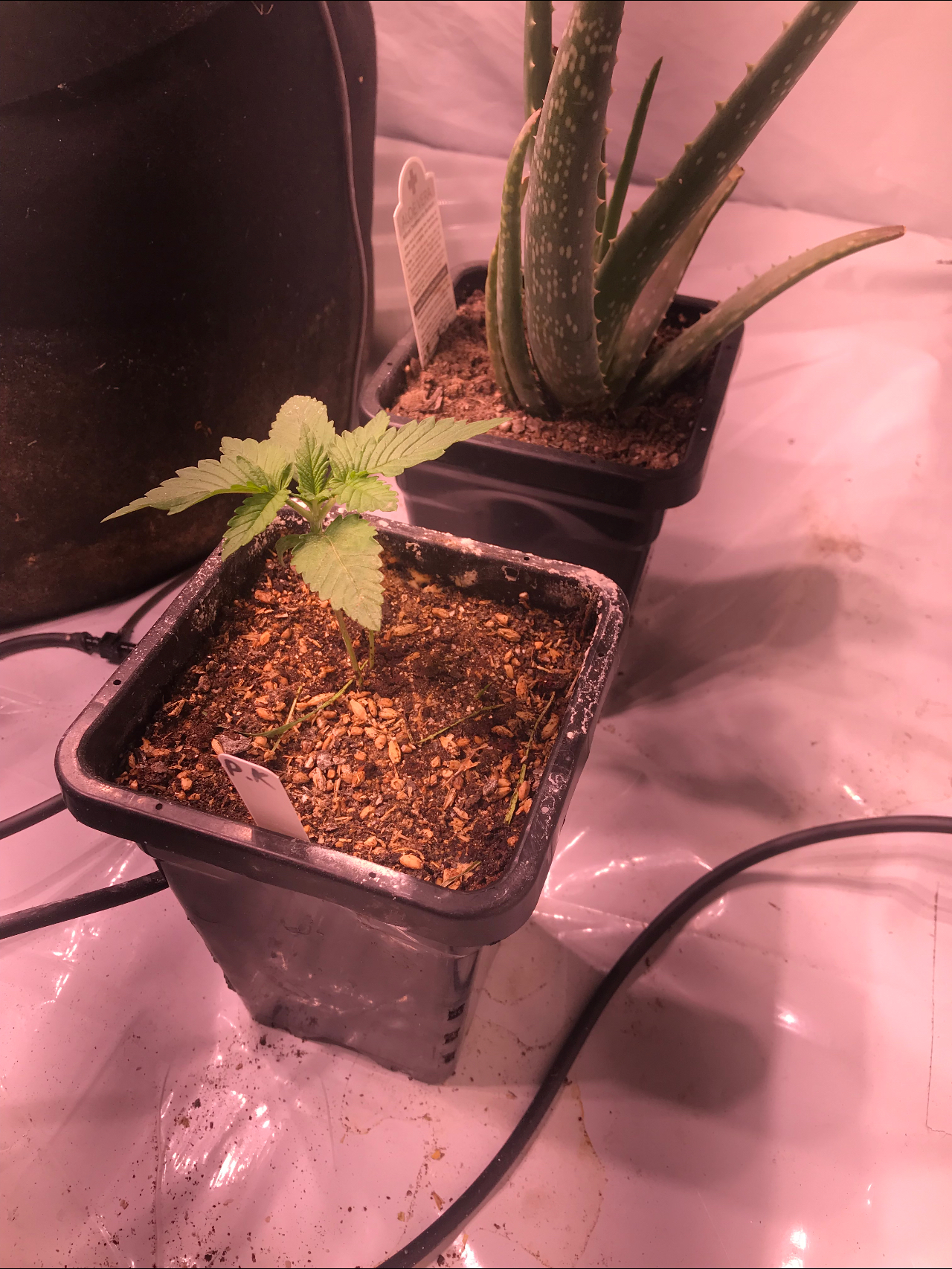 Girls are getting bigger, giving them a ss tea and a compost tea
4 years ago
Got them back into the flower/veg chamber. Third pic is super skunk. The last pic is bg41
4 years ago
These girls got moved into the mother's chamber.
4 years ago
Installed my blumat watering system. I put some DE down.
4 years ago
Ryo The blue gelato 41 mother came up. At 20:09
Second blue gelato 41 sprouted, so it's in a 20 gallon pot. Gonna give the other blue gelato a little more time. Above the aloe going clockwise: blue gelato, blue gelato, pink kush, and the freebie super skunk auto.
4 years ago
One of the super skunks came up(top pic) the other I think might be a dud. The pink kush has almost came up(bottom pic). Nothing on the blue gelato yet.
4 years ago
One more super skunk seed left to germinate.
4 years ago
Pink kush seed has sprouted and planted. Blue dream seed slit into two. Germinating a blue gelato 41.
4 years ago
Ryo Bottom pic is second chamber, left side is super skunk auto, right side nothing yet. Gonna be another ss auto.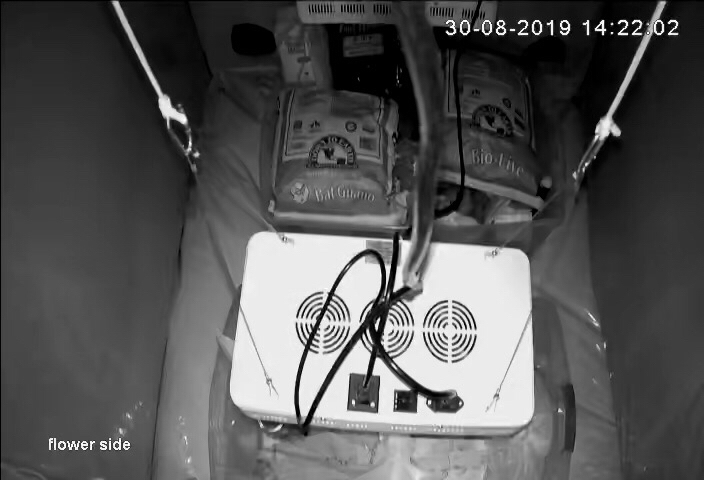 No change in the seeds, added an aloe plant.
4 years ago
Ryo Bottom pic is veg / flower chamber
Dug the seeds out, germinating in bags with paper towel, the aloe plant is looking better once the soil dried out a bit. Also started two super skunk autos. They was freebie with my order.
4 years ago
Box got up to 97 degree f
4 years ago
Nothing popped yet.
4 years ago