First LED grow 👀
Winter grow ❄️
Equipment Gavita Pro LED Grow Light Systemair Revolution V2 EC Fan Quest Overhead Dehumidifier Quest Air Mover Diffuse Air Bio Green Palma Blow Heater Pro-Leaf CO2 Controller & Sensor Air-Conditioning Custom Feed & Drain System Hailea Nutrient Chillers Media Coco Coir Fabric Pots 16L Canna Nutrients, Coco Nutrient A&B, Rhizotonic & PK 13/14 Shogun Fertilisers: Silicon, Calmag & Dragon Force Silver Bullet Roots Seeing what this new LED set up can do I usually keep my HPS lights at the top of the grow space & the girls grow into the intensity. Going to do the same with the LED & see how they get on. Also will be heating in night cycle to keep temperature within a close range of the day time temperature. May run co2 if I think they are going to benefit from late veg
Harvested my grow room last week & finished drying it today. Really surprised at the time it took 7.5 weeks, I was expecting at least 10. I got 1.3 grams a watt (2580 watts) so that's not bad at all, for my first run with the LED's. I was averaging 1 gram a watt before (3750 watts) & the best I ever got was 1.3 grams. Genetics probably held me back a bit on this one, next time I'm going with something I consistently got numbers out of before. Overall I'm really happy with the switch to LED, environment is much more stable, easier to control, the canopy grew a lot more even, penetration was a lot better than I expected as well, definitely reached down further than a foot into the canopy. I didn't really notice a difference in growth between the two heights I had the lights. Both appeared the same to me at harvest, but saying that I'm definitely going to lower the lights. as I want to have my ran & carbon filter back inside the tent, instead of outside it's too noisy for my liking. I have a few changes to make to my grow space for next time, new watering system (Flora Flex) fan, carbon filter back inside the tent & putting my dehumidifier back at the top of the tent. Thanks for following this grow, I'll update you all on my next grow shortly ☺️
a year ago
lolaperez Yeezusss. Congrats bro, 1.3 per watt is impressive !
View 6 additional comments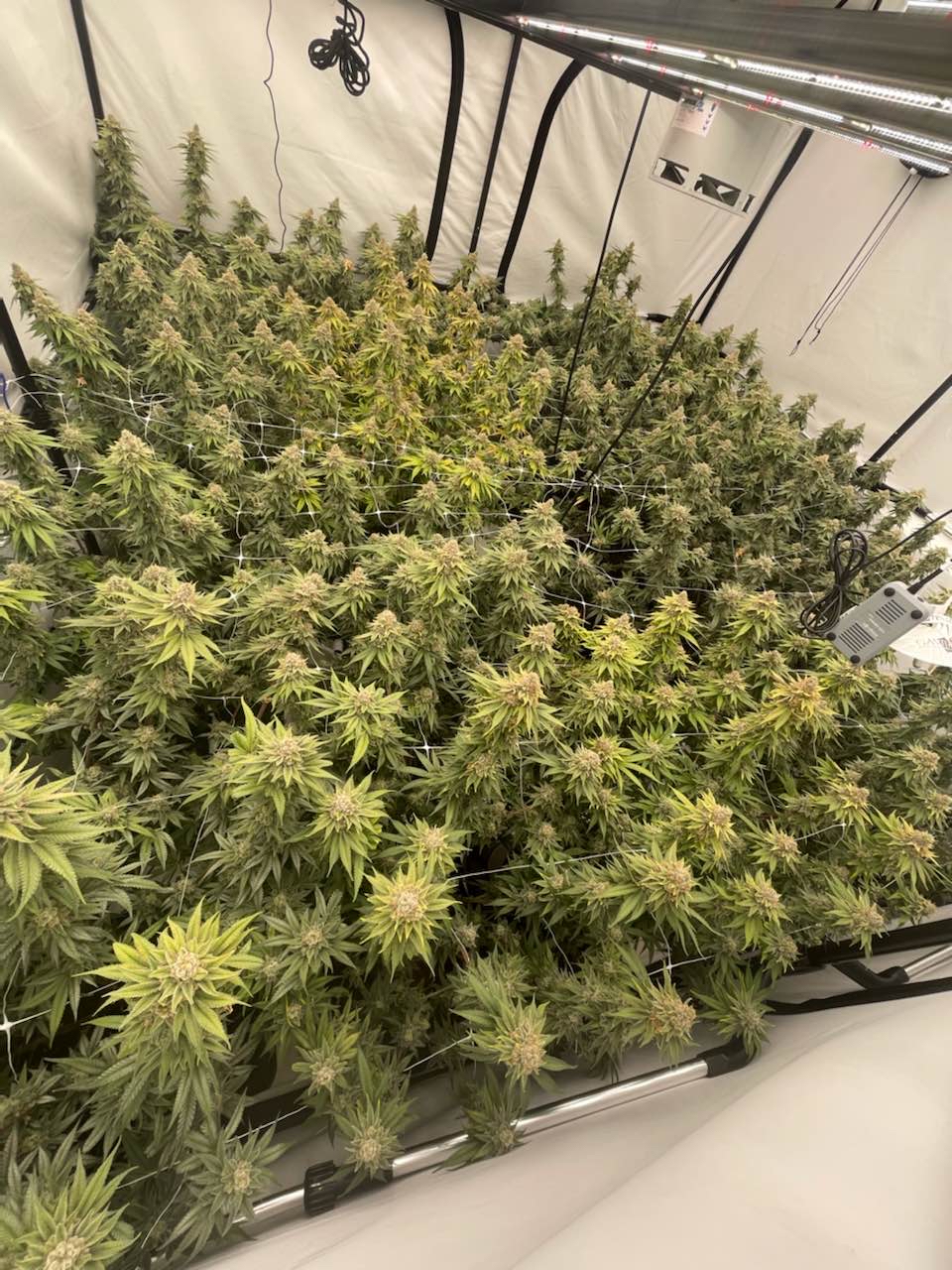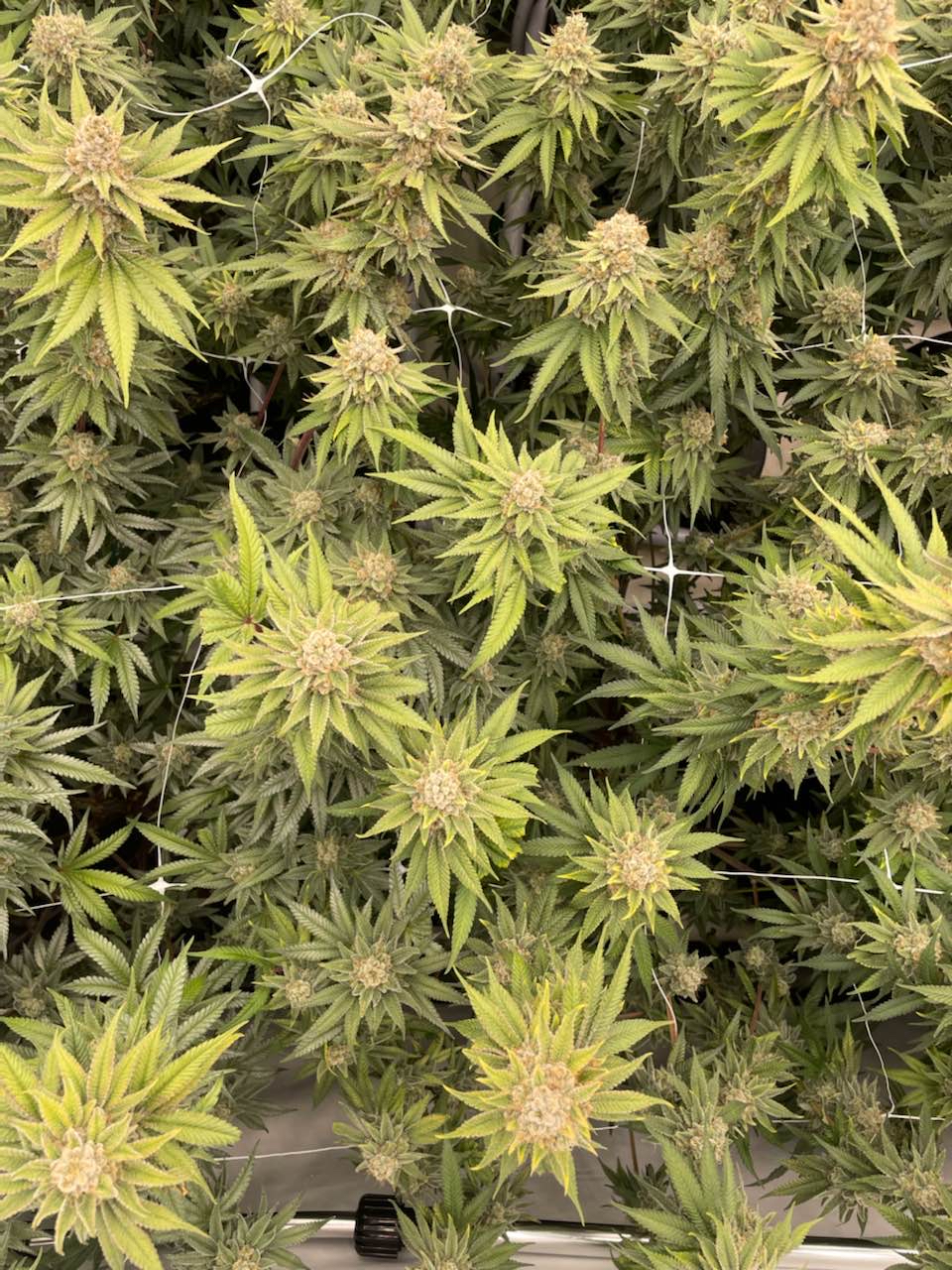 End of week 8 🌻
a year ago
LaGoodie Looking real good...what do you use for co2?
Gavita Jay I'm not currently using any CO2, but when I do it's just canisters. The size I get lasts about a week at 600ppm. Thanks guys I'm not massively impressed with it myself. It is the first run with LED & the strand is one I haven't done before. It's meant to be Lemon Haze but it's behaving more like a Indica. I'm going to do something I have done before next & more familiar with its growing habits. So far though the benefits in terms of environment are night & day though. Can't complain at all with that & I know if it was better genetics I was using. It be a totally different looking canopy ☺️
End of week 7 of flower, everything is ticking along nicely 🌳
a year ago
Lifted Looks amazing! One of my favourite strains. Bet it's smelling pretty good right about now.
Gavita Jay Thank you, it's not as potent as some other strands. But definitely noticeable 😅
End of the 6th week, they are starting to fill out a bit now. I'm going to boost with PK starting from tomorrow. Hopefully they will put on some more size in these last few weeks 🌳
a year ago
alphasmoke Lookin good. One of my favorite strains.
Gavita Jay Thank you, I'm not sure what your asking from NY
View 3 additional comments
Coming to the end of the 5th week of flower. I got a bit paranoid & lower one side of the lights, ended up getting light burn on a few of the tops. I noticed it after about two days, have put the side I lowered up about half a foot. I have one side 65cm away from the canopy & the other 40cm away. Thought I could do a little experiment & see what side fills out more. They seem to be filling out now, I have a lot of brown hairs 40-50%. Could be the strand but usually that's an indicator it's coming to the end for me, used the magnifying glass & had a look. Everything was clear, will hold it at the current feed strength (EC 1.8) for maybe another week to two, before I boost with PK
a year ago
End of the 4th week of flower, they look a bit on the small side. In terms of bud development, could be in my head as there is still 3-5 weeks to go potentially. Starting to see maybe 20% brown hairs, I'll give it a next week or two then boost with PK
2 years ago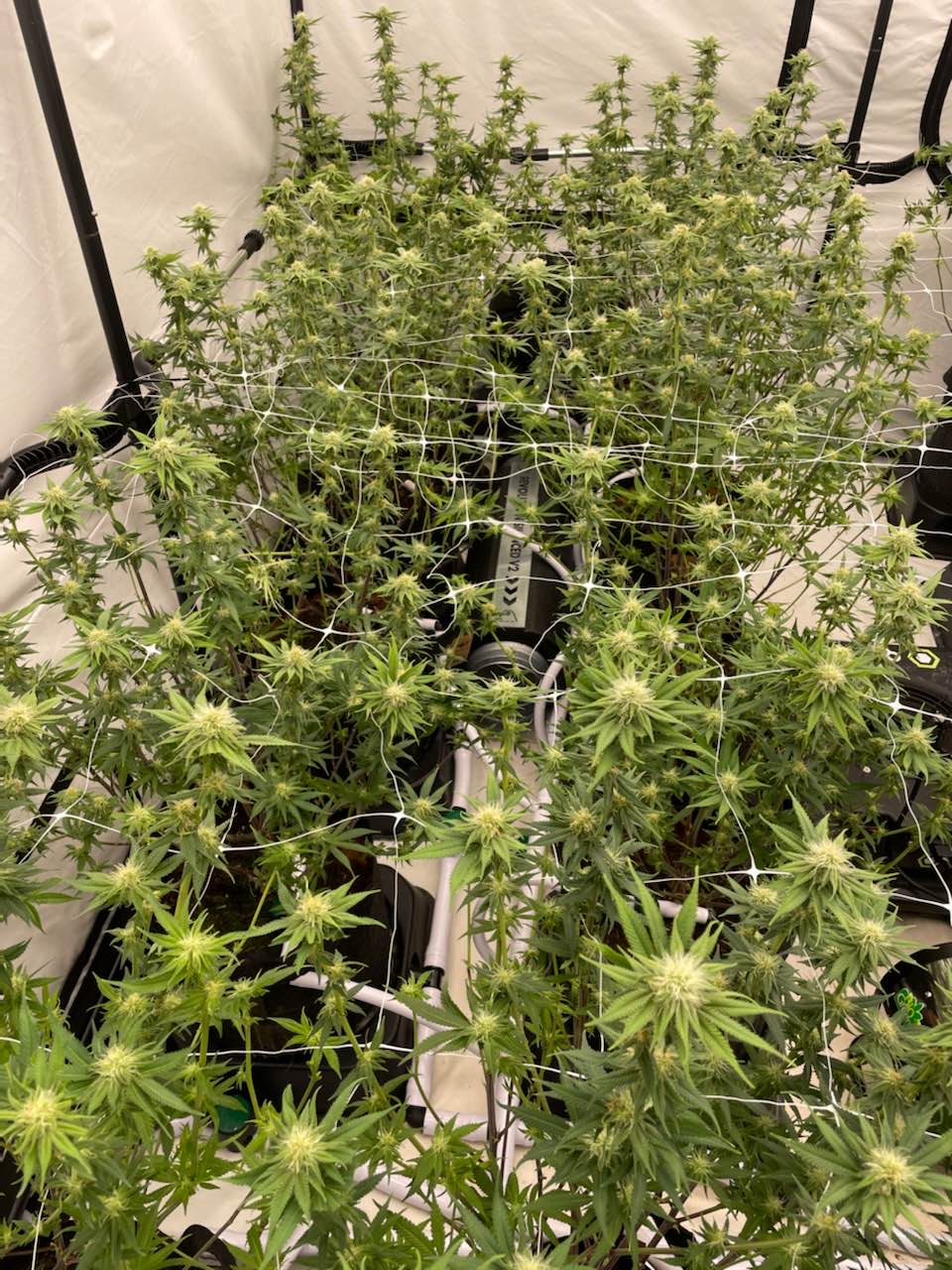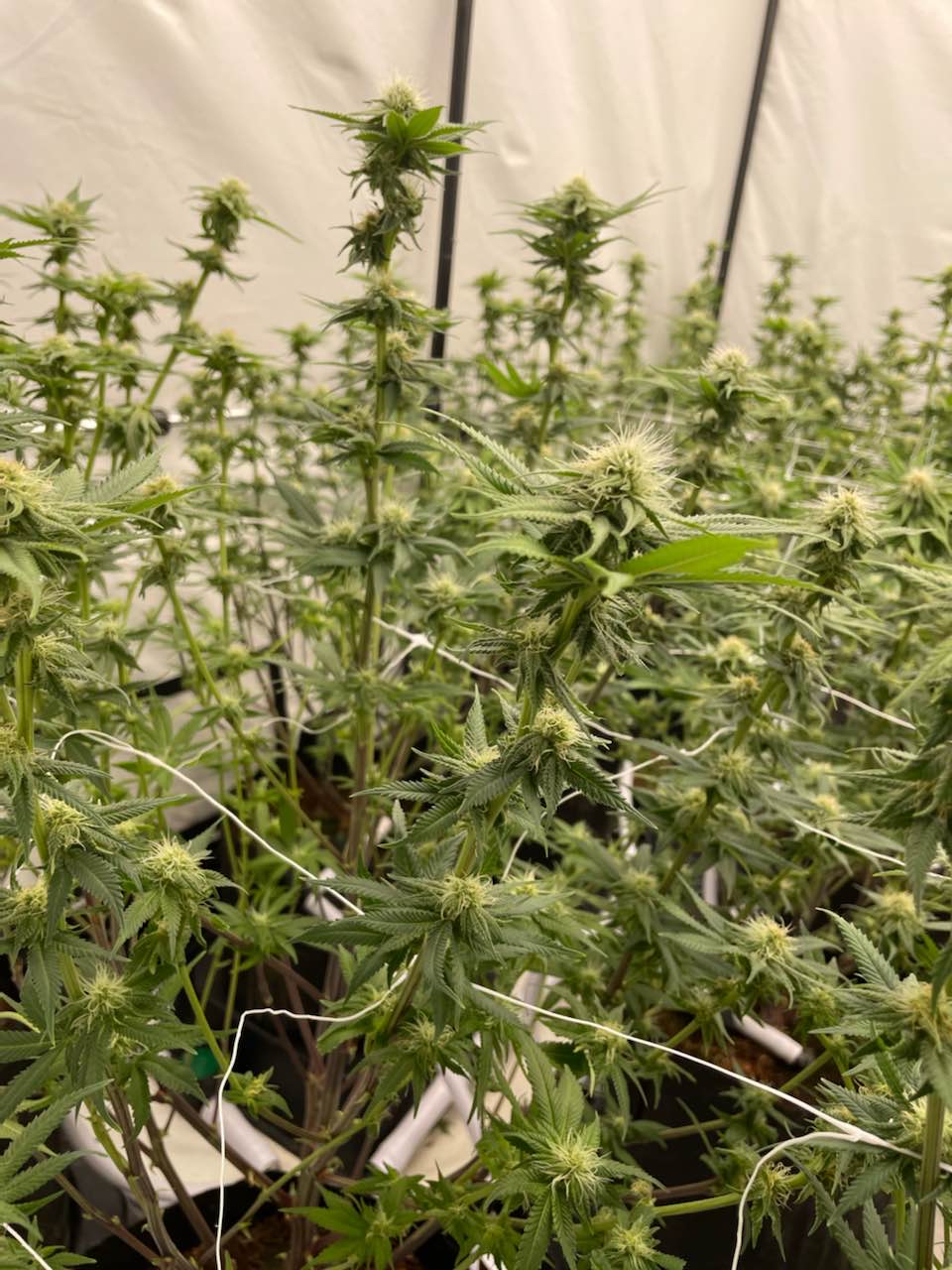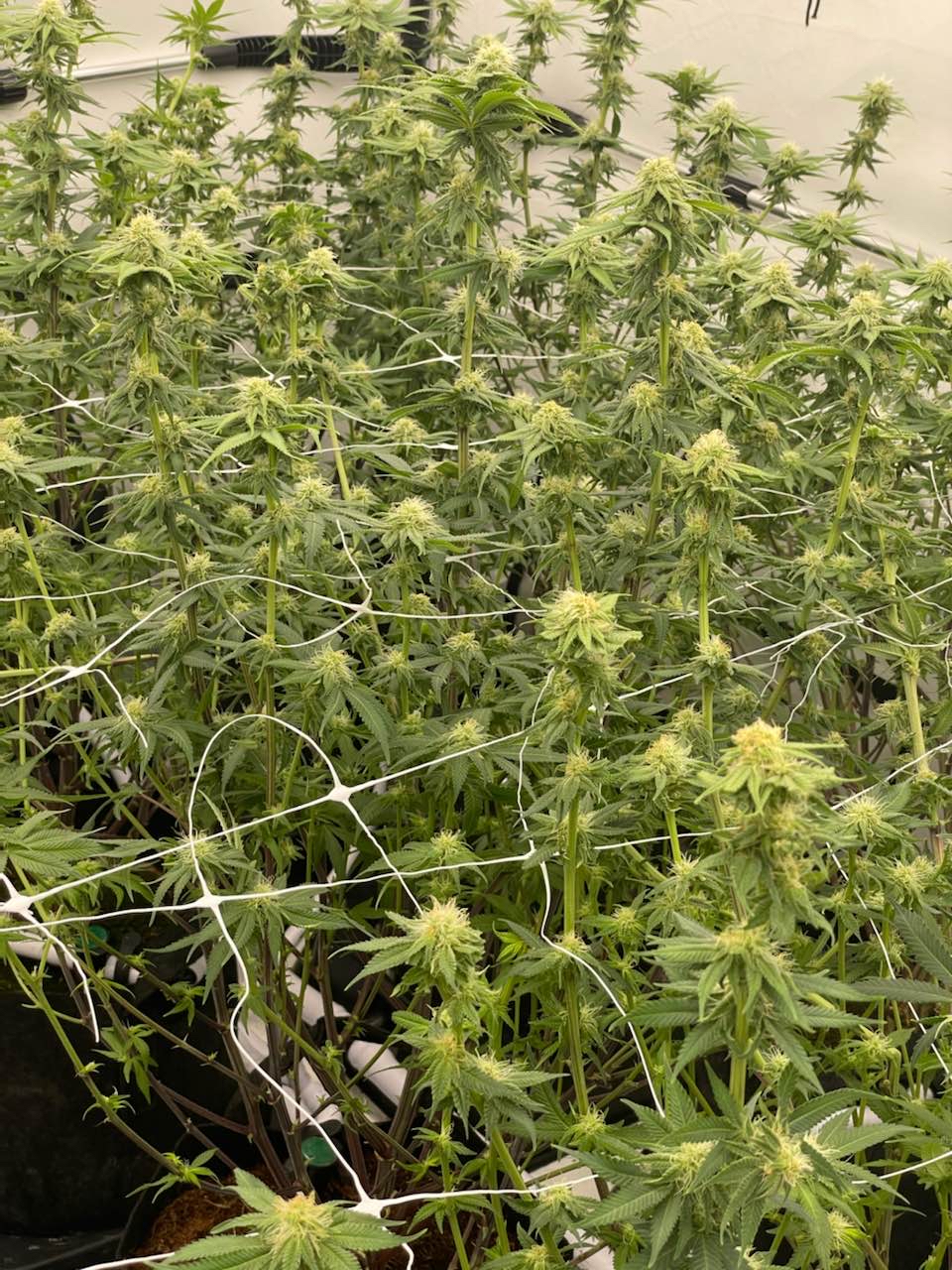 After the defoliation, the bud spacing was really tight so it took hours to get these done. Unfortunately they wasn't really big enough to super crop, so I have just slid the net down to provide some support later on when the buds start to fatten up. I lollipop them & took quite a bit out of the middle of most. To encourage growth at the tops, happy over all. I considered moving the light down but I'm just going to roll the dice and see what happens keeping them at the top 🪴
2 years ago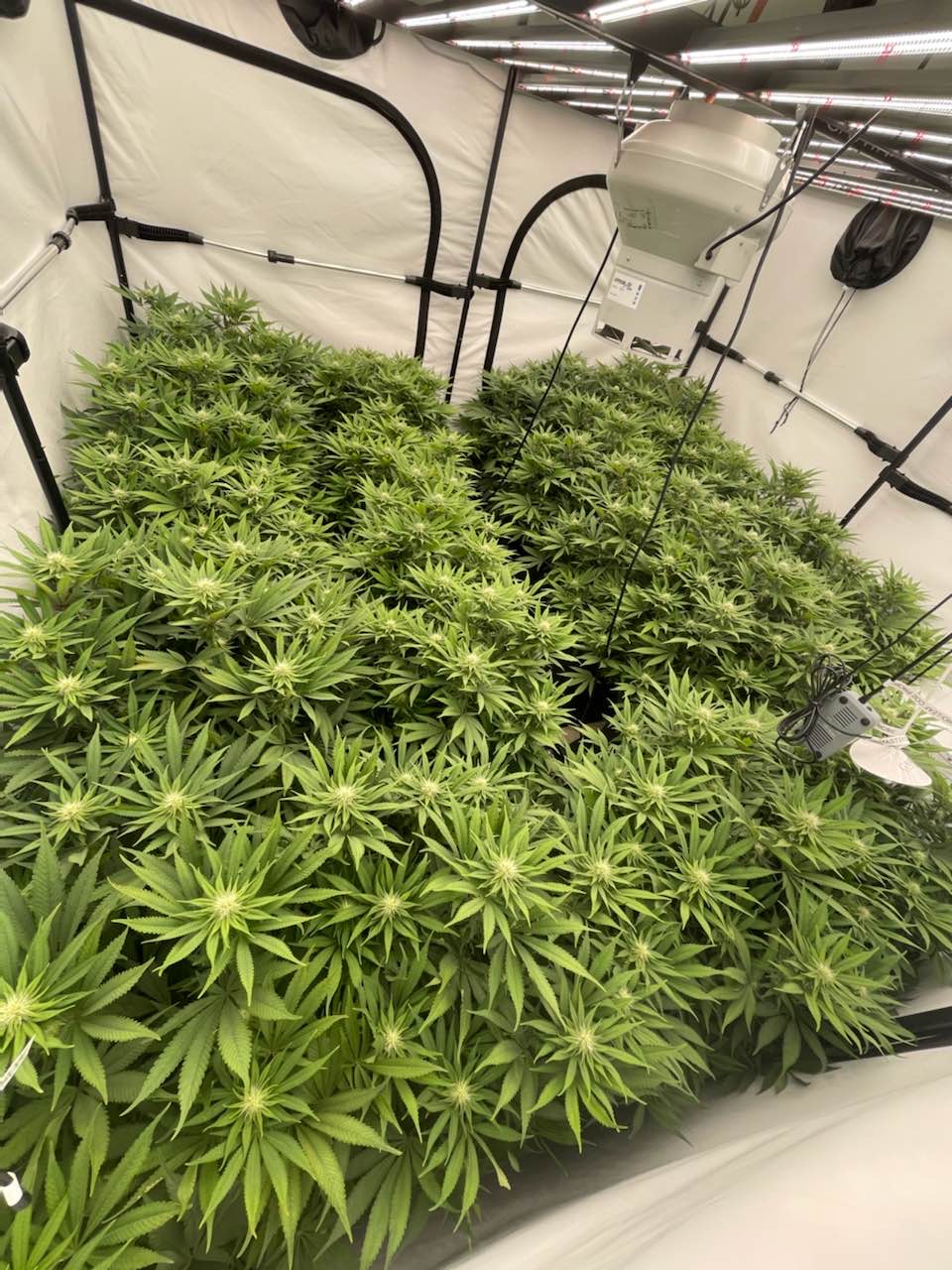 Big defoliation and lollipop tomorrow 🌳🍃🌴
2 years ago
End of week two of flower
2 years ago
View 1 additional comment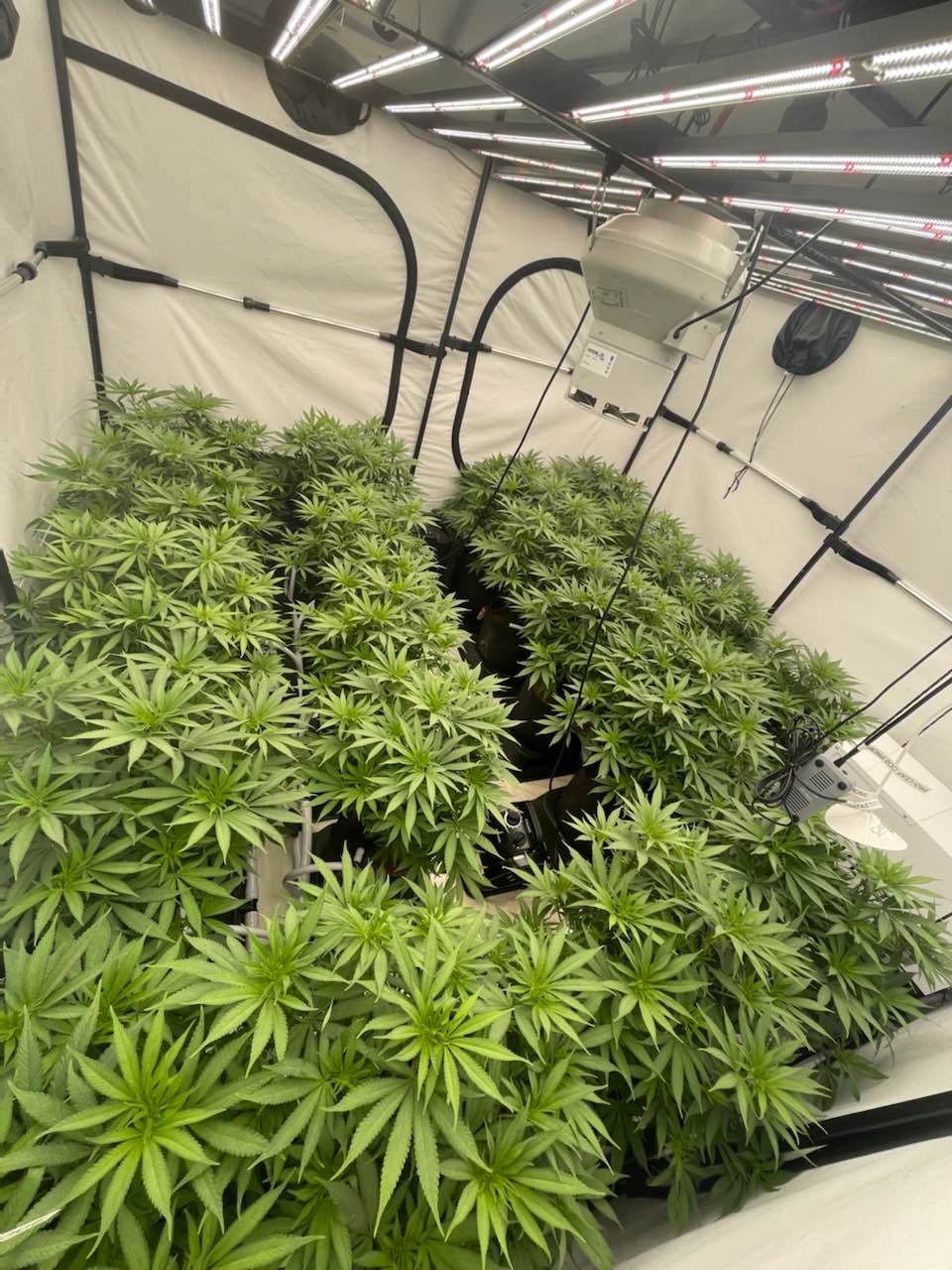 One week in to flower 🌳 things are looking good. Would have liked them a little bigger, so I have more to work with. But can't complain with the current situation
2 years ago
GROWNH It may just be the angle of the picture but it looks like you could get your lights closer to the canopy. That's the beauty of the LED's. I run my high output LED about 15 inches from the canopy in bloom with no burning! Happy growing!
View 8 additional comments
Finally switched 😊 Day #1 of flower, now the fun starts 
2 years ago
THCookie Just went to flower too! I will be keen to see your harvest 💪🏼
View 6 additional comments
Defoliated today & did a little clean up of the bottoms. Not really a full lollipop, I had cleaned them up really good last time I defoliated. I'm really happy with the growth, they had kind of stopped getting taller a while ago. So I'm not expecting a massive stretch, will work with it if they do though. I left a lot more on, I would usually take off more. As I am anticipating it not stretching much, have given myself some more to play would. The growth tips are really stacked up, so I should get some massive heads towards the end 🤞🏻☺️
2 years ago
Will be doing the second, of three defoliation's tomorrow 🍃
2 years ago
Raincoast Craft Buds² Very nice! My next grow will be my first LED as well. Switching from CMH to LED. Light is on its way (roi-e720). Did you have much of a learning curve switching over? What's hanging from the ceiling?
Gavita Jay Thanks 😊 the LED I got are quite powerful. So I have them hung at the top of the tent 1.8/9m. With HPS I would do the same, I'm keeping the temperatures 26-28. Feeding the same, if not a little bit less if anything. You will be happy with the switch to LED, I'm yet the flower. But everything so far is moving much better
View 8 additional comments
One more week then I'll switch 💡
2 years ago
Update on the girls after their first defoliation, think this is 4 days later. I'm happy with the way they are growing now, maybe 1-2 more weeks of veg 🌱
2 years ago
Gave the girls there first of 3 defoliations. This one is to mainly take off the big fan leaves 🍃 clean up the middle & start to prune for the structure I want. I have took quite a bit off & only really left the top shoots. I find later on I cur that stuff off anyway, I only want what I'm going to use going forward
2 years ago
EtherealBud How are you liking the LED? What's the wattage?
Gavita Jay They are 645 watts, so far I'm really liking it. Probably one of the best veg starts I have had, not really any issues at all. Really looking forward to seeing how they perform in flower
EtherealBud I've only used LED lights so I can't compare to anything else. The flowering phase will be great as well!
View 1 additional comment
Will be doing a defoliation & lollipop in the next few days. To re-focus the growth, to the structure I want to be carrying through to flower 🪴
2 years ago
Stems are starting to get nice and thick
2 years ago
Gavita Jay It's basically a Rhizo system I have customise, after using & realising its limitations. The drain system remains the same, 25mm piping throughout the bases in to the brain. Which pumps the waste into a 100L water butt. Piping that links the two is 13 mm and has a non-return valve connected. Then the watering system is a Aqua King pump, in a 250L water butt. 25mm piping to 13mm tee's. That then go to the pots with a valve to control water pressure, secured with plant hooks. Anti-siphon valve & filter in the 250L water butt. Additional water pump in there as well, that pumps into the chiller, which then pumps the water back into the butt to create a constant water fall, to keep the water oxygenated. All controlled with a drip air timer, down to the second or minutes
Happy 😊 with how the girls are looking, growth has really picked up. Can't see any stretching whatsoever, usually with HPS they would be more spaced out. Not massively, but definitely something I have noticed. Could be down to keeping the night temperature relatively high. Still got 2-4 more weeks of veg to go, to I can fully fill out the canopy to where I want it.
2 years ago
This one is finally growing out, of the mutated growth. Will look to cut it out in a few days & let it focus on the new growth
2 years ago
So impressed with the rate of growth so far, got these from clone with maybe 2-3 sets of fan leaves 🍃 
2 years ago
Growing out of it a little bit, I noticed my pH was really high. So I'm thinking it's a bit of a pH issue, even though it's only affectively one
2 years ago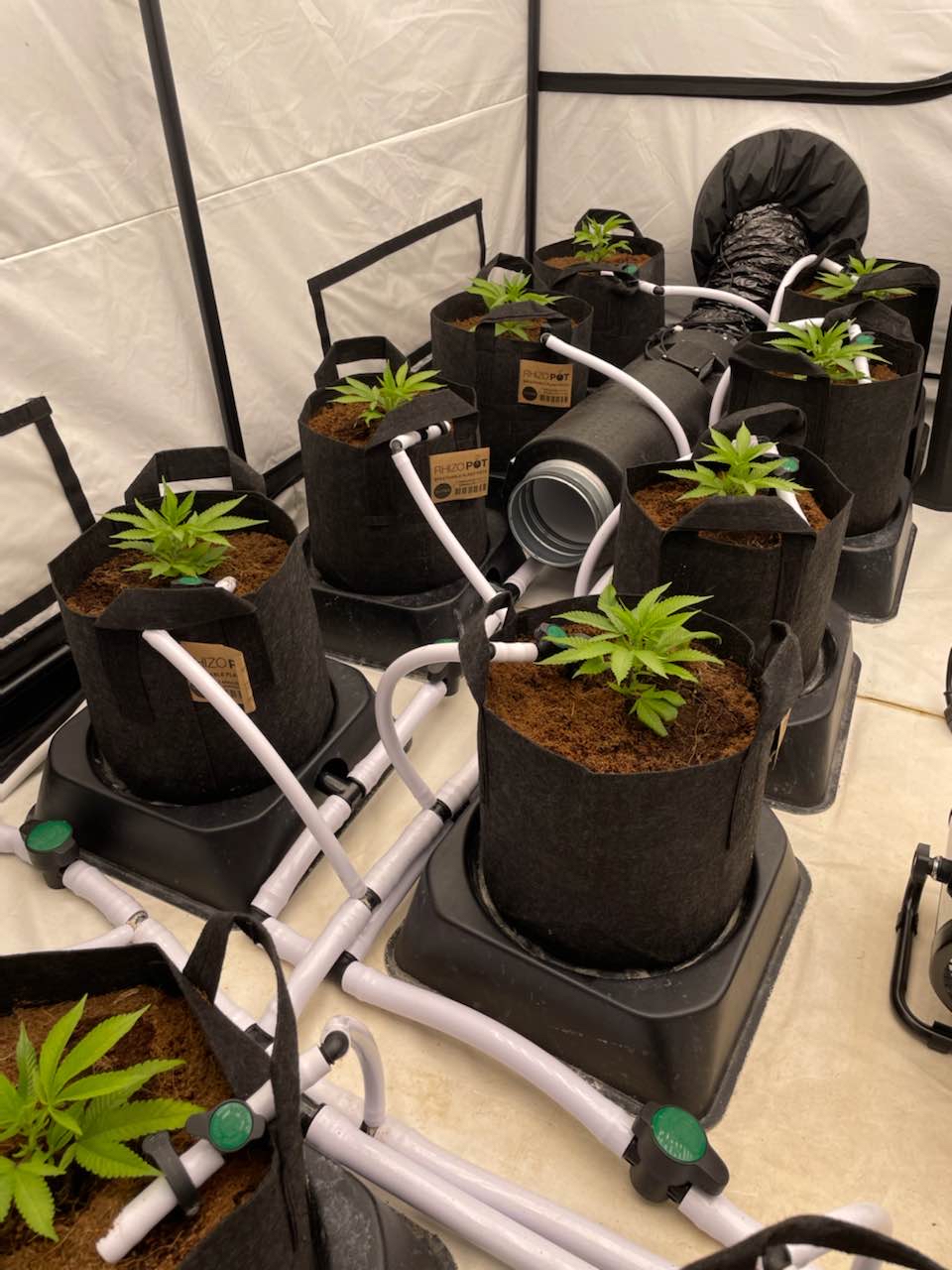 The LED's are definitely moving things along nicely. No sign of stress yet at all, can't wait to see what they look like in two weeks 👀
2 years ago
Making a good start
2 years ago
Happy with the general growth, have one plant that is displaying some mutated growth tendencies. I used to get this quite a lot with HPS after transplanting into bigger pots. In the first 1 to 2 weeks usually goes away after
2 years ago
lawson999 Your light distance might be incorrect. I don't get this with hps. In the beginning yes. I tried out led also after starting out with HPS and unless you dont have a fuckload of them they are only good for a clone/veg room. HPS somehow naturally goes down to 40% RH after turning of the humidifier its perfect. My opinion; why spend alot of money for the right amount of led for flower when you pay so much for them and an hps lamp is cheap and also gets tid of the humidity at the right time and dont neat additional heating etc. You pay a bit more but with a 400 watt hps you rock out a bunch of those mars hydros aso if you use the space well.
Gavita Jay Could be, but I would expect it to affect all of them not just the one. Should grow out of it once it gets a little bigger. I'll cut them bits away & it will grow fine. As for HPS vs LED I'm more swaying towards LED hence the set up. But until I complete a grow with LED I won't have a answer. So far I'm impressed with the temperature and overall growth in early veg
lawson999 I'm having real troubles flowering they veg amazing but my og kush auto is like at day 45 barely blooming and bloomed at day 25 with hps with the light way to far
View 3 additional comments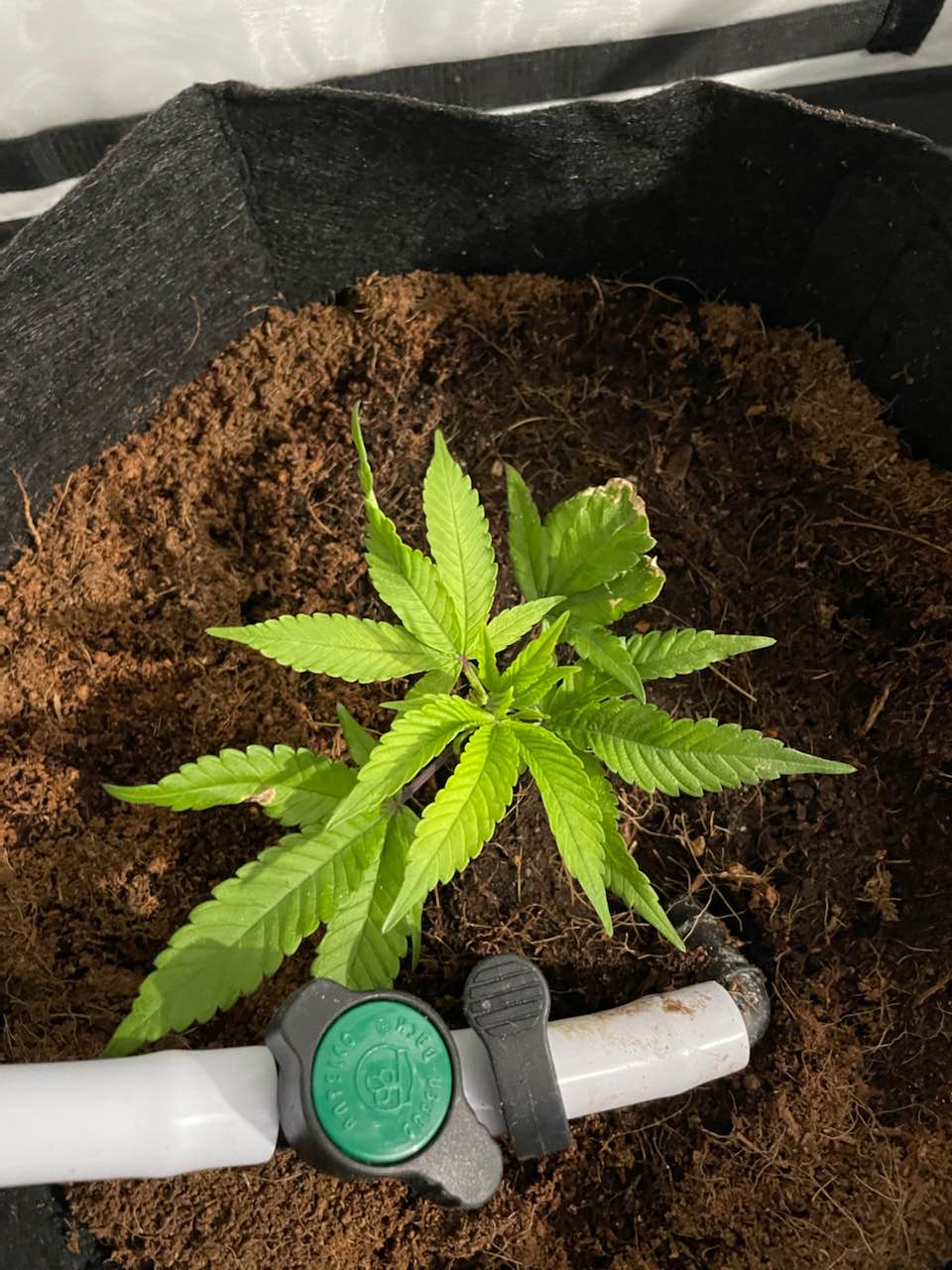 Generally quite happy with the rest of the growth over the past 5 days. No signs of stretching yet, EC 1.1 PH 5.8 feeding once a day, just upped to 2 times a day, as I'm not getting much run off
2 years ago
KingsMenGlitch lol I was about to beg you for whatever steroid method you use 😂😂😂 I was like a 5 day seedling 😂😂
View 3 additional comments