jocelynm6
Badger
2021
Same as adam
What is wrong with the leafs?:( they don't seem as flexible and flat as my other fan leafs. Rounding up in the middle and getting kinda hard idk how else to explain it. Help pls
2 years ago
Looks good. Going to top this one either tomorrow or the next day. Has growth
2 years ago
Looks good. Has growth. Ppm is 700-800 same as my other plants.
2 years ago
Topped today. Nodes were long enough for me. Looks good. Will be outgrowing my window soon.
2 years ago
This one is doing pretty good. Roots are growing in well. Branches are reacting well to lst I applied yesterday or the day before🤷🏻‍♀️ going to add cal mag to new fert
2 years ago
Turning purple a bit hopefully goes away with the nutes at full strength now. Might have to start adding cal-mag to my mixture. Stopped adding because it was burning my plants but might have to bring back. ****** not my c plant just mixed up labeling 🤦🏻
2 years ago
homiegrown Purpling on the stems isn't always a bad thing. It can just be from the light and doesn't affect the plant
Some growth. Looks good
2 years ago
Some growth I think
2 years ago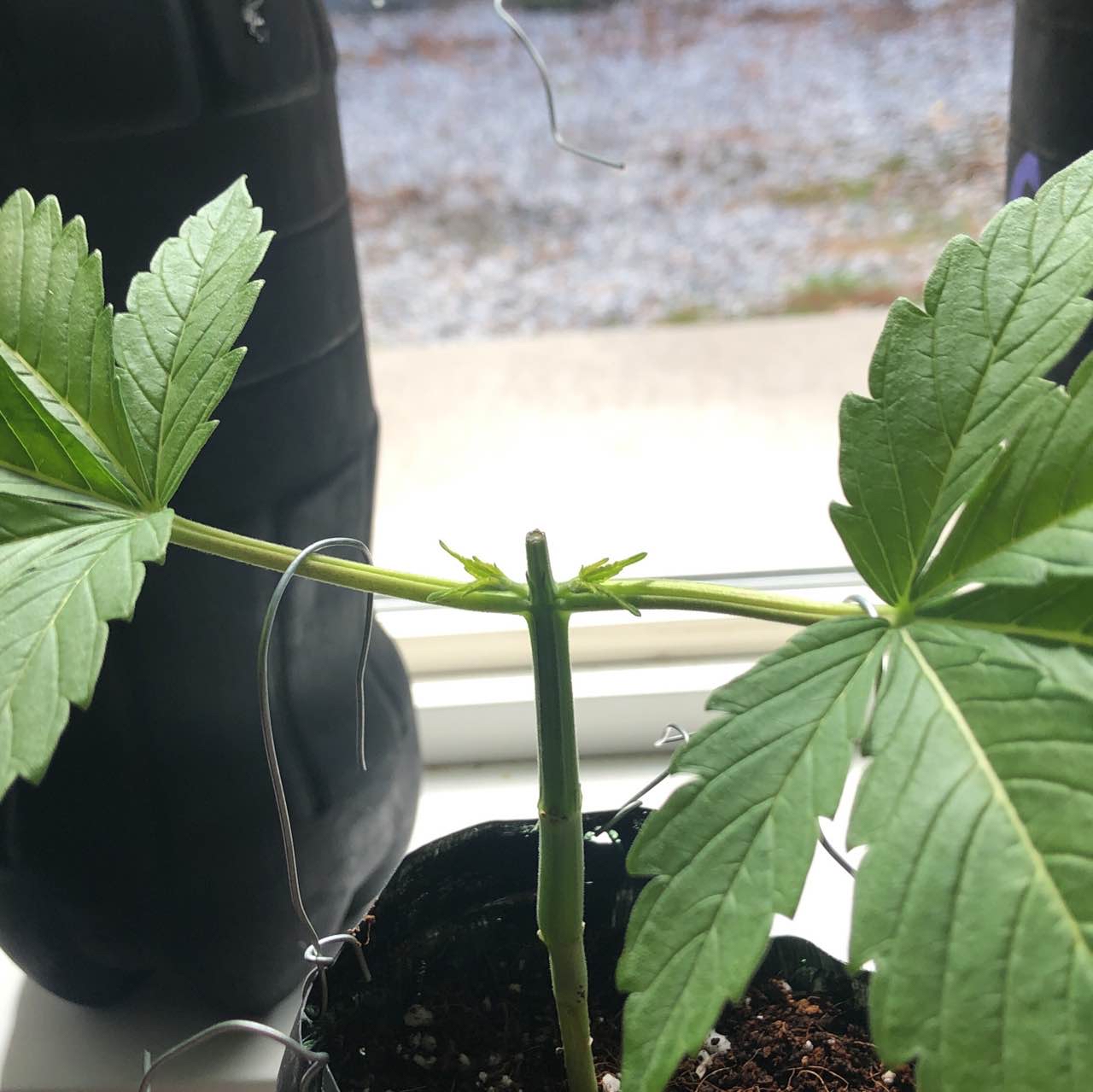 Maybe a little growth🤷🏻‍♀️
2 years ago
Not much growth on this one either but I did top them all 2 days ago so to be expected I think.
2 years ago
Might have jumped the gun a bit but I topped today to the third node after the 5&6th node were visible.
2 years ago
Looks good, some yellowing in the veins on this plant aswell. Not too sure if it looks like this though because it's newer growth or not tho. Any suggestions?
2 years ago
Looks good. Ppm yesterday was 1593 and today is 1082. Not too sure why this plant is so high with ppm where my other plants are around 800-900 ppm now. Any tips? Also forgot to add that I'm feeding them 165-170ml of fert water once daily. I'm using jungle juice micro, grow, and bloom; micro and grow being .5ml/l and grow at .25ml/l. Was using cal mag since I'm growing in coco coir but was giving off high ppm and slight nute burn.
2 years ago
jocelynm6 I end up shaking it pretty well, i ph my water(as most do) and I end up having to slowly work my way down to 5.9 ph with ph down. I don't normally shake it before each feeding though so I should probably start doing that.
Repotted them to 2L bottle lol, the roots were starting to stick out which I didnt think to check tbh. Sitting outside now since it's warm outside today. Redid the fertilizer to only 1ml/l for micro and grow and .5 ml/l for bloom; I took out using the cal-mag as per suggestions. Ph'd the water to around 5.7-5.9 since ph meter is cheap and may not be completely accurate.
2 years ago
326 in the morning. Looks good and grew a bit
2 years ago
Have grown a bit and I think I perfected the fertilizer for right now.
2 years ago
Doing really good. Upped the fertilizer up one dose because I think I forgot to add in the other half🤦🏻🤷🏻‍♀️ ec of 800 now though for runoff instead of 400 like yesterday so hopefully they are doing good.
2 years ago
Watering for a day now with ph of 5.8
2 years ago
Doing good trying to figure out what's going wrong with runoff. Ppm of 400 for some reason where ppm for feet water is 1600
2 years ago
Going to give first batch of nutrients today. Have been feeding them 1ml/L of advanced nutrients sensi cal mag every day and they seem to be doing fine. Going to give them their first feeding of advanced nutrients jungle juice starting at 3 ml/L of grow, micro and 2ml/L of grow for this week. Bumping up cal mag to 2ml/L for the rest of the grow. I'm growing in 70:30 coco coir to perlite mix outdoors. Not able to put outdoors right now since it's not warm enough; will stay in my window and moved around the house to ensure 12 hours of sunlight. Just got ph and Ec meter in mail today so will be using those aswell from here on out.
2 years ago
All sprouted today
2 years ago
Planted in solo cups with buffered coco coir
2 years ago
Just started sprouting
2 years ago
Started germination
2 years ago