_Athena_
Sativa soil grow
Jan 1 Start
Homemade supersoil mix, 4x4 grow tent, 1 and then 5 gallon pots, 1200w viparspectra LED 24in away from canopy with 18hrs on 6hrs off.
Double Chocolate & Amnesia
Harvest day. Hung the flowers, cleaned the tent with peroxide and put the clones in their new home.
3 years ago
Flowers are maturing nicely. The clones are anxiously waiting for harvest time so they can fill out properly in the tent. My first cloning attempt was such a success I have to give most away because I don't have room for them all (13 ending up making it, and I will be keeping 5). After giving away a few clones I finally have some room to do LST on the bigger ones, which is long overdue.
3 years ago
They grow up so fast. Clones aren't babies anymore.
3 years ago
Did some lollipop defoliation, added a dehumidifier, and sprinkled DE on top of the soil to help fight off my bad fungus gnat infestation. Clones are coming along nicely. 8 have been transplanted into bigger containers, with 2 more that have roots starting to show.
3 years ago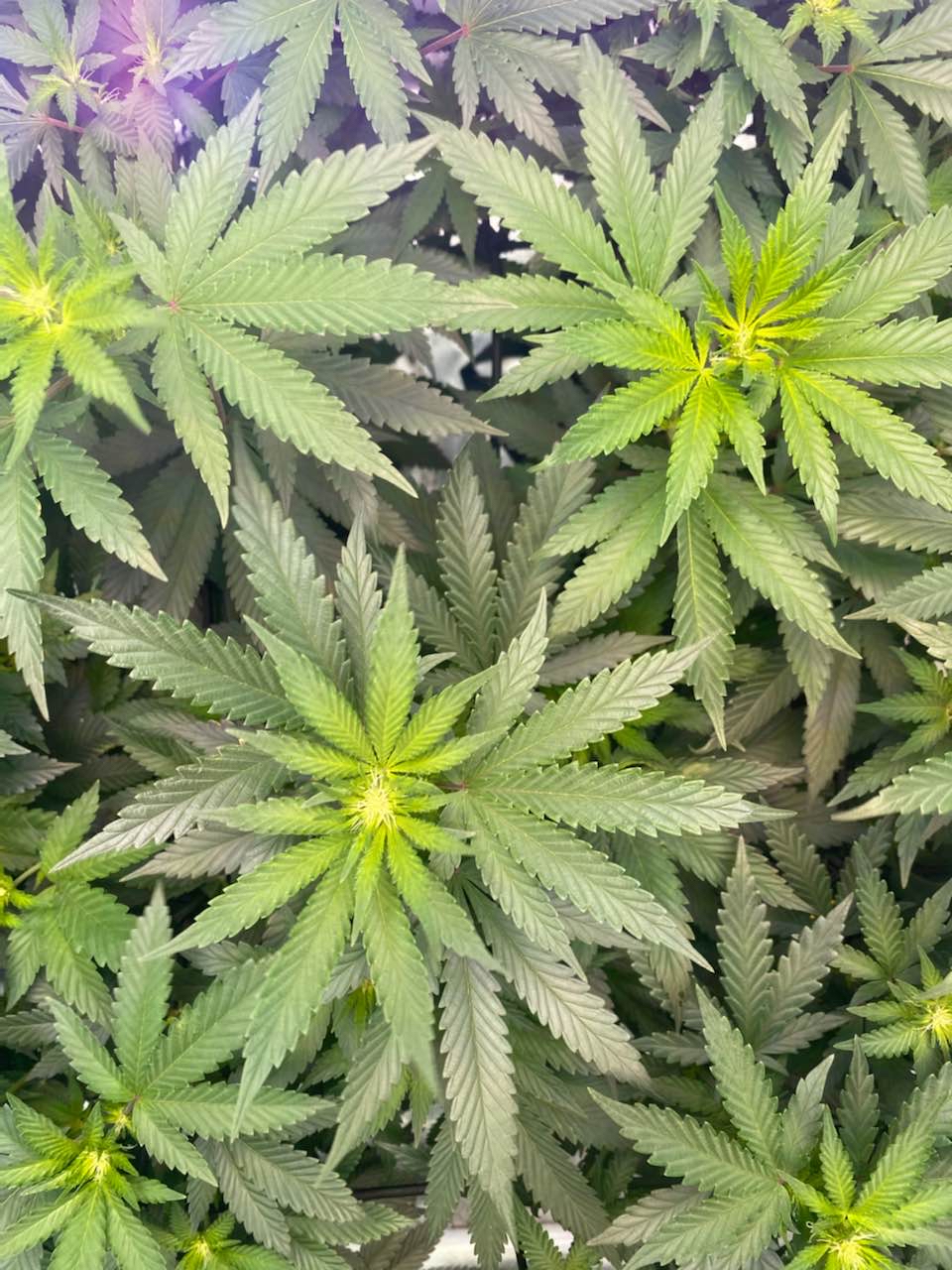 Clones and developing flowers are looking good, but one of my plants has curled leaves on a few of its stalks. Luckily the rest are looking great. I looked it up and wondering if it's nitrogen toxicity? I don't use added fertilizer but I top dressed my soil with dry amendments 10 days ago (coffee grounds and a small amount of compost were included so that's the only place the excess nitrogen would've came from). Now I'm not sure how to correct this issue. Anyone have ideas on how to flush nitrogen out of soil? Or maybe it could be something else?
3 years ago
My little zombie clones have perked back up and are doing well. Closing the blinds and having a raised T5 instead helped with the overheating issue. Looks like 6 or 7 of them are going to make it.
3 years ago
Top dressed the girls with coffee grounds, egg shells, kelp meal, bone meal and compost and flipping into flower. Clones aren't doing so good though. I missed a watering on the second day which caused major wilt and leaf damage (which you can see on the bottom plant in the second pic) but I am spraying the plants and top of the dome 2 - 3 times per day. Two of the Double Chocolate seem to be holding up but I don't know if any of the Amnesia are going to make it. Help! Is it too hot? Should I take it away from the window? Is there any way to save them or should I top the main plants again and start all over?
3 years ago
combatmedic81 Did you run the clones in a cloner box to get the roots going?
_Athena_ No cloning box, just a humidity dome. I thought those little boxes were for hydroponic grows? Sorry if that's a stupid question, it's my first attempt. 😞 For now I put the blinds down on the window so sunlight isn't hitting the dome with a T5 48" above it instead. Temperature reading says 26 degrees C (78 F) with humidity at 90%.
Flipping into flower soon but first I wanted to top a couple of stems off each plant for clones and defoliate the bottoms. I noticed spotting in one of the Double Chocolate plants but I'm not sure what it is. Magnesium deficiency?
3 years ago
_Athena_ Just super soil that I cooked myself - potting soil with mycorrhiza, compost, a little manure, worm castings, bone meal, perlite, kelp powder, with some compost tea once a month to help with the microbes.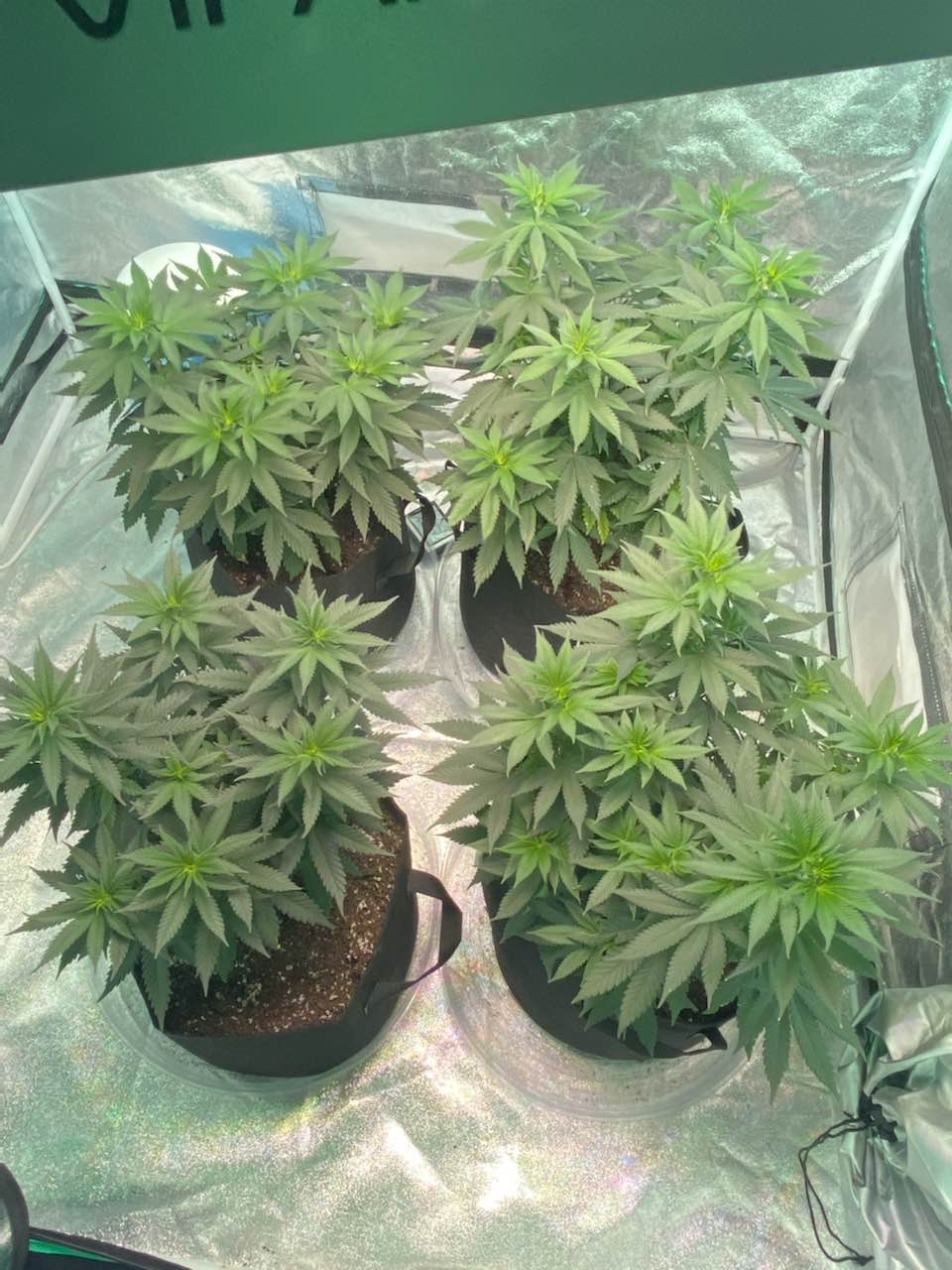 Set up the SCROG net
3 years ago
JuanO They're looking very healthy and happy. Well done!
Transplanted into 5 gallon pots in preparation for flower.
3 years ago
Lots of bud sites developing
3 years ago
Defoliated the girls. The stems and leaves are dark, but they look healthy.
3 years ago