Outdo 2022 Autos
Fall buds
Have a lot of things about to start in the next few weeks and don't have room for these girls inside anymore since they need to be transplanted and just don't have space for them so no need to waste'em I decided to throw them outside by the pool.
Orange Sherbert Auto FB Cinderella Jack Auto FB
They are still trying despite the smoldering heat the last few days of 105+ and ultra low RH of 22% the buds are pretty airy due to the very unfavorable conditions 😕
7 months ago
Chief Smokalot Besides the airy Ed's they are looking nice and healthy. Is giving them shade a solution on the hotter days?
HeritageSecretGarden Yeah the potency of the summer sun in Az is tough they get their DLI in like 3hrs in the afternoon and 2 hrs in the morning so this before I took them out I'll put them back by 10 then when the sun gets to to it's position around 430ish it will hit them up here til it goes down
They are still hangin in there despite being beaten down by hurricane like winds last night and now back to smoldering heat 🥵I will say these girls are survivors 😎
7 months ago
Discpimp The outdoor life is a tough one HSG! My two clones outside just got wind whipped all to hell and dumped on with 2 inches of rain overnight. IMO it makes more resinous smoke when they've run the gauntlet stresses and lived to tell the tale. I think they gonna look great when they plump up!
HeritageSecretGarden I hope so bro the heat here makes them grow thin like string beans but it should start to get down to the 90's come September so if they survive the blistering end of our monsoon season they may just produce some nice herb I really just wanted to see how they would do in the heat
Discpimp Hey man always fun to screw around and try new shit 👍 you run a nice shop extremely well inside so sitting pretty🤙. Never hurts to try new things
View 1 additional comment
What a great morning my partner stopped by with samples from his last harvest finally dried and cured for 2weeks and what a nice selection of straight fire 🔥 left to right on the bigger jars Avatar Truffles, Chocolate Mochi, Pink Gratefruit, then left to right smaller jars Fire Truffles, smartiesxNL, and Jedi OG. I went with the candy 🍬 sweet smelling one SmartiesxNL tastes just like it smells and is 🔥🔥🔥
7 months ago
HeritageSecretGarden Bro it's all fire his ig is azstass83 check him out bro oh you talked to him about the haze you were looking for
View 3 additional comments
Girls are doing the best they can in this smoldering heat 100+ for days on end need another monsoon storm to come thru. But they are ekking along about 2ft or so tall and tiny budlets all over so we will see.
7 months ago
HeritageSecretGarden Thanks but they r string beans compared to my indo it's too hot and too low humidity but they are trying so thank you 🙏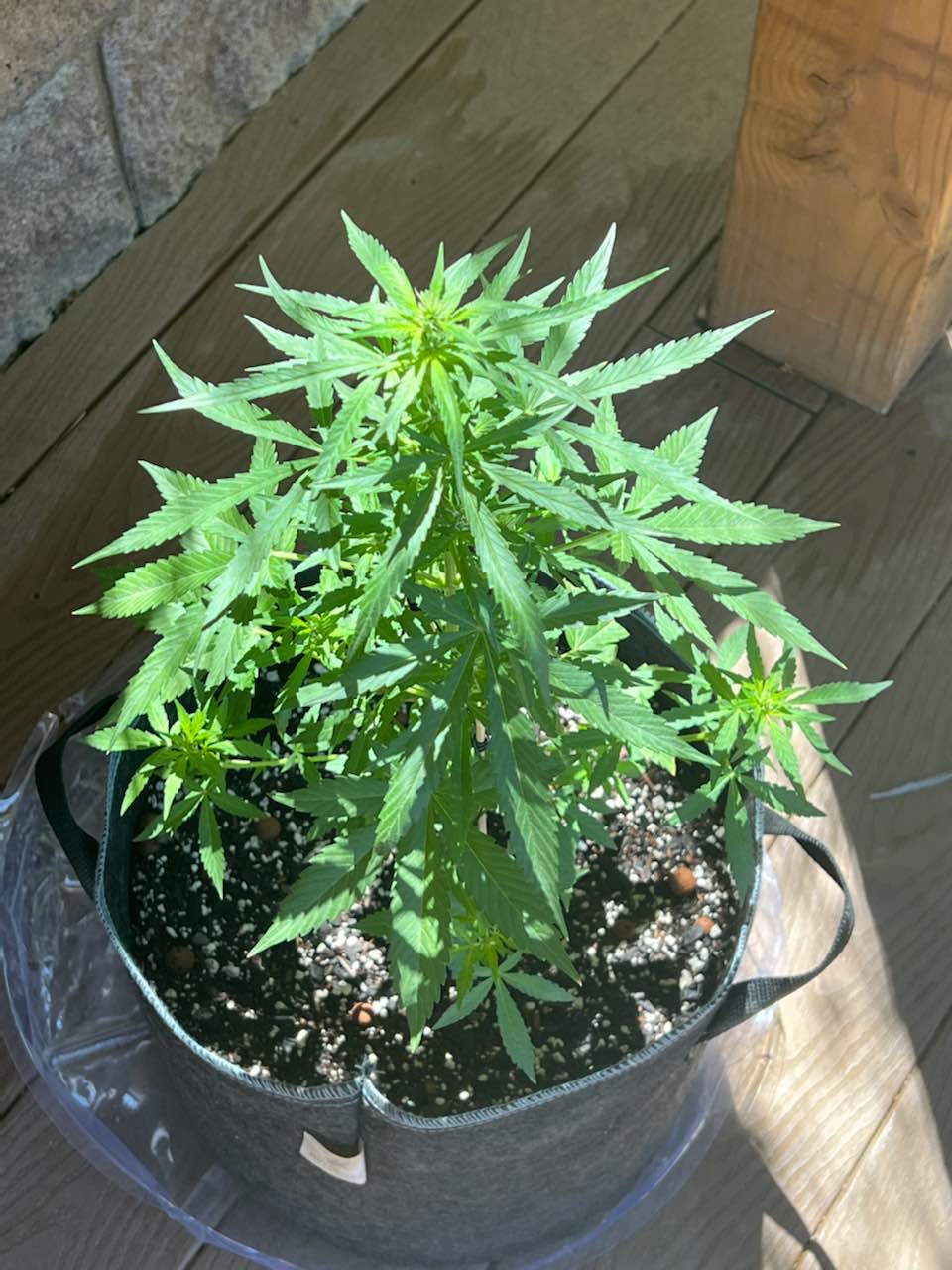 Now showing some nice little budlets and doing much better than I expected in the az heat 🥵
7 months ago
Showing some nice pre-flowers and doing pretty well despite the smoldering heat 💯 + for days on end 🥵
8 months ago
The outdo autos are looking good this morning 🤩
8 months ago
The outdo autos got their first flower nutes feed today so they should kick into high gear now with the flowers 🌸. They are doing surprisingly well outside with the extreme heat 🥵 yesterday and today only lost one leaf and one got some damage when I forgot to move them off the pool deck this morning til rt now so they got baked a little lol 😆
8 months ago
HeritageSecretGarden Thanks I'm rather surprised they r doing so well with it being over 💯 nearly everyday with low Rh but I'll take it
Had a little wind storm last night had to tie these girls up so they didn't blow away last night lol. They got their first feed of flowering nutes lol looking good and we out of the gate 😎
8 months ago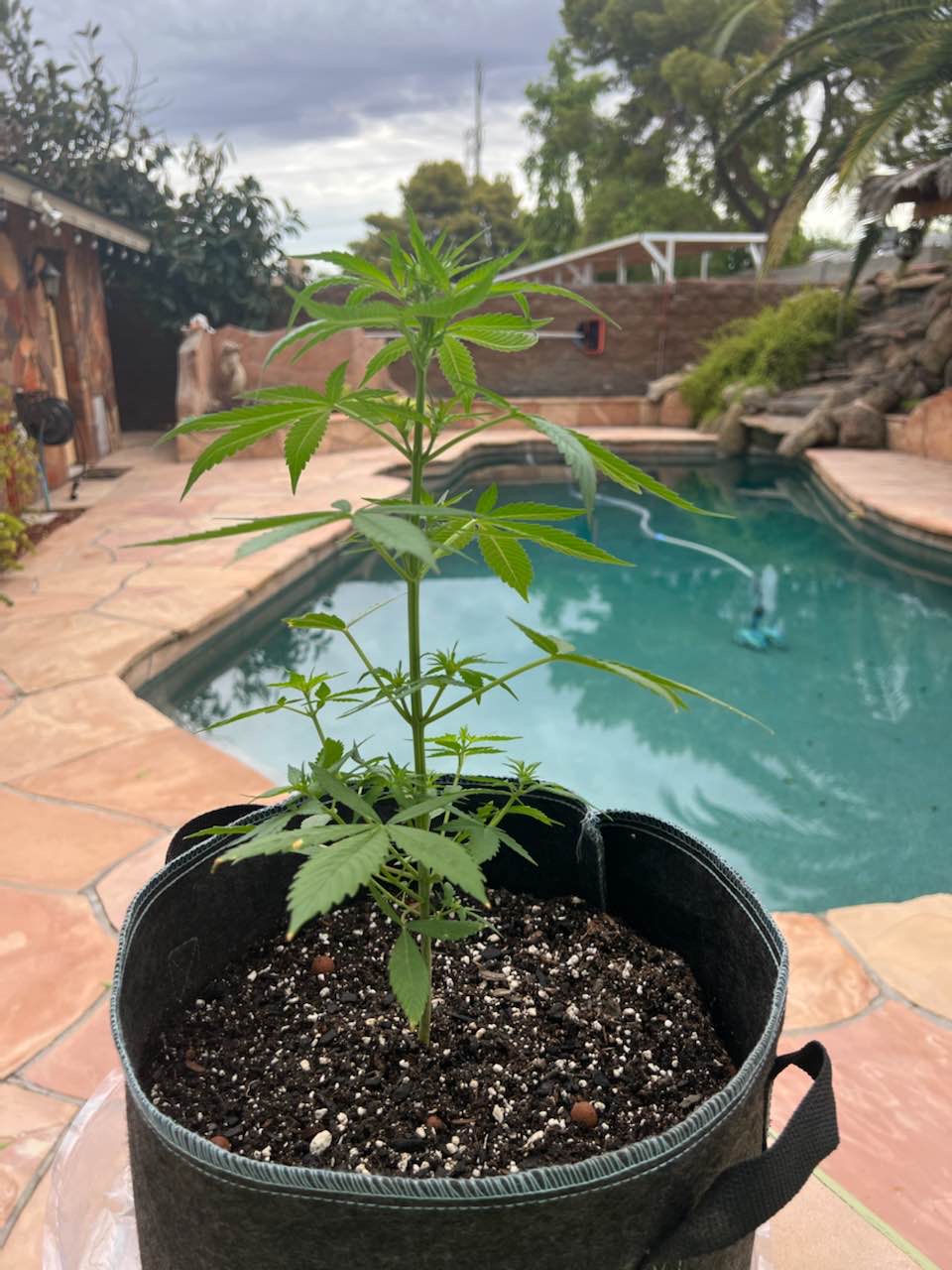 Rained hard again last night so they are loving the weather here rt now RH66% temps 81 degrees couldn't be anymore perfect for these girls who despite losing a leaf here and there due to extreme heat 🥵 are doing quite well.
8 months ago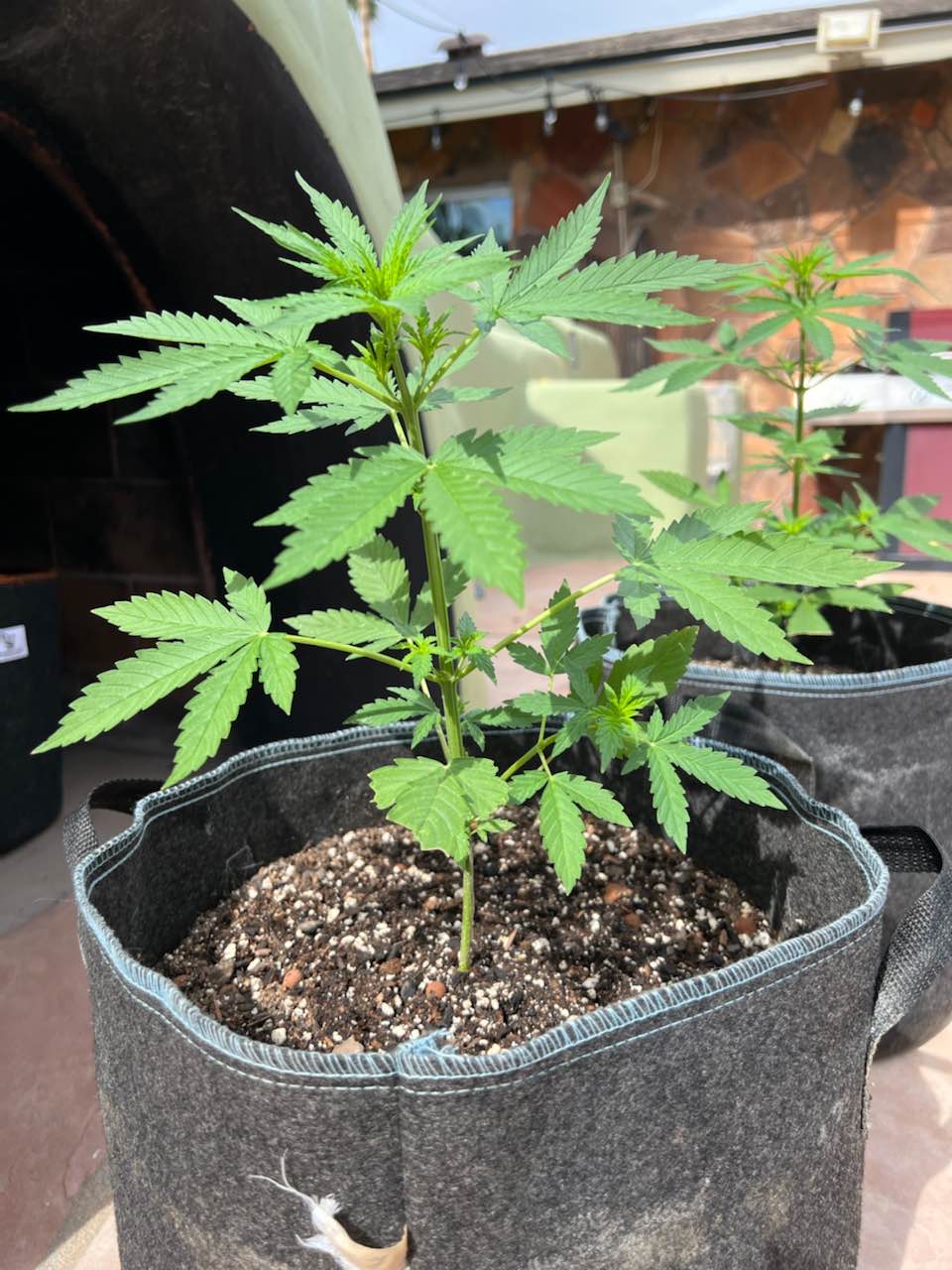 These outside autos are doing extremely well despite the RH being 15-20% and temps being over 100 every day but 3 since they moved outside and they are showing slight signs of flowers already for sure so they didn't get as tall as I was hoping before the flowering started but again this why I am not a fan of autos totally made for commercial use or novice growers who just want some personal nug to smoke but if you are a true connoisseur and really are on the hunt for the best chronic photos are the only way to go in my opinion.
8 months ago
boysnanax7 My Master Kush Autos look horrible outside but awesome indoors. I might try a different auto.
Well they have started to show signs of flowering I was hoping to get to at least 18 inches before it started but oh well still should produce some sticky icky. The heavy rain it took I think helped though with the heat cause they have grown a bit over the last few days with lower temps and higher humidity. 😎
8 months ago
The autos got dumped on yesterday night I forgot and left them on the patio and it poured by morning when I got to them, they looked beat up and did most of yesterday but they look great today so that is was an awesome surprise to see this morning! 😎
8 months ago
Dpoolig They look beautiful, love it!
The outdo auto's are loving the overcast morning 😎
8 months ago
organic_grower Ya man same here finally a little overcast out! Yesterday was the first day we weren't over 100F... Auto pants looking good bro.
HeritageSecretGarden Thanks bro, cause they are doing so good I decide that in about another month when it cools down to the mid 90's and light hrs are roughly 13 I'm going to take clones off of the current clones and put those girls outside too they will be robust monsters by then.
The outdo autos are doing pretty good despite being over 100 for past two days 🥵
8 months ago
HeritageSecretGarden I actually did have one leaf casualty but found a good spot that is filtered sun light so going good now
View 1 additional comment
Transplanted the autos into 5gal fabric pots and will now spend the rest of their lives pool side😎
8 months ago
Discpimp Get those ladies a pina colada🤙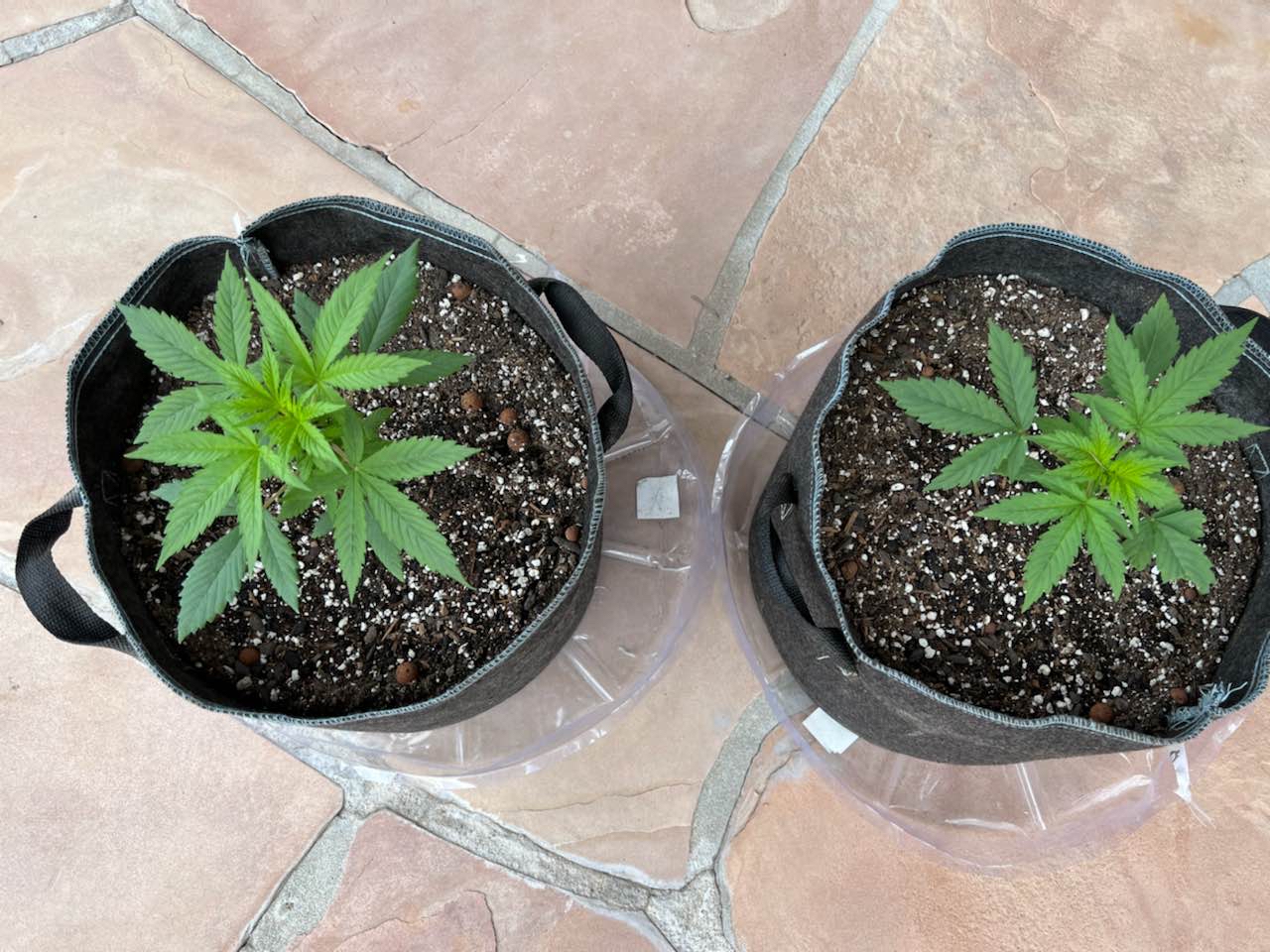 The outdoor auto's made it thru their first monsoon and looking good 😎
8 months ago
boysnanax7 My autos did not look like that. Yours look amazing.
HeritageSecretGarden Thanks I'm not a fan of autos but they were free so why not and I want to see what az summer sun can do with these girls 👧
HeritageSecretGarden One of them was actually ripped out of the ground by my pot puppy ziggy about a week or so ago she made a full recovery you can see the one on the rt is missing part of her one leaf 🍃
As soon as their solos are dry I'll transplant them into their new 👟 and let them do their thing outside and see what happens I gave them a good ipm treatment of green clean before I put them out here and I'll keep it up once a week til they start to flower.
8 months ago