grownonmaui
"Upcountry" - Unknown Strain
First Grow
10 seeds soaked in jar of water, then germinated in paper towel, planted into peat pots with Roots Organic Microgreens soil & 6.0 pH water in spray bottle, Bloomspect LED.
Uncle Masi - Unknown Strain
Leaves look different on #4. I think it's just cause it came up a little later, but idk maybe a different strain? 🤷🏽‍♀️
4 years ago
Leaves growin bigger!
4 years ago
Bigger leaves! 🌱🥳
4 years ago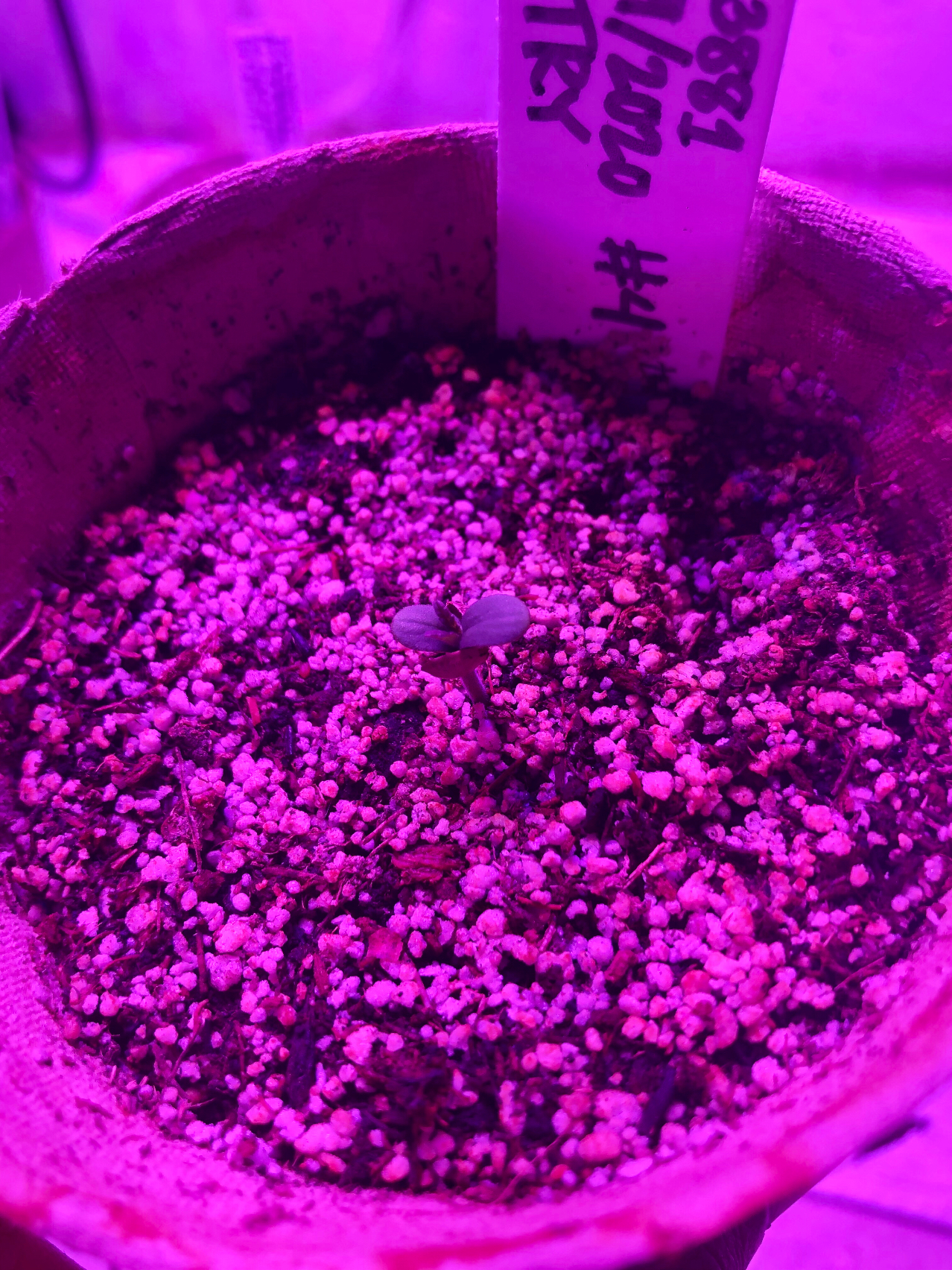 Monday, March 25 #1 has a new set of leaves growing. Leaves came out of shell on #4. #2 & #3 I don't think are gonna make it. Gonna put um outside in the morning.
4 years ago
Sunday, March 24 - 8am Leaving the light on did them good! #1's leaves spread open, she's looking nice & healthy! I gave them all a little heavier water instead of just using my spray bottle since they've been left too dry. #4 is coming up soon. #2 & #3 don't look too good. 🥺🥺🥺 We'll see.. I used tweezers to help the shell off but idk 😬 we'll see if that helps or makes it worse. For the seeds in paper towel; I had to toss 2 cause they were moldy. No changes to the other 3 🥺 I might just put that one that's slightly open in soil.
4 years ago
Saturday, March 23 - 8pm Part of the seed shell was still stuck on baby #1 so I used tweezers to "help" it out. No new changes on the others 🥺 I think I'm gonna try and experiment & leave my light on 24/7 til all of them have their first leaves. Then I'll set um at the original light schedule I had planned.
4 years ago
"Friday, March 22 - 5pm" Babies are slowly peeking out! Did a little photo shoot of them & noticed a tiny little thread on the 1st plant, so I tried to pluck it off with tweezers & I accidentally knocked off the seed shell. 😬 But it revealed the leaves! Baby #1 is lookin real healthy!! 🙌🏽 #3 & #4 are peeking out! No changes to seeds in paper towel. Still waiting for that other one to peek out.
4 years ago
MauiRemedies What's up! Looking good! What kind of light is that? I'm going to be doing an indoor setup soon. Thanks bra. Aloha!
"Thursday, March 21 - 3pm" Went camping from Wednesday the 20th, so I had my sister check on my babies & make sure they're watered. No big changes.
4 years ago
"Wednesday, March 20 - 12pm" 1 more germinated, and another one barely peeking thru. Planted that 1 with the rest of the babies. The first 2 are slowly coming up!
4 years ago
"Tuesday, March 19 - 9am" 3 seeds germinated. Tossed 1 cause it was moldy. Used tweezers to plant the 3 into peat pots with Roots Organic Microgreens soil. Watered with pH 6.0 water from spray bottle. I have them under my Bloomspect LED light set at 13 hours on/11 hours off to match our natural sunlight schedule here in Hawaii that way it'll be acclimated when I move them outside. Using a small tower fan to keep air circulation & to keep plants strong & hardy.
4 years ago
"Monday, March 18 - 9am" All 10 seeds sunk to bottom of jar after tapping them down. Put them in paper towels with heat mat under plate with temperature set at ~77°.
4 years ago
"Saturday, March 16 - 8pm" Soaking 10 seeds overnight in mason jar of tap water.
4 years ago