Main Lining Practice
Winter Batch 2021
Five plants in soil using 7 gal. fabric pots.
Fat Banana, Purple Russian Express, Gelato, Sweet Zombie x Delhi Friend, and a prized bag seed
So I concluded it couldn't be the vinegar as I lost plants in separate areas. Really stumped as not every plant affected died… but the ones that died did so in grand fashion. Feel free to offer any opinions based on the pics. They all started on one or two colas. Either it took over the plant or it stopped with just that…. no rhyme or reason.
a year ago
Four weeks in. Getting little white spots on the fan leaves of the bag seed. It also the lowest amount of visible trichomes. House hybrid got a little burnt bc I had some residual vinegar in my sprayer and it caught it first.
a year ago
Caliban Are you near Puigvert hospital in Barcelona?
View 11 additional comments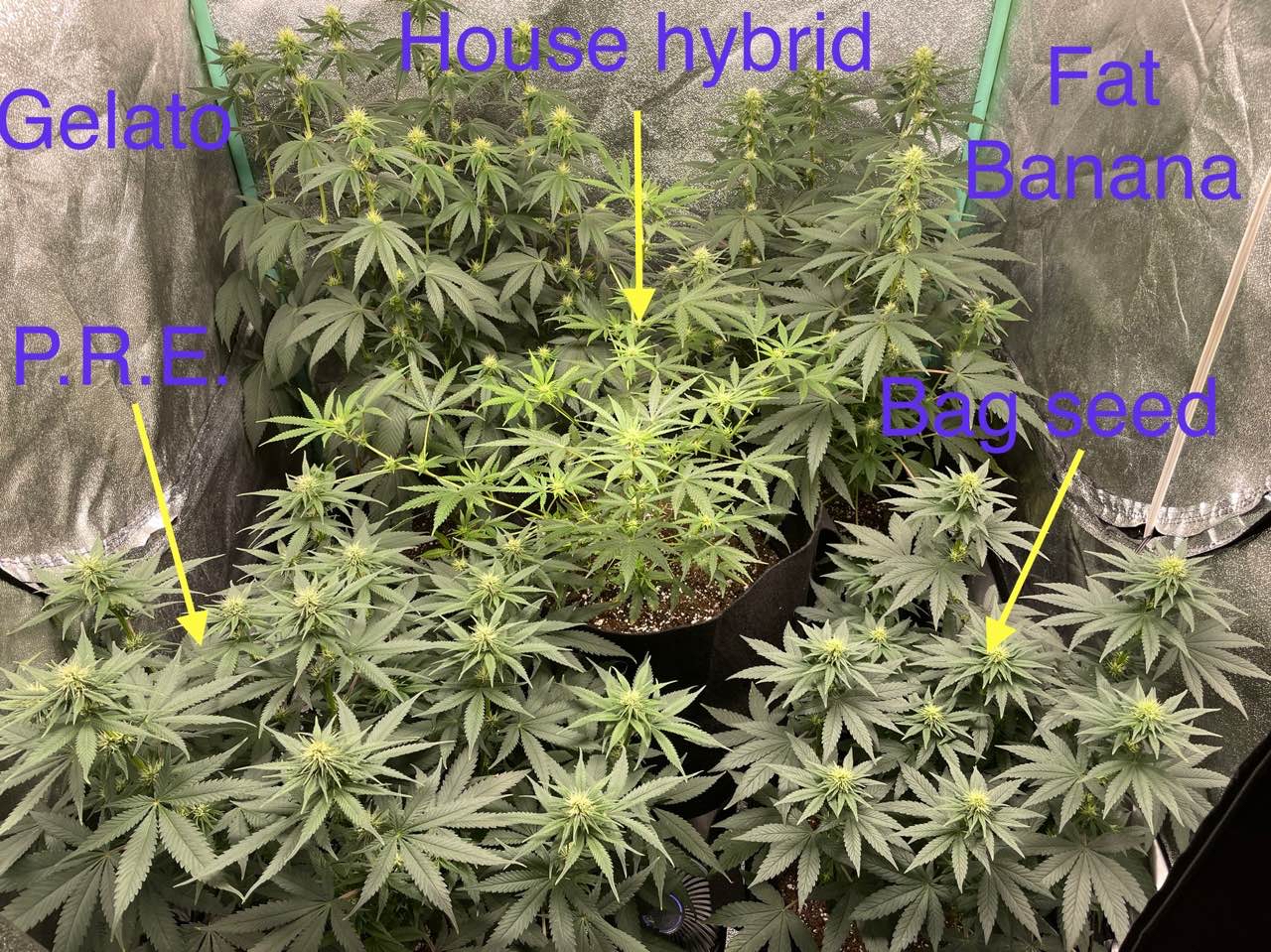 Flowering is going well. Despite what people think, I'm actually going to defoliate one last time even though it's in flowering. Trichomes are just beginning to show.
a year ago
ThisGuyIsHigh I like a good strip show. Post updates when you can 😉 😂 look great !
PouceVert Well, I realized that those fan leaves normally store energy for the plant for later, but with the way I take care care of them, they never need the reserve. The buds really get bigger when you're not cultivating a shit ton of leaves.
View 1 additional comment
Second week of flowering down. Everything is coming along at the same rate. Fat Banana is the most sensitive to nutes in the group.
a year ago
First week of 12/12 complete. Light at about 60'ish%. Had their last haircut yesterday and took a few clones. First dose of Open Sesame gave me some burnt tips. Veggie juice and rice water is working great.
a year ago
PouceVert Thanks! I like to throw a bag seed in the mix just for a little razzle dazzle 🥳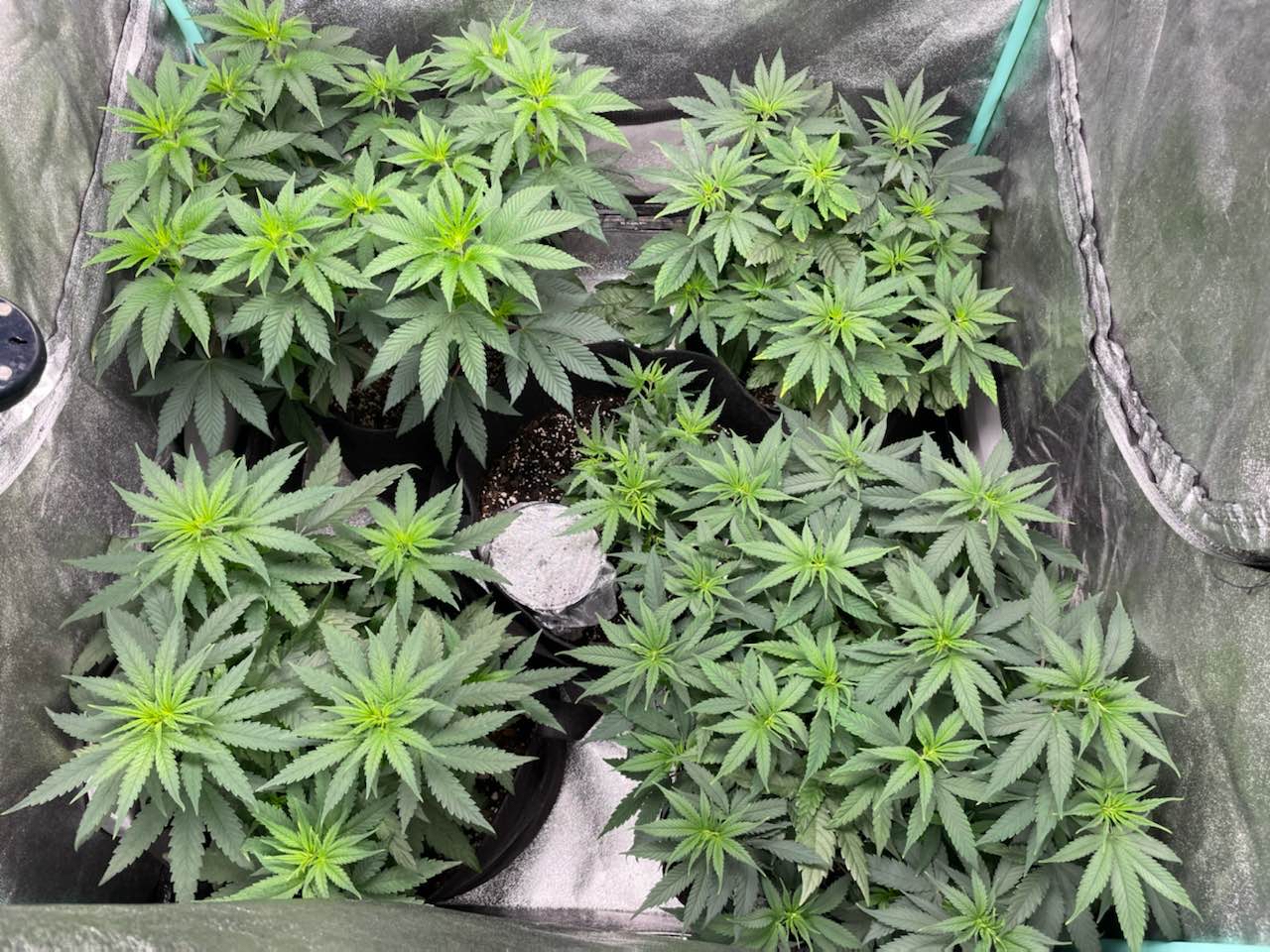 Flipped over to flower today. (TL) Gelato (TR) Bag seed (M) Hybrid (BL) Fat Banana (BR) Purple Russian Express. Also changed light from Black Dog to HLG 300 Rspec.
a year ago
(TL) Gelato (TR) Bag seed (M) Sweet Zombie / Delhi Friend (BL) Purple Russian Express (BR) Fat Banana
a year ago
The last set of cuts has been made. The ones running behind schedule will just have less main colas. Not sure about my hybrid as it grows super slow but has beautiful roots. Just going to put it into flowering with the rest and see how it goes.
a year ago
kbreazzy772 Can you help me bro my chem dog hybrid is dying
Mainlining coming along fine. I'm skipping the laborious part of tying every damn branch down. Found it a bit unnecessary last time I did this. I will LST the final branches after the last set of cuts. Bag seed is the farthest behind, but naturally as it was planted two weeks behind.
a year ago
Purple Russian Express is hearty. Did it's second set of mainlining cuts after taking this pic. Gelato and Fat Banana will get their second set of cuts in a few days. My hybrid is staying small. Tightest internodal spacing I've ever seen. May just keep it as a bonsai as I see it won't catch up with the group. Replaced the hybrid with a bag seed. Neither seed (Zkittlez or Lemon Haze) germed. Need to figure out what I'm going to get in this fifth pot.
a year ago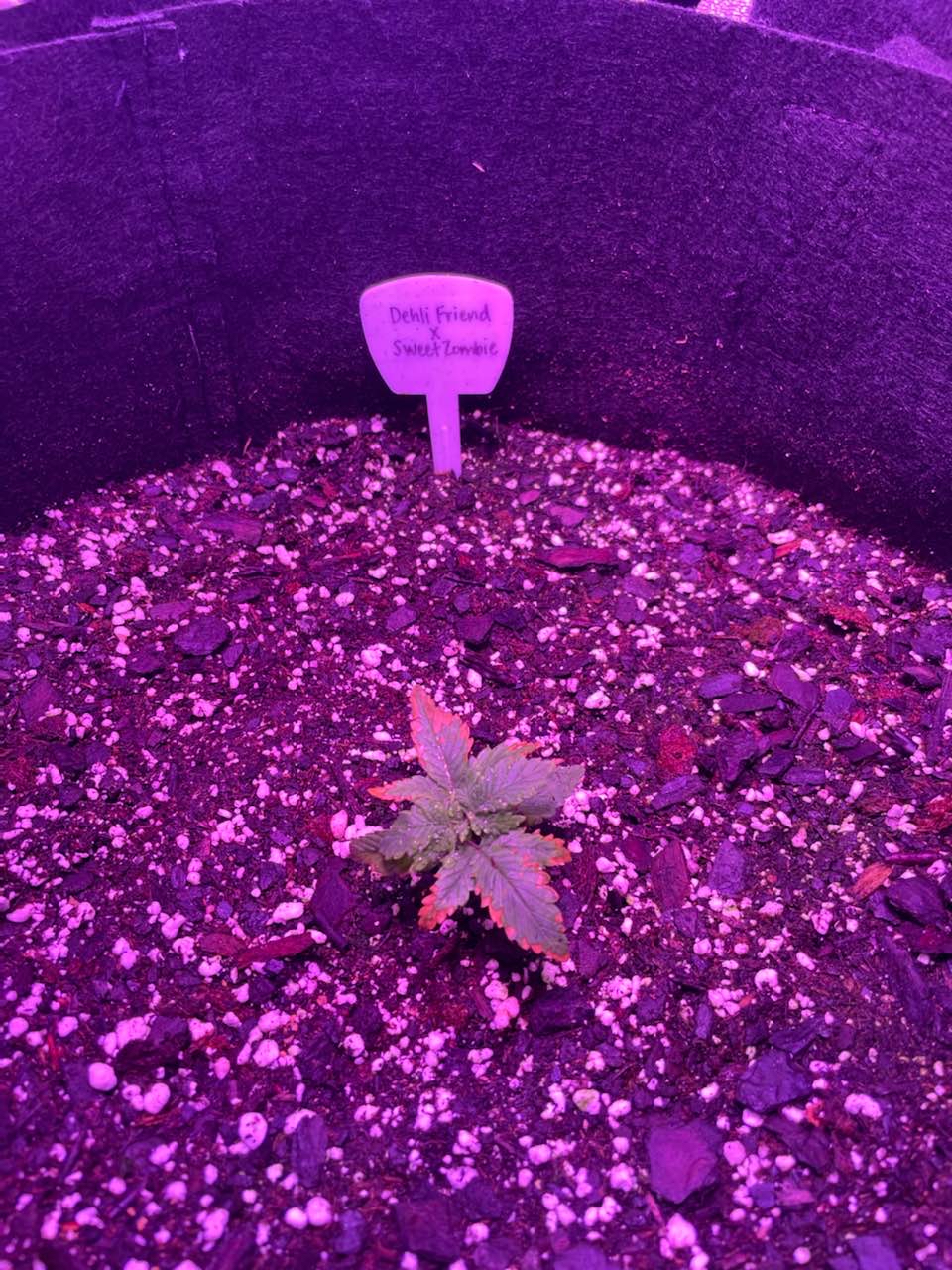 Purple Russian Express followed by Gelato and Fat Banana. White Widow and my hybrid don't look like they will make it. Noticed some spotting and it appears this batch of Ocean Forest is pretty hot. I also overpotted which I didn't know was a thing as I usually graduate pot size, but this time chose not to. Note to self, seedlings in a 7 gal pot can invite some issues. Replacing the last two with a Zkittlez and a Lemon Haze.
a year ago
Seedlings coming along. No pic of the White Widow as the seed is still on the seedling.
a year ago
Seedlings coming up.
a year ago