T3CHGrows
First Grow
Spring - Summer 2021
Been collecting random bag seeds from previous strains and finally gotten into the hobby after studying multiple months of the different cultivators across the USA, follow my journey!
Trim jail time complete. Harvested way more than I thought I would, and the results speak for themselves. Now onto the final stage, curing for one month, will post my final update a month from today.
2 years ago
Well she officially made it to day 56 flower. And then we gave her the thanks for being such a gorgeous first grow ever. Man bittersweet for sure. But she gave a solid harvest! Got most of the major leaves removed to help in case of high humidity levels. Hanging for a week. I will continue to post updates on this grow up till the bud is cured. Thanks for everyone's comments and tips, it has greatly been appreciated.
2 years ago
Nothing much new to report at day 49F. Starting a week worth of flush before chopping this gorgeous lady a week from today. It's really bittersweet at the end to work this hard on something to keep it alive and then to chop it down. Finally getting very stinky. See y'all next week.
2 years ago
Day 42 Flower. Last week of nutrients and then on to a two week flush. Starting to develop some solid trichomes. Few more weeks left of my first grow ever. This has genuinely been an incredible experience. See ya next week!
2 years ago
Officially day 35F for this lady. She's putting on some major weight as I have to support almost every single larger cola with a stake. Impressing me every single day. Smell is developing more, nothing to pungent yet but def a skunk strain of some sort. 3rd photo is prob the best cola out of the bunch IMO, getting frostier by the day. See you all for day 42F when we begin to flush!
2 years ago
Well officially at day 28 of flower and there's an incredible amount of bud sites I must admit; I honestly wasn't expecting this much, but IMO this is FANTASTIC. Some leaves are starting to sugar up more, and an odor is starting to develop, nothing crazy strong yet… in my best Bon Jovi voice "ohh we're halfway there!" See y'all next week for week 5.
2 years ago
T3CHGrows Thank you! Excited for the smell to develop.
View 6 additional comments
Day 21F. End of week three going into week four of flower. Buds are def starting to develop more solidly now. Less growth and stretching which finally puts me at ease being how close they are to the light. A solid skunk is beginning to develop for smell also, and I'm starting to see some crystals begin to form on the leaves. 35 more days to go!
2 years ago
Ranc1dM3at Looks amazing. She has such a big spread
T3CHGrows Your telling me. I've had to keep very close watch. Next run I'm absolutely doing mainline training if it's going to be another sativa strain like this.
Man this is some sativa strain! Just keeps growing and growing but that's ok, it's been an absolute blast growing this monster of a lady (in a good way) currently on day 14F going into week 3. Buds are starting to really take shape and have some solid white hairs. Swipe right to get really zoomed in. See you all for next weeks update.
2 years ago
T3CHGrows Yah just really concerned with humidity right now. Haven't been able to keep it down at all even with a de humidifier and the exhaust fan running full blast.
Well we've officially been under flower conditions for a week now (Day 7 Flower) high humidity has been an issue today but I installed a dehumidifier in the grow room recently and that's been helping a lot. As you can see the right plant is no longer, it started showing sacs late into week 1 of flower so I chopped it to prevent it from pollenating the gorgeous lady to the left; what a sativa strain!!! Strawberries are enjoying the extra light now.
2 years ago
Mystrain420 You should center her so you can fill the tent once it's jut her, she won't be pressed on the wall. 👍🏾
T3CHGrows I completely agree with you but it's so spread underneath the top net that I wouldn't want to potentially hurt her as I already completed a super cropping this past week and I'm surprised how well she turned back. This is my first plant ever. So just happy with the results as of now. I was running two in there up till this past week. Kinda sad I had to chop the right one but that's life lol
View 3 additional comments
From picture 1 to picture 2, super cropping is complete on the first day of flower. Gave them plenty of water for re hydration of fixing branches, hoping everything is going to turn out alright. If your wondering why the super crop, I would of ran into height and light issues near the end of flower so it was necessary in the long run. Time will tell. See y'all next week.
2 years ago
One more week. IDK but that lady on the left is mighty fine looking sativa strain of random bag seed 🤣… lady on the right recovering nicely from some LST and trimming to open up light ways to where potential cola // bud sites may develop. Not much to report this week. The left plant def is recovering nicely from a late topping due to my tent only being so high, no pun intended. So here's to 7 more days of veggin' out until we finally hit that flower power marker. See ya'll next week!
2 years ago
Mystrain420 Looks great, I like how it covers the whole space
View 7 additional comments
Before and after topping the tallest four branches. This is one week prior to flipping to flower so it should be enough time for recovery and more lateral growth with a possible trimming in late first week of flower. Will update on again on Wednesday when they enter week seven going into week 8 of veg at 21/3.
2 years ago
Seem to be happy and growing steadily. The lady on the left for sure seems to be a solid sativa strain and the one on the right is teaming to be a solid indica potentially. Don't mind my leaves they were thirsty as hell this morning and I even gave them water 24 hrs prior to and they still wanted more! Guess I'm going to have to switch to the full gallon of feed mix shortly with them. Did some LST on the right plant to fill out a canopy better (see photo 3/4). Solid looking hairs on the left plant (see photo 4/4). Switching to flower on Memorial Day! Check back then!
2 years ago
Finally had to raise the light to 21" above the top of the plants and increased brightness to full 100% ladies seem to be loving it. Gave them a nice chop the night before to allow focus on developing a solid canopy. Been drinking a ton of water (1/2 Gallon with 15ML's of MBG every MWF). This is going into week 6! Flipping to flower on Memorial Day.
2 years ago
Nothing too much new going on over in the ladies room. Gave them their first solid haircut earlier this week and finished that off today. Up'd AN schedule to 4ML per liter of reservoir. Gave them a 1/2 gallon of water plus nutrients this morning. They are thirsty! Planning on going three more weeks before flipping to flower. Exciting growth happening every week now! Def an indica on the left and a sativa on the right.
2 years ago
Finally gave the "hopeful" ladies a nice haircut this morning along with a topping at the fifth node. Added some solid air flow with an additional fan, and moved original fan in lower portion direct onto under canopy area. In photos 5 & 6 I got a pretty close up to one of my plants that is showing early signs of sexing. I'm pretty sure that's a very early calyx forming (correct me if I'm wrong). The other "hopeful" lady is showing a solid white hair already so I know that's going to be a lady for sure. Still early into week 4. Seedlings seem to be loving life under that Mars.
2 years ago
Three weeks from seed. Lady on the right is looking pretty solid with a lot of growth over the last week especially and lady on the left I feel like is exactly one week behind. Up'd AN per chart to now 2 ML per 1 Litre of water. No discoloration or what not. Will be continuing this for another week then potentially preparing to mainline the ladies before going another four weeks before veg. Hope your enjoying my journey. Pictures were taken before watering.
2 years ago
Seeing good solid growth between the ladies and per the instruct from AN; up to 2ML per 1L of feeding, so today's the beginning of that nutrient schedule. Both girls get .5L of feed and then dampened with water from a spray bottle to dampen the rest of the soil. Also running 10 babies for friends till week 3 waiting another week before switching to solo cups, light schedule is still 21/3 at 75%
2 years ago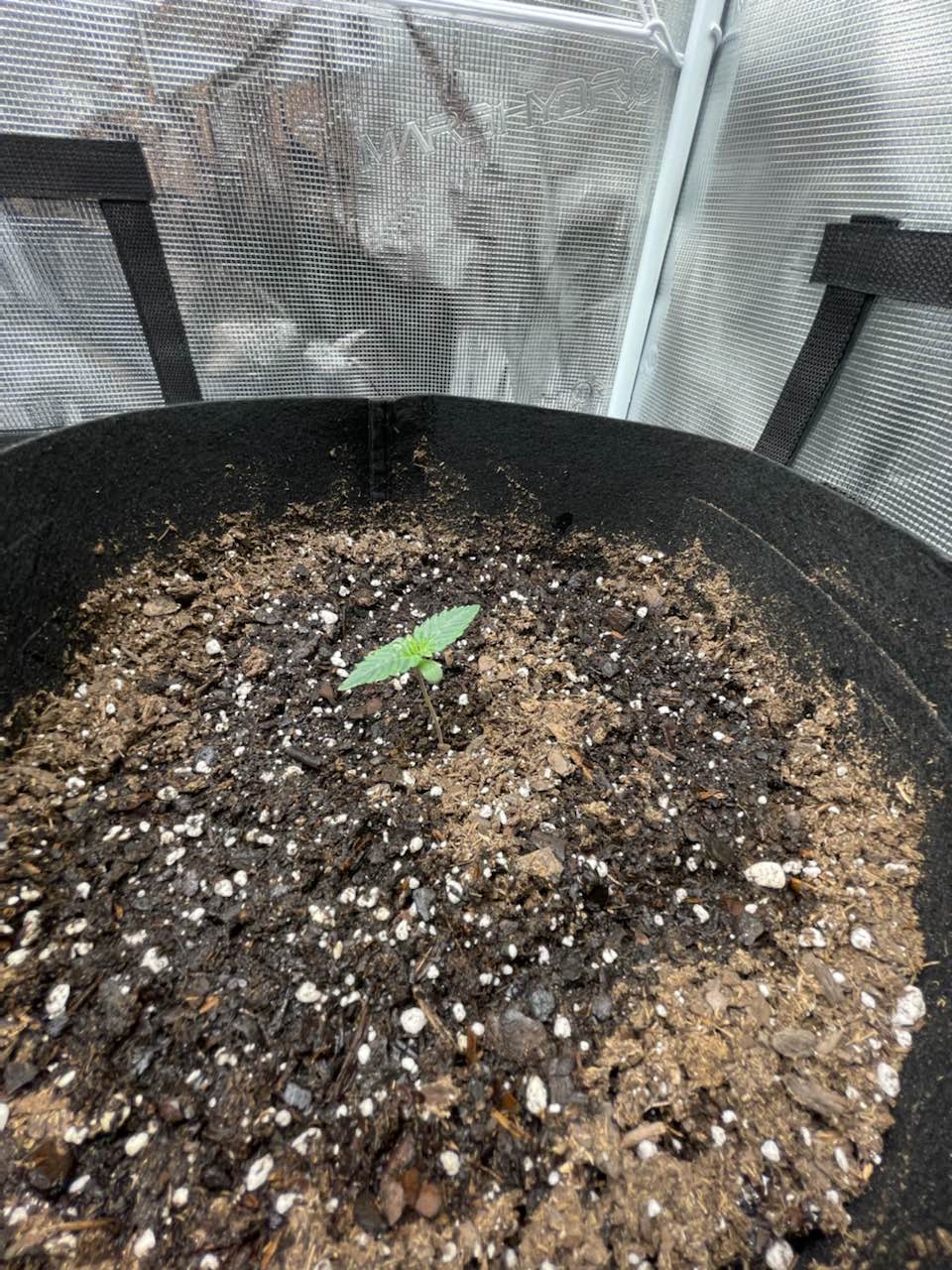 Gave the girls their first added nutrient feeding this morning on day 7. Running advanced nutrients line of micro grow bloom, 1ML of each to 1L of water. Fed the girls .5L of water each and their pretty happy and responsive to that as young seedlings. 21/3 light schedule at about 75% with my Mars Hydro LED. If wondering growing a separate strawberry plant pot for my mom. I'm a natural green thumb like her and would love to grow some solid strawberries alongside my ladies.
2 years ago
Just planted the beans. Said a prayer to the grower gods above for a successful spring / summer grow!
2 years ago
meland You look like a good father, you shall succeed
Finally got everything set up, timer dialed in, and light and trellis net setup at correct height. As far as soil mix goes I used the third method of bottom perlite, middle ocean nutrition, top happy frog. Light is running about 200 par using the PPFD app at 24" above pots with light dimmed at about 75%. Looking forward to finally planting the beans!
2 years ago