ogstress
Outdoor experiment
Covid Summer
Two purple glue plants starting outdoors, may transfer to indoor. Using hose water and basic organic soil. Also some rhizotonic for root health. That may all change
Both purple glue plants are starting to flower, I have high hopes because of how the first crop turned out, that these will slap
3 years ago
Still thriving. I introduced Floralicious bloom from general hydroponics to the nutrient schedule forakl three plants.
3 years ago
Started flowering yesterday, experimenting with a 45 day grow 45 day flower to contain the height of the plants while I figure a way to raise lights even higher
3 years ago
A cola site broke off of one of the purple glue stems 😡 don't know what caused it. Other than that still striving
3 years ago
Still growing
3 years ago
I switched the position of the lucid dream and the stronger purple glue after I got the second light. All three have been topped, and I will do another round once more cola sites reveal themselves.
3 years ago
The middle purple glue is clearly the strongest but it I'm buying the new light today to see if it makes a difference with the other purple glue and my wife's lucid dream plant to the right.
3 years ago
They are growing super strong, gotta add another light tho.
3 years ago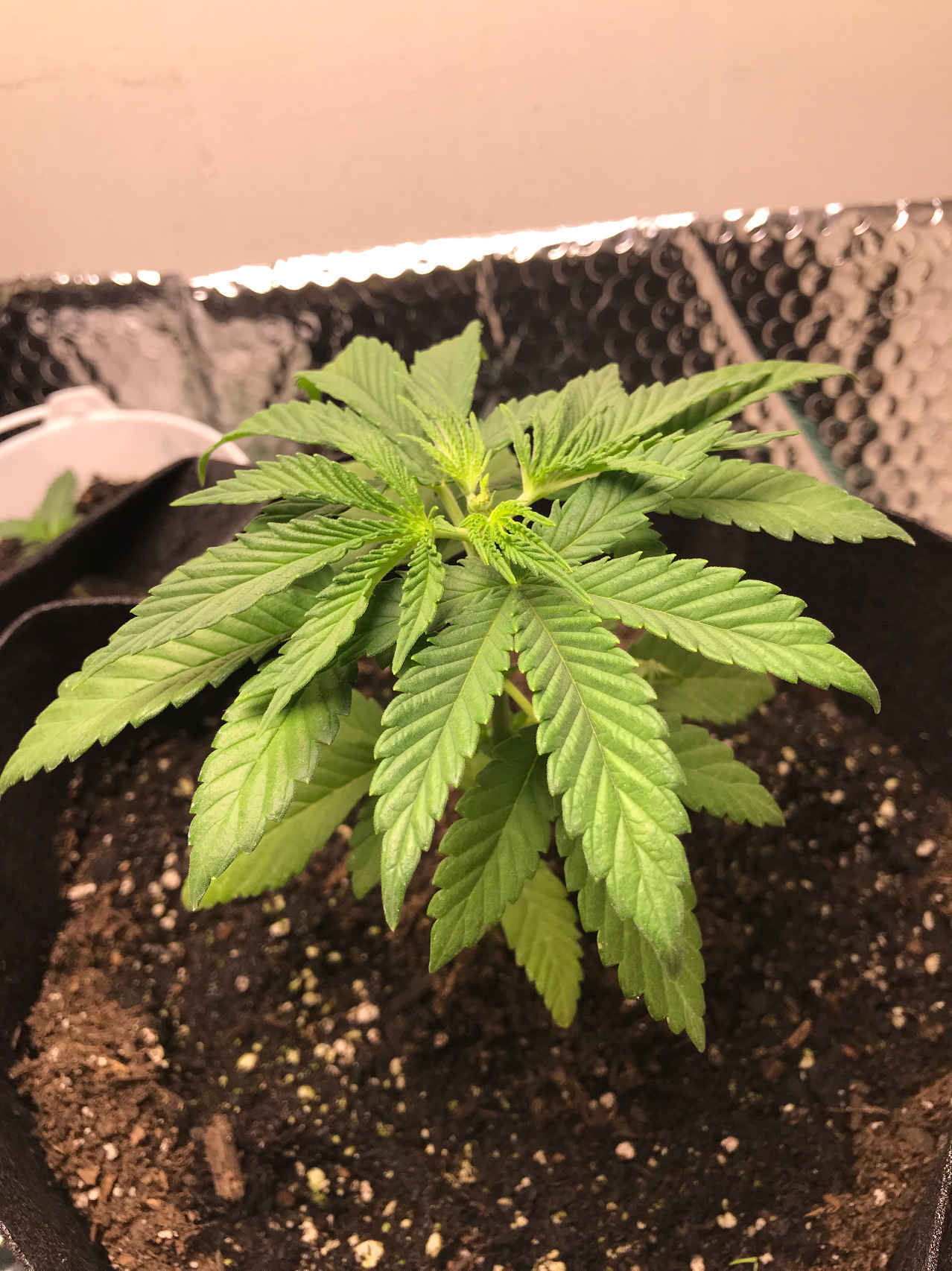 Topped both of the plants. They are growing strong with the help of the Co2 box
3 years ago
Never got to finish the room, but I did repot into 2gal cloth buckets, also thinking of getting a bigger lamp for the lucid dream growing in the back to utilize space. I also added a Co2 box to get sum oxygen going.
3 years ago
I moved them both to the indoor growing environment. Still werking on panda paper, carpet removal and 2 gal repotting all which should be done by Friday/Saturday
3 years ago
Two plants one strain, same growing conditions. I need to set up an indoor potting system. I like the characteristics of soil, except for battling weather, insects, and any other unforeseen situation that arises. CalMag and tap water for now.
3 years ago
The third plant died, but these two are still growing strong. Still only using CalMag and superthrive.
3 years ago
The third germinated seed was planted yesterday. It has risen considerably in less than 24 hours. I introduced CalMag and superthrive to all three yesterday as well. I'm not following any specific nutrient regimen, or even following the rules on the bottle. I'm Deliberately being heavy handed with the nutrients just because the soil werks as a buffer for possible nute burn from over feeding. My plan is to overfeed and top the plants mercilessly to push growth and gain personal growing experience that I can reference down the road. Second hand infor or research is great but nothing is better than learning from mistakes.
3 years ago
These saplings were both touching the soil yesterday when they were planted from germination, one is already above the rim of the container. I will be introducing a a nutrient schedule next week to these two.
3 years ago