realdeal213
Jack Herer x1
2nd Grow
One Jack Herer seed from Seedsman. My 2nd grow ever. I'm going to try some training this time to try to maximize my yield. My first grow was a success so let's make it two in a grow. Tips and comments welcome.
After taking a long look at her today I decided to harvest. Flushed for a full week and she looked ready. An excellent yield compared to my first. The buds seem just as dense without lollipping this time.
4 years ago
Almost a week into the flush. Buds are solid.
4 years ago
Started the flush!
4 years ago
Lemiwinks That's an impressive main cola... my mouth may or may not be watering right now, but probably 😎
Looking for opinions/advice: Flower time should be 8-10 weeks according to the seed manufacturer. I'm at 6 weeks today. It seems it's closer than 2 weeks to being done. I'm in no hurry, so do I just follow those guidelines? And how many weeks does everyone flush for? Start now? Thanks in advance! Super pumped about this grow!
4 years ago
Lemiwinks If I may offer up some advice... you should be checking your trichromes with a microscope. Lots of good info online about how to do it. It's the best way to know when harvest time is near.😎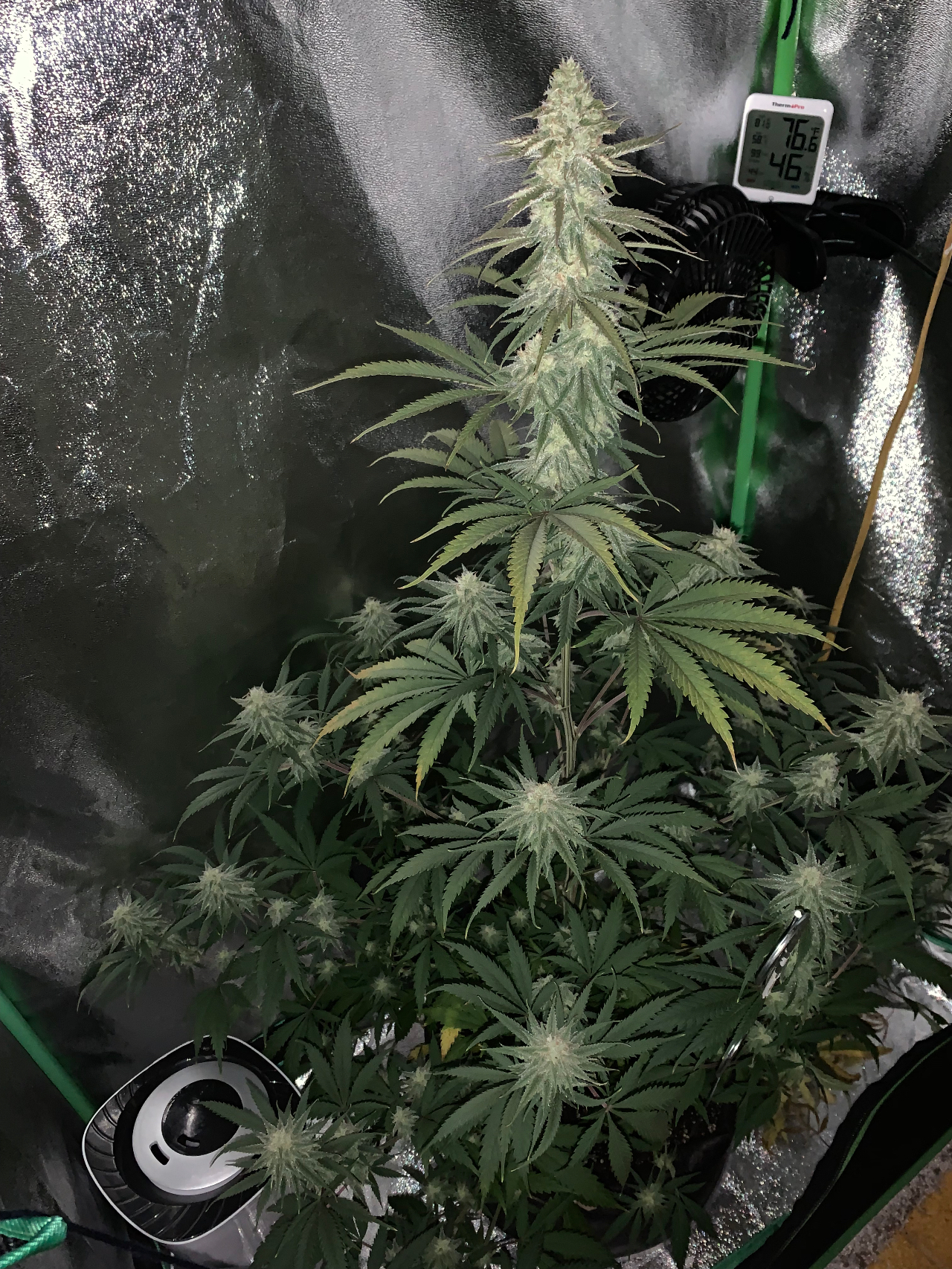 Still have about a month to go. Buds are really filling out
4 years ago
A month into flower
4 years ago
Buds are developing nicely. Looking so good early on!
4 years ago
Hopefully she's done stretching. Getting huge!
4 years ago
More sites forming! Much bigger than my last plant since I didn't lollipop this one
4 years ago
Growing nicely. Developing bud sites. All is well so far.
4 years ago
Flipped her into flower today. Let the growth begin!
4 years ago
She's getting big. Debating on how or if I'm going to trim her. I might just let her go all natural and see what happens
4 years ago
Transplanted into a 5 gallon pot yesterday. Ran out of soil so it's more like a 4 gallon. Gave her the first round of nutes today.
4 years ago
Signs of life after 5 days of the seed seeing water. Faster than the Critical
4 years ago
Put her in Fox Farm Ocean Forest this morning.
4 years ago