Second Grow
Spring 2022
8x Feminized PMM - Coast of Maine/Roots Organics Soil - Indoor - 270watt LED
Humboldt Purple Mountian Majesty
Back from Europe, haven't updated in a bit: Approaching end of Flower- welcome all comments, as still learning the best time for harvest. Noticed some of further along than others, love to hear y'all thoughts!
8 months ago
LosSavages Any way you could help out with some tips, check out my most recent im struggling
81F/52%RH - Removed original 270watt LED, added a new HLG 350R Diablo last Saturday, running at approximately 35-40% intensity. Seedlings have slightly improved after additional watering, but still seem to be having an issue with under/overwatering… as it's the only variable I can think of causing the drooping/yellowing. Fed today with 1/2 FF Big Grow recommended dosing for seedlings. Will keep an eye over 24/hrs to see if drooping improves. Also believe LED intensity may have shocked the plants when added- would welcome suggestions from any growers using this specific light.
a year ago
Slight nute burn from previous feeding. Overall, probably strongest/healthiest seedling atm.
a year ago
Same seedling that's been having issues. Drooping/yellowing of underleaves.
a year ago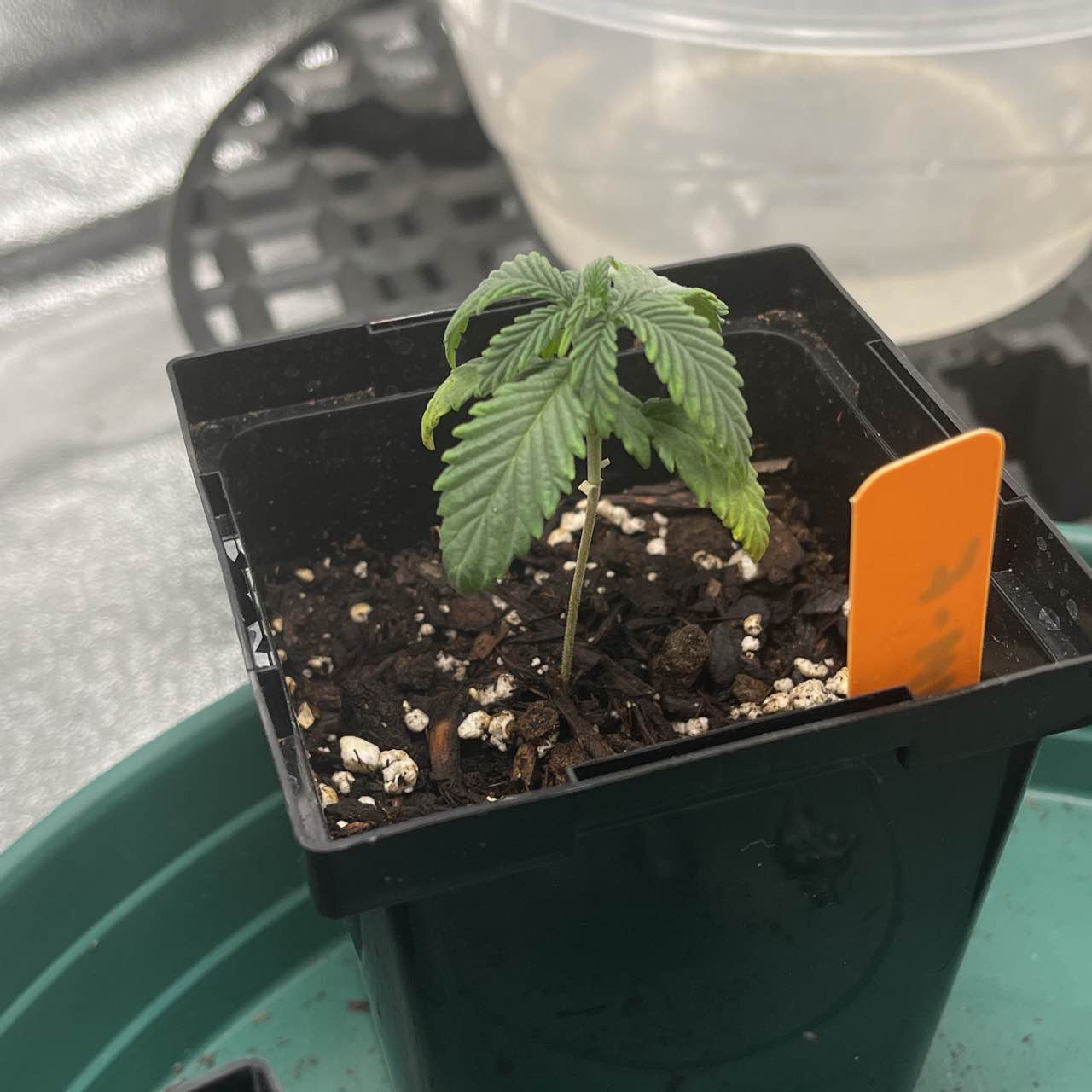 Drooping & slight yellowing. Hope to see a recover in next 24hours
a year ago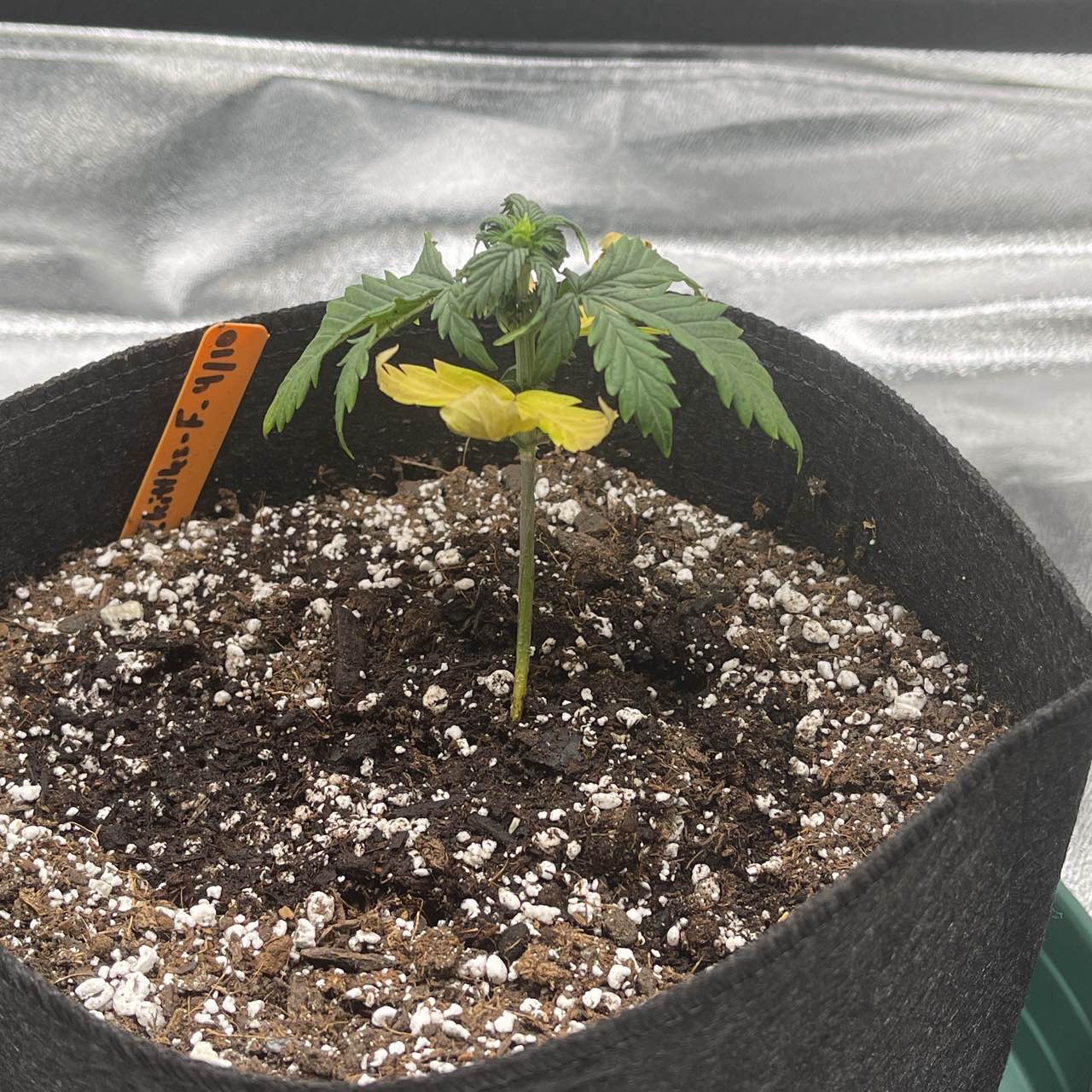 Zkittles AF recently transplanted into Roots Organics using Great White mycorhizae - started before PMM
a year ago
Stunted Zkittles AF.
a year ago
PMM - healthy.
a year ago
PMM- slight drooping.
a year ago
Noticing serious drooping- Last watering ~1.5days ago. Truly no idea what may be causing this. Temp averages 76-81F; Using a humidifier in the same room as tent to keep RH ~40-55%; 270watt LED 18/6… Welcome any comments and/suggestions, thanks growmies 😬
a year ago
Discpimp They look thirsty. How much water are you giving them? Saw you watered not even two days ago so maybe use a little more. Use a spray bottle and try to evenly wet all the dirt focusing on the edges of the pots.
orgnll Wow. A buddy of mine literally just said the same thing to me… which is crazy because I truly thought it was from the soil being overly wet and/or possibly the humidity. I really must not understand how much water these lil girls need 😬 Last watering I actually was a bit more generous and poured it rather than spray bottled. I basically gave them just enough until I saw it begin to leak through with runoff. Let me try to water them again now, but please if you have any other suggestions I'd truly appreciate it! Thanks so much for taking the time to provide your comment buddy
Discpimp Lol man! That's my best guess and think they will spring back. It's really difficult to get it just right in the smaller container and overwatering is no joke either it fucked my current grow up something fierce for a week. I've had this same kind of thing after transplanting the new media takes a little more water than you think to get hydrated properly.
View 10 additional comments
Slightly less, but still noticeably drooping.
a year ago
PMM seedlings look healthy for Day 10, however, I believe the plants are growing slower/stunted. Introduced a humidifier into room to try to raise RH- considering moving/purchasing a small unit to add inside tent.. Temps running lower today @ 72F, 44% RH. Feeding with 6.2-6.5tap water; no nutrients introduced. Welcome any suggestions to increase early life growth!
a year ago