yellowsnowman
Quattro Kush x OG Kush
Winter 2019 / Spring 2020
Started 10 regular seeds from Ethos Genetics
KABOOM. Starting week 6 of flower
3 years ago
Looking beautiful
3 years ago
Removed all plants from buckets & now all back to straight rockwool. Cut off the bottom root mass of the bucket plants & they're doing fine. Harvested my first test plant the other day & just moved all of these babies under the Sun System LEC 630. Looking good, just started week 4 of flower yesterday.
3 years ago
Looking gorgeous! Starting week 2 of flower nutrients around 1340 ppm on the 2 larger kratky plants, smaller kratky plant had nutrients changed late so I'll start that one on week 2 probably Tuesday.
3 years ago
Another look at the plants growing in 4 inch rockwool cubes over a drain tray
3 years ago
My biggest bucket plant is starting the transition over to flower nutrients. Foliage & root zone looking very healthy.
3 years ago
Nutrient change for the big mama today around 1175 ppm. Will start transition next week or two
3 years ago
Took 2 huge leaves off the biggest plant & super cropped the top to even out the height with the other 2 plants that are in buckets currently. Everything looking very nice after the nutrient change.
3 years ago
Rockwool plants are getting crowded so I'll have to make a little more space 🙂
3 years ago
Just gave them a good watering, some cubes were almost dry. Looking healthy.
3 years ago
Plants in the buckets are definitely much bigger & looking gorgeous. Only feeding them at 800-900 ppm of Flora Gro while the plants in rockwool just got fed around 1250 ppm of early growth flora series solution
3 years ago
Kratky update: Middle plant has received stronger nutrient solution, which has made a huge difference. Currently around 800 ppm. Just switched nutrients with both plants on the ends from 600-650ppm to 885ppm & already noticing much darker foliage so we'll see how they do.
3 years ago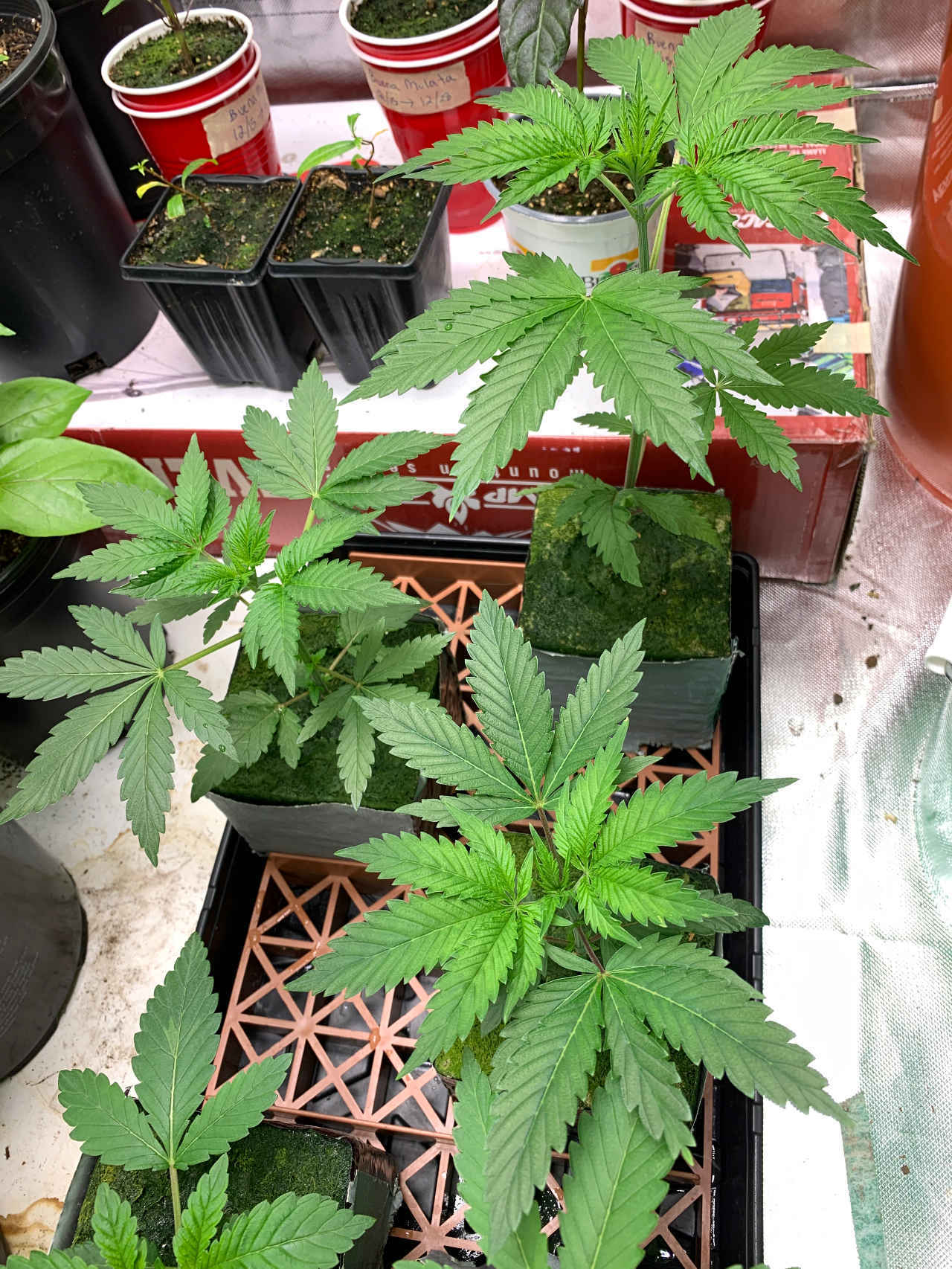 Rockwool plants looking very healthy, but noticeably smaller than the plants in kratky set up. Still not sure which ones of these will be female...
3 years ago
Same strain/seeds, but using flora series nutrients & rockwool instead. Finger is covering 6th plant, which is GG#4 S1
3 years ago
Changed nutrients & increased to 800 ppm
3 years ago
Rapid foliage growth now beginning
3 years ago
Roots already appearing at the bottom of the larger rockwool cubes, moving the best plants into 5 gal buckets to go in grow tent under NextLight Core.
3 years ago
Seedling stage, transferred to larger rockwool cubes. Stalks appear slightly leggy on some of the seedlings due to taproot getting too long before transfer into small rockwool cube, but hoping they will get stronger as root system develops.
3 years ago
Seedling stage. Excited to see how many females I get. Will transfer these to larger rockwool cubes & eventually start veg under next NextLight Core in grow tent.
3 years ago
12/25 start date. Seeds soaking in RO water for about 24 hours until germination when they will be transferred to rock wool.
3 years ago