Woes of a first time grower!
October 2022
3-Random Plants in AC Infinity CLOUDLAB 642 Advance Grow Tent, 48"x24"x72", AC Infinity CLOUDLINE T4, Quiet 4" Inline Duct Fan with Temperature Humidity Controller, AC Infinity CLOUDRAY S6 fan and VIVOSUN VS1000 LED Grow Light with Samsung LM301 Diodes & Sosen Driver. Flipped to flower 12/28/2023. 12|12 light cycle. I've made every mistake… I didn't LST and I didn't even try to SCROG until 1/13.
3-days in the Drying tent! It's starting to smell nice in there! My simple drying …..
3 months ago
57 days in flower…. Today I chopped! Man, it was so stressful and took me forever!! As I toked and chopped, I got excited about the next grow; I learned enough to see many improvements the next go around. I think I'm becoming a botanist 🌱
3 months ago
I think I'm getting close! Not sure if I should start flushing or keep feeding; what y'all think? Hope these pics are good; got a new toy today! 🤭🌱
3 months ago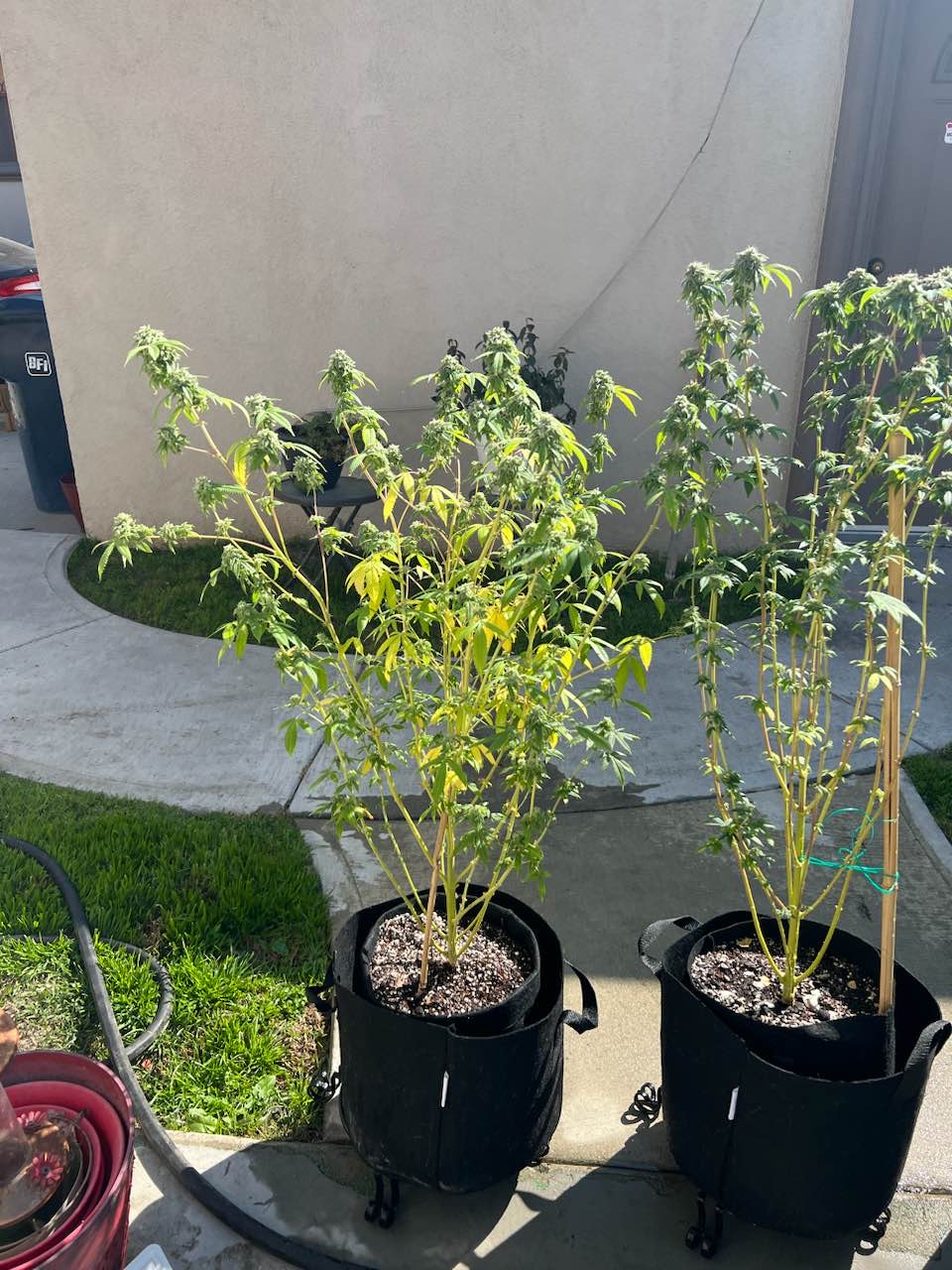 Set the ladies outside for an official flush, water is clear so this will be the last 💦 … now to read up on what to do next
3 months ago
Day 39 of flower. Picture day…looks like the buds are starting to plump up…sure hope so! 🌱
4 months ago
Day 34 of flower for these ladies! CAL-MAG arrived today…fed her and removed the extra plant from this tent. Feeling better about the light distribution. All 3 ladies have started drinking more. I noticed others had their pots elevated, so I put all 3 and stands that allow a free flow of air. I love the way they look, really hoping the CAL-MAG feeding helps. Will also make a foliar spray, just in case. Trying to maintain temperature around 75 degrees in the day. Nights get cool, but keeping temperature around 65. ~55% humidity. Will increase watering schedule to twice a week. All in all….excited! 🌱
4 months ago
WHAT is happening to her leaves 🍁…. I flushed this lady with water …not sure what to give her next. Suggestions?
4 months ago
BudJourney I use tap water that has set for a day or two
View 3 additional comments
The other ladies in this tent seem to be doing fine… struggling a bit to figure out a good water schedule for them… Will definitely need to work on that for my next grow! All and all…still growing 🌱🌱🌱
4 months ago
I did some defoliation and put a few poles and ties to "open" the girls in this tent to get additional light. I moved one of the plants from the Vivosun tent because it's now in a 12|12 cycle, too. This tent has more height, hoping to save it by putting it here. Took pictures of everything and I notice how deeper the green is vs. those already in the tent. I did some stressing, not much because the window on that is quickly approaching. The newly added one is quite woody…watered all plants today (no food) anxious to see how these girls look 👀 n a couple days!
4 months ago
I didn't do any type of training as these ladies grew, I'm attempting to make those adjustments now but it's a small window of opportunity. Started defoliating and LST 1/13. I think I have a potassium deficiency, I gave them Cannabud food 1/9 - water 1/13 and thrive today.
4 months ago