DrFerny90210
Blue Cookies
July 25, 2022
3 Plants
Finally topped my girls for the first time. Did some light defoliating on lower stem, readjusted some LST ties and added new ones. Been reacting well to Nutes feeding, every other feed is plain water. Possibly flipping to flower next week, depends on how much more growth I get from topping.
6 days ago
Girls are looking great this week. Finally defoliated the lower branches, got rid of any big leaves up top obstructing light to pass by. LST is paying off nicely, noticed much more growth in the lower stems, leaves are starting to increase in size, this round of trimming should help growing. LST continued with another set of tie downs to train the new growth at the top. Nute feeding went well, will continue to cycle between nutes/plain water (maybe with some calmag added). 1-3 Before, 4/6/8 After, 5-7 Full View + Trimmings.
13 days ago
First round of LST implemented. Likely won't top for another week or two, and then flip to bloom hopefully soon after. Hopefully the new foliage will rapidly continue to grow to match the tops
19 days ago
Took into account a lot of feedback from the community this past week. Growth looks amazing, finally able to get these girls looking healthier. Holding off on topping, will be implementing LST this week. Possibly going to Veg for 2-3 more weeks before flipping to Bloom. Alternating water/nute feedings, using less nutes this time around to avoid nute burn like the first times I tried. I'm about 2-3 weeks behind where I expected to be in progress, but I'm learning along the way!
20 days ago
Discpimp Looking way better great turn around!! Don't sweat how long it takes this is a game of patience and persistence! Happy growing
DrFerny90210 Thank you, I feel better seeing the positive results. Learning to adjust as I go 👍🏼
Showing positive growth/development. Getting ready to top in the coming days.
a month ago
HeritageSecretGarden Doc you need some triage on this girl before u top her from the color your ph is prolly off cause you also got nute burn plus looks like you got a pest issue developing that if you don't correct will only get worse just my two cents
View 2 additional comments
Week 5 - transplanted to 5 gal cloth planters, dealt with fungus gnat infestation past 2 weeks. Growth became slightly stunted/damaged. Increased light to 50%, second Nute feeding.
a month ago
ig:@eaegifts Looks nitrogen deficient, maybe give her some veg nutes 👍🏾👍🏾
DrFerny90210 Thank you, I did a top dressing recently. Starting to look healthier again
Entering Week 4
a month ago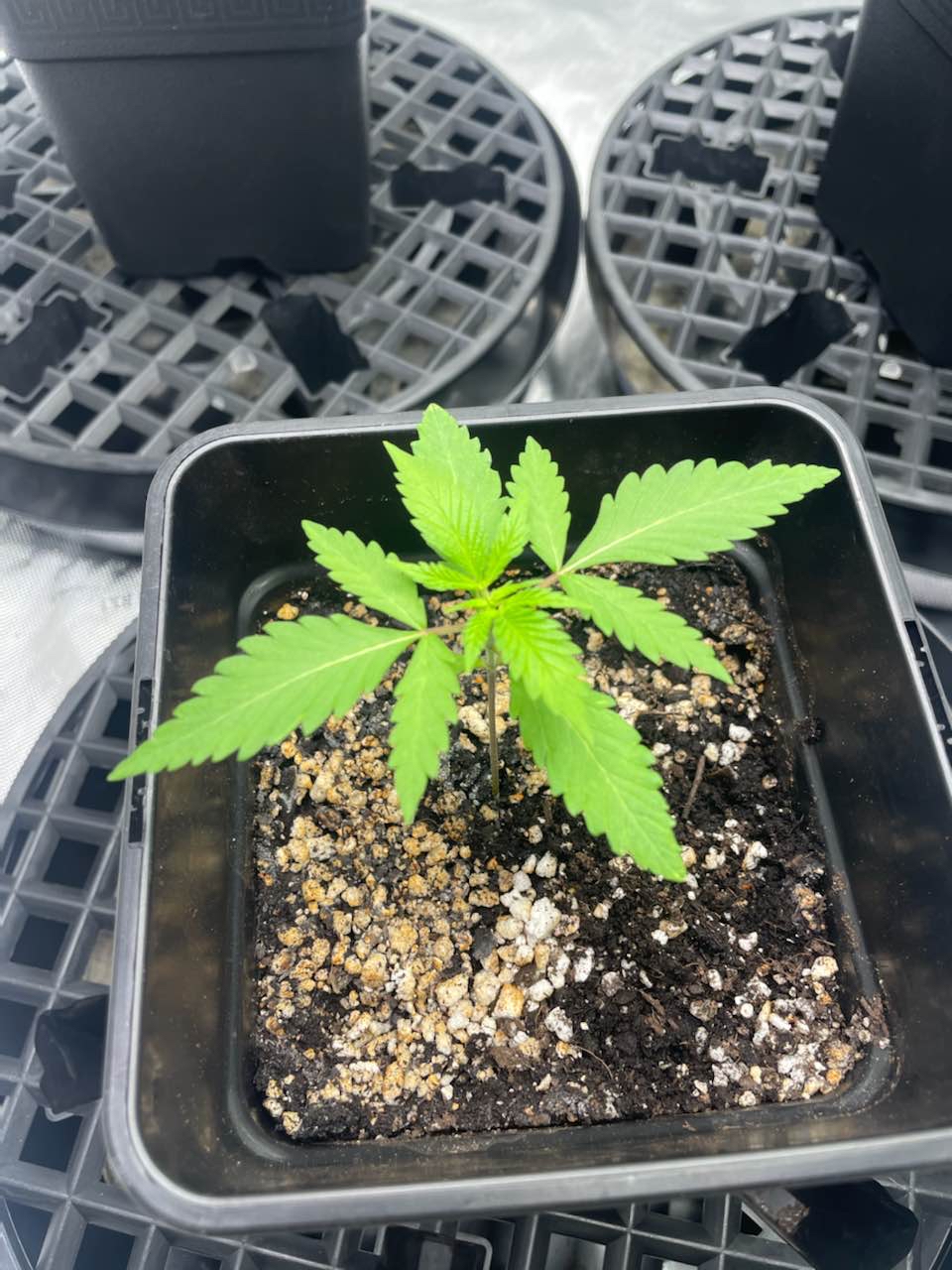 First day increasing light intensity. 1st nutrient feed coming up. Roots Organic feed (calmag/grow)
2 months ago
Showing new growth!!!
2 months ago