slavethewhales
Auto Extravaganza!
Spring has Sprung 2023
All 4 plants in 2gal pots under 2x SF1000 lights. Seeds planted directly into pre-saturated pots on 5/9/23 and all broke ground on 5/12/23. 3 Mephisto strains (including a freebie tester) and the first seed of Drakkar Noir, which I created from pollinating a branch of a Pinot Noir plant with pollen from a reversed Black Strap (Gnome Automatics). All grown in SunShine Mix #4 soil with 2tbs of Grow Dots each mixed in, ~25% perlite added, and will be using Recharge and GH Armor Si with every other (pH balanced) watering. Humidifier and fan set to keep the environment as optimal as possible.
Pinot Noir / Sour Bubbly / Toof Decay X Walter White (Mephisto) - Drakkar Noir (Black Strap X Pinot Noir)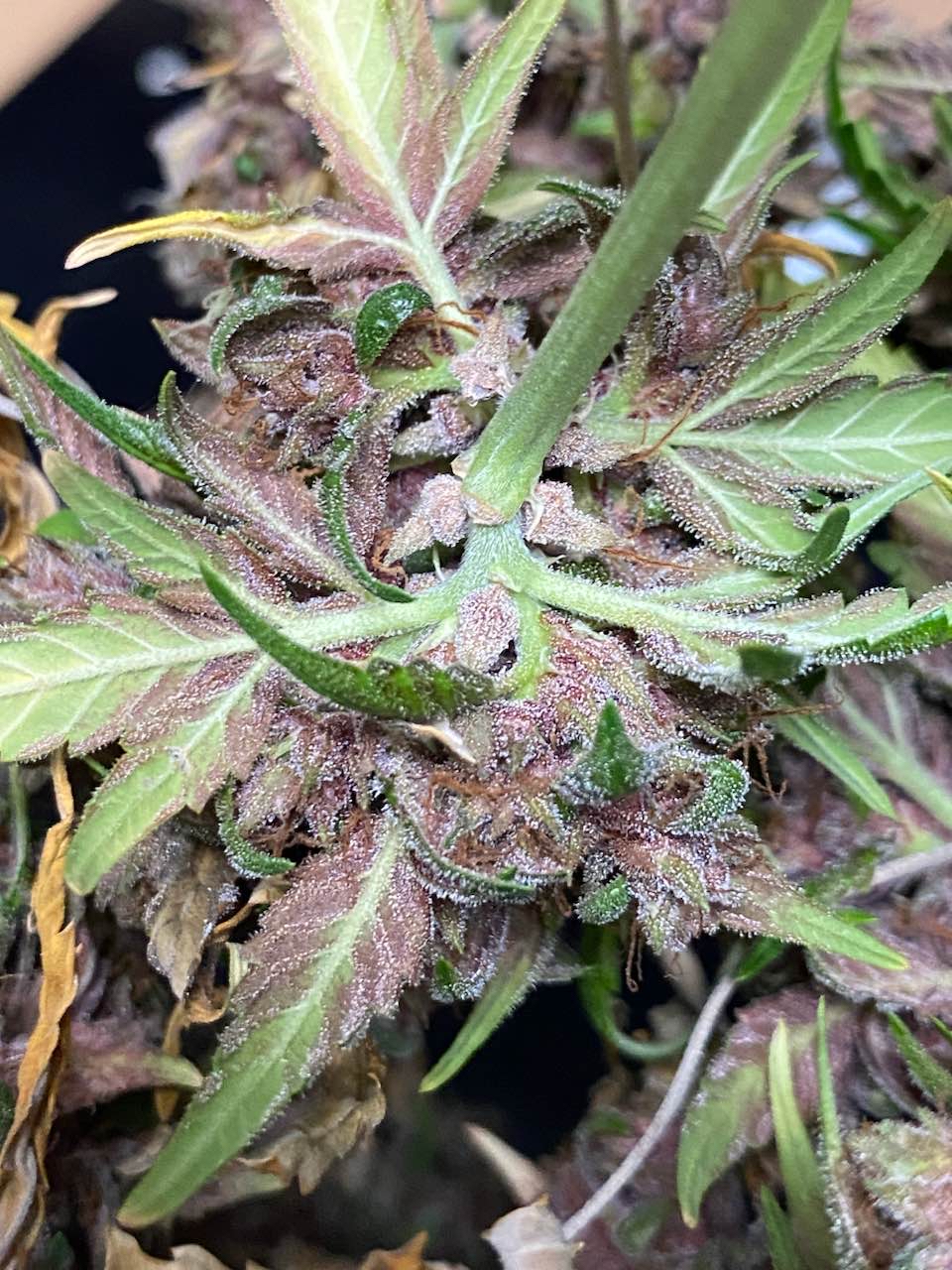 Chopped the Drakkar Noir today. She looks great according to the trichomes and has very pretty purple-pink buds. Has a floral and light gas smell and is dense as can be. Super stoked with how this one turned out!
a month ago
Checked the Toof Decay X Walter White and she also finished up today as well. The biggest nug in the whole garden is on this one. Very sweet smell and just frosty as can be.
a month ago
Sour Bubbly is done today too. Smells like sour gummy bears just as advertised with the slightest skunkish undertone. A very unique and strong smell. She couldn't support her own weight without support and the nuggs aren't as big as the others, but it should be pretty close with how much and how dense they are. Can't wait to try this one!
a month ago
The Pinot Noir got the chop too with a nice sprinkling of amber trichomes and just nothing but sticky buds left. She's another that couldn't support the weight of the buds without some help, and she has that classic sweet gassy smell that is a personal favorite. She'll be back in the rotation again soon I'm sure.
a month ago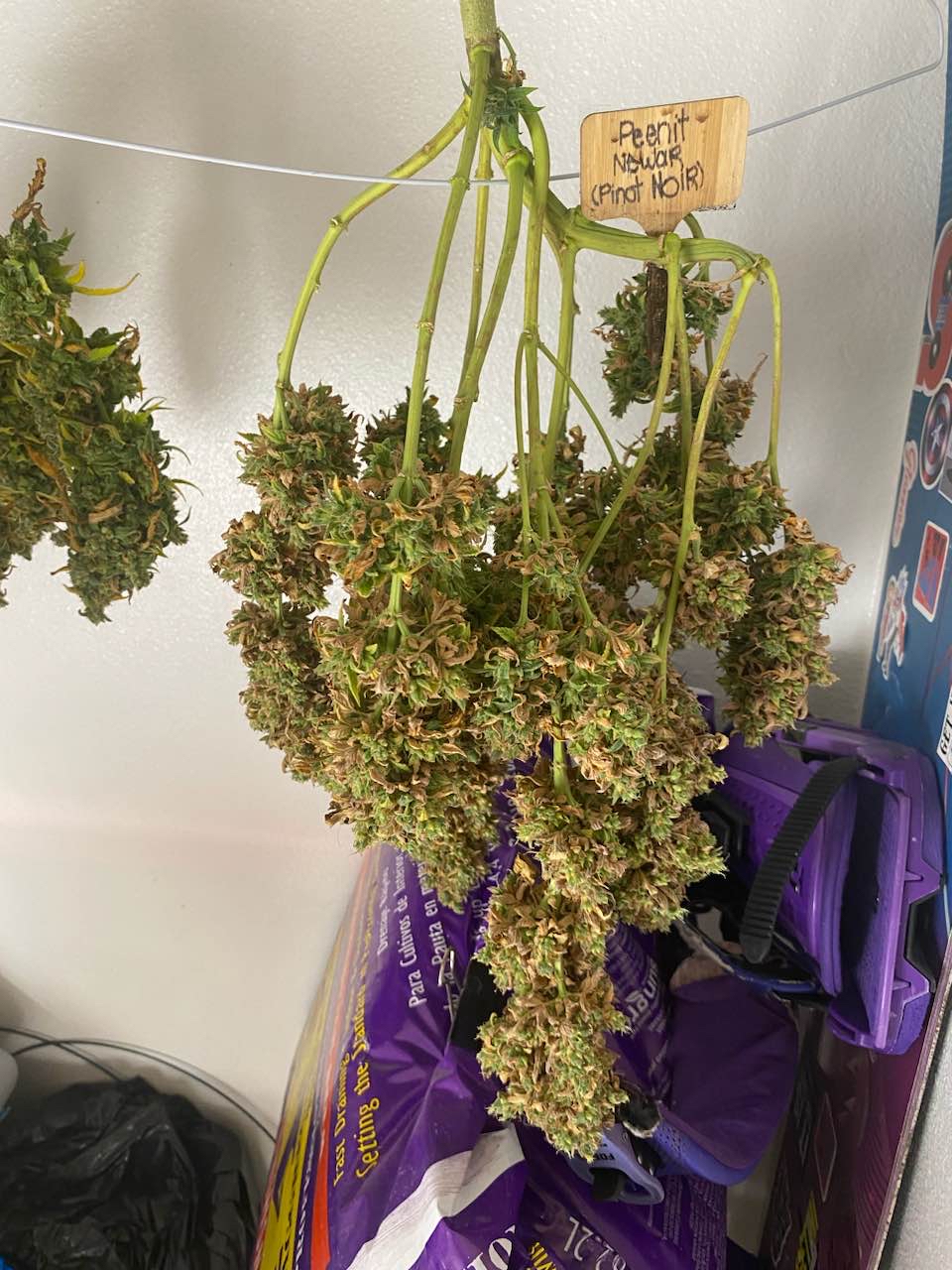 Harvest complete! Lights are off, humidifier is set, and will update when they're trimmed and ready for the jars. Super fun grow. Thinking about adding some dry amendments next time to supplement the Grow Dots and improve overall health even more.
a month ago
slavethewhales Thank you! Always a bittersweet day, but gotta do what you gotta do lol
Spent a good amount of time picking off any dead leaves and staking the branches for support (especially the Pinot Noir) as they are simply too heavy now that they're getting close to the end. The smell and stickiness is getting wild though. The Sour Bubbly is really smelling so good now, just like sour gummy worms. The Pinot Noir is the stickiest and biggest, but struggling to keep up with itself. She is looking great and will be great smoke though. The TDxWW has the fattest cola of the bunch and smells so sweet too. The Drakkar Noir's colors are coming through so nicely now with the medium purple colors just everywhere. She's the heartiest of the group and is just powering through. Super excited to see how she finishes up. Almost there!
2 months ago
Hard to believe they're close to being done already. They grow up so fast 😂
2 months ago
BoofingIt Yup. Before you know it you'll be wondering how it got smoked so fast 😂
ig:@eaegifts She came out nice, is she a keeper on the smell and are you gonna keep a mom, s1 or go further?
View 1 additional comment
Happy girls. Maybe I'll only grow 2 next time if they're going to get this big…
3 months ago
One month old today and doing fabulous all around!
3 months ago
Another update, more great growth. This grow is probably the happiest bunch of plants I've ever grown. Only real difference is the humidifier right from the start, so I'll go with that, but zero complaints. The Drakkar Noir isn't showing any signs of purple yet, but she's definitely flowering now which is right on time based off her Pinot Noir lineage.
3 months ago
Happy as can be all around. LST all around now as of last night, and all responding very well.
4 months ago
Growing like weeds! Topped the Pinot Noir, and also gave it and the TDxWW the LST treatment. The other 2 are little bushes, but will LST as well when they're a little taller.
4 months ago
1 week update, with some new (waterproof) tags from my wife. All looking great!
4 months ago
All 4 have successfully sprouted (on 5/12) and are looking good! Here we go again…
4 months ago