All Organic Living Soil 11/22
SOHUM/Super Poop/FOOP/pure worm castings/Rev (additives if necessary)
💯 organic and natural. Sponsored by Sohum Living Soils and Jon Workman, Super Poop, Ejs Growers Journal (Green Nexus), Opey's Seed Farm, Vivosun A100SE and E25 WiFi Grow Hub (for germ). Growers Republic EagleStar 780w & WeLitGrow Grsky PRO GB-750w, (1530w total in 4'x8' tent). Going to use water only once rooter for all of Veg to test SOHUM results, and once rooted, will transplant to 8 pot Autopot XL 6.6 Gallon System with 24g reservoir. This should be a really fun one!!
Barney's Farm Gorilla Zkittles/Opey's Seed Farm Blue Dream Kush & 🍍 Head Kush
Completed 6 autos, 3 different strains, 55 days seed to harvest! Not bad.
a month ago
crazybuds89 How much per plant you thinking you will get?
jjpooch44 Not 100% positive. They averaged 2.4Lbs wet trimmed, but I'll probably lose 85% or so, so fingers crossed!! 🙏🤞
Update day 35
2 months ago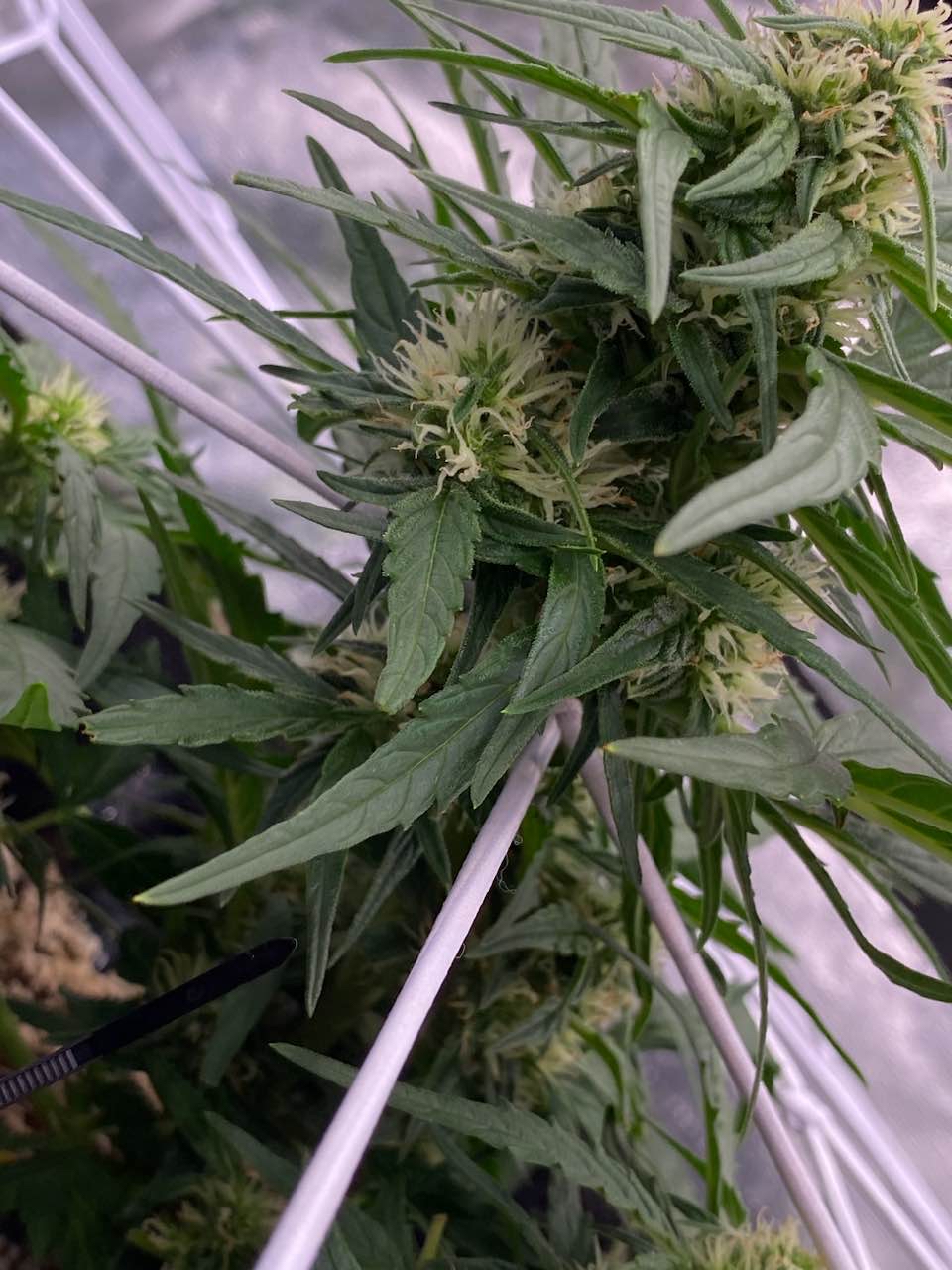 Looking strong
2 months ago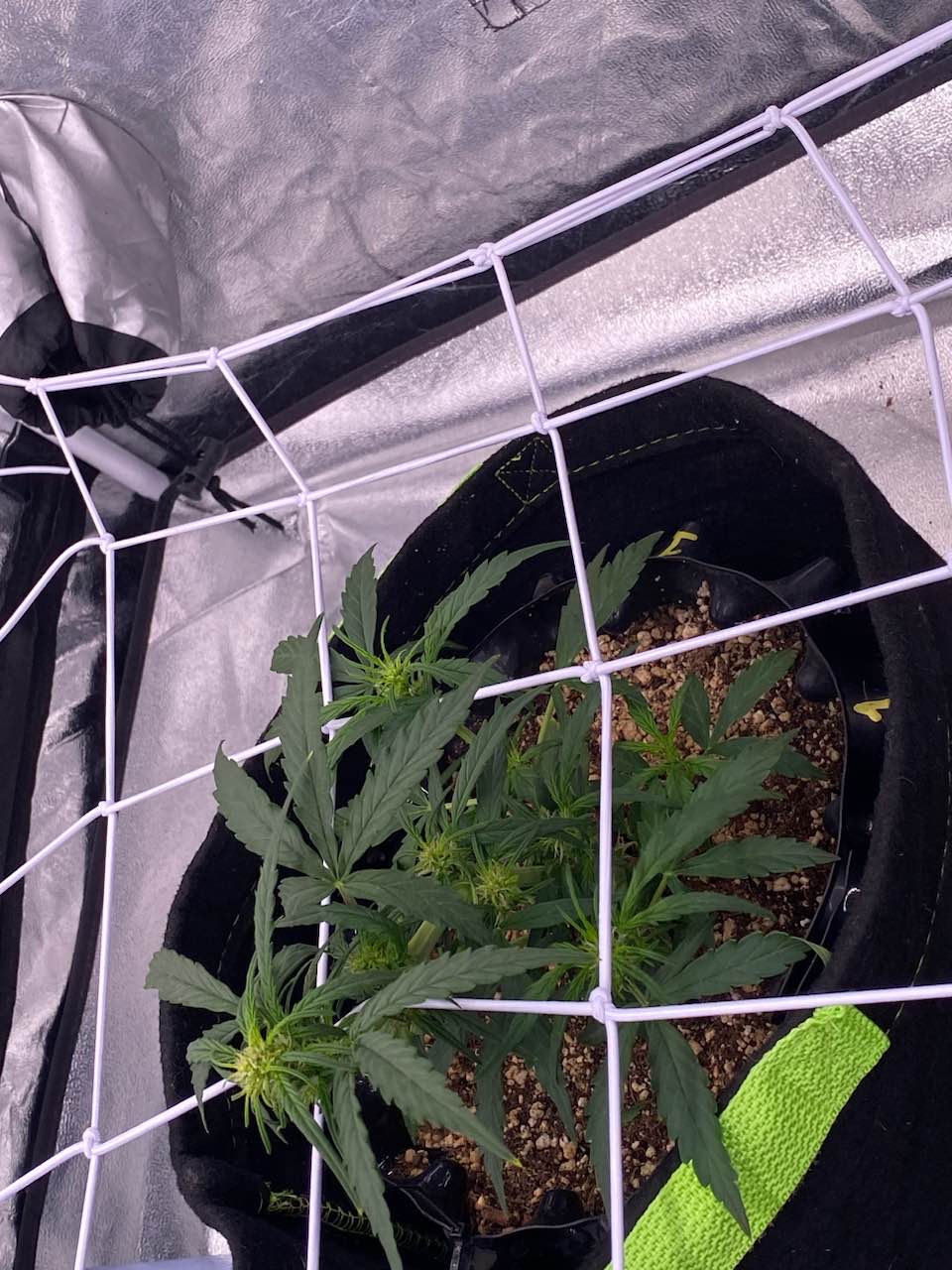 Added 2 x 100w All RED boards for Emerson Induction. Currently they will only run for 45 min at beginning and end of day. Did heavy defoliation and more Low Stress Training today. Tomorrow I'm going to add a few bonuses to their watering. All looks perfect.
3 months ago
Turned CO2 to 1300ppm, adjusted spectrum to heavy red, started LST with trellis net today, as well as added Super Poop worm castings to feeding @2oz per gallon, also added 20ml REV, 5ml of Cal-Mag, 2ml Hydroguard.
3 months ago
Changed spectrum and girls are looking strong.
3 months ago
Transplanting to 5 gallon AutoPots tomorrow. My largest seedlings are already poking roots out of bottom!! I got my 6 for Autopot XL system! Tomorrow I'm going to move these girls under the Hortilux 315w fixture, with the 10k CMH bulb! Will definitely need to do some adjusting and enviro checks on the big tent, as well as hook up autopots to rez, and install new 6" intake fan arriving tomorrow!!
3 months ago
I got my strong 6 💪 that will go under the 315w CMH 10k and in AutoPot XL System. Will combine with some LED.
3 months ago
One ☝️ non 🌱 but I still have faith!!
3 months ago
All enviros have held so far!! 36 hours since planting. Temp 77-80f, R/H 76-81%, VPD .5-.72, Vivo intensity 60%, Seedling spectrum, supplemental 0% Bloom/Veg 100%. CO2 @ 1200PPMS, will increase to 1400 once roots develop.
3 months ago
Had a lot of trouble getting prop tent to 80f with only the 100w Vivo AeroLight. Had to add backup 60w heat bulb, and 120w Coolzu Cree Cob.
3 months ago
jjpooch44 It's not dirt. It's a 1/2" layer of Botanicare cocogro. It's completely inert and is just like a moisture wick to help hold in water at bottom of pot. It's same idea as a wicking pad.