bollie747
Lu Lu & Busa
1 st Photoperiod Grow
LST Indoor grow
White lemon (aka lulu). Is getting harvested today. Plant bulked up quite a bit over the last week. Showing a good percentage (5% - 10%) of amber on all the top colas.
3 years ago
Caboose got the snip today. She was showing higher a lot of amber on her main cola and the rest of the colas had a small amount of amber around 5-10% Some of the smaller buds (lower on the plant) had no amber but were mostly cloudy
3 years ago
Most of the trichomes are still clear, buds are slowly thickening up.
3 years ago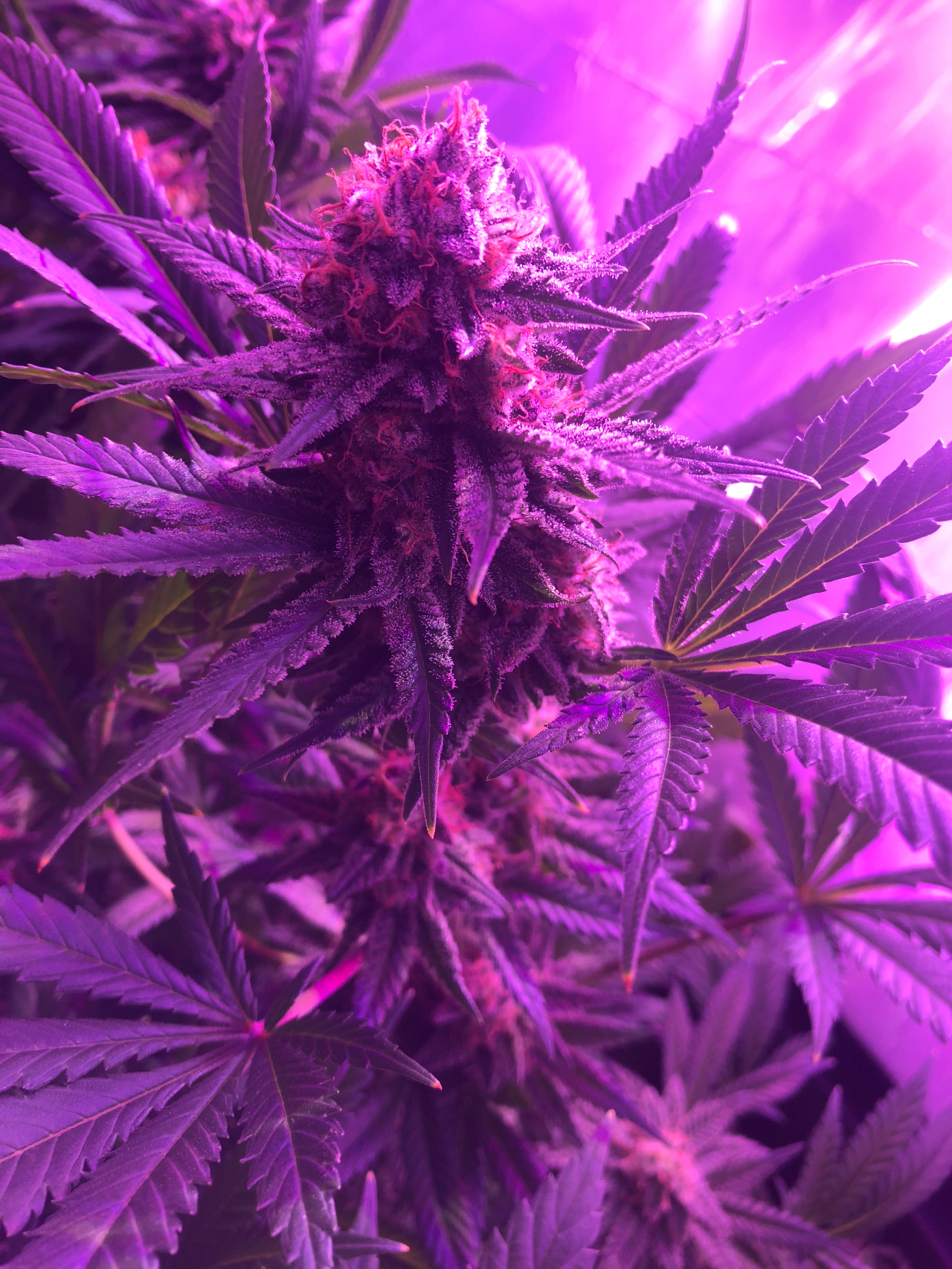 Starting to monitor the trichomes, plants are still looking healthy.
3 years ago
Plants are still nice and healthy and the buds are filling out.
3 years ago
Buds are starting to form
4 years ago
Starting to thicken up
4 years ago
Lushy Wow, they are huge compared to mine
Flowering along nicely. Both plants seem to be progressing at the same rate.
4 years ago
Plants are now both in full flower. They stretched around 10" in the last 2 weeks.
4 years ago
Plants are flowering nicely. Looking very healthy. Trimmed most of the lower foliage off the stocks and thinned out the canopy a bit. Still doing the three feed to one flush cycle.
4 years ago
Fixx How long it takes before you can the recreation?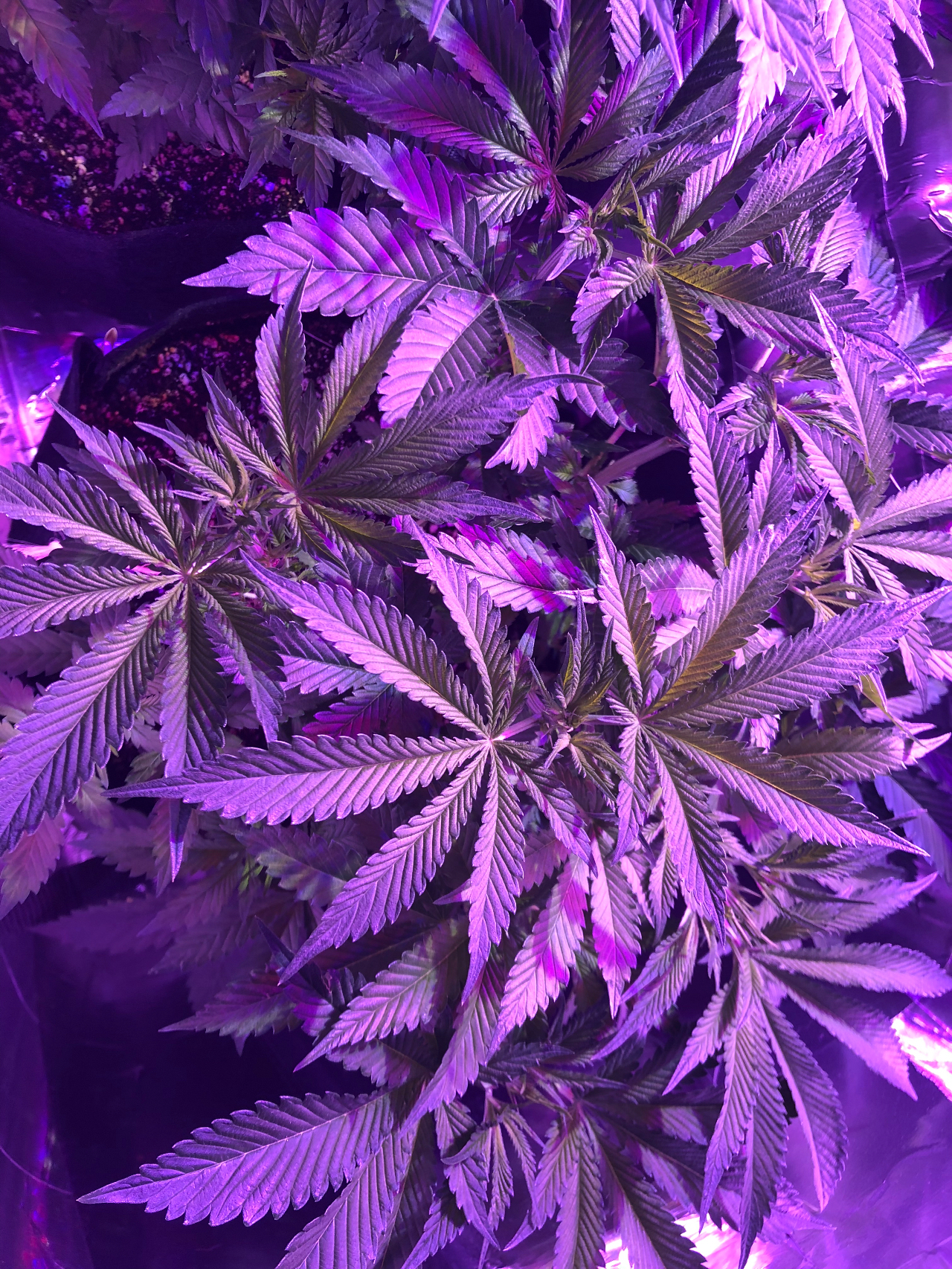 Plants are starting to show signs of flowering. Feeding them at full strength now, 3 feedings to 1 rinse.
4 years ago
Plants are doing great, just switched them to a 12/12 light cycle yesterday. They also got a good flush. 13 colas on Lu Lu and around 9 on Busa.
4 years ago
Lushy They have filled out a ton since your last updaye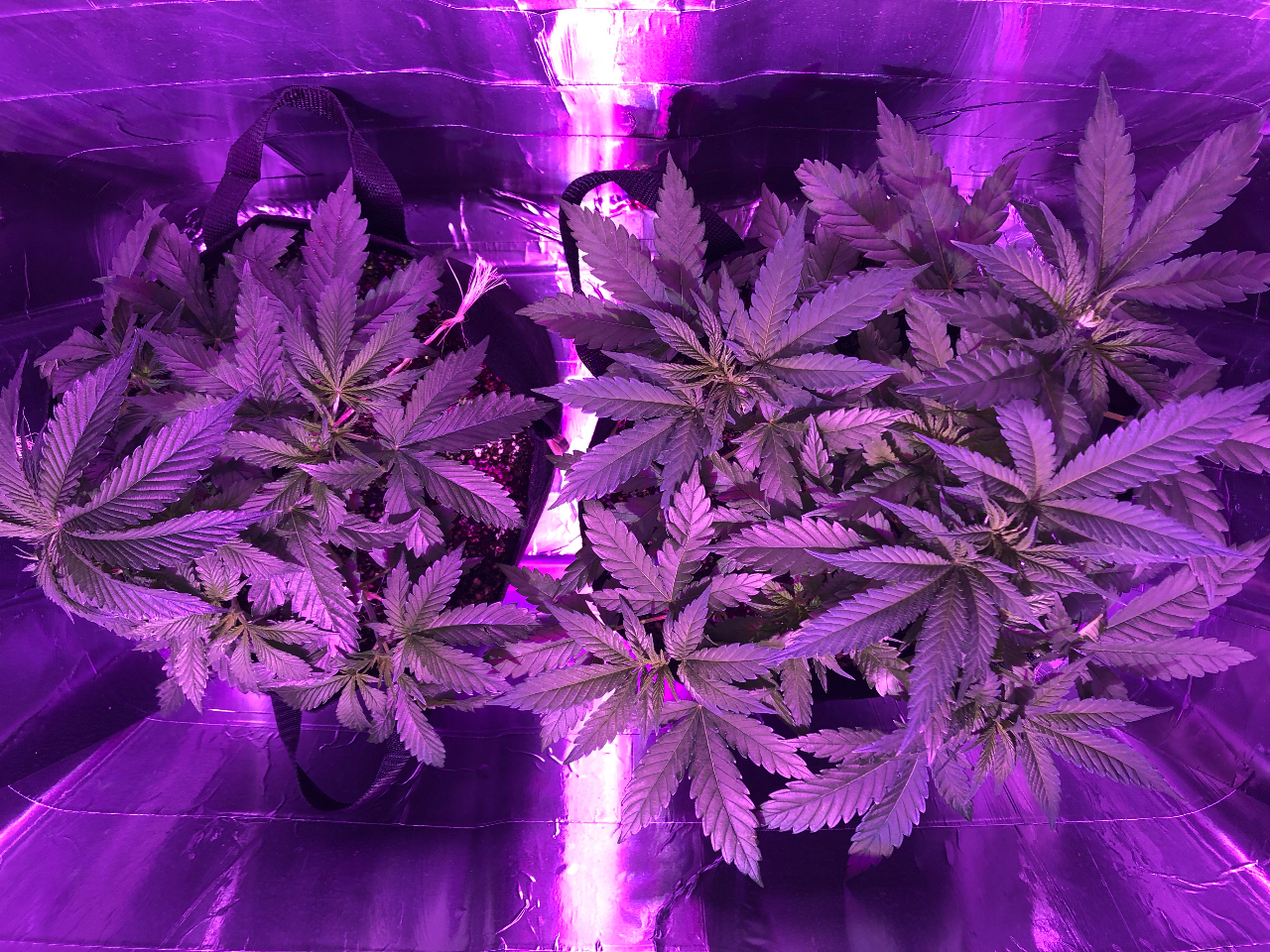 Growing good. Still have them at the 18/6 light cycle. Feed them every other day.
4 years ago
Have clipped the largest of the leaves of the plants a few times to allow light to penetrate to the smaller cola's coming in. Gave them another good feed today 1/2 tsp base 1/2 tsp flower to 4L of water.
4 years ago
Lushy About time you did another update, looking good!
First day after I started my LST. Plants are looking good. Gave them their first feed today of 1/2 tsp - 4L of water. Each got 2L. Bought a humidifier and am keeping the humidity steady around 50% temp 25°.
4 years ago
Mekroute How did you go about starting your light strain training? I'm planning on topping my youngest and then LST'ing but I'm not too sure how to start.
Bollie747 I punched holes in the top of my fabric pots and tied them with wire. I recommend actual plant ties Wire can be hard on the plant. And just keep thinking the leaves and allowing the light to get to the new colas coming up, and keep tying them out of the way to make room for more until you are happy with the size of your plant. Hope this helps
Mekroute It does 😄thank you! Great grow btw👍🏼
Soil is still moist. Starting my LST tomorrow on the Caboose. May wait a few more days on the white lemon it isn't growing as fast. I switched the plants from side to side we will see if that makes a difference. 41% 24°
4 years ago
Lushy Comment... there I did it :p
Let the plants dry out good over the weekend, They were still doing great when I watered them this evening around 2 l each. Humidity is down to 35% may have to look into getting a humidifier.
4 years ago
Bollie747 I noticed the white lemon has kinda corkscrewed it's second set of leaves a bit. The 3rd and 4th set look fine.. something to keep an eye on.:
Soil is drying back out quite well. Going to hold off on watering for another couple of days to get the roots moving down for water. Humidity is back down to the low 40's. Temp is 23 - 25
4 years ago
Soil is still quite moist. 43%. 22°
4 years ago
Soil is still damp. Plant isn't showing any signs of stress. 22° & 45%
4 years ago
Seedlings are around 3.5" high. They got a good watering today. 50% 23°
4 years ago
Seedlings are around 3" high. Rigged up a humidifier tray, been holding the humidity around 45%. Fans set at low now for 2 days to help draw the moist air in.
4 years ago
Seedlings are both around 2" high. Trying to get the RH up to 50%. It has been around 30 now for the last 24 hours. Using a spray bottle for now but it doesn't last long before it's back down.
4 years ago
First signs of life. Lu Lu is up, and Busa is just starting to break through the medium. 2/2 on successful germination.
4 years ago
Still no sign of the little guys. Soil is still damp and temp and humidity are staying constant at 27° and 50%
4 years ago
After first 6 hours of dark humidity rose to 75% and temp went down to 22°. Lights back 27° and 50%.
4 years ago
Both seeds planted around 1 cm deep and cover lightly with medium and watered. Clear cups placed over seed area to help keep moist. Started an 18 - 6 light cycle. 26° 55% humidity.
4 years ago
Started germination. Seeds soaked for 20 hours, both seeds sank within the first 5 hours. Medium soaked through with water. Lu Lu (white lemon) Busa (Caboose)
4 years ago