Northern Legend⛰🛸
Legend OG x (N.L. #1 x N.L. #5)
62-72 days flowering according to Elemental Wellness
buds washed, dried for 5 days, 2.5 oz
2 years ago
Flushed and fed, no more watering. Dry soil, ~2 days dark, bud wash bc of PM, dry. Im worried about the PM and bud wash
2 years ago
redemption1986 Don't be worried, it'll be fine. I battled with pm on my last run, also washed the buds. Let me tell you something, i will probably wash again when I harvest on this run whether I need to or not. The smell was great, the smoke was really smooth, and the taste was mind blowing. Seriously, I don't think I will ever, not wash my buds. Just my opinion and on my own personal flower. I also, after doing a three bucket wash, I sprayed them with my kitchen sink sprayer, with lukewarm water on a softer spray. Didn't want to blast the trichomes off, just the pm. Not trying to convince you, just ease your mind.
growizardtonu @redemption1986 thanks, definitely eased my mind. i was gonna do a peroxide and baking soda, then just water. Was the PM on your buds too?
youngkinggreen I grew a plant sideways on time and it stunted the growth
View 2 additional comments
TIL that you're suppose to wait for the plants sex before you count the first day of flower. Trichomes looking milky but going to flush on the next watering, 1-2ish weeks maybe
2 years ago
wpm sucks, decapitated a good size branch that was too far gone, ready to start over. wk 7
2 years ago
Facing new challenges every week, i love learning and improving. Might've caught some leaf septoria and more WPM even after treating it with milk/water. And slight N and K deficiency. 6 days until organic fungicide respray. PRUNE MORE, clean runoff, less humid.
2 years ago
F23 🧙🏽‍♂️very satisfied with my first canopy
2 years ago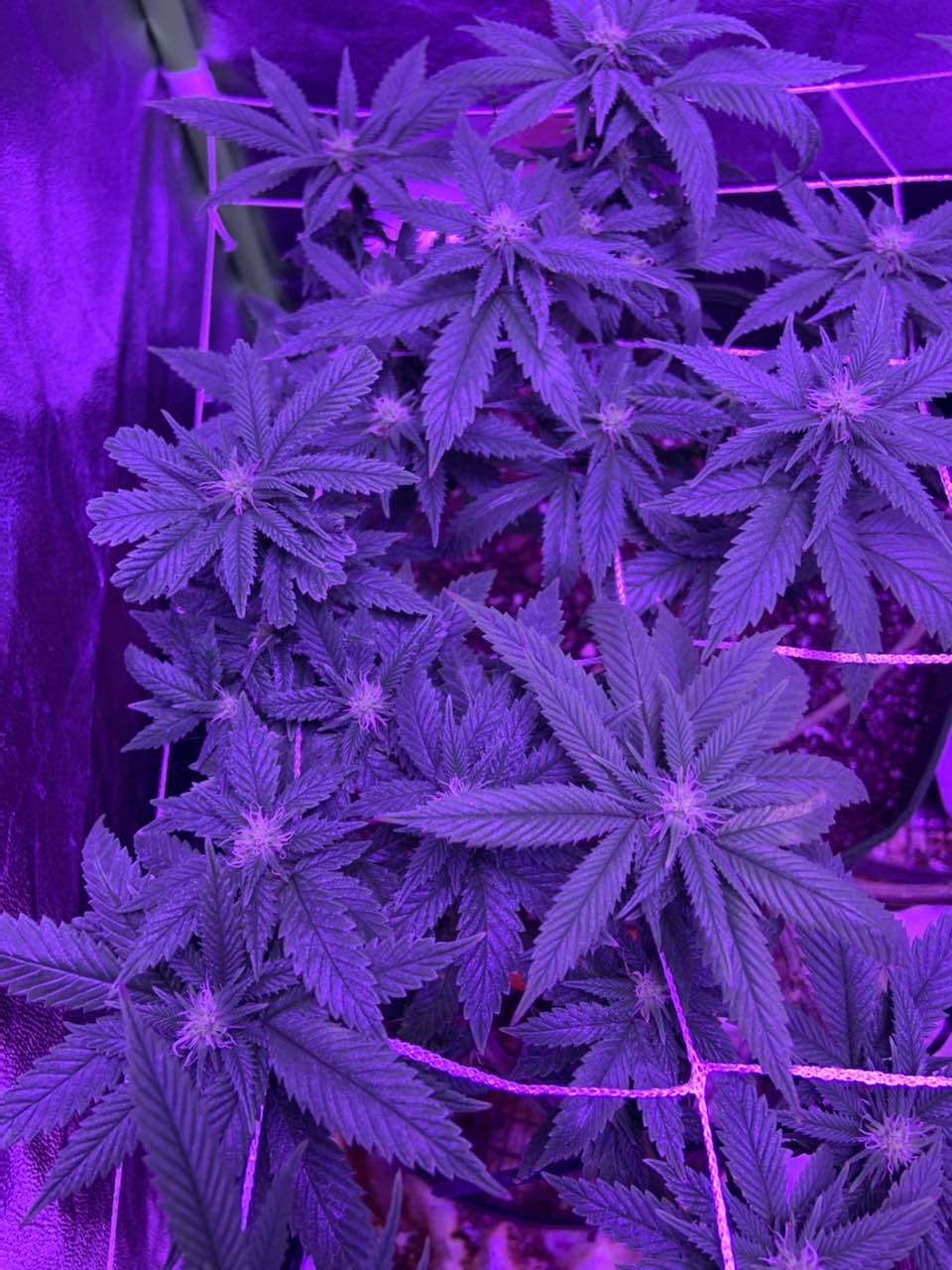 white stains from dried milk/water spray to fight WPM
3 years ago
6.45pH 🌴 300ppm
3 years ago
Day 6 of flowering, pruned today 2nd watering since last update 900ppm 6.65pH 50% RH weekly average 75.2'F weekly average
3 years ago
flushed 4 days ago, watered last night 780 ppm 6.38 pH
3 years ago
A couple FIMs, ~5 days to start flowering
3 years ago
Filling in nicely. 80'F,50% humidity average. Watered 6.88pH, 900ppm
3 years ago
First day of SCROG, looking happy and healthy. 32"from light. 77-80'F 45-55% humidity
3 years ago
20" from light, 40k Lux, 24 hr lights
3 years ago