robibus
Combo Grow Winter2019, Round 2
Bruce Banner, Skywalker OG, Black Widow
Lost the first grow due to Hermie of the Skywalker OGs. Bad seeds I'm sure Here we go round 2, with an extra Black Widow. 40"x40" tent Ventilations is 6" intake and exhaust with ac infinity cloudline controlable fans Lighting 1500watt LED actual draw 290watts (2) 600 watts LEDs actual draw 130each 96 watts of deep red bloom boosters 15 watts of far red used 10 min after lights out for flower initiation ProMix HP Advance Nutrients Base usually used at 50% rest I follow the schedule with good runoff Micro grow bloom B52 Voodoo juice Bud blood Bud factor x Big bud Bud candy Nirvana Overdrive Flawless finish
Bruce Banner, Skywalker OG, Black Widow
Couple more days to end week 8. Girls are looking real close. Black widow looks like it's the first. The fat monster is the Skywalker OG. Nugs are solid and very heavy. Having to support a lot of branches that are leaning over. 80% clouding the trichomes
3 years ago
Girls are booming. They will get the flawless finish flush today. Smells intense. Crystals everywhere? Yes! Happy camper
3 years ago
Flowering 6 weeks 2 days Started flushing today. Was gonna use the flawless finish but girls were thirsty and I was in a rush. Next time. Looking close to 50% cloudy on the trichomes Lots of new growth still on one, it might need a little help along. Gonna be going to 11/13 and dropping temps. Removing one Led. It's ripening time girls!
3 years ago
Here ends week 5 of Flowering Week 6 starts tomorrow Girls couldn't be better. They got the perfect environment Daytime 75 Nighttime 65 Humidity 35% I still have them in a 13/11. Need to find the article or post I read about this. I know I should go down to 11/13 towards the end. Putting them back on 12/12 today
3 years ago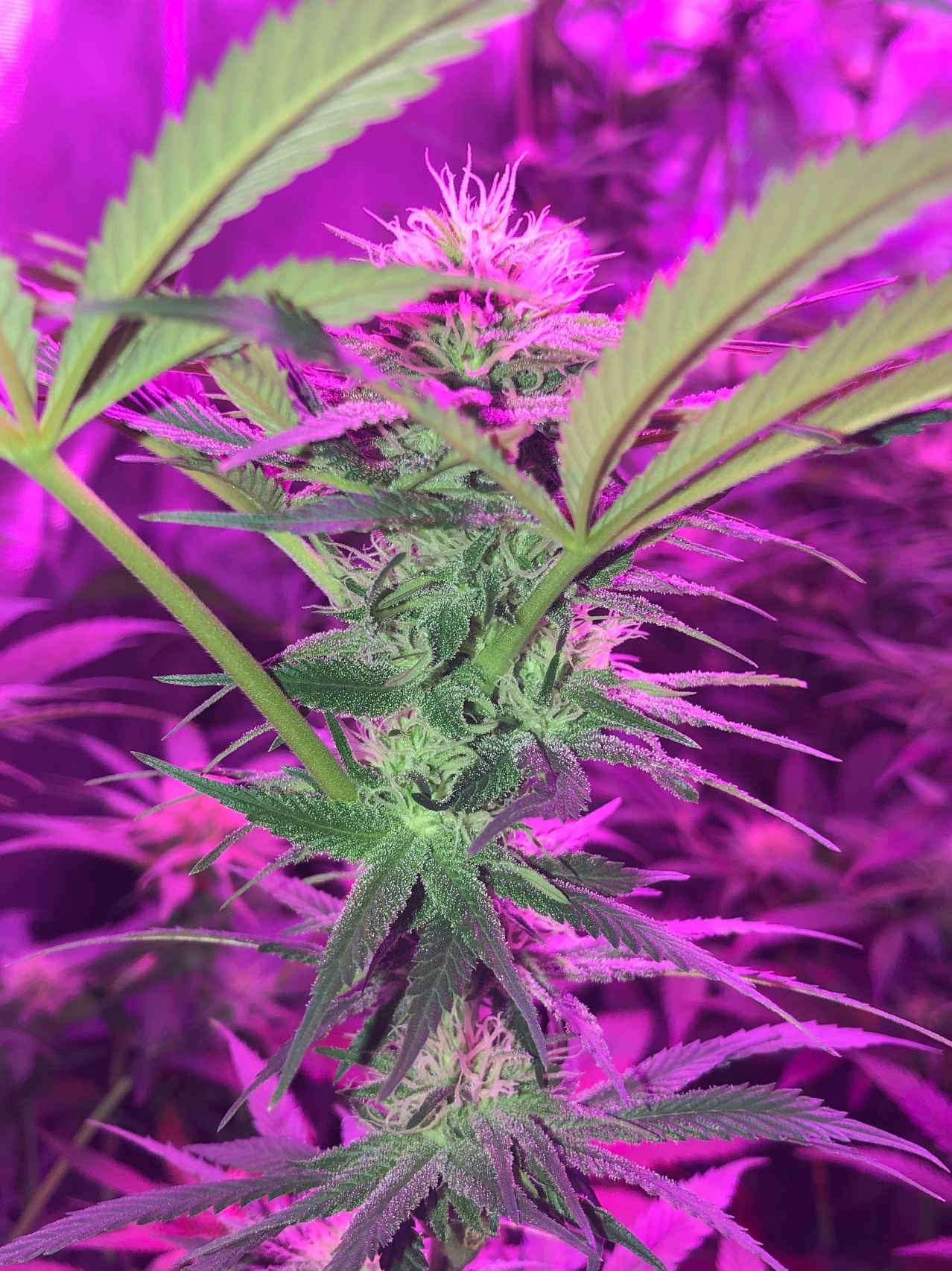 Day 29 of Flowering Here starts week 5. Girls doing much better after surviving the humidity down in the 20s. Managed to get it stable around 35% right now. Right where I want it. Daytime temps 75, nightime 67. Switched them 13/11 last week now that they stopped stretching. This is because of the far reds I use if ya just jumping in here. They get 10 minutes of far reds at lights out.
3 years ago
Day 17 of Flower Girls looking good but keeping up humidity has been a struggle it's dipped down to 25-30% few times. It's been below zero outside for a couple weeks now. Sucks any moisture out of the air. I'm not complaining except for the one that stretched like crazy. Bruce Banner are on the left Skywalker OGs are on the right One Black Widow in the Middle
3 years ago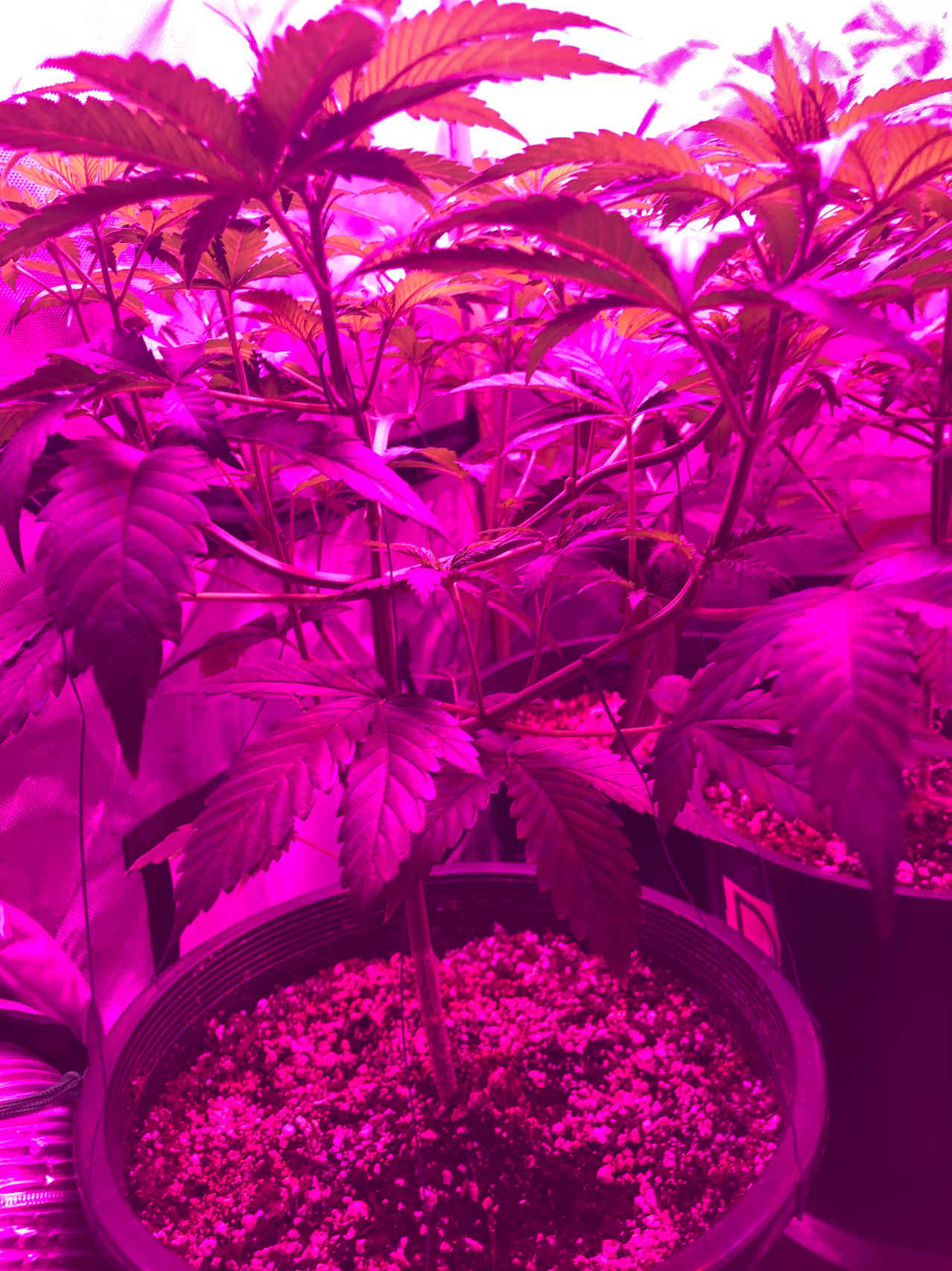 Woa. Long time no update. I hate veg mode. Girls looking great. Bruce Banners are just amazing 16" from dirt with very nice structures. Skywalker and black widow are behind at 14". Both skywalkers topping were FIM. I been getting good at getting right between fim and top. You will get 4 shoots as seen below. Other 3 were spot on. Last grow I had 2. Still unknown CO2. I should say elevated. It's from the little buddy heater in the tent on pilot only. They don't need much ventilation at this point so the CO2 can build. A.N. MicroGrowBloom with B52 and Voodoo Juice Daytime temps 80. Nighttime 65 41% Humidity I'm ready to go to flower before these get too big. I already know the Banner stretches like a mad woman. Maybe in the next day or 2. Just water and fed yesterday, so wanted them to drink this up before I give them flower nutes.
3 years ago
Transplant Day.
3 years ago