cannysnake
First grow
Ghetto style
Feel free to give me tips🙂
Still here guys lol
4 years ago
Growing oretty good, i see whisps all over
4 years ago
Noticed soil got dry so its a little droopy, just watered, no nutes or nothing yet, any recommendations? When should i start getting nutes
4 years ago
Any recommendations
4 years ago
No more new spots
4 years ago
Ok so after a flush and some frsh sun and air... they are going away!! Yay
4 years ago
FTGrower Awesome man. Glad to see they doing better. Mine are looking a lot better now.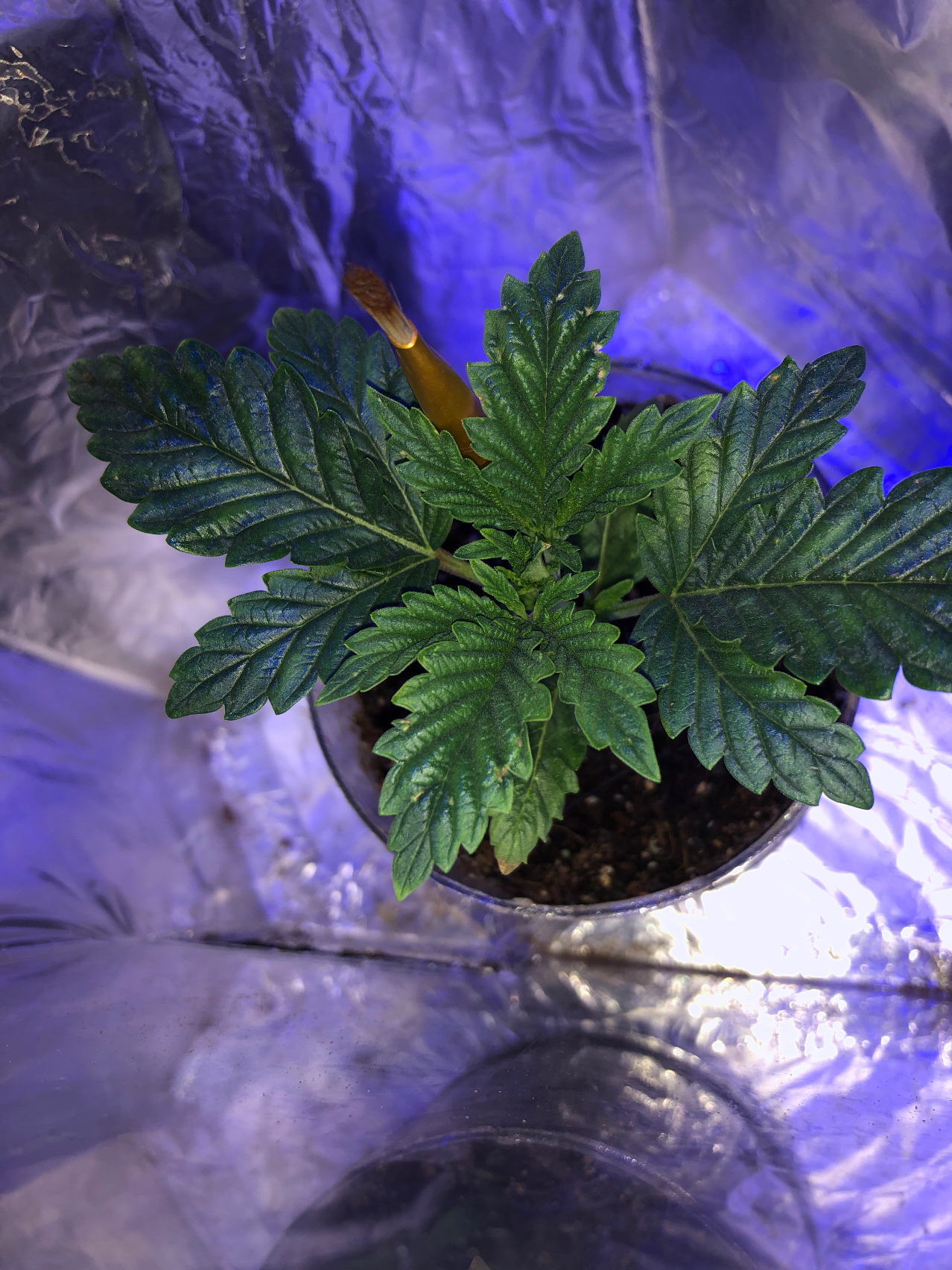 Can anyone tell me why its starting to get some yellow spots on my leaves? I have it on a cfl/ led 24 hour frame do u think the cfl could be to close, (i keep it about 6 inches away)
4 years ago
FTGrower Put your hand between the bulb and the plant. If it feels hot to you it does to the plant to. I don't think that it. I think to much nutes. The tip of the one leaf if brown. That's nutes burn. The leaves are very dark which means to much nitrogen. I would give it a very heavy slow water and repot it in a bigger pot right after water (so you don't cause over water issues). Are you using miracle grow soil? Or a soil with a 3-6 month nute release aren't you?
FTGrower Could also be over watering. I did it also. Kinda looks like my plants when I overwatered. Your leaves are a bit darker. Tho it could just be the lighting making them look darker. Are the leaves kinda droopy? My leaves got a little droopy. The top leaves started to turn a lighter green. I got some small brown spots on the leaves then they started to go from light green to a greenish yellow. I fixed it be replanting in bigger pots and removing all the old soil I could without disturbing the roots. I put a full description of what I did on my grow. Everything I have found on cfl people say to keep them about 6-8 inches from the plant. How close are your lights?
Cannysnake I do use miracle grow and the 3 month bute release soil, bit i stopped using miracle grow after i found out it was bad, and i water about every 2-3 days
View 1 additional comment
Spots are starting to get worse😢
4 years ago
FTGrower I would try flushing with water and replant in a bigger pot with fresh soil. It's not light burn the leaves would be curling up or turning. I would say nitrogen overdose because of the deal green and the leave tip burn on it. Try that and see if it helps.
Cannysnake Did a water flush im gonna wait and see of things get better, really dont wanna repot yet, im trying to get a rootball but if it seems like i have to i will
Just got done watering🙂
4 years ago
Any tips or recommendations?
4 years ago
Everything's looking good so far, lost the other one too so thats a bummer but this ones livin lol Been rlly busy lately, will keep posting more
4 years ago
FTGrower Looks good man. Welcome back. Posted my diy tent go check it out 😁. Sucks one died. Think I might loose my smallest one also. It's tryin tho lol.
Cannysnake I keep my temperatures low and have a fan blowing on it wich seems to make it pretty strong, and your tent is dope
FTGrower Awesome. Yeah I keep a small fan on mine. Just above the top of the plants so they wiggle just a little. Think I over watered mine. What temp u keep your at?
View 1 additional comment
Any recommendations?
4 years ago
FTGrower Looks good so far man. I'm no expert but seems like it going good. Looks like the back one could use more light but I'm assuming u took the lights off. Finished my diy tent. Total cost $50. I'll be post in a pic tomorrow of it. Just got doneputtin my plants in it. Lmk what ya think when I post it.
Cannysnake Thanks! The second one was having a hard time sprouting and was starting to die in the soil, i had three but one pf em died. But i just took ot and put it up top amd it started turning green and grew tiny leaves, and I definitely will i still havent started on my tent you might give me some ideas. Good luck!
The other one is no good but the second one is poking out
4 years ago
FTGrower Ahhh. That sucks. Lost one on mine to 😢. It happened tho. Keep on growin man. Bye idk if ya know (I didn't) if u click the last pic u posted then hit add button it adds to same grow. If not it registers as a new grow each time lol. Looking good tho
Been doing the 18 hours of light and 6 of dark cycle, only one sprouted bit om pretty sure the other 2 will today. This is the other box i put them in when i go to sleep, they get some purple or blue led lighting mixed with the lamp. Feel free to leave me any tips or comments!
4 years ago
FTGrower Careful with the foil. If you have strong lights it can create hot spots on the plants. This happens because of the creases in the foil. Kinda like a magnifying glass and the sun just not as strong. Solar reflect (polymer/cotton with reflective backing) is better and pretty cheap at any Walmart.
3 seeds germinated and now o got them on my bathroom while i get things ready for a easy grow tent
4 years ago
Cannysnake Feel free to give me tips, i can rlly use them!
FTGrower Pre soak seeds in water for 8 hours. I germinate in a paper towel in a ziplock bag. Put in a dark area around 75F degrees. They germinate faster that way. I tested in soil, coir, water, and a rag. Rag works best but hard to get outta fibers.
Cannysnake @FTGrower they already germinated i just planted them
View 3 additional comments