ibarebears
"Undead #1"
Unknown Strain 2019
this is my first attempt to get a solid practice run in before legalization in January 2020. I have already done a few checks and confirmed I am totally within a legal safe zone.
I learned so much on my first grow. Through the time growing and learning from both the errors and successes as well. Next grow will begin in a few weeks!
4 years ago
Cure week 1 is done and finished. bud is still pretty wet. hope those amazing terpines pop back up like they did im harvest
4 years ago
(Harvested) and finished! Cure time started! 10 days and i will do another weigh out. 17g weighing so far. very happy with this full grow and MANY successful tests in the last few months
4 years ago
may not be the best photo of her but she is all hung up and trimmed. next post will be on the 23rd with a couple branch bend photos and then its off to the curing jars
4 years ago
24 hours of Darkness for this Lady. Chopping tonight at 11pm
4 years ago
Alexvgb It's the last day before harvest ?
4 Days Till Harvest. Tricomes are big and beautiful. I have been drying her out for about 5 days now to make the whole process faster. Very Excited for the next 2 weeks
4 years ago
Plant is starting to take on some great smells and the tricomes are looking good under the 1000x zoom as well! looking like a harvest this week
4 years ago
buds on buds as well as a hint of sweet skunky smell. having some rough humidity problems since i cant get it below 55% and i'll be damned if i could get it to stay in the low 50s's. Amazon is delivering my solution today (hopefully)
4 years ago
Day 127 Flower Day 43 orange hairs everywhere and its looking very frosty near the somewhat 18 bud sites
4 years ago
I have seen so many growers use these so I will give it a try as we finish out flower here on day 40. another 25 days and we are in full harvest mode. All tops that are lookin a little shaky have been secured (I think) I will keep an eye on it here in week 7 and 8 in flower
4 years ago
First orange hairs to start popping up on day 39 in flower on 2 of the 23 bud sites. Thought I'd note this since it is an Unknown strain so any notes I make will help future grows if this one produces any seeds. -Harvest is looking like the 3rd Week of October giving her about 60 or so days in flower. - At 50 days I will be checking the bud sites twice a day with a few magnifiers I have on hand - Having small Humid control issues but I have not seen a % over 66% but I do know that it is too high and should stay within the 50's - I have a net for these fat bud sites coming in from Amazon Prime tomorrow morning so I will post another update when it is all up and looks pretty
4 years ago
Undead is in her 37th day of flower. This plant because it is only going by its nickname has been hard to track and guess what the genetics would be like. I am guessing harvest will happen on day 60 of flower. best guesses welcome!
4 years ago
Day 118 Flower: Day 31 plant looks great buds really getting big. I have upped the water and food as well just a bit. all looks well
4 years ago
Bud sites getting a little frosty here in day 28 of flower. we just finished out the 4th week and still looking good.
4 years ago
We are blowing up with bud sites after a little low stress training. branches all look very sturdy and strong. they should be able to support the weight but i do have a trellis net on the way from amazon. This hobby is the gift that keeps giving
4 years ago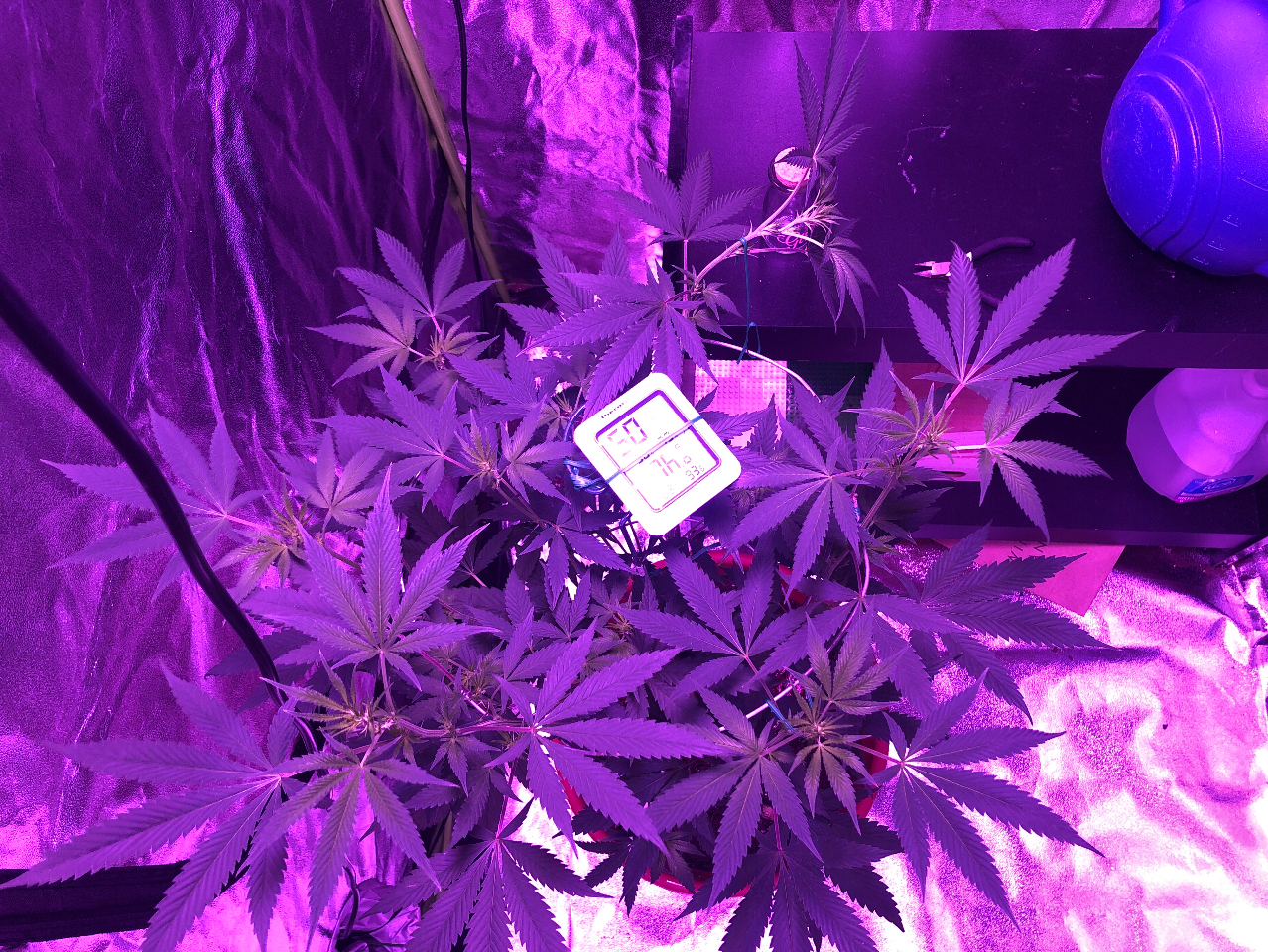 So I moved my Meter to a way better spot and its showing great Temp through the night so there is no trouble there. Did a little LST on that back branch because it was hauling ass towards the light and I am going for as even a canopy as possible. Plant is stretching and is pretty strong. I am guessing some heavy buds are in my near-ish future. Week 3 Flower update is next, should be day 97 Saturday the 24th of August.
4 years ago
Day 4 in flower. I mixed up a blood solution with a dose 10-30-10 and will begin feeding tomorrow
4 years ago
Day 1 of Flower. Got her all tied down and changed my light over as well. first feeding is in 5 days
4 years ago
Well now I am about 95% sure our healthy plant here is in fact a female which is very very exciting as far as having a little extra to smoke but I am thinking now about cloning and the future of this unknown strain.
4 years ago
Starting to think that it is in fact a female because of the multi tiny stems coming out of some parts as well as the absence of pollen sacks, fingers crossed tho. Either way the yellowing was in fact a pH issue that is now resolved and the plant is looking very green and healthy. I added a support in the middle with the advice of another grower and tied down a few branches slowly attempting to "lollipop the plant"
4 years ago
After topping and working this support in the center, I have tied down a few stems inside at the 3rd node to better support it at night. Still am not sure weather to call it a Her or Him because it has still not shown anything helpful to me or my 25x zoom glasses.
4 years ago
looks like the topping went well. Did 8oz of water and am getting a big of yellowing on some of the newer leaves so I will keep an eye on it as we head into week 10 here
4 years ago
Topped and looking awesome. leaves are being bent to let more light in the center so that droopy look it has is from me bending. I am unhappy to report that I believe it is a male. I will post some pictures, see if you all can guess before me.
4 years ago
Gender Reveal? ITS A _________ ????
4 years ago
"Undead #1" 15 Inches wide 14 Inches Tall Days in veg: 8 Nodes: 5
4 years ago
Plant is looking healthy, got all the new tech put in and a light controlled by an app. I am getting there
4 years ago
looks like I got a plant. Crazy how its only been 3 weeks
4 years ago
ITS ALIVE !! nickname "Undead #1" I thought I lost this little seedling. Crazy how resilient these things are.
4 years ago
Baby Pictures <3 They grow up so fast.
4 years ago