joshin_yah
Fruit punch auto heavyweight seeds
roots organic super living soil medium
Growing in a 3x2x5 tent, currently under vipaspectra 300w, about to put the optic2 in! It was my first auto so I decided to put it auto pilot mode with a super soil, all I need to do it water can't wait to see how she turns out
Fruit punch auto heavyweight seeds
All dried out... massive colas... but airy unfortunately, I think it was because lack of c02 .. y'all should definitely invest in one!!
4 years ago
Welp boys day 100 it is!!! This auto is massive !!! Colas the size of my forearms !!
4 years ago
The_mysterr Dude that is awesome ! Sweet yield man and it looks awesome
Not looking so pretty now !!! Lol! Yes I'm pushing her to the limit!! She is now almost all yellow leaves, I'm drying her soil completely before she goes into 48 hour dark, but them trichomes are finally pushing out!! About time!
4 years ago
Ducatiboy Yea hahahah fuck it push it to the limit! Hahaah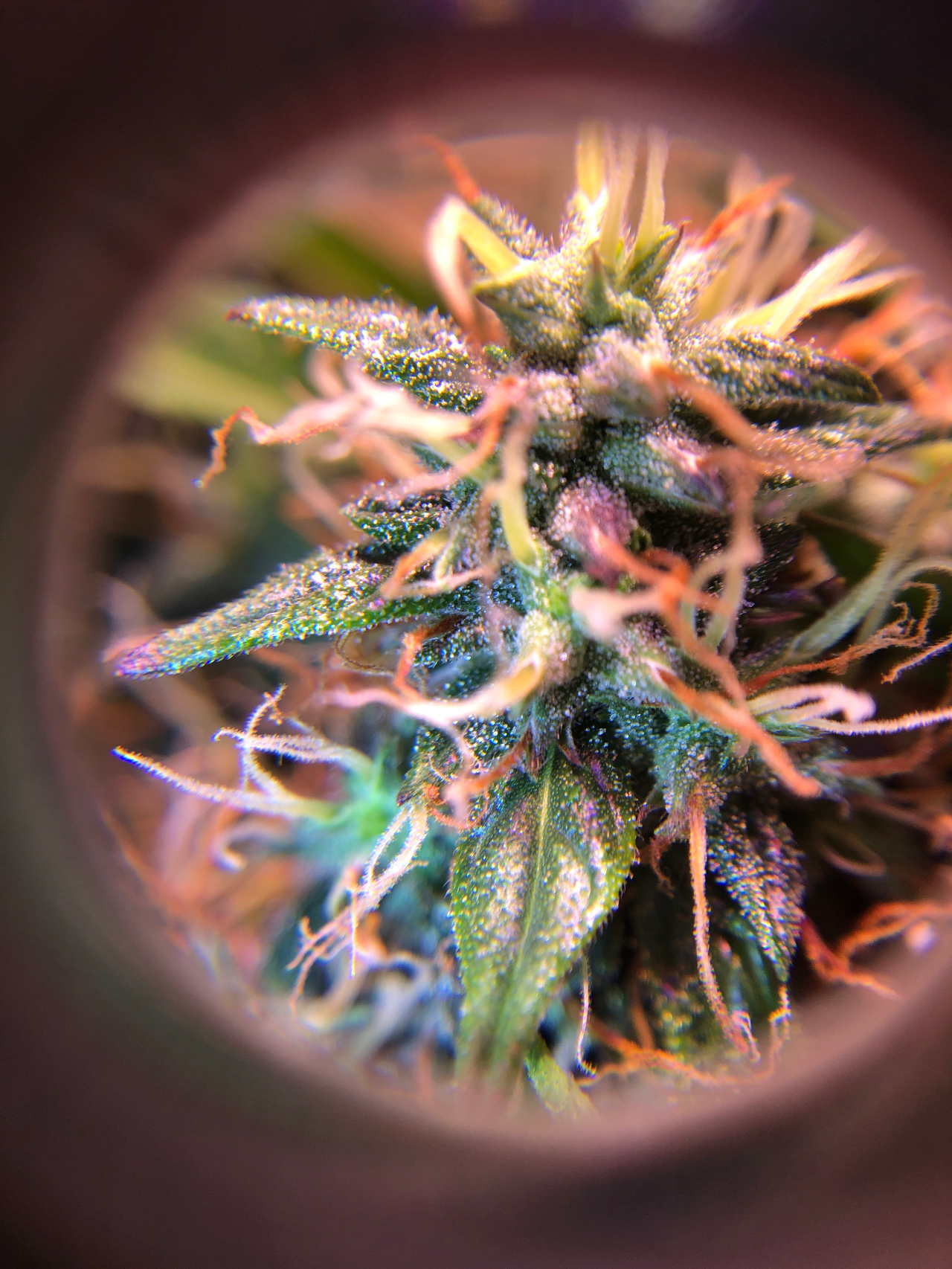 I'm gonna finish another day or two to dry out the soil, since I just watered her yesterday, she's basically done feeding, she's pulling all her nutrients out the leaves to ripen up them buds, so two days more drying/dying then 48hours of darkness
4 years ago
Ducatiboy Id keep pushing her hahajust to see what it will do haha!! My toof decay tapped out though.
LOV|LED Nice colors everywhere. Nice plant too, looks like a healthy harvest. Heavyweight for sure
Joshin_yah Heavyweight seeds weren't kidding they seriously have some heavy weight buds, imagination if they crossed it with like a mint dick xxl, or a white widow xxl auto! That would be crazy
View 24 additional comments
Still goin... slowly but surely, she definitely knows she's nearing the end of her life, I need the room I wish she would just hurry up already...
4 years ago
Ducatiboy Need a closer pic joshin stop playing with us hahaha! Looks fatter!
Joshin_yah Lol, don't make me pull out the jewelers loop.. ducati, definitely need it to see them trichomes.. there comin. Thanx mystery
View 1 additional comment
Whaa whoo day 80!! I know I just did an update two days ago, but I figured i would share the fact that fruit punch has finally started pushing some purple on the buds and on the leaf tips, not much but just starting out, hopefully the whole plant will start to do that.. I been keeping it extra cold at night, considering where I'm at is always warm and humid, welcome to Florida,.. anywho she's also starting to really produce some trichomes.. I know she's getting close..
4 years ago
Ducatiboy Looks good man!!! Yea very humid down there! You sure trichomes are coming? Joking haha
Joshin_yah Fuck I know bro, shit has been taking forever, I'm happy overall, I'm sure this next week or so will prevail how she fills into those big ass buds ..
Joshin_yah Ducatiboy go check out my other two grows that are coming out of veg, basically second week of flower.. autotime, if you know what I mean .. have you grown any sweet seeds strains?
View 1 additional comment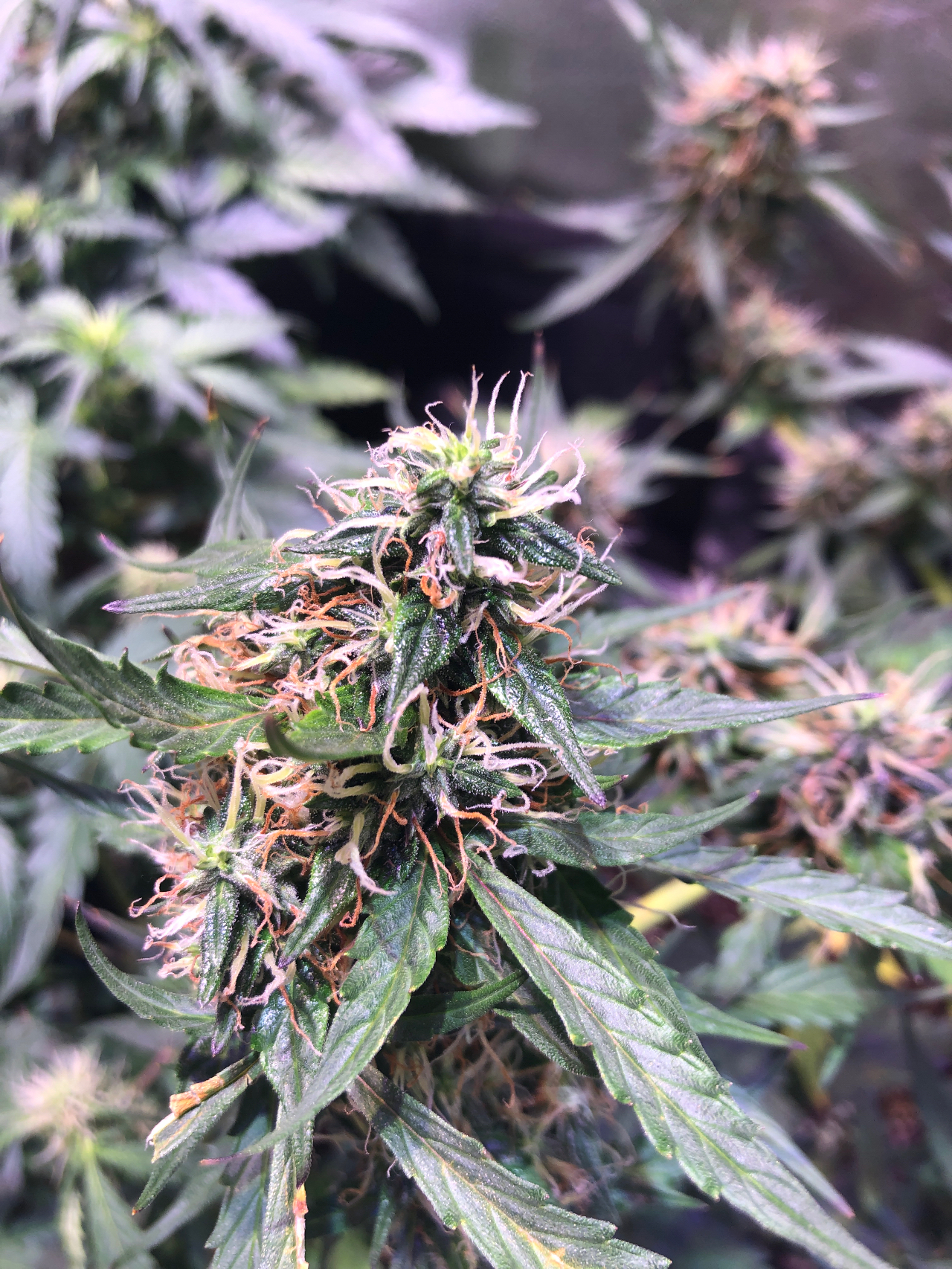 Still chugging along, she's just starting to produce trichomes, which im very excited for
4 years ago
LOV|LED Huge colas you got here. Looks awesome!
She's still just receiving RO water with terpenez.. she's just starting to get trichomes... it looks like ... idk but she's a fat girl.. I'll definitely be growing this auto again!!
4 years ago
Ducatiboy I hate that breeder i had three that didn't auto that breeder is garbage and had 3 4 seeds that didn't pop. Your flowers looking good though my man!
Joshin_yah Thank you.. Now I need help with this damn cure on the bubble gum.. how do you guys cure..
View 3 additional comments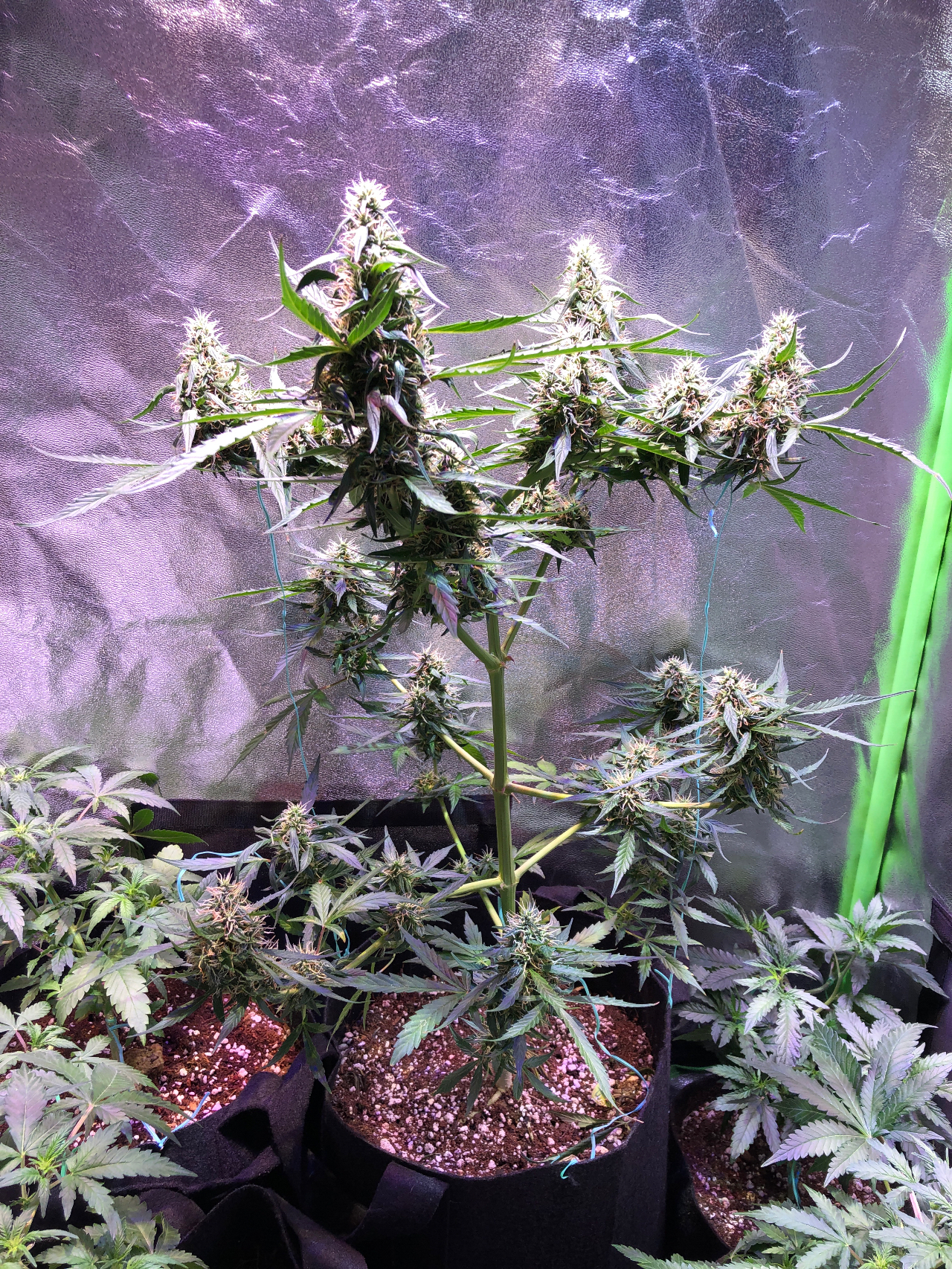 She's just been getting RO water with terpenez. She chugging along nicely! Buds are foxtailing beautifully! Let me know what you think has anyone ever grown heavy weight seeds? Or this strain!?
4 years ago
She's getting dense.. definitely a big girl for a autoflower! Very impressed, I'm glad I topped her and tied down those top colas.. questions, would I still flush, even though she is in roots organic and living super soil, the only thing she has received recently is terpenez, and it's a oil enhancement which also helps with salt breakdown when you flush, but you can give it as a schedule feed it reads 0-0-0.. just wondering, or has anyone ever used this product?
4 years ago
Watered with RO water with 1/2ml of mammoth P, she will be receiving some terpenez in two days, to help with resin, she's looking happy!
4 years ago
ClandestineWestOz She's looking great, almost looks like the buds are going to need support soon!
The buds are starting to pack on some weight, still not many trichomes, so I'm still waiting, (definitely 10weeks) she's just been getting watered with RO water, in two days she will be getting a feeding with mammoth P, and terpenez. To help with resin production and microbes! If you feel you could help me with this procrastination lmk
4 years ago
LOV|LED How much Mammoth P are you using?
Joshin_yah None yet, ... it's in roots organic coco and some super living soil, just worried not seeing any trichomes, don't know if it would start closer it gets to harvest.. I went an bought a jewelers loop, to get a better look, things pretty neat!
ClandestineWestOz Don't be too concerned about trichomes just yet, my Green love potion has no trichomes yet but my other 2 are frosty. It'll happen just in its own time. With recommended growing time I pick the later number of weeks since my tent isn't 100% dialled in.
View 2 additional comments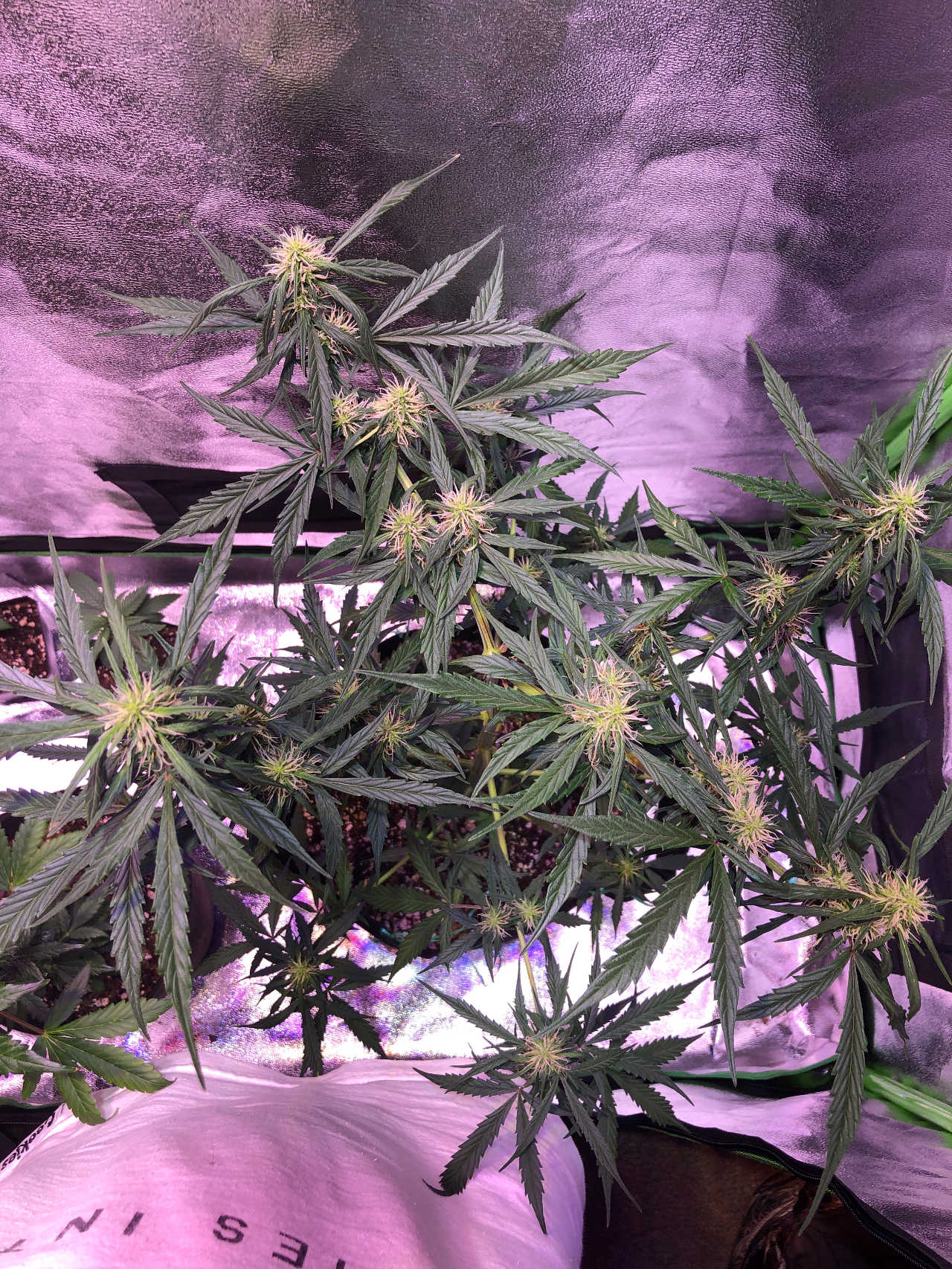 Watered with just RO water, this is an organic super soil grow! So proud of this plant! I have untied the LST on the bottom branches so they can rise and get closer to the light the only ones tied down are the two main colas and now have the lower branches act as main colas! Not much trichomes, this is definitely going to be a 10week plant!
4 years ago
Looking good she's been under the Optic 2 Cob for 3 days now and is loving it! Had some minor adjustments due to the light putting off some heat, so I had to remove my drain rack and tie down the top colas, was a little worried at first my temperature was going up to 89 an 90 and my humidity was at 32.. I watered the plants and closed the vents and lowered the plant, finally got it back to where I like it, overall the low humidity will stunt the growth of the buds at least that's what I heard.. she looking good though! I'm happy
4 years ago
She now has her own flowering tent, and is now under the Optic 2 COB led let's see how this light does considering she's a quarter way through flower
4 years ago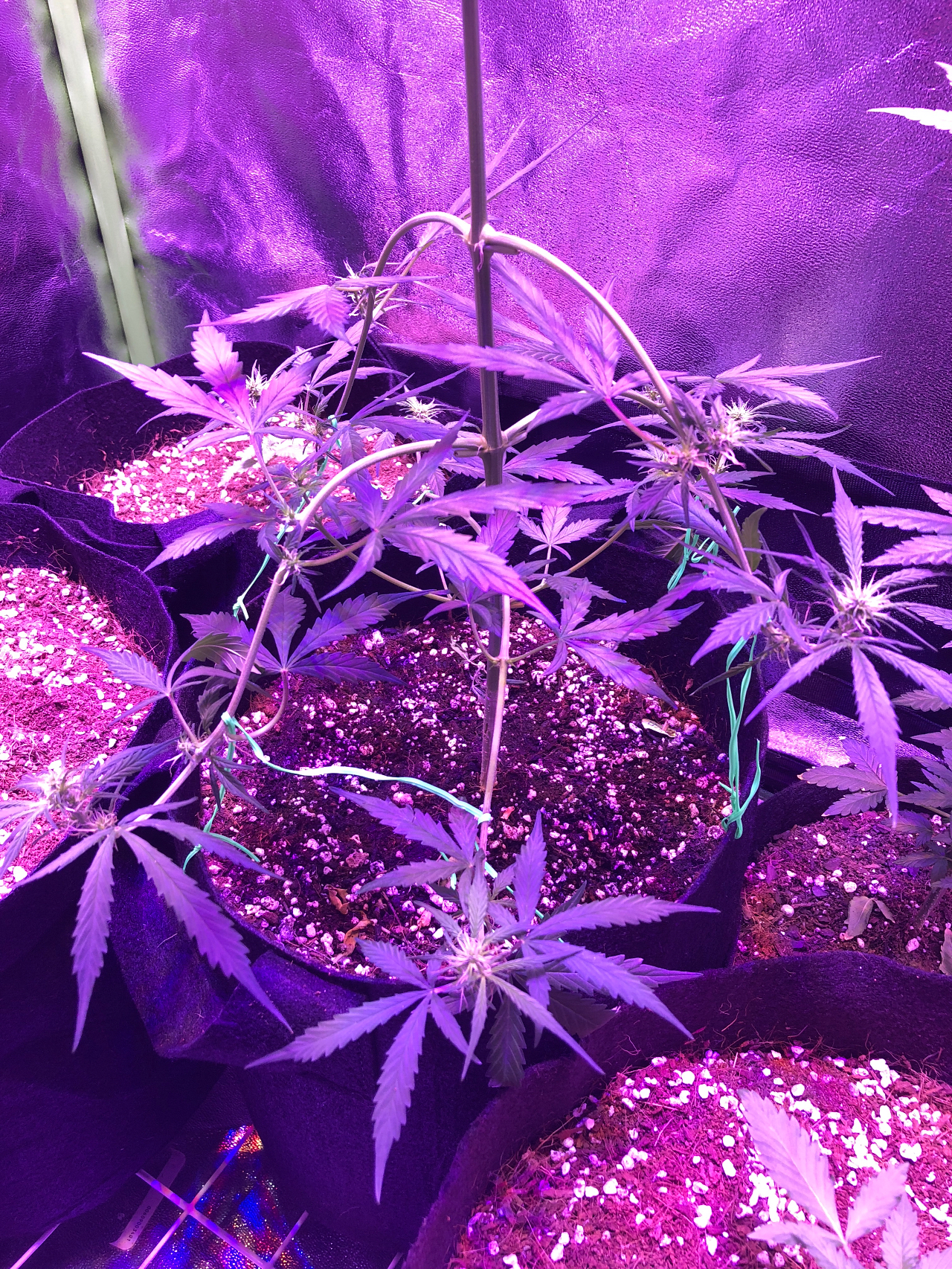 This auto has taken the trimming of the fan leaves and the LST, very well, the tied down branches that have buds on the ends have responded well and flipped up towards the light!! Strengthening the branches and the buds, I can't wait she will be under a new light, that I ordered should be here tomorrow, time to pack them buds on with the optic 2 COB! Don't get me wrong I love the viparspectra! But she will be my veg tent light
4 years ago
ClandestineWestOz Optic 2 hey ya lucky sob. I've seen some impressive shit with that light! Plant looks strong bro
Joshin_yah I just think it's really spaced out .. maybe had the light too far away during veg, idk it's my first auto..thank you for the compliments though! Yeah man I been saving for a min for this expensive ass light, and finally pulled the trigger but supposedly it's 2g's per watt, something like that.. I'm excited!!
So I decided to do some LST and defoliation on her to re-direct her to focus on them flowers
4 years ago
Love how it's all spaced out and not one cola
4 years ago
Fruit punch auto in roots organic, mixed with a living super soil
4 years ago