Re-Alien Bubba freebie test
End of summer
Started 2 will pull one when sex is determined
I just cut her down after 48 hours of darkness and around 50 degrees. The cold and darknesses took her frostiness to a new level. Small Budz but looks like good smoke. She also has tons of seeds but I don't have any male plants? Anyone ever see that? My last winter indoor grow had a few seeds and this summer grow has tons of seeds? Odd??
a year ago
TheSocialGrower any nanners?? or otherwise signs of herming?? Any neighbors growing??
keithlovesrach One of my jack-47 plants did that last run. I think it was due to light stress and the genetics were known for herming under stress.
View 1 additional comment
Going into 48 hours of darkness today she is frosty!!
a year ago
MrStopPlayin Take another pic like this wen it come out I wana see if it purduces more resin
View 1 additional comment
After 24 hours of darkness. No flash iPhone 13 camera
a year ago
Week 14 she is getting super frosty
a year ago
Week 13 I brought her inside under grow lights for the next week or so hopefully these buds will get a little bigger it's getting too cold and not enough sun to stay outside.
a year ago
Week 12 and today is technically harvest day per the calendar. I'm gonna let her go at least a few more days or a week longer. Buds are small but beautiful.
a year ago
Starting week 11 today this is the larger of the 2 plants. I will let this one go another week or 2 hopefully the budz fatten up more.
a year ago
Starting week 10 and the budz are looking great. I'm hoping they start getting fatter over the next 2 to 3 weeks before harvesting. I might move them inside in the next few days to give them more light under my grow lights since the days are getting shorter and they are pretty much always in the shade now due to large trees.
a year ago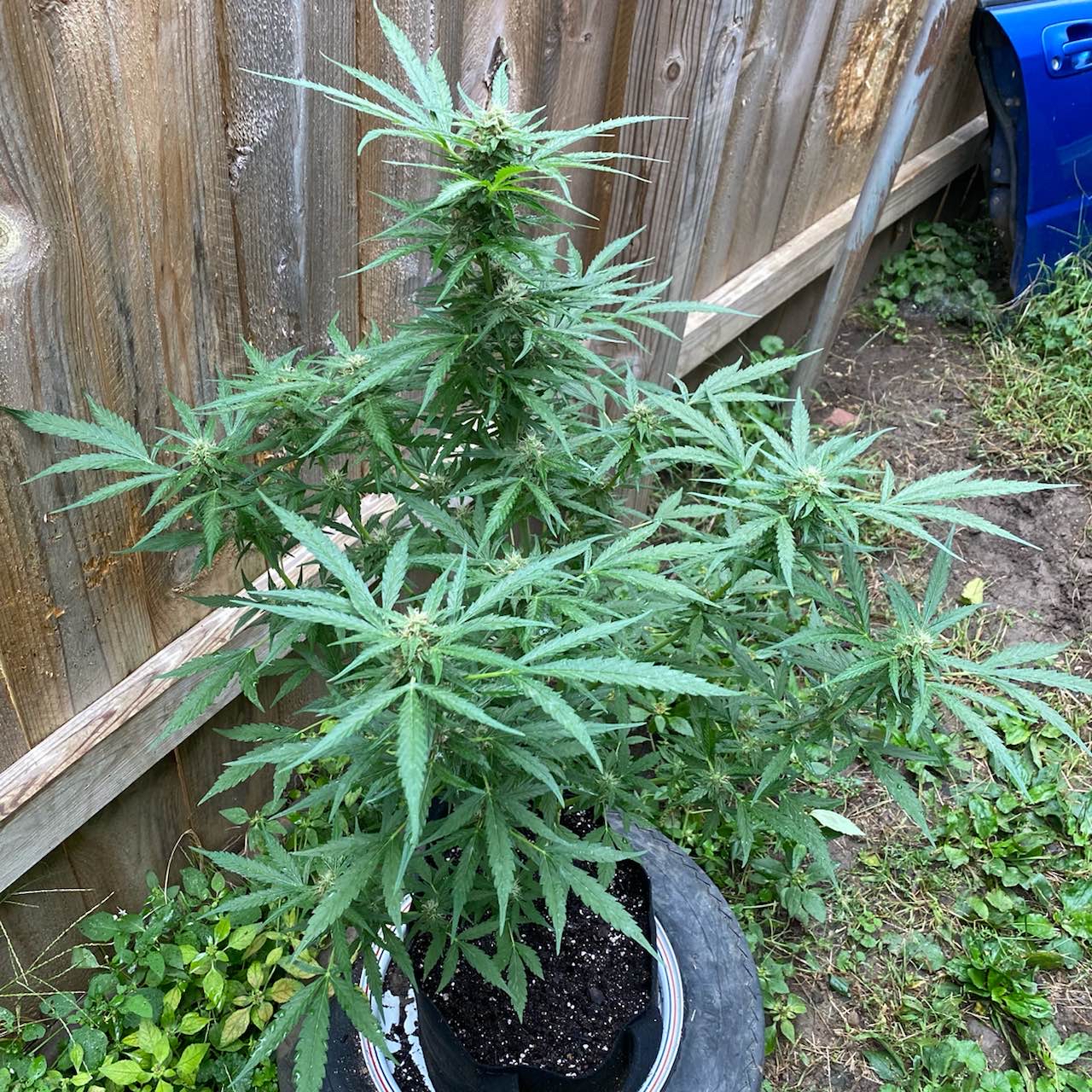 Week 9 and the budz are getting fatter and starting to get covered in THC !
a year ago
Starting week 8 tomorrow and she is beautiful and good size. Feeding Bloom booster from fox farm
a year ago
Starting week 7 she is the larger of the two plants. last night I did the last defoliation and cut off all large fan leafs. Switching to flowering nutrients on the next watering. Since plant growth has slowed around 2 feet tall and nice buds popping up everywhere.
a year ago
Week 6 since sprouting and week 1 of flower
a year ago
She is a beast and I see the first white hairs (aka bud sites today! 😍
a year ago
She is twice the size of the other plant and growing strong. Can't wait to see if this ended up being an auto or not?
a year ago
Week 2 and all is well Alien Bubba is growing fastest out of the 2 types
2 years ago
Fresh seeds come up so fast! and she is growing fast too.
2 years ago
Testing out some re-freebie seeds that were unexpectedly in my last budz
2 years ago