strangerstrains
Rhino Ryder auto-fem.
Autoflowers in a Space Bucket
Space bucket grown using nothing but distilled water and living soil!
Rhino Ryder (Medicine Man x Canadian Ruderalis)
HARVEST DAY, 30g wet flower + 30g wet trim
3 years ago
She's doing SO GOOD!! Introduced CalMagPLUS and have fed 3 times with nutrient solution
3 years ago
Day 50! My girl is getting stinky, and I bent her down a bit to keep light stress away! I began feeding a full dose of nutrients starting this day. April 3, 2020
3 years ago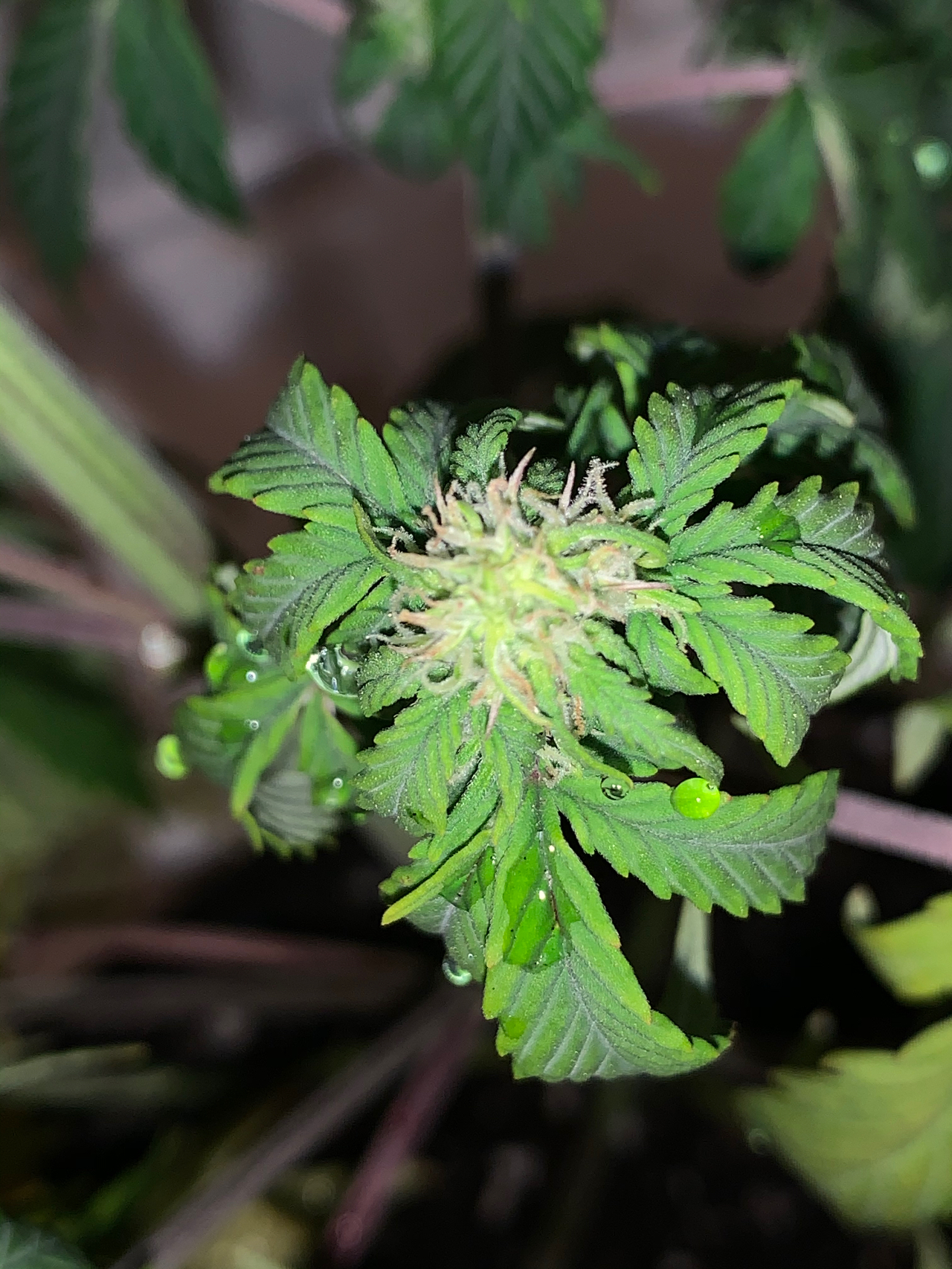 Still exhibiting signs of deficiencies and some type of watering issue..adding bottled nutrients to the mix.
3 years ago
DAY 13 OF FLOWER HAS FINISHED!
3 years ago
Overwatered the girl, she's mega droopy. :( I am hoping that leaving her to dry out for a couple of days will be good. I also did a little LST to expose those lower bud sites ;). We're about 25 days from the earliest harvest time now.
3 years ago
END OF DAY 35: 12.75" tall. Humidity is 52-55%, Temps are 74-79°F, and we are ending day 7 of Flowering. Got a new grow box built for her, as well as a new light that is full spectrum AND 3x as powerful :) colas are beginning plantwide formation. Even a tiny bit of trichome action!
3 years ago
End of Day 31, she's stretchin! Bushy lady. Humidity levels tried to creep up, but I knocked them right back down lol!
3 years ago
END OF DAY 29!
3 years ago
SUNRISE OF 28. It is very rainy here and my overall humidity has risen again. I'm using a dehumidifier as best as I can, but it won't fit in a bucket lol. So I am considering adding silica packs...not sure why she is so droopy :(
3 years ago
END OF DAY 26! FLOWERING SOON!
3 years ago
End of Day 25. She got an extra hour over the weekend due to DLST (USA) kicking in, and she's loved it! Approaching one month in, and we are both having the time of our lives :)
3 years ago
And here we are guys, switched to 20/4 and added a dehumidifier to the room where my bucket sits to solve some issues. Maintaining below 60% humidity now!
3 years ago
Absolutely explosive growth over the last week. This baby girl is growing up so fast, I can hardly believe it!!
3 years ago
So, this one leaf began drooping down bad, then eventually curled up, appearing dead. The rest of the plant has been doing great, despite the tragic loss. 18/6
3 years ago
Extraordinary growth. She's doing wonderful with no hiccups! On 18/6 lighting here.
3 years ago
Day 14 under-shot!
3 years ago
My girl has sprouted and made a name for herself! Meet Stephanie :)
3 years ago
Here we see the beans getting a soak :)
3 years ago