surfmania28
Lst'd Autoflowers in Coco (First Grow)
3x3 grow tent 240w Quantum Board
(Days = Days from planting seeds) Tangerine Dream x 1, WWLsd x 2 Caramelicous x 1 Mango x 1 (Msnl Seedbank). Coco w/ 20% perlite in 15l airpots. 240w quantum board in 3x3 ft tent. Advanced Nutes hobbyist bundle. Two smaller plants 10 days behind due to having to regerminate.
Tangerine Dream, WWLsd, Mango, Caramelicious (msnl seedbank)
101g dry Tangerine dream 74g dry White Widow Lsd. Total 175g's from 2 plants. Other two need another couple of weeks but should double the current harvest weight. Hoping for 350g's total.
4 years ago
Harvested Tangerine dream. 381g wet weight, so at least 56g dry (2oz). Left lower bids on to ripen for a few more days so that will add another 10g to the total dry weight.
4 years ago
Harvested the bigger more mature colas from the WWlsd leaving about 1/3 on the plant to get some light for a few more days. Wet weight was 279g. TD is almost ready. Caramelicious and Mango building bigger flowers.
4 years ago
Both WWlsd's have started a 5 day flush. Budsicle is small but stout and rock hard. Hope for around 2oz (56g) combined from these two. (Update : Chopped budsicle on it's day 65 and got 90g wet bud + 25g of trim so about 20g dry. Tangerine Dream needs a week or so. Buds not as dense as WW but wider canopy so might be around 1.5-2oz (42-56g) Caramelicious is quietly developing its many flowers, have high hopes for a big yield from this plant. It's three times as big as the others so will look for 4oz (112g) from this one. Mango small but flowering fine. Looks like a 1-1.5oz (28-42g) plant. Just educated guesses based on what similar sized plants yield. Target for this first grow is 200g total, if I can get there or thereabouts will be stoked.
4 years ago
Flowering at their own leisure. Small Budsicle will get flushed for 5 days from Tuesday then cut and dried. Trichomes look 50/50 atm. Two at the back will go another 2or so weeks, two at front will need another 3-4. Mango front right has stayed small and isn't looking like it will yield much but Caramelicious front right is taking up the vacant space and showing an abundance of budsites.
4 years ago
Budsicle will be done in 1-2weeks judging by trichomes. TD and WWlsd will go another 3 weeks. Caramelicious and Mango will need 4weeks. All looking well.
4 years ago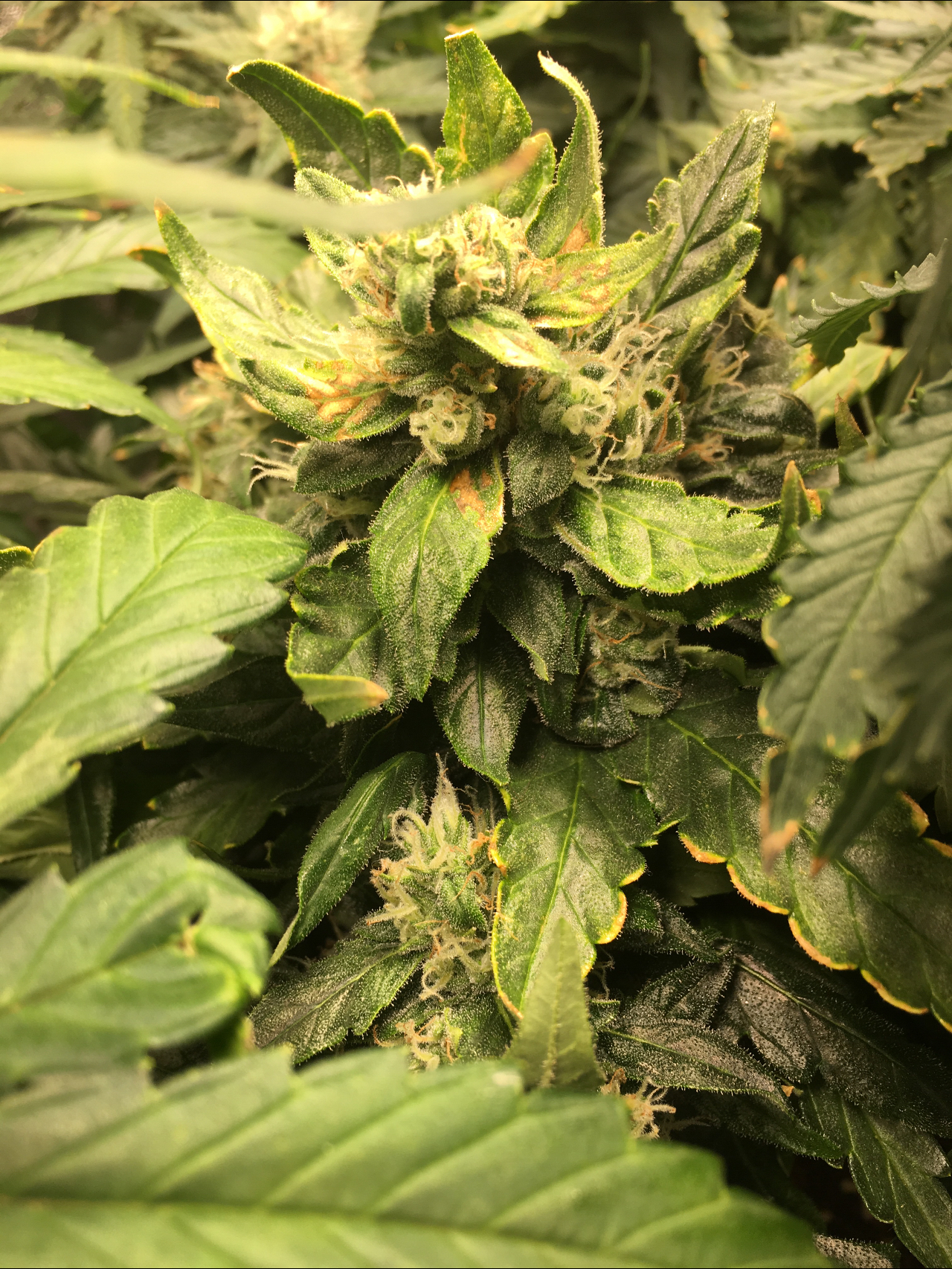 Caramelicious has finally started flowering after recent growth spurt. This should provide the highest yield. WWlsd and Tangerine Dream just doing their thing and building budsites. WWlsd Budsicle in the middle has turned full dwarf and will be one single 20cm cola upon harvest. I guess the small 3l pot made it do this. Mango 10days behind and showing pre-flowers. Hope it stretches a bit more to fill more of the the space around it.
4 years ago
Caramelicious has preflower stretched like a champion last few days and filled most of its available space with an abundance of future budsites. Mango is 10 days behind and was moved to the front for training access. Should stretch and show preflowers next few days. Hope it can grow enough to fill in gaps. Tangerine Dream has really come on after a slow start and is now filling all its space and looking and smelling fine. WWlsd is also looking strong and both are flowering in multiple locations. Bloom nutes+Big Bud from yesterday so will keep a close eye on how they take the change. Very happy with progress.
4 years ago
Still stretching and filling space. Canopy is nice and flat. Think it will end up 11-12weeks total, which is fine as long as total yield is around 200g's. Personal grow in a location where price/gram is quite high so won't take a massive harvest to make the investment worthwhile. Happy with progress for a first grow so far.
4 years ago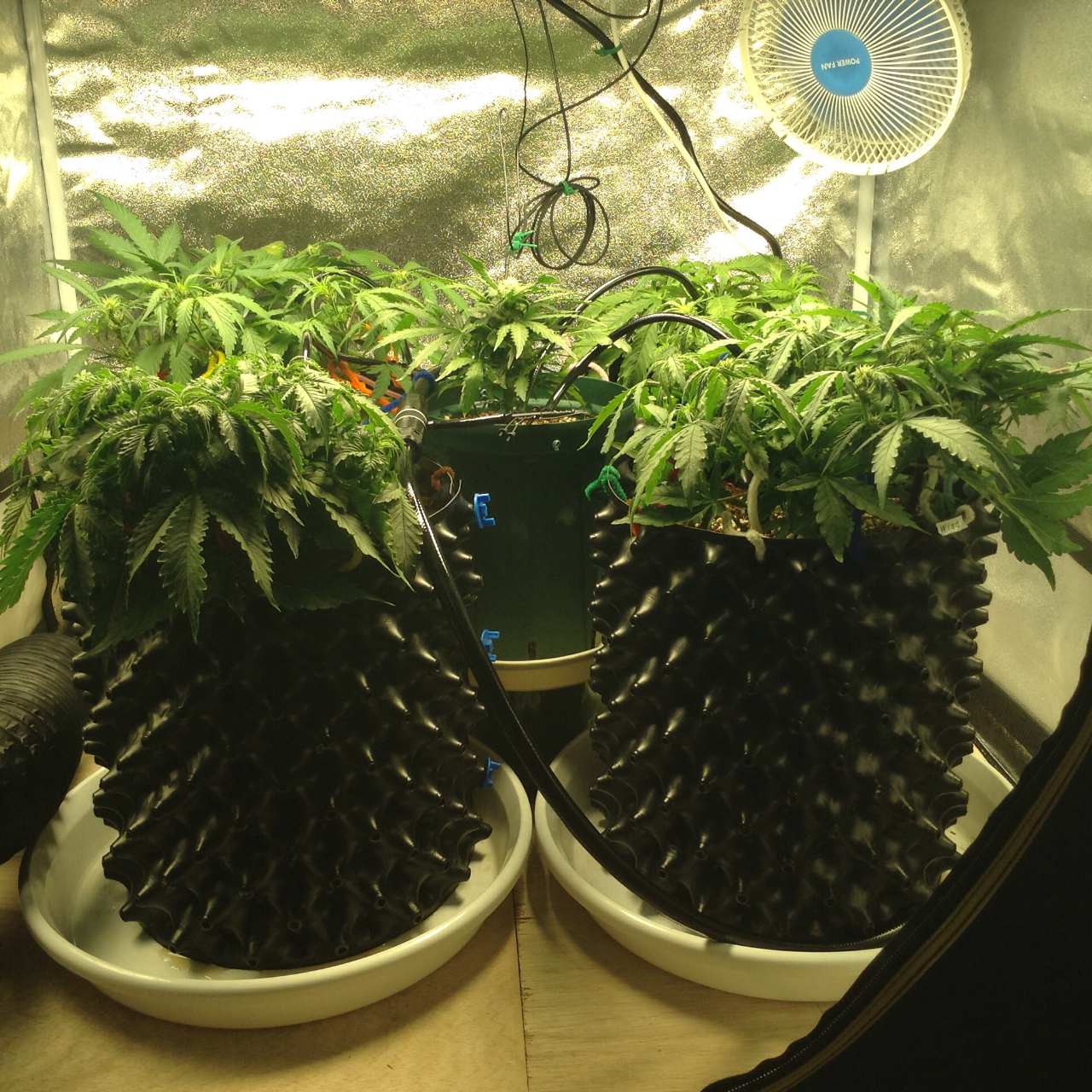 Self watering system is up and running, will setup digital timer and larger reservoir tomorrow to complete setup. Have trimmed a limited number of fan leaves and lower shoots as they were limiting access for tying and watering. Careful not to go overboard. Have continued tying down and spreading canopy flat. Not so high (20cm) but that's the plan with lst. Kind of high maintenance with all the tying down but the hard work will be worth it in a few weeks.
4 years ago
All good. Reaching for the light. Submersible pump came today but was defective so need to wait for a replacement before setting up watering system.
4 years ago
Updates every 2 days from now. Will diy a self watering system next week to move towards a more automated grow. Moved lights down to 30cm to see how they handle it. All plants are now synced on 1/2 dose of recommended full veg nutes. Will watch very carefully and continue Lst.
4 years ago
Started lst on larger pants and increased nutes to 1.5ml/l. Last day of voodoo juice . Small plants are on 1ml/l from today. Seem pretty happy atm, should see some solid increases in veg in the next week. Going to mix 3 days nutes at a time to save time from tomorrow.
4 years ago
Larger plants responding well to increased feeing. Continue at 1ml/l.
4 years ago
3 older plants look under fed, with yellowing and lack of vibrancy. Upped nutes to 1ml/l of all those 3 as well as changing to 20/4 and lowering lights to 60cm.
4 years ago