Orange sherbet Auto
First auto grow
3 Fastbud Autos in 5 gal pots in a 32x32 tent under two Marshydro TS1000s
Got just under a HP of some nice dense nugs, and a little over an oz of some fluffy leafy buds. I'm pretty happy with this grow, considering it was my first grow and they were autoflowers!
2 years ago
Damn I've been forgetting to update y'all!! Cupped em down, dried em for 8 days. Currently curing still! They are pretty fire for a first grow, I must admit m
2 years ago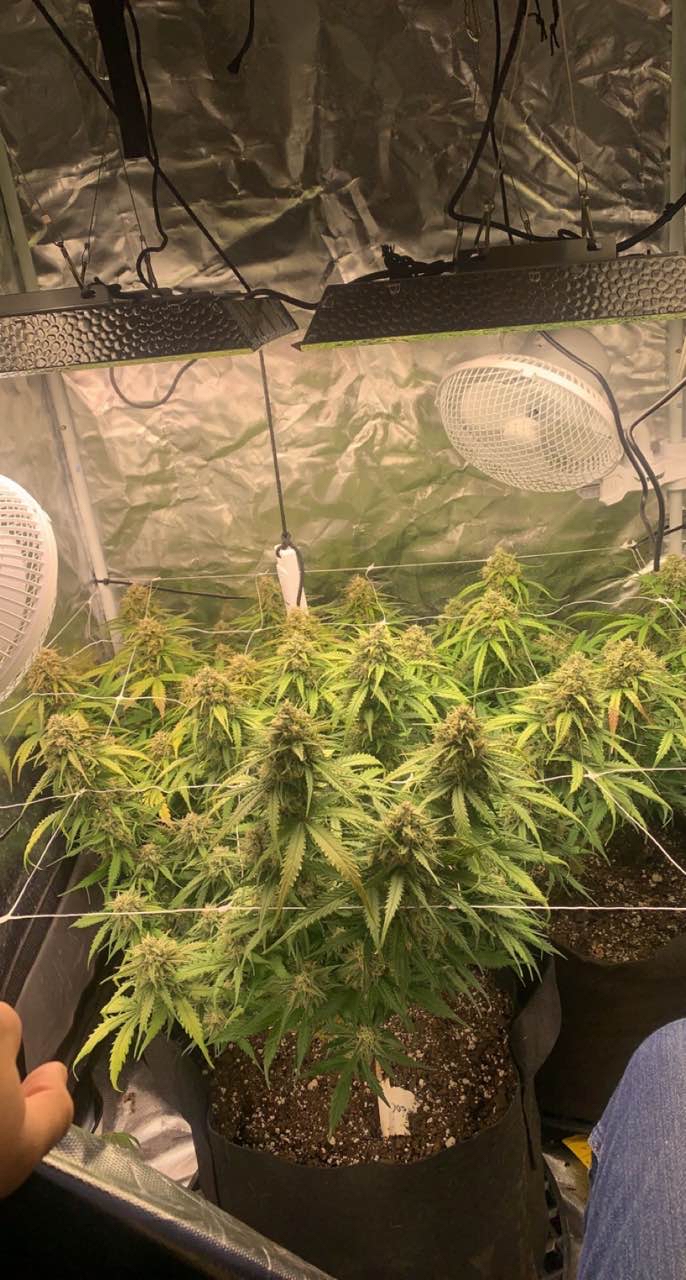 Got some nice purples coming in on one of the 3 plants. Starting to reallly thicken up. Gonna chop them on Friday or Saturday probably 😬
2 years ago
Finishing up in maybe 7-10 days??
2 years ago
She's starting to bulk up and frost up real nice!! But also battling some issues here. Yellowing leaves and bright green leaves.
2 years ago
These babies are growing fast! Starting to stack up pretty nicely 😎 they are eating the Fuuuck out of some calmag
2 years ago
Girls are looking nice. I had some pretty bad yellowing on the bottom leaves.. fed them heavy calmag and defoliated some of those leaves. Leaves are starting to get frosty. I added a scrog net to help hold the buds up later into flowering
2 years ago
These girls are thirsty! I feel like I'm having to water almost a gallon per day. Starting to build some nice buds. I'm wondering how much taller it is going to get? I heard these Orange Sherbets get huge. The plant in the front is struggling though, I can't get the leaves to stop dropping/curling. Am I Over feeding?
2 years ago
bambam93 Drooping usually is a sign of over or under watering from what I understand still kinda new to it myself but from what I've read
Oh yeah girls look happy as hell
2 years ago
Fully into flower now. Stretching and building some nice buds. I'm going to start feeding KoolBloom
2 years ago
These autos are really filling this tent up! Getting a little nervous about being able to contain them 😅😂
2 years ago
Looking happy! Starting to preflower I think. Have some white hairs coming out of the budsites now.
2 years ago
Did some LST on the girls a couple days ago. I think I may have fed them a little too heavy on the Nutes, the back right plant has what looks like some burnt tips. I also think the lights may have been too close and were causing the top leaves to curl. I raised the light a few inches so we will see tomorrow if it helped 🤷🏼‍♂️
2 years ago
Plants are looking way happier this morning :) 3 weeks old, let's see how they finish up their first month!!
2 years ago
Ladies are bushing up real nicely in week 3
2 years ago
Ladies are looking good at the end of week 2! New tops are coming in nicely
2 years ago
Just topped these girls at their 5th node! Tried to get it done ASAP to give them plenty of time to bounce back. They are growing nice and quick :)
2 years ago
Peng Following 😎 I have one of these seeds for next season
Looking good! Been giving super low dose of GH trio… think I'm going to top them at the 5th node 😬
2 years ago