gr3nfall
FastBuds Pineapple Express Auto
Indoor Grow
Grown in a 4x2 Vivosun Tent with 1 Gixxer dual spectrum 1000 watt LED lights, in 3 gallon fabric pots. Started in a neutral soil as seedlings but will be transplanted into Fox Farm Ocean Forest soil mixed with extra perlite and Living Soil's autoflower concentrate for sustained feeding through flower. All I will be giving this plant is water and love.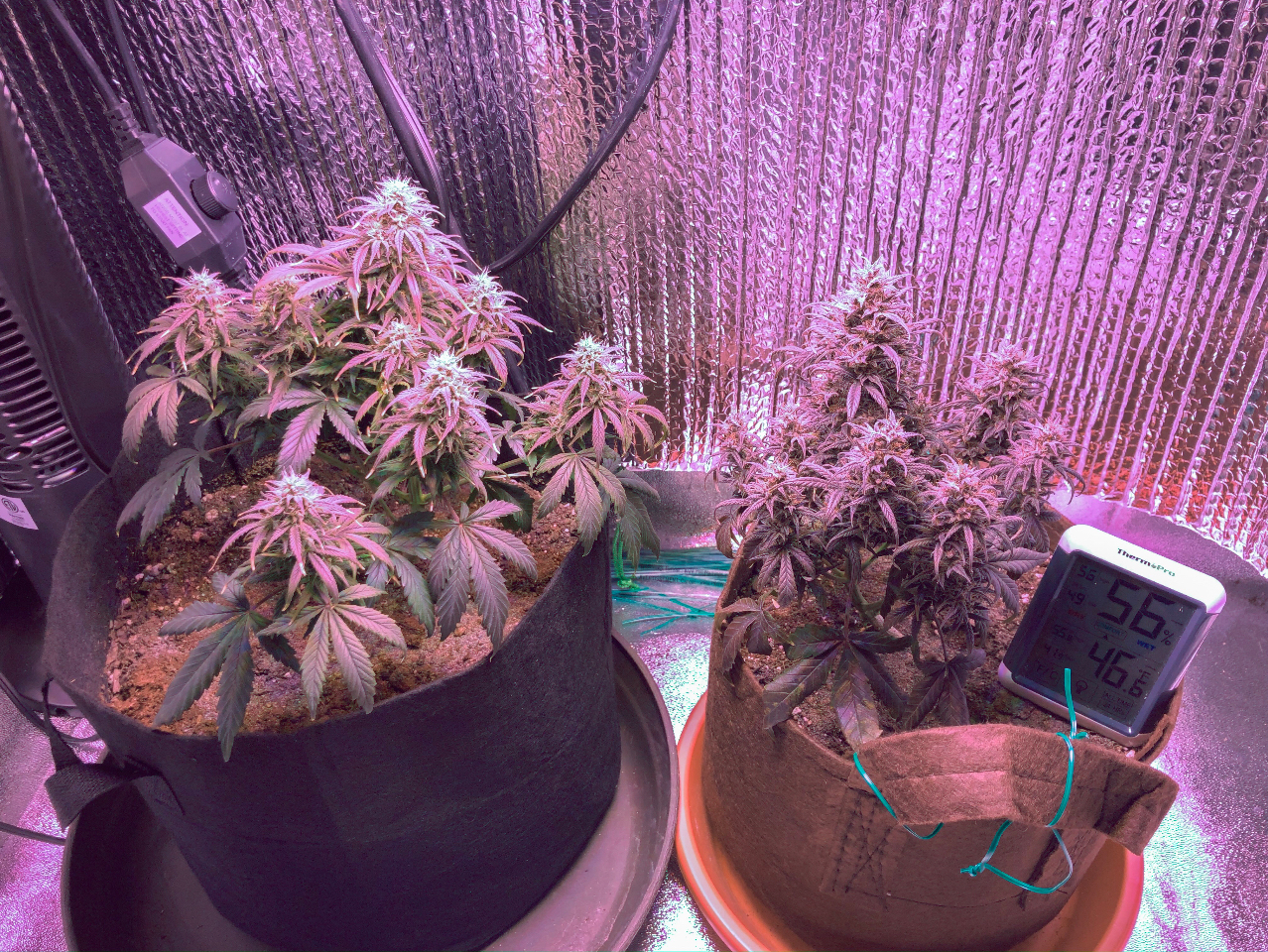 Today I decided it was time to chop these ladies. Oregon's freezing weather isn't allowing them to continue to develop and since they were already pretty much done, these ladies got the chop today. Had I put a space heater in my grow I think they would have chunked up a lot better over the last month, but I moved in the process and just didn't have the time to get it all dialed in. They definitely packed on the resin due to the cold temps but if I run a late series of autoflowers next fall, I will make sure to put a space heater in the tent so they're comfortable and thriving until the last week when I turn it off and let them get some crazy color change and pack on resin. They smell incredible, this has been such a fun strain to grow and I am very much looking forward to trying a homegrown version of the "dopest dope I've ever smoked." I'll follow this post up with some photos once the plants are fully dried and start their curing process. Thank you to all who have followed this grow. I'll be back in the spring with an outdoor set of 4 autoflowers including another of this Pineapple Express strain so stay tuned!
4 years ago
Stay frosty my friends! The trichs and resin are really beefing up these last handful of days! It's been pretty damn cold in Oregon so I'm praying they can hold on a bit longer. Only 10 days left until the indica dominant pheno will be getting the chop. The sativa dominant still has a lot of white pistils so if at all possible I want to give her a bit more time. But, it's only going to get colder so she may get chopped early and be a bit more zippy as far as the high goes.
4 years ago
The cold temps have brought on a ton of resin production in the Indica dominant pheno (purple plant). I'm super stoked to be able to grow each pheno (sativa dominant is the greener colored plant) on my first run through with this strain. Gave them a nice watering because it's been a few days and going to let them keep working their magic!
4 years ago
Gave the girls another light watering this morning to work some more of the natures living autoflower concentrate down into the soil for the microbes to feast on. I've seen reviews saying that using it as a top-dress can burn the plants but these ladies have responded to it very well. Seeing more structure and growth in the colas on the left plant since adding. Also dropped the light to give more intensity since day 80 and they've loved it. No sign of leaf or cola burn.
4 years ago
Added a little more living nature autoflower concentrate and watered into the soil as a topdress to help the plants finish up this last month. Rock hard Nugs developing on the plant on the left. The right plant is a little bit larfier and hasn't packed near as dense of Nugs. Hoping to see a little boost of natural nutrients help her put on some weight.
4 years ago
I just gave the girls a haircut (cut off small leaves and larf buds growing below the canopy that take energy away from the colas) and did a top dressing with my autoflower concentrate soil mix to keep their natural living soil nutrients up for the next 30 days before they finish their prescribed flower time from fast buds. After that I'll be checking regularly to make sure I harvest each plant at the optimal time.
4 years ago
Moved houses and had to move them mid flower. I ended up doing it during their 4 hour night phase and haven't seen any stress or signs of stress/stunting. Seem to be doing nice and I'm definitely starting to see the Nugs chunk up and fill out along the branches. Still 30 days out before they'll be finished with their prescribed flower time from FastBuds but looking and smelling good. I need to figure out why the leaves are yellowing slightly on the plant on the left but it's still progressing regardless.
4 years ago
Probably going to be doing a staggered harvest this grow because of the delay coming from the plant on the left (photo 1). Not sure if it's because it may be a different pheno than the plant on the right but it's definitely behind in flower so far and hasn't caught back up. Either I stagger the harvest or wait until the plant on the left finishes out perfectly and harvest them at the same time. That will probably make the plant on the right produce a little more CBN due to THC breakdown but it wouldn't be too shabby to have a stony bedtime jar and another that is a perfect harvest experience.
4 years ago
Healthy, happy ladies. No issues thus far! The plant on the left (5gal fabric pot) is lagging behind in it's flower development but still looks healthy.
4 years ago
The girls are getting bigger and bushier and pistils are popping everywhere up and down the branches. Their strong smell is starting to fill the tent and is 100% noticeable after touching leaves or bending down branches.
4 years ago
Pre-flower is starting on the plant to the right. Pistils starting to fire out all over the future bud sites. Left plant is lagging behind a bit and I don't notice pistils yet. They look like two different phenos so it'll be fun to see their bud structure once flower begins. Still on 20-4 light schedule. I'm excited to see how these ladies take off once the stretch starts.
4 years ago
The early LST really helped get some good light penetration through the canopy and I'm now seeing a lot of side branches and to-be bud-sites trying to push up through the fan leaves. The plants look "down" right now because I just shot this photo minutes after their 4 hour sleeping period. I gave them their water and in a couple hours those leaves will be back to praying🙏🏼.
4 years ago
Lyndsey0218 Could you tell gender here? If so how? Im around the same days.
Gr3nfall Hi Lyndsey, There was no sex showing at this stage but autoflowers are already feminized so they should all be females from seed. You occasionally get a plant that is a male or if the autoflowers get stressed, they can hermaphrodite but these ladies are growing strong and both were female.
Gr3nfall Lyndsey, Are your plants autoflowers or photo-period(normal) plants?
Looking strong and healthy on their watering day.
4 years ago
Just did some low stress training on these two plants. Spreading/tying down the fan leaves to increase light penetration and hopefully push these plants to develop multiple colas and an even canopy. No nutes, but will be making a compost tea soon to add to their regimen. Most of what they need is in their soil mix and have been just watering since planting them.
4 years ago
A week after transplanting into one 3 gallon and one 5 gallon fabric pots, the two Pineapple Express autos are happy in the tent on a light schedule of 20/4! The finishing soil mix consists of fox farms ocean forest amended with perlite and Nature's Living Soil Autoflower concentrated mix. The hole for transplanting was filled with organic coco (the medium used for germinating the seedlings). There is sand covering the top inch of soil just because I've had some issues with Fungus Gnats on another set of autoflower plants currently in the tent as well and didn't want these ladies to suffer the same demise as their sisters.
4 years ago
HerdieDerdie Your babies look amazing! I'm also growing PE autos, but I just hit a roadblock. I used baking soda and water because I was concerned about powdery mildew and now I'm dealing with a very damaged trio of babies. Sigh. I'm also doing it outdoors.
Checked on the girls this morning and they both Developed their second set of serrated leaves last night. Might pop these two ladies in their finishing pots once the soil dries out a little later or tomorrow. One will go into a 3 gallon fabric pot and one in a 5 gallon fabric pot. I'm going to experiment with these Pineapple Express autoflowers and see what I can yield from each sized pot.
4 years ago
The little seedlings are starting to develop their second node and set of serrated leaves. I'm looking forward to seeing their growth at the end of two weeks. Still deciding if I will transplant them after their second set of leaves fully develops or if I'll wait until after their 3rd. I will most likely be looking for root growth through the bottom of their current cups before getting them in their 3 and 5 gallon (experiment) fabric finishing pots. Regardless, they're looking healthy and happy so far!
4 years ago
Seedlings are taking off really well right now!
4 years ago
Popped the germinated seeds into soil under a 5 foot LED shop light to sprout yesterday morning and they popped above soil this morning. Growing pretty evenly so far and popped quickly from seed!
4 years ago
Gr3nfall The first photo is how they looked the morning after popping them in soil. The second is how much they had grown while I was at work for the day. These guys are vigorous.
Gr3nfall Hey Easyautogrower, Yeah these two Pineapple Express autos are from FastBuds. If you continue checking out my grow journal, you'll see that I ended up getting one of each phenotype you can get from their genetics: a sativa dominant pheno (slower in flower and more elongated)and an indica dominant pheno (gorgeous purple color, squat and bushy structure). Are you growing PE Autos from FastBuds?