tshickok
AutoFlower Mix Pack seeds from ILGM
February 2020
Grown in 5-gallon fabric pots with a mix of Coco/Perlite/Fox Farm Ocean Forest and amended with compost tea (Happy Frog Jump Start Fertilizer and Molasses mix). 450W LED Vipar Spectra 24/7 60% humidity & 75 F CO2 The Exhale bag Apollo Horticulture 48"x48"x80" Mylar Hydroponic Grow Tent
Amensia Haze (1), Blueberry (1), and Northern Lights (2)
Harvested the smaller No Lights and thinking the Amnesia Haze is next....
2 years ago
Plain water feeding. The smaller Northern Lights looks close to harvest, the other three are behind at least a week...so curious.
2 years ago
Last bloom feeding today before finishing with just plain aerated water.
2 years ago
Compost tea watering...
2 years ago
More defoliation today...so beautiful and smells amazing!!
2 years ago
Trellis and some defoliating and they took off!!!
2 years ago
Explosion of growth...
2 years ago
Definitely the girls are all flowering!! Watered with Tiger Bloom, Voodoo Juice, and B-52. Also added some dry grow microbes to the soil for a boost. Defoliated some leaves (not too much) and spread the plants out, getting ready for the net. Pulled the lights up to give the girls room to stretch and turned the red to 100%.
2 years ago
Water, LST, and Sprtiz...
3 years ago
Spritz and LST
3 years ago
Fed and watered with compost tea last night with some LST. Ladies still looking lovely...
3 years ago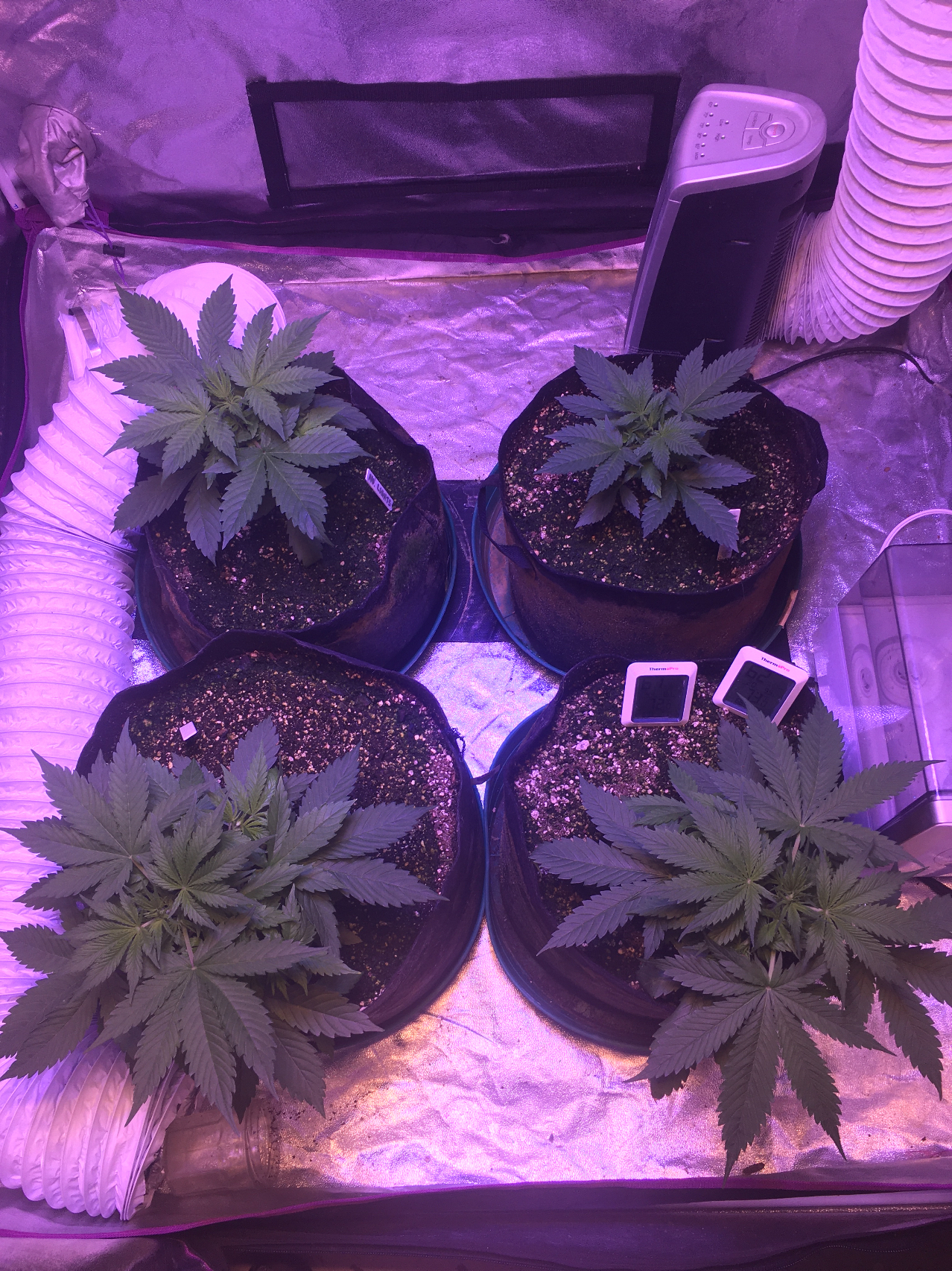 Explosion of growth!!! Time to water with some grow compost tea...
3 years ago
Not sure why the Northern Lights in the upper right is smaller, but we added a heat pad underneath just in case.
3 years ago
Amnesia Haze and Blueberry are growing a bit faster than the Northern Lights, so we moved the lights around...
3 years ago
Seedlings still going strong...
3 years ago
All four have sprouted after 72 hour soak in compost tea, starting February 16th.
3 years ago