Pheno Hunt
Grow, Clone, Flower.
Running a Pheno hunt on these strains looking for the best of the best for mothers for the 3 strains.
Wedding Cake, Train Wreck, Mandarin Bubba.
Morning Prayers. My new nutritions came in yesterday… definitely a game changer. IG @IGrowHowIGrow
a year ago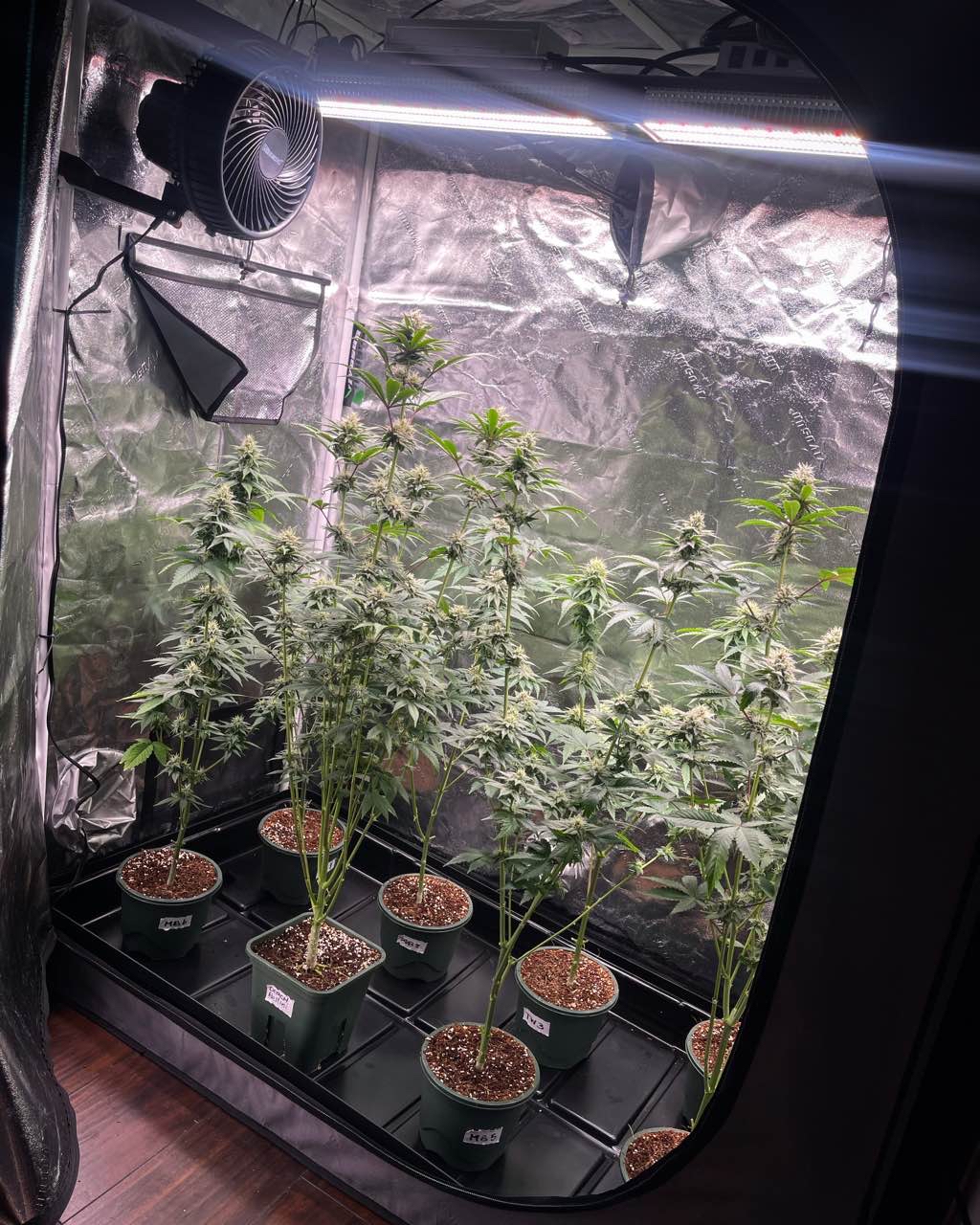 2022: The mission is to become the Home Grow God! Not in a boasting way, but with hard work, dedication, R&D and studying. Oh yeah @athena.ag on the nutes and adding…. IG @IGrowHowIGrow
a year ago
Wyocali Nice job! What kind of fan is that up top? I like that setup.
IGrowHowIGrow Lil blizzard with the matching tent pole adapter from Etsy.
10 days later, wayyy out of recovery.(see last post) IG: IGrowHowIGrow
a year ago
In recovery🥊 IG @iGrowHowiGrow
a year ago
Maintenance work in the Pheno tent. I gave a good tip that would help most new growers in my story on IG @IGrowHowIGrow
a year ago
Not so small anymore. Video in my story on IG of this Pheno hunt. @IGrowHowIGrow
a year ago
View 1 additional comment
Growing. Switched the T5 lamp for the SP3000 which is what I use to flower.
a year ago
1st set of clones are took, this Pheno Hunt is now in flower!!!! Tall girl in the back is already a no go for me, but we'll see.
a year ago
Took out all the slower growers and only left with premium Phenos. Next step transplanting and getting ready to flip, clone and flower. In the meantime I turned up the lights to all 8 t5s. Stay tuned.
a year ago
Topped the seedlings. Today makes seedling cut day, anything showing any signs of anything other then Premium Pheno has to go!
a year ago
Starting to see some weaknesses in some of the seedlings, I will take note and dispose of them if they don't correct their self quickly. I'm only looking for the best of these girls. 3 different strains, I only need 3 mothers (1 of each strain) from all of these seedlings. I'm looking for growth, bushy-ness and most importantly bud structure/ & High.
a year ago
Moved the mother plant out, that was sharing this tent. Now they have the 2x4 all to their self. Once they start to Veg I'll replace the t5s with the sp3000.
a year ago
Awwww the seedlings stage😍 they will be vegging soon!
a year ago
emaj7b5 What is your light setting at?
emaj7b5 What is your light setting at?
Lost a super runt and I see 2 more runts, but I also see the fast growers too🤩… my type of pheno.
a year ago
Taking bets on the best Pheno. I already see some faster growers.
a year ago
IGrowHowIGrow Lol yep I need to have the options open for best outcome. I going to clone them when I do the first top and flip to flower ASAP. I will then keep the clones with the best bud structure and turn into mother's.
mystrain420 _@eaegifts Pretty much same plan I'm running, I've actually cut back down to 2 strains with just 2 of each plus some stuff just to smoke without a hunt.
View 7 additional comments