First Grow - Unknown Seed "Daisy"
3/2021
First ever grow. One plant that started in a 4 bucket stack, moved into 2x2 tent. Started using a 300w growstar light, then added 150w growstar once inside tent, then switched to SF2000.
21F, frost forming
2 years ago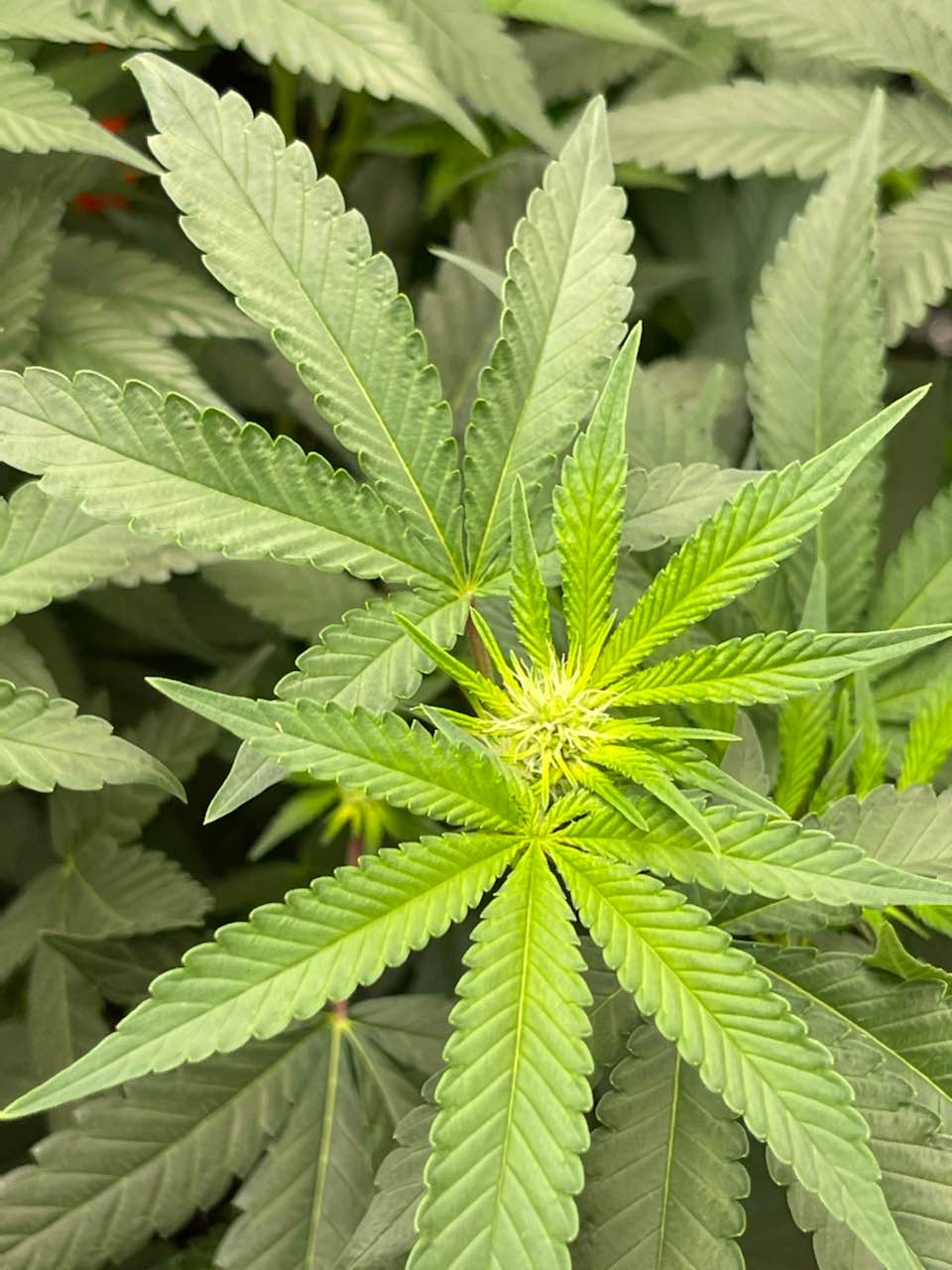 Day 17 of flower
2 years ago
She's really starting to develop on day 14 of flower cycle. Sour Stomper and Strawberry Mango Crumble in the solo cups next door.
2 years ago
Took off scrog net. Buds starting to form I think. Aside from a few ugly leaves I'm thinking everything's looking good.
2 years ago
Day 4 of flower. Started scrog. Starting to get a gasoline smell from her. Tried twisting a few of the main branches, fingers were a little sticky.
2 years ago
Flipping light schedule starting today to 12:12 in spirit of the holiday. Also I can't let her get much taller or I'm going to have some serious issues lol
2 years ago
Defoliated a bunch and potted up to a 5 gal in preparation to flip. Watered 10cups ph 6.25.
2 years ago
Day 50! She is looking great in my opinion. Is she too small to flip?
2 years ago
squirtle You can flip whenever you feel you are ready, if you flip now she may end shy of 2ft or so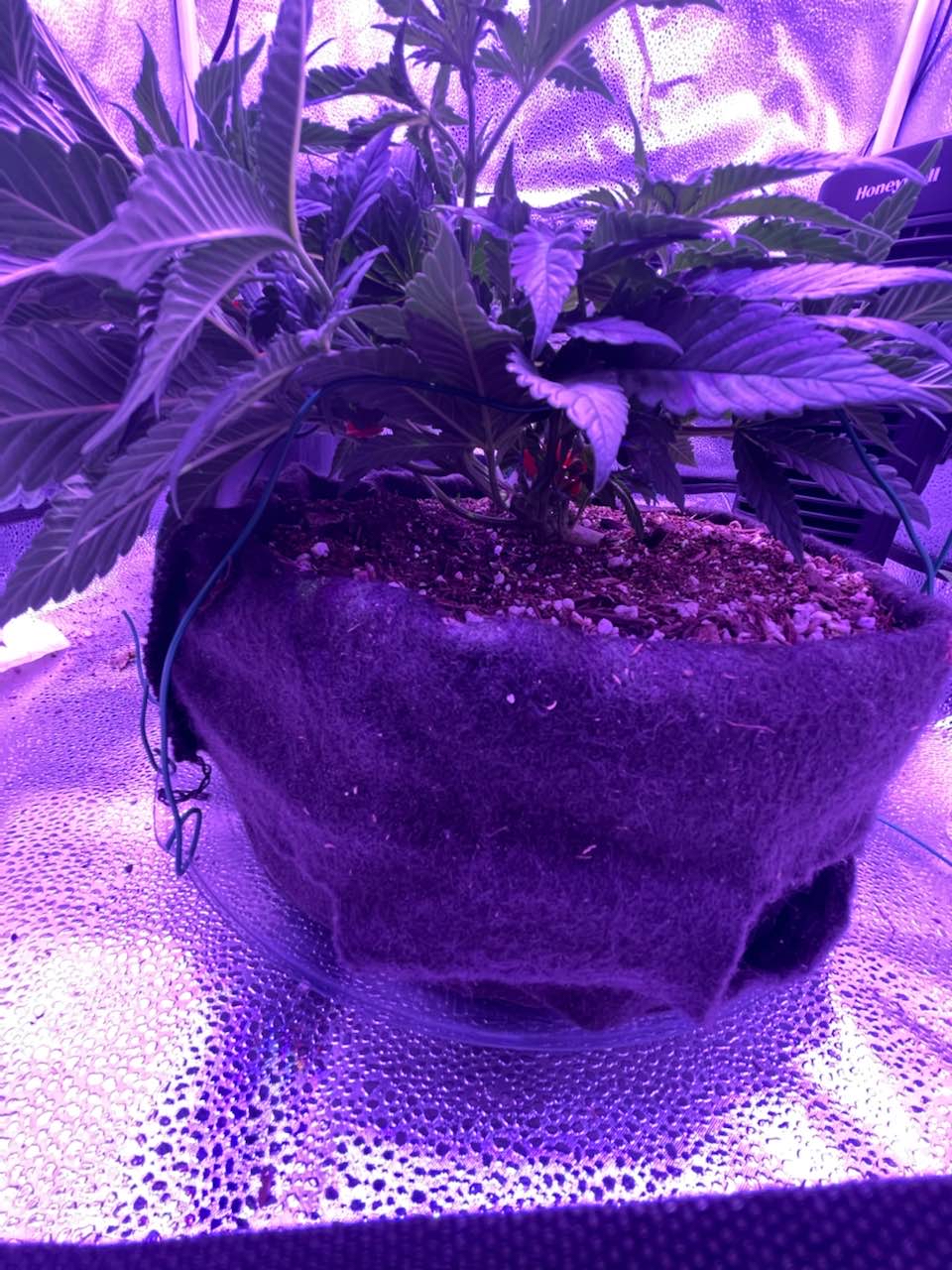 Cleaned up some of the foliage on the underside. Decided to try and see what would happen if I planted one of the cuts.
2 years ago
Watered 500ml pH 6.3
2 years ago
All new growth looks great except for that one spooky ass leaf. Really not sure what happened there. Any suggestions? Ideas?
2 years ago
Doing some LST, some wires and some tucking going on. Starting to see what I think might be trichomes on the leaves starting to form. My microscope comes in Friday so we'll have a look then.
2 years ago
Looks female to me! What do you think? Today I watered 2 cups pH 6.2. Picking up some new scissors and alcohol wipes tomorrow to begin lower defoliation. I think it's time.
2 years ago
Branching out. Just watered. 4 cups ph 6.4.
2 years ago
What a difference 5 days can make. Starting to attempt an lst to get more light to the lower branches. She's getting a little bushy. Wondering when I should start trimming?
2 years ago
benburke75 I usually start by taking any leaves that are too close to the soil when I start my LST but nothing on top yet
Leanin, Still seems kinda short to me lol survived repotting
2 years ago
mystrain420 Lights may be to close and if your not using a fan in your tent to stimulate the petioles and stalk the they won't branch much. You should also read up on lst and topping, the lower growth would greatly benefit from from topping but it appears you have a deficiency to handle first. Possibly N deficiency, I think you should get some natural light pics if you can and a lot of ppl here can help you. Good luck with her n happy grow 👍🏾
jahred808 @mystrain420 thanks for the help! I added another stack to my bucket so now my lights about 21" away from the soil. Hopefully that helps stretch it out.
So I moved Daisy from her seed starting mix and original pot to a 3 gal fabric pot with fox farms ocean forest soil. Unfortunately the repotting went terribly and I damaged a lot of roots. Major lesson learned. As soon as I repotted I fed a little bit and watered the surrounding soil. I've added a little extra root booster to the feed to help regrow what I damaged. She initially looked very wilted and sad but seems to maybe be bouncing back. I'll be closely monitoring.
2 years ago
mystrain420 She should be fine, some ppl purposely trim/prune roots. Your using a fabric pot which literally does the same thing. You should look into getting a product called Real Growers Recharge it's great for repot or just mixing in your feed, ask anyone on here and I'm sure you'll here only great things about it. Good luck 👍🏾
This is technically a 3/19 update. Finally got a pH meter and tested the water I'd been using and it tested over 9. So that explains why she looked small, like she was being strangled of her nutrients. Started feeding her Tuesday with a correct pH and I can already see her responding. New leaves look good, stem looks like it's getting better as well. You can see the red stem cracking away and letting green through. Overall she looks like she's on the right track again.
2 years ago
Are we okay you think?
2 years ago
ck.gardens Looking good ! I'm also on my first grow
View 2 additional comments
Keeping a close eye on it cause I'm worried about temps. Grovee says I'm at 83°F on average right now. Trying to brainstorm ways to cool down my grow bucket.
2 years ago
Setup the growstar light(almost 24hrs at time of photo) and lined the bucket with Mylar. Tip seems to be yellowing and leaves are curling. Less water and maybe use purified water instead of tap for less contaminates.
2 years ago
Got my hygrometer today. Adjusted the sprout. Mylar and Growstar comes tomorrow.
2 years ago
Surprise sprout found and put into starter soil. I used way too big of a pot for the starter. Next time I'll be sure to use a little starter cube.
2 years ago
ilikemoney2565 I'm doing a grow just like this but with a regular fan 😂