Forbidden Runtz + Gush Mints
August 2022
2 Gush Mints in front of tent, 2 Forbidden Runts in back. Gush Mints is Gushers X Kush Mints X F1 Durb. Forbidden Runtz is Runtz X Forbidden Fruit. Started with 3 of each then dropped one of each to gain more space. Clones from purple city genetics. 4x4 Gorilla tent, 420 watt full spectrum LED- 1090 PPF. 6" in-line fan. Using Pro Mix BX and General Organics Nutrients. Day 1 is the day I got the clones. Day 2 they were transplanted into soil.
Forbidden Runtz x2 Gush Mints x2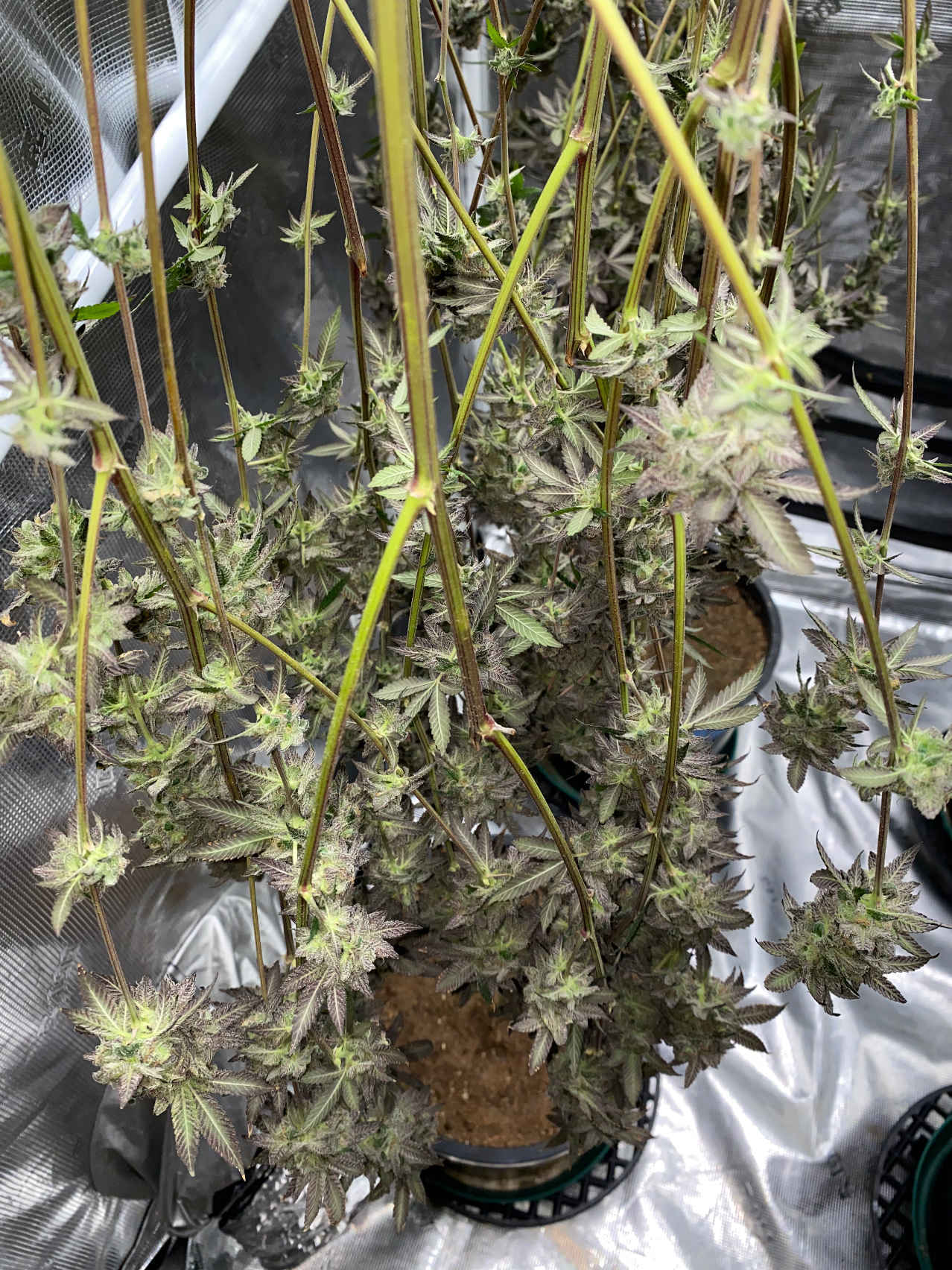 Harvest Day. The Forbidden Runtz stayed green and got real swole. The Gush Mints got a decent shade of purple to it and stacked up better than the Runtz but the buds aren't quite as fat. Hanging in the tent for 14 days at 60% humidity and 60° F then curing in jars for a minute
a year ago
Forbidden Runtz on the left, Gush Mints on the right. The runtz has a tropical berry scent. The Gush Mints is gassy and piney. Great combo side by side.
a year ago
Starting flush today
a year ago
Week 4 of flower, last foliar spray
a year ago
The stretch is real. The Forbidden Runtz stayed pretty mild so far while the Gush Mints absolutely took off, the one in the back in particular that had gotten smashed by the fan when it was little. Still have atleast a foot I can raise the LED but don't want to stretch it too far from the other 3 so the tall ones just going to have to suffer a little up top. Buds getting bigger, everythings looking great.
a year ago
GrNadeGrade Gorgeous girls! Is that a 3x3 tent? I'm planning on putting four 5 gal fab pots in mine.
Lollipopped and did a defoliation today. Lowered the first trellis and brought the second trellis down as well. Foliar spray tomorrow.
a year ago
Initiated 12/12 light schedule on timer, first day of flower will be tomorrow. Pulled GSH 3 and FRZ 1 out and put them in a separate tent to become mothers. Will flower out GSH 1 and 2 and FRZ 2 and 3. They have all been topped 3 times now and still might stretch a little too tall. Definitely waited too long, but I was trying to get some thicker trunks. Fucked up and had the light all the way to the ceiling the whole grow up until about 2 weeks ago. Will tighten trellis up by one square once they recover a little bit from the commotion the last few days and lower it down to where it needs to be.
a year ago
Went on a 3 day vacation and came back to them being happy as ever. Excited for the structure they're taking on already.
a year ago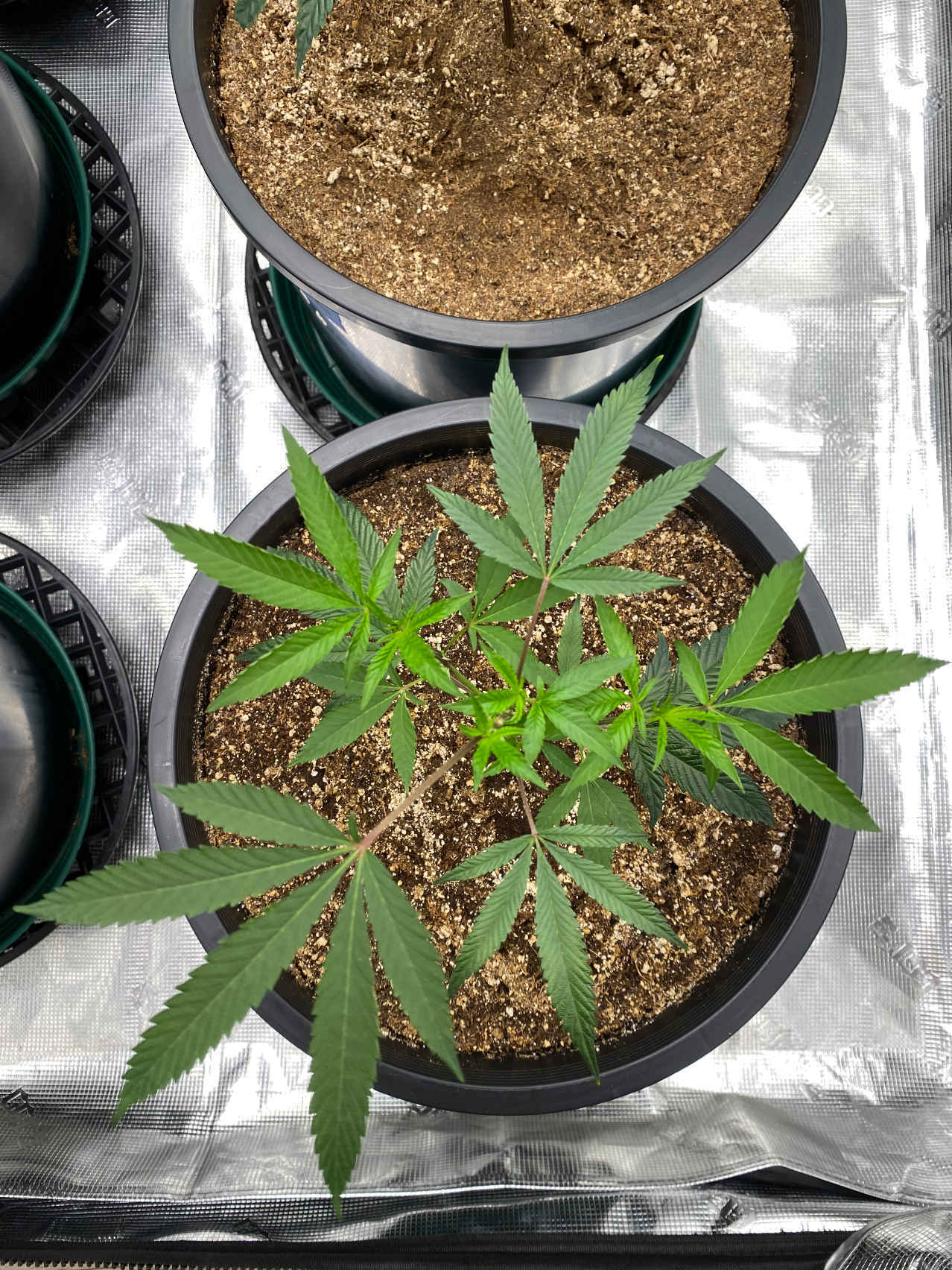 Cleaned the ladies up, took the bottom two branches off of all of them. Only took one off of GSH2
a year ago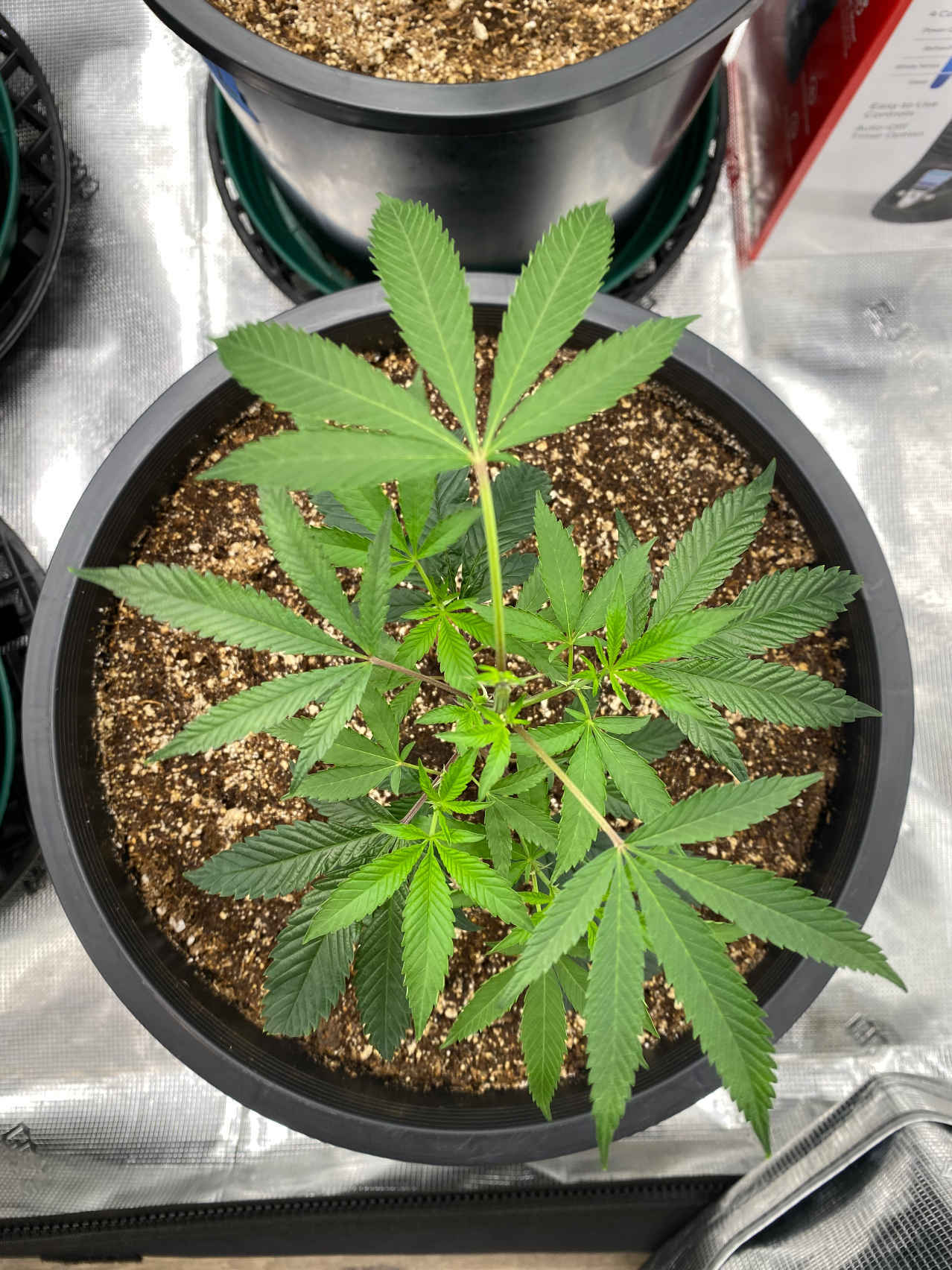 Topped all 6 plants today
a year ago
TopflightSpenc Looking good could u help me out and check out my profile are my plants in good shape?
I will most likely be topping them this week. For this run I will be doing as little stress training as possible just to see how they grow out, the clones I take from these will be the run I experiment with.
a year ago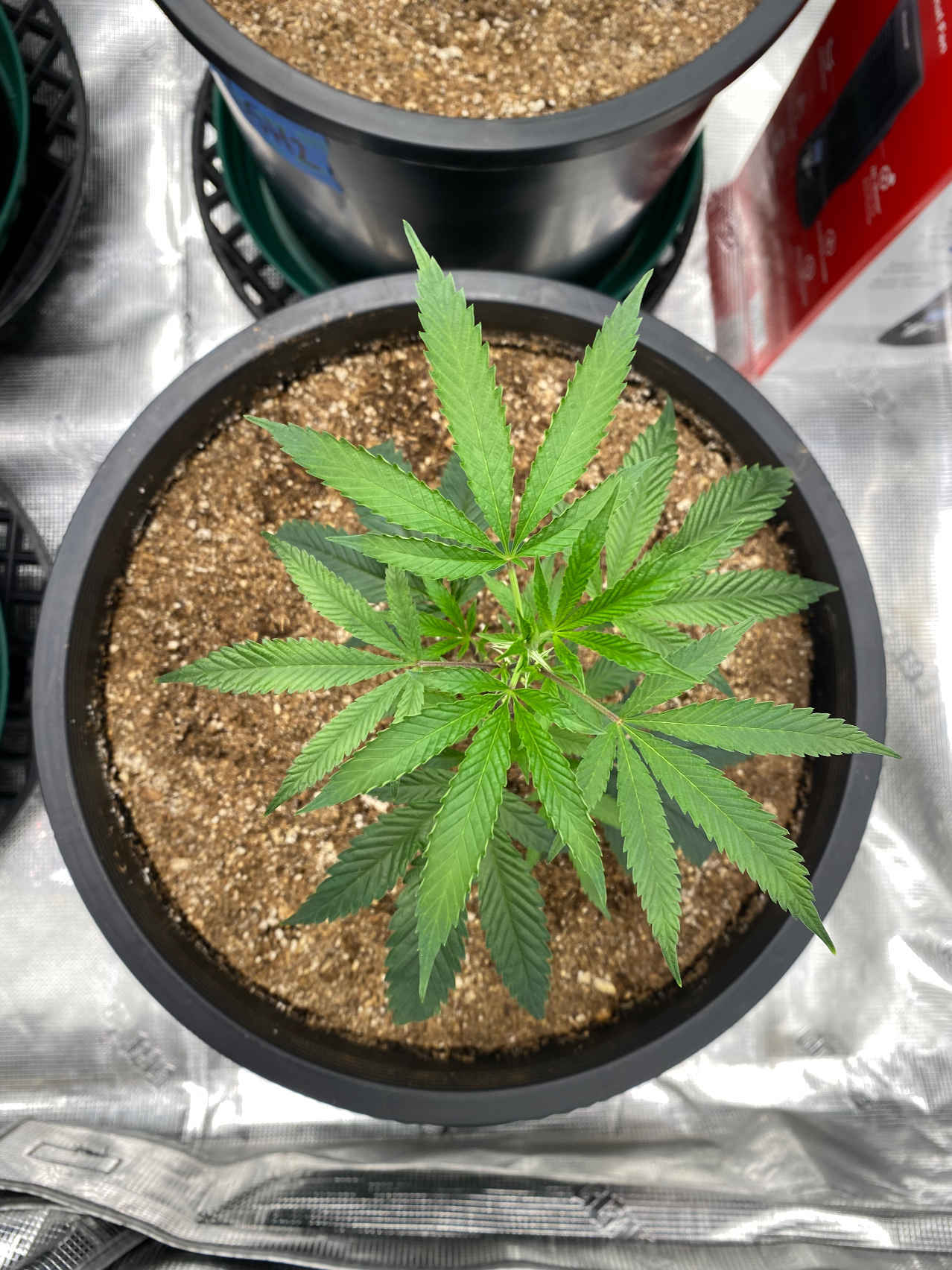 Top picture is 9pm, bottom was 7am. They had their second feeding today and their first foliar before their nap. It did wonders. Foliar was buildasoil.com horticultural coconut, horticultural aloe, and quillaja extract powder all at 1/3 tsp : 40oz water. Also a few drops of lemongrass and peppermint essential oil. Had a lot of excess and sprayed some house plants as well.
a year ago
Cbrx52 Pictures are of GSH pheno 1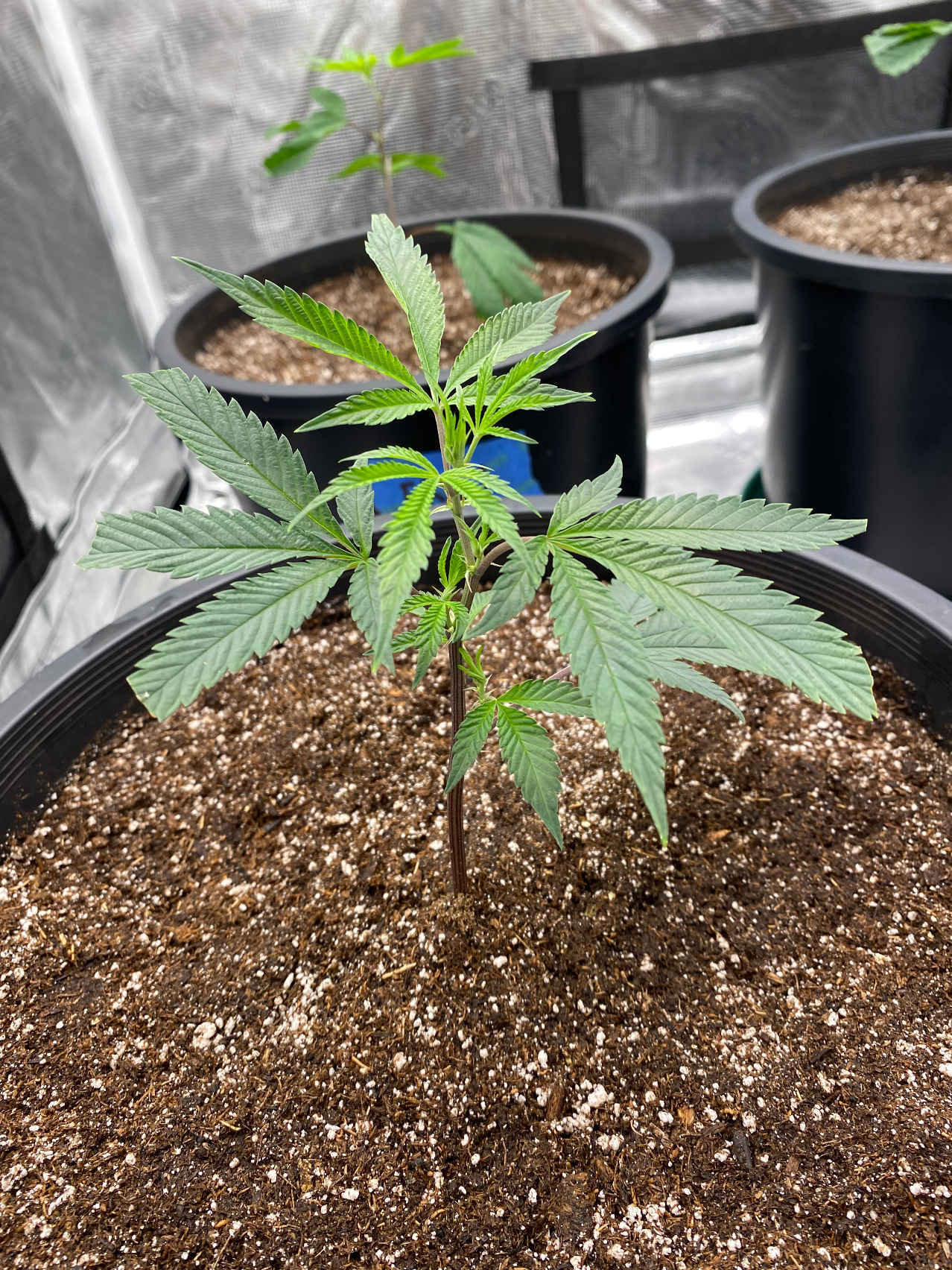 Transplanted them into their pots and gave them their first feeding
a year ago
3 clones of each strain, will be putting them straight into their flowering pots tomorrow using Mykos for the roots
a year ago