anythinghere23
Comeback
First grow in over a decade
Two plants in soil.
Tragedy strikes. Looks like both plants are boys. Guess I'll be culling all plants and starting over. What bad luck.
a year ago
ig:@eaegifts You going with more regular seeds or feminized?
anythinghere23 I'll just sprout up more seeds of the same stuff and hope for a better turn out. At least I've nailed down my growing conditions so the next batch should move quicker.
ig:@eaegifts That's good are you gonna go for a bigger batch?
View 4 additional comments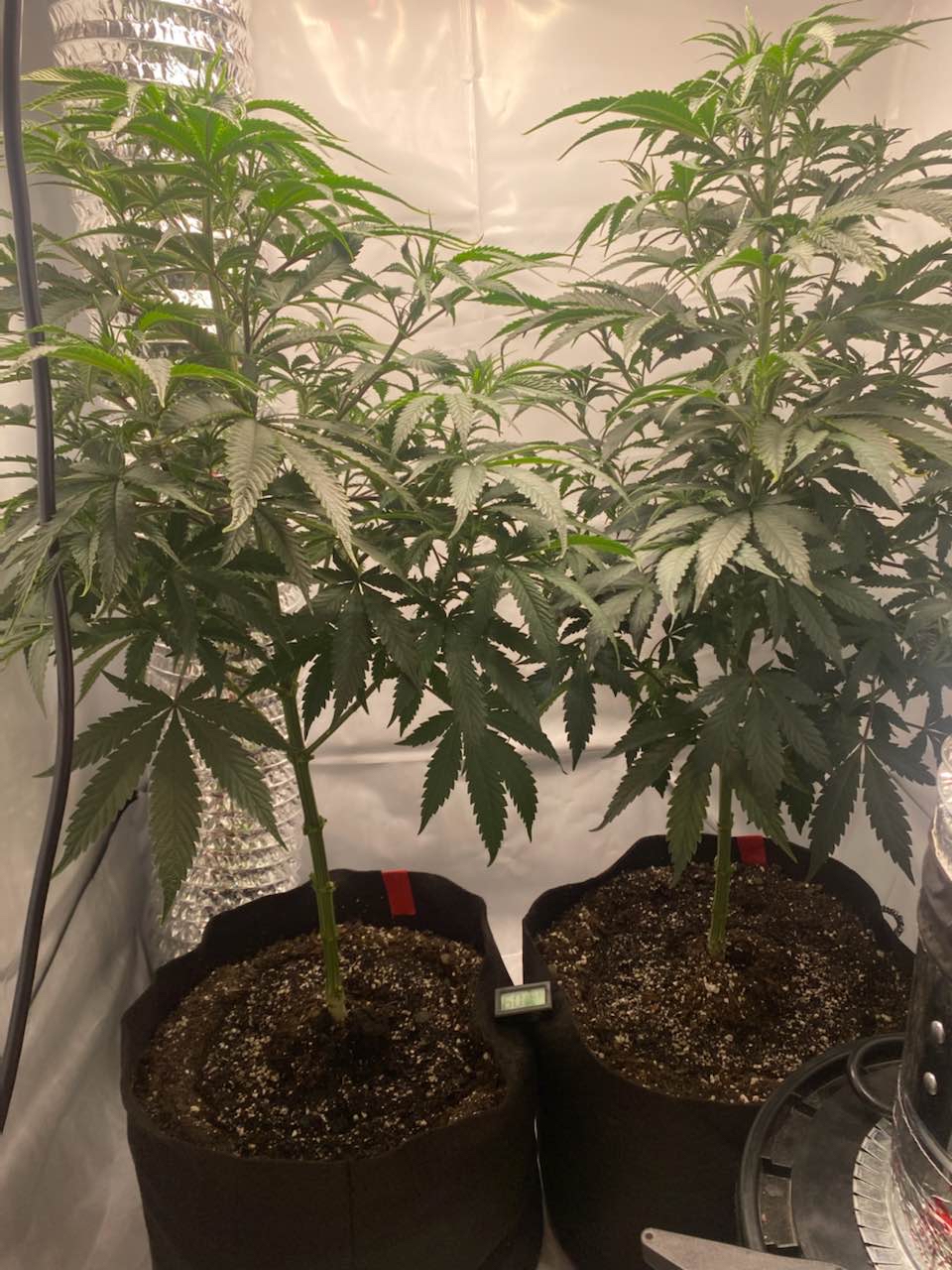 Watered with 5.5 PH and runoff came out at 6.3 👌 Looking great and already about 6" taller than last update.
a year ago
ig:@eaegifts Very nice, where'd you get these beans. Loving pic 3 👍🏾👍🏾🔥
anythinghere23 Thanks! I actually got them as a free handout at the local hydro store. 👍
View 15 additional comments
Flipped the girls into flower last night. Gave them a small haircut to thin out the lower branches a bit. Run off ph was 6.8 so I guessing high ph is what's causing the slight yellowing of the new growth. I watered with 6.2 water so I will give them a next watering at around 5.6 to help lower the soil ph. Anyone have any tips for how to create a more stable soil ph? It seems like every watering The runoff is either low or high. Maybe that's normal?
a year ago
New light and ventilation installed. Repotted to larger fabric pots. Took a few clones and started them in the old box. PH was too low so made adjustments with watering and repotting. Runoff now sitting at 6.1 PH. As soon as they adjust to the changes I will flip to flower.
a year ago
Girls were pushing up against the light pretty badly. Got them moved to the new space now. New light will arrive tomorrow. I will need to clean out the old box and prepare it to take clones next.
a year ago
Wow took a week vacation and these babies took off. I have maxed out my current grow space so will have to finish the flowering room asap!
a year ago
Transplant day. Moved them into the larger pots. Just in time, the roots on both has just started to fill out the edges of the cups. Took advice from my last update and added worm castings and a calcium supplement. I ended up going with a premix organic blend rather than grinding my own shells just because it was easier for the moment.
a year ago
Growing so fast now! Love it!
2 years ago
BINAII What soil did you end up using in the end?
View 6 additional comments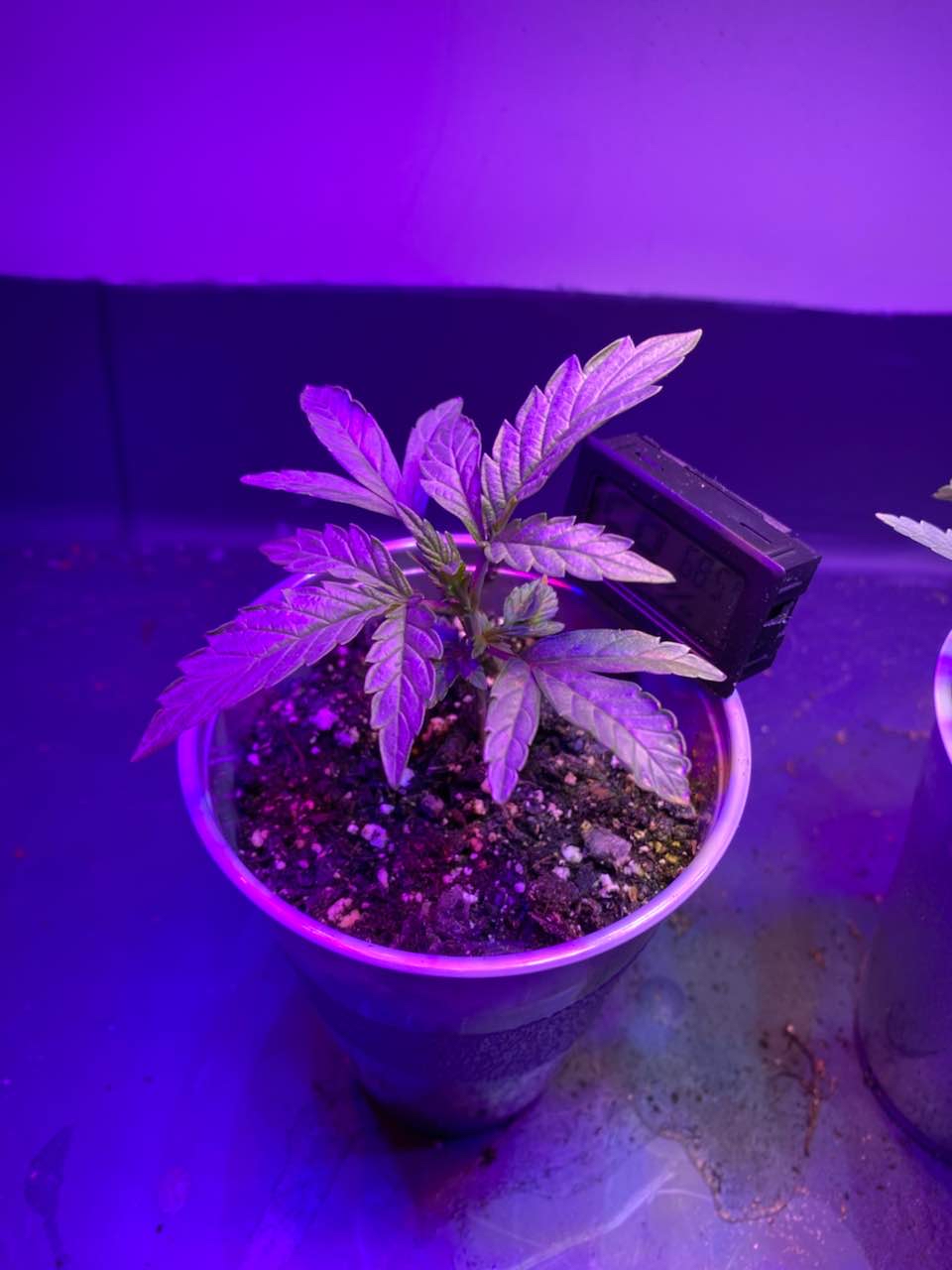 Spreading out now. I noticed some small brown spots on a couple leaves mostly just on one plant. I'm thinking it may need a cal mag bump? Raised the light a bit as they may have been getting too close. Thoughts?
2 years ago
D B Maybe just a transplant will do. Does that soil have food in it?
anythinghere23 It's the Fox farms ocean forest soil. I have not added anything except water so far.
Watering every 1.5-2 days at this point and they are really taking off. At this rate I'll be ready to transfer to final buckets in a week or so.
2 years ago
They are loving the new soil. I trimmed off the dead lower leaves.
2 years ago
Both plants are recovering nicely. New green growth is coming in strong.
2 years ago
anythinghere23 Yea it was looking bad but seems to be turning positive. Hard to see in the last update but they were almost completely dead and brown. Do not use Lowes potting soil. That stuff sucks. It's night and day using good quality soil.
View 2 additional comments
Both plants may be beyond help. Good thing I have backup seeds. I repotted into solo cups and changed the soil to Foxfarm Ocean Forest. No sand on these as I discovered gnats still crawling around the drain holes on the old pots/buckets. Ordering neem oil stat.
2 years ago
Still seems to be stalled out. Will continue to monitor for a few days to see if they recover from the cold/gnats/overwatering. Will repot with better soil if they get worse or don't take off again soon.
2 years ago
anythinghere23 It's just a surface covering of sand to kill off the fungus gnats I has all over my soil. Did the trick immediately 👍
View 2 additional comments
Added sand which seems to have eliminated the gnats. I fixed the air temps as it was dropping into the lower 60s for a couple days. Temps now seem to be stable in the mid 70s. Soil is still very moist which I think is stunting the plants. I may have to repot with better soil. Also bumped the light back up to 100% as I believe the overly wet soil is more of the issue than the light.
2 years ago
Dr. GreenThumb A little bit of dawn dish soap is perfect insect repellent
Picture of second plant
2 years ago
Plants seem to be stalling out a bit. Leaves are beginning to droop and taco. I think they are getting too much light so I reduced the light by 50%. Will be applying sand to eradicate what's left of the gnats either today or tomorrow.
2 years ago
Both plants opening up nicely. Soil is still moist so no watering. Gnats are reduced, may try a sand layer to eliminate gnats completely.
2 years ago
Just popped out of the soil today. Discovered a few gnats on the soil. Removed plastic film to allow soil surface to dry out more. Will monitor gnats for a couple days.
2 years ago