splifswiftns
Chocodope
Here we go again grow #1
Growing 1 chocodope plant in a 2x2 veg tent, then moving to a 2x4 flower room. All grown under 300watt led lights.
Times up in the dry box. 76.96 grams after five days drying and final trim. Loads of little popcorn buds too, to make some bubble hash. I'm expecting to lose another 1/3-1/2oz during curing. Smoke report to follow.
3 years ago
And harvested. I'll weigh up after about 7 days in the dry box.
3 years ago
Ready for harvest. Lots of amber trich's.
3 years ago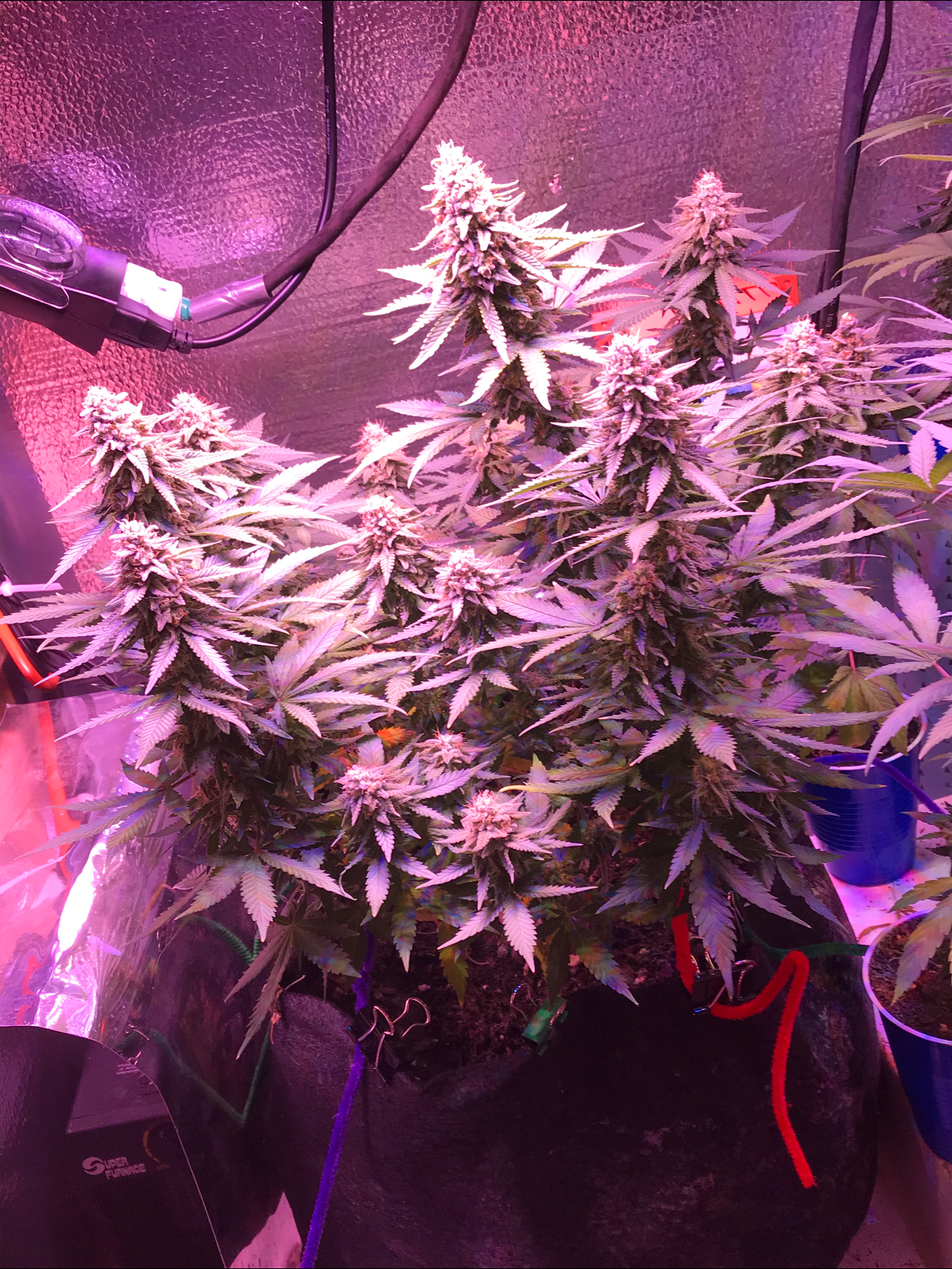 Going to start flushing her out soon. I'd like to flush for two weeks with ph'd water.
3 years ago
Bud from one of the clones I took to pre-sex. 12/12 from clone, grows a nice little twig of bud.
3 years ago
Getting thicker.
3 years ago
Moving along.
3 years ago
Growing buds. Just how I like it.
3 years ago
Just an update. Coupla more buds forming.
3 years ago
Into the flower box she goes. Day 1 of flower.
3 years ago
She's growing out nicely, with the final training just completed. Clones I took from first cut have shown to be female. I'm switching to flower nutes, and she'll go into the flower box within a week.
3 years ago
Last cut is done. Now to let the kolas grow out a bit. Room is tight in the veg tent using these airpots, so she's grown a little lopsided.
3 years ago
A day or two from the final trim.
3 years ago
Looking forward to seeing how she reacts to mainlining.
3 years ago
This lady has taken off in the last coupla days. Good growth a few days before I mainline her. I'll clone her top, and put into the flower box, so I can determine sex and am hopefully not wasting my time. Fingers crossed.
3 years ago
Growing nicely. Doing well after transplant.
3 years ago
New digs. She's now in a 7g airpot. Two pots barely fit into the grow tent, but I jammed em in there anyways. There'll be lots of room in the flower box.
3 years ago
Coupla more leaves.
3 years ago
Sprouted and transplanted. Using a mixture of happy frogs ocean mix and my own compost soil mixture.
3 years ago
The seed has been floating for 12 hrs so far. I'll put into a jiffy pod this evening.
3 years ago