kpgnomad
5 autos
NL, AH, BB
3rd go around with autos
2 amn haze, 2 NL, 1 Blueberry
Blueberry curing 63g
3 years ago
Harvested last of 3 ILGM blueberry autoflower which all turned out to be phenos. Week 14 12/12 flowering complete, had to harvest early due to humidity. Very soft makes tough trimming. Biggest bud size for me. Washed in mix of hydrogen peroxide and lemon juice in normal tap water. Soil is a mix of coco and fox farm ocean forest.
3 years ago
Leaves yellowing
3 years ago
Still not ready
3 years ago
Bud rot a few days ago, chopped two colas rest is fine and added fan
3 years ago
11 weeks in flowering, hope to harvest in a week
4 years ago
May have started blueberry flush too early, trichomes still clear but buds are fattest I've grown so far. Smell is super strong.
4 years ago
Kpgnomad Thanks, growing is fun and rewarding. I've saved so much $ this way
Blueberry looking ripe
4 years ago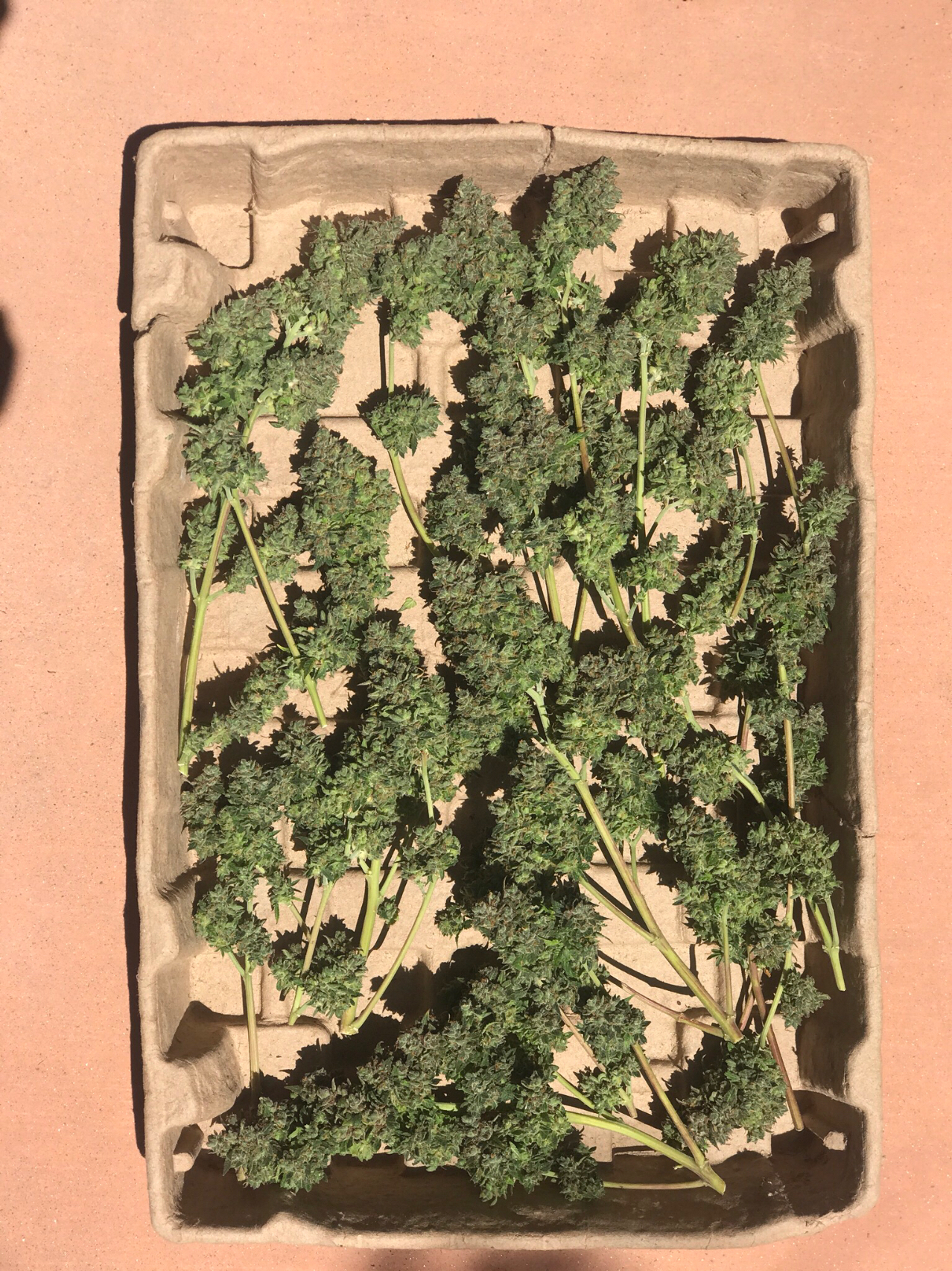 Amn Haze harvest, early harvest by week or two due to space. Washed in hydrogen peroxide/lemon juice water and rinsed before placing in cardboard box. Originally purchased auto flower seed but turned out to be pheno. 4th of 5 plants harvested.
4 years ago
Kpgnomad Thanks, can't wait to try in a month
Happy farmer, harvested one plant-don't know strain
4 years ago
SweetzWeedz How did you know when to cut it I don't know when to cut mine this is my first grow
Kpgnomad Get a jeweler microscope and study trichomes, when they turn milky/Amber it's ready. Must flush at least a week before so you don't get harsh taste
SweetzWeedz What do you mean flush before hand thankkkkk youuu my first grow
View 3 additional comments
When it rains one flushes
4 years ago
Kpgnomad Thanks, 2x4 tent two cree 3950 lights
View 1 additional comment
Set the 3 pps outside in the rain a bit and now they are back in the 12/12 tent
4 years ago
50 g NL auto and 20g Amn Haze Auto, took forever to dry-curing begins
4 years ago
The 3 photos are in their 7th week flower
4 years ago
Amn Haze and NL auto ready for harvest
4 years ago
GINGE-NINJ Looks good man... beautiful buds mate 👍👌
Better camera on NL auto, it's almost ready
4 years ago
NL auto sent outside, 2nd flush done
4 years ago
Transferred 3 photo periods back to tent as days are getting longer than 12 hrs, back to 12/12 cycle
4 years ago
Kpgnomad Thanks it's turning into a promising yield
Getting warmer
4 years ago
3 outdoors (former Auto now photo) but the days are getting longer. Waiting for some leg room in grow tent so I could set them on 12/12. Temperature varies by 30-40 deg F sometimes overnight
4 years ago
NL auto leaves greened up a bit after nutrients fed, but it's almost time to flush
4 years ago
NL auto yellowing is a bit of concern, no nutrient feed up to now may be cause
4 years ago
ClandestineWestOz If all it's crying for is a little nitrogen you've done well with no feed to date. Good soil then 👌
Kpgnomad Yes, it's called Mother Earth Earth Swell but pot being small, it's depleted probably. So I fed it today, adv nutrients base with extra bloom. Let's see
These 3 autos(not sure if they are photo ) have moved from 12/12 tent to outside now that spring is sorta here
4 years ago
ClandestineWestOz Lol the plant is probably confused right now 😃 Looks great though mate 👍
Kpgnomad Thanks looking forward to outdoor grow
NL auto looks like it's getting there on 18/6, the second plant is amn haze auto that I had to switch to 12/12 to flower, now it's back in 18/6 - always wonder what would happen to an auto if you switch to 12/12 and then back to 18/6, sprayed spinosad on all plants-fucking thrips. Set out plants in the glorious sun today 80 degrees here in SoCal. Only keeping 2/5 auto plants in tent now.
4 years ago
Neem oil spray to battle thrips, amn haze tall but popcorn buds
4 years ago
3/5 "autos" in 12/12 tent. Neem oil doing little to fight thrips
4 years ago
Closer view NL auto
4 years ago
Snapped a main branch on NL, propped back in place at joint. Bummer, finally got the leaves to perk up. Amn Haze(less leaves) been killing a few white bugs under leaves, trying not to spray. Spotty leaves removed mostly
4 years ago
NL and Amn Haze autos thriving with all the extra space, tent window view. Although had to hand swipe under amn haze leaves to kill small white bugs causing white spots on leaves. Only rain water since beginning
4 years ago
3 "autos" in 12/12 space,
4 years ago
No nutrients fed on these plants-looks good except for the photo imposters in the mix, f u ILGM for ripping me off with 1/2 the package
4 years ago
ClandestineWestOz What's happened with ILGM? Have they sent you photoperiod plants in your Autoflowering order?
ClandestineWestOz Bro those guys at ILGM will fix any problem you have with your order. I ordered 15 seeds and some germinated but didn't grow (told them it's not my fault and sent them photos of my other plants all healthy) and they gave me 5 seeds to say sorry and let me choose my strain. Long story short they'll try make you happy.
Only rain H20, NL to left is popping but the blueberry are again late flower (ILGM), interesting plastic pots doing much better, one amn haze is slow too
4 years ago
New space brighter lights bit held back in my opinion due to cool nights in garage and low humidity
4 years ago
Now their backs are bent
4 years ago
Looking healthy-2 soil types, mix of coco and fox farm vs mix of coco and Mother Earth groundswell
4 years ago
Transferred to pots
4 years ago