mermazing
BC Big Bud - Our First Grow
January 2019
We only found this app recently as I was looking for a way to log our plant growth so we don't have photos from the beginning but I'll add a little timeline! January 2/19 - Clones were done January 9/19 - First roots of clones appear January 14-17/19- Transplant clones into Solo cups January 26/19 - Transplant into large black pots There's currently 21 - BC Big Bud clones growing Photos taken February 1, 2019.
It only took 3 and a half days but everything is finally chopped down!
4 years ago
It's finally harvesting day! Chop chop
4 years ago
Greenhouseguy95 You lucky bastard lol hope your yield is what you were looking for brother!
PresaCanario Wow. Nice yield. To make life easier, I wouldn't flush it as much next run, it's a lot of work trimming off all those yellowed little fans.
Part of the 1st plant trimmed, 21 more to go. 😂
4 years ago
First 3 plants getting cut
4 years ago
What do y'all think? We're thinking we are going to be done soon Waiting for more of those hairs to turn orange and for the trichomes to get cloudier
4 years ago
ClandestineWestOz I'm glad you said cloudier and not amber! Well done! Those triches look great. Be a racier clear high right now.
Day 55 of flowering, heading into the end of week 8
4 years ago
Day 47 of flowering partway through week 7
4 years ago
Started flushing last night. They're sticky af and we might have to tie them again as they're getting quite heavy
4 years ago
CF998 You did go big for your first run. Looks awesome. Make a good playlist for trimming.
PresaCanario Yes, a good playlist, prepare you drying/curing area and as much rest as you can before the harvest. Very nicely done for a first grow.
MerMazing Thanks! Have to mentally prepare how long this trimming will take
Partway through week 5, feeding them again tonight Looking super frosty and have a real pungent smell
4 years ago
Day 69 ... giggity Feeding them again lol last day of week 4
4 years ago
Lil update finishing week 4 of budding
4 years ago
We had to stake them all they were getting out of control
4 years ago
Feeding them again tonight
4 years ago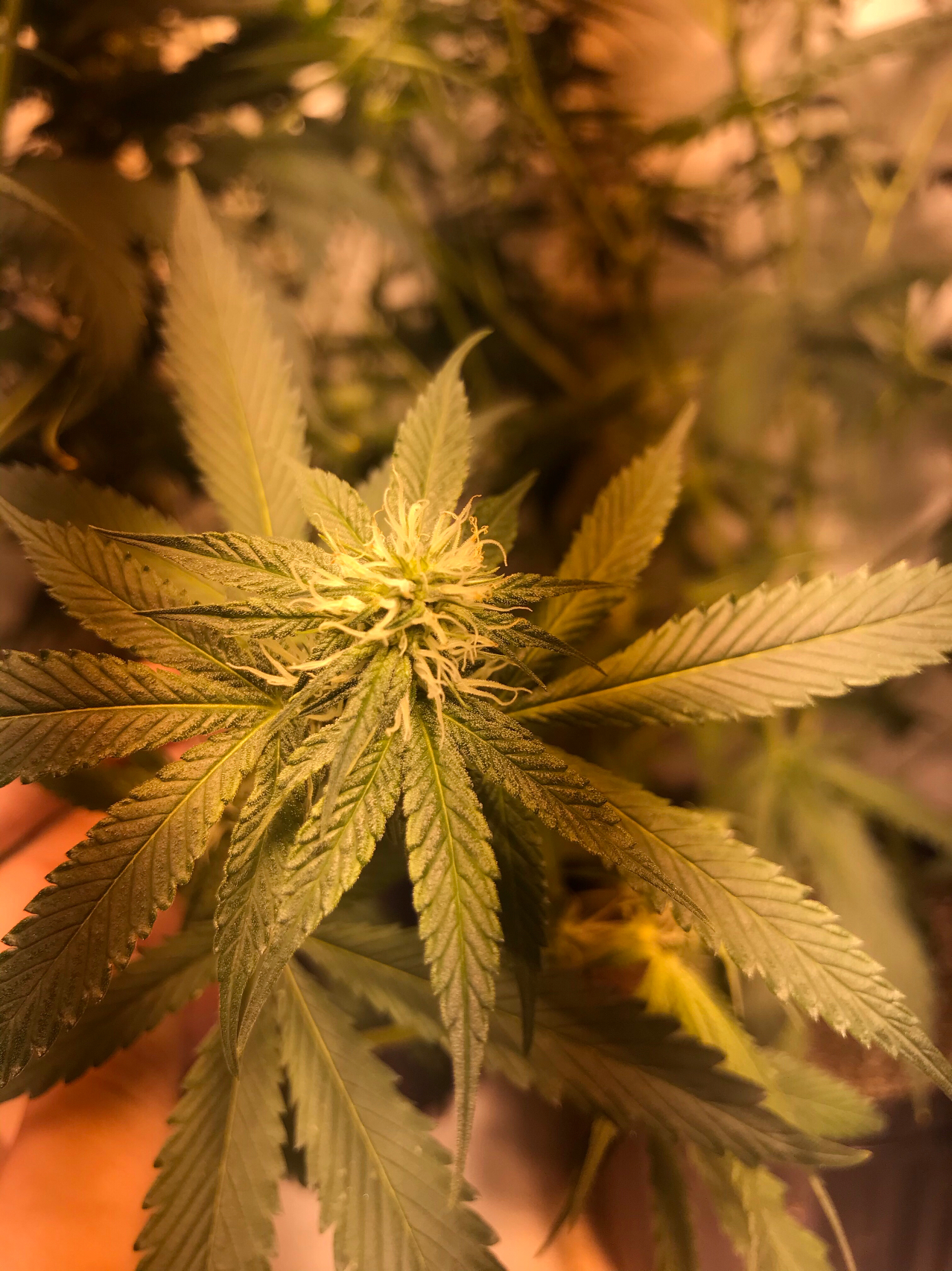 Averaging around 41" high They're starting to look nice and frosty! Heading into week 3 of budding Bud photos are from a couple different plants in the room to kinda see where they are all at
4 years ago
Watered with nutrients 2 days ago
4 years ago
Up close bud shot Just a quick photo update
4 years ago
It's a jungle in there Currently watering with nutrients about every 3-4 days
4 years ago
Gave them nutrients last night and spread them apart! Not much room left for them
4 years ago
Things are starting to happen boys. Averaging 24-28" high Watered yesterday with straight water, no nutrients. Enjoy some close ups of these gorgeous tops And a shot of our giant momma plant that is finally perking back up again after the transition of lighting Ignore the last photo I tried to do a progress gif of the growth but it didn't work out, only shows the first photo
4 years ago
Averaging 22-25" high
4 years ago
Just watered all of them and gave them budding stage nutrients And just for fun took a photo with the plant scope of one of the leaves
4 years ago
Switched them to the 12/12 light cycle yesterday Looking bushy boys! The second photo is our massive big bud plant, that was originally the mother of the other ones, looking a bit droopy but we've added a light solely for her so hopefully she'll perk up in a day or two
4 years ago
Plants have bushed out quite a bit! Thinking of switching to 12/12 in the next couple days
4 years ago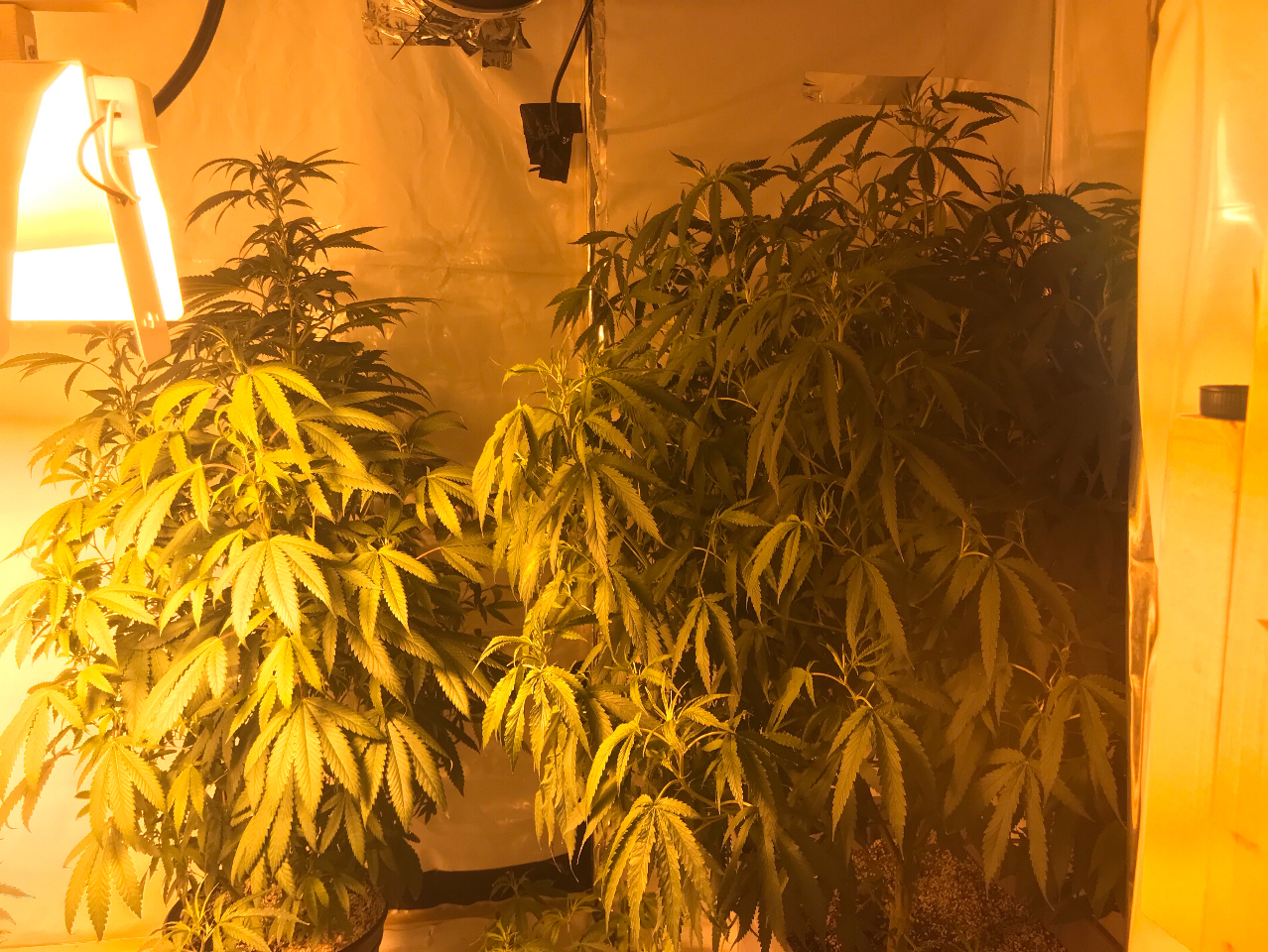 The cloned plants are 12-18" high and are on a 18/6 light cycle We also have 1 very large BC Big Bud that was the mother of the clones that will be budded as it's grown too large (on the right in the second photo) And we have 1 hybrid that will be our next cycle! (Left in the second photo)
4 years ago