splifswiftns
Candy Cream
Indoor october 2019
2'x4'x5' grow room, using soil/coco in 15g felt pots. Lights 2x300watt viparspectra led.
Little jar of curing herb. I didn't get too much quantity-wise, but the quality certainly looks good. I'm guessing there's just about an ounce and a half dried, but I did harvest quite early. Still working out the right balance of trich colour, yield, etc before harvest. Buds look great, and are covered in trichs and resin. They also stink to high heaven. I'm not gonna be impatient with the cure, so I haven't tried any yet, but a smoke report will follow in a coupla more weeks.
4 years ago
Splifswiftns Ok. Here's the smoke report... this stuff is nice! Tranquil high and long lasting to boot. Probably the smoothest bud I've grown personally, with a creamy earthy flavour. Starts off with sweeter flavour tones, and smells just like the infused caramel I make for edibles. Definitely worth checking out.
Harvest day is a good day. She turned out pretty nice, with thick dense nugs. I didn't let the trich's turn too amber, to lessen the sleepy factor. Sorry the close ups don't do the buds justice.
4 years ago
Week 7 done. Gettin better everyday. One week into flush. Quite a few trichomes turning amber(hard to see in these pics),so harvest will be soon. Coupla more days, I'm thinkin.
4 years ago
Week 6 in the books. Flushing her out before harvest.
4 years ago
Just about 40 days into flower. Looking at the buds, it seems like she's flowering really fast. Should have another 25 days to go, I don't think she'll take that long. Looking at the trichomes, there's quite a few turning amber already. Gonna give her nutes once more, and then finish off with just water until she's done. If anyone's got a comment about the flower time, let me know. Scratching my head a bit here.
4 years ago
Ducatiboy Cannabis are like people! Line 5 brothers up and i guarantee each of there penis will be a different length. Hahaha you're doing fine keep an eye out like you are doing. You might want to clone that if you like that fast flowering time.
Splifswiftns Lmao! I figured as much, i'm just not too familiar with this strain. I've got some honey cream fast flowers which is supposed to take only six weeks to flower. Thought I'd mixed my seeds up, but didn't. Wondered if maybe a nute lock issue from using softened water may have sped things up a bit. She looks ok, gonna get ready for final flush and keep goin 'till I'm happy. Thanx for the comment. Much appreciated.
Week 5 of flower. Moving along nicely, but I have screwed up abit. I've been using softened water along with my nutes and it looks like I have too much salt causing nute-lock. Fan leaves were starting to yellow and I'd thought I had a nutrient deficiency. Seems that my water is the issue. Switching to spring water for the remainder of the grow and final two week flush. Smarten up for next time! ;)
4 years ago
Week four. Bud sites are filling in pretty well. Gave her some molasses with her usual nutes. Smell beginning to get a bit more dank.
4 years ago
Happy three week-iversary!! Gave her some bloom boost ferts today to celebrate. Moving along quite nicely.
4 years ago
Second week of flower in the books tomorrow. She's looking pretty nice, buds are forming well. I probably could have been more diligent trimming below the screen, but all in all, she's healthy and getting sexier every day.
4 years ago
First week of flower. Her neighbor turned out to be a boy. Hopefully he didn't get his hands on her. 1 week in though, she should be ok.
4 years ago
Four days into flower, and another week or so to complete lst. A few pistols have shown so far, but not too much to write about.
4 years ago
Switched the little lady to flower today. Go girl go!
4 years ago
3-4 days under the screen, just starting to get to where I can spread out the tops. Changing nutes over from veg to bloom, gonna start flower in 5 days.
4 years ago
Transplanted and tied down. Now in 10g smart pot. I'll let her veg another week or so, and then switch to flower once those side shoots start to take hold. Gotta build a screen.
4 years ago
Fimmed and lollipopped. I'll give her another few days to recover before I transplant to final smart pots. Lst the rest of the way.
4 years ago
Transplanted to a larger pot two days ago. Top leaves are folding themselves in half, thinking light may be too close. Raised light, see what change that makes.
4 years ago
Started using pro blend grow nutes today. Beefing her up before transplant.
4 years ago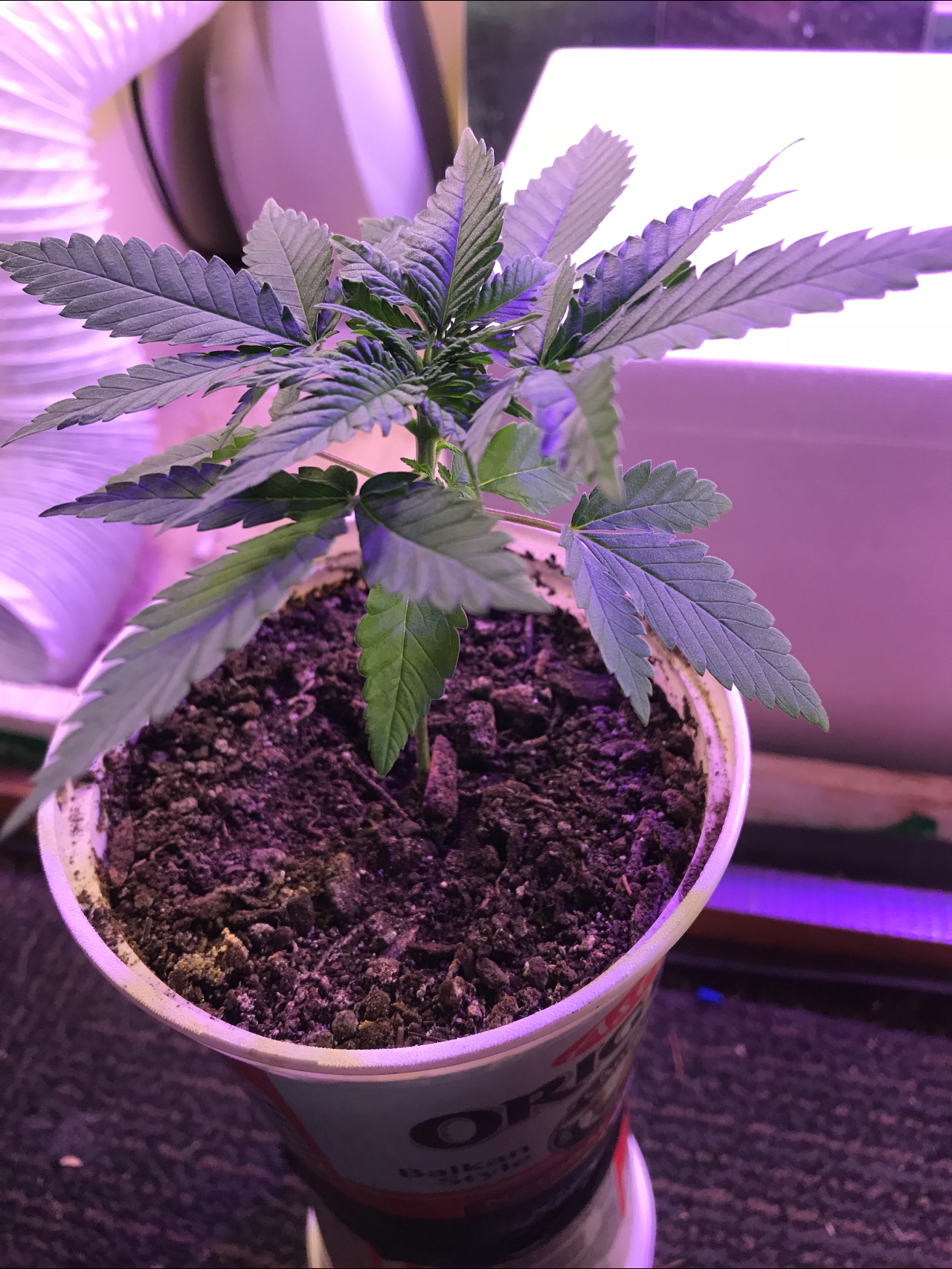 Moved her about another inch or so from the lights. Looking for a bit of stretch, nodes are growing one on top of the other. Going to transplant after 5 nodes, plan to top or fim with some lst afterwards.
4 years ago
Third set of leaves just barely starting to grow. Going to try using a veg fertilizer this time around.
4 years ago
Thankfully, she's growing like a weed.
4 years ago
Candy cream has popped, and is winning the race. Shaman looks exactly like a wet jiffy pod. Putting CC under lights, 18/6.
4 years ago
Waiting for seeds to pop. Soaked in water for 24hrs, placed in jiffy pod for germination.
4 years ago