ferny_420
Baby Killa Clones
6 Clones 6 Different strains
2x4x6 tent 1000 watt LED & Red Bloom light
8/17/19 Black Jack, Vanilla Frosting, Cookies, Hades, Fire Og, Garlic Cookies
1/5/20 Day 78 Week 11 with 1 day Fed Water
4 years ago
12/2/19 Day 75 Fed Water Flush mode
4 years ago
12/28/19 Day 70 Week 10
4 years ago
12/23/19 Day 65
4 years ago
12/20/19 Day 62
4 years ago
12/19/19 Day 60
4 years ago
12/17/19 Day 59
4 years ago
12/10/19 Day 52
4 years ago
12/9/19 Day 51 Fed Bloom
4 years ago
11/4/19 Day 46 Watered with 2 Gal compost tea Ph'D to 6.2 Added 2 new fans and removed old ones. Also did a heavy defoliation.
4 years ago
12/3/19 Day 45
4 years ago
12/1/19 Day 43 6 Weeks 1 Day Fed Ph'D Water 6.2
4 years ago
11/29/19 Day 41 Changed light, Rotated Plants a bit. Struggling with my plants being cold at night. Looking into a dehumidifier. One of my plant looks like it needs some more nitrogen. Week 5 Day 6
4 years ago
11/27/19 Day 39 Fed Bloom tea
4 years ago
11/24/19 Day 36
4 years ago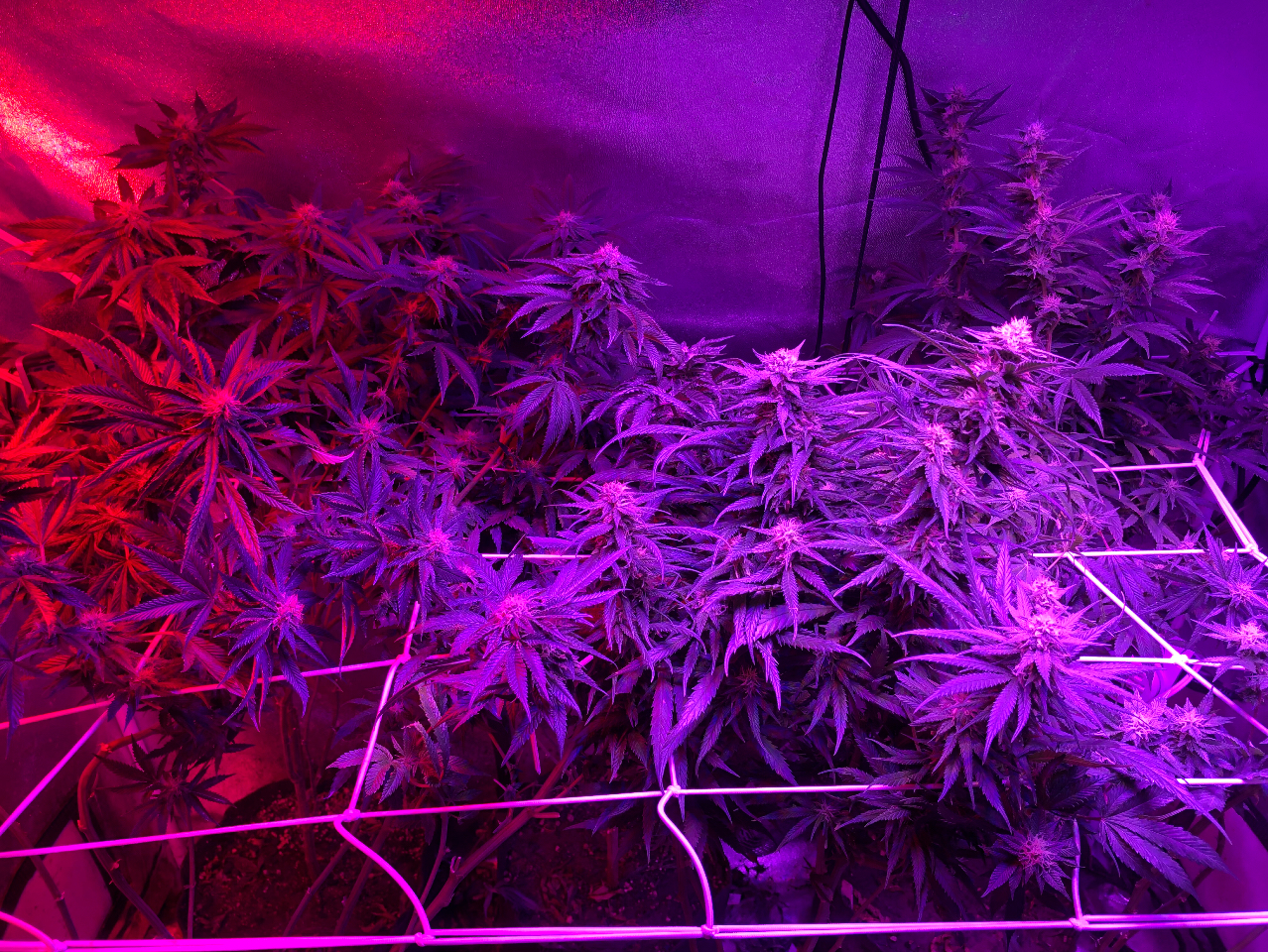 11/22/19 Day 34
4 years ago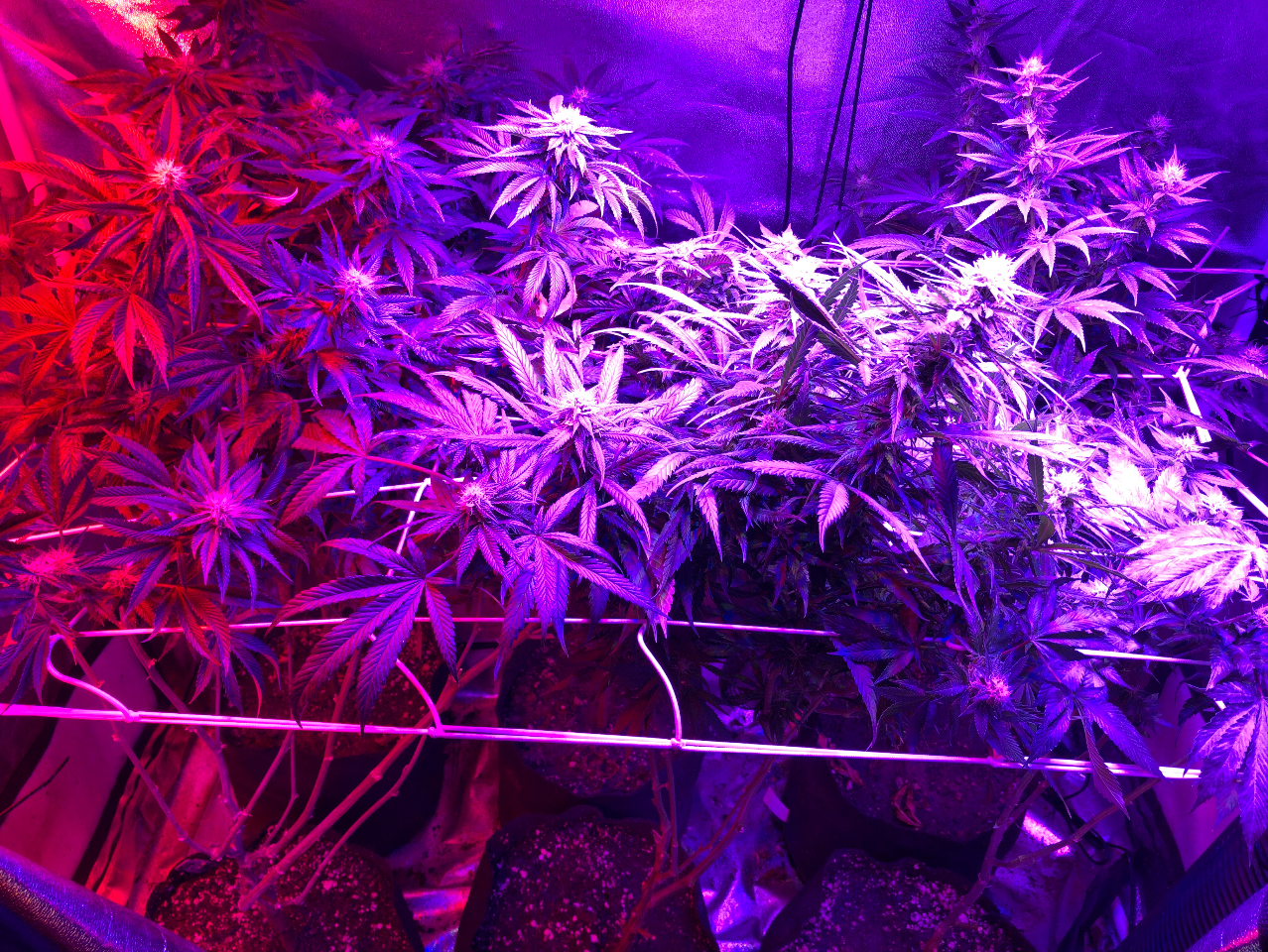 11/20/19 Day 32 Fed Water PhD to 6.2, Gave plants a heavy trim on all leaves
4 years ago
11/17/19 Day 29 Fed Bloom tea
4 years ago
11/16/19 Day 28 Week 4 of Flower
4 years ago
11/15/19 Day 27 of Flower Females seem to be growing just fine, having issues with humidity when my light is off keeps going up to 74% but there adjusting
4 years ago
11/14/19 Day 26
4 years ago
11/13/19 Day 25 Watered with compost tea PhD 6.2
4 years ago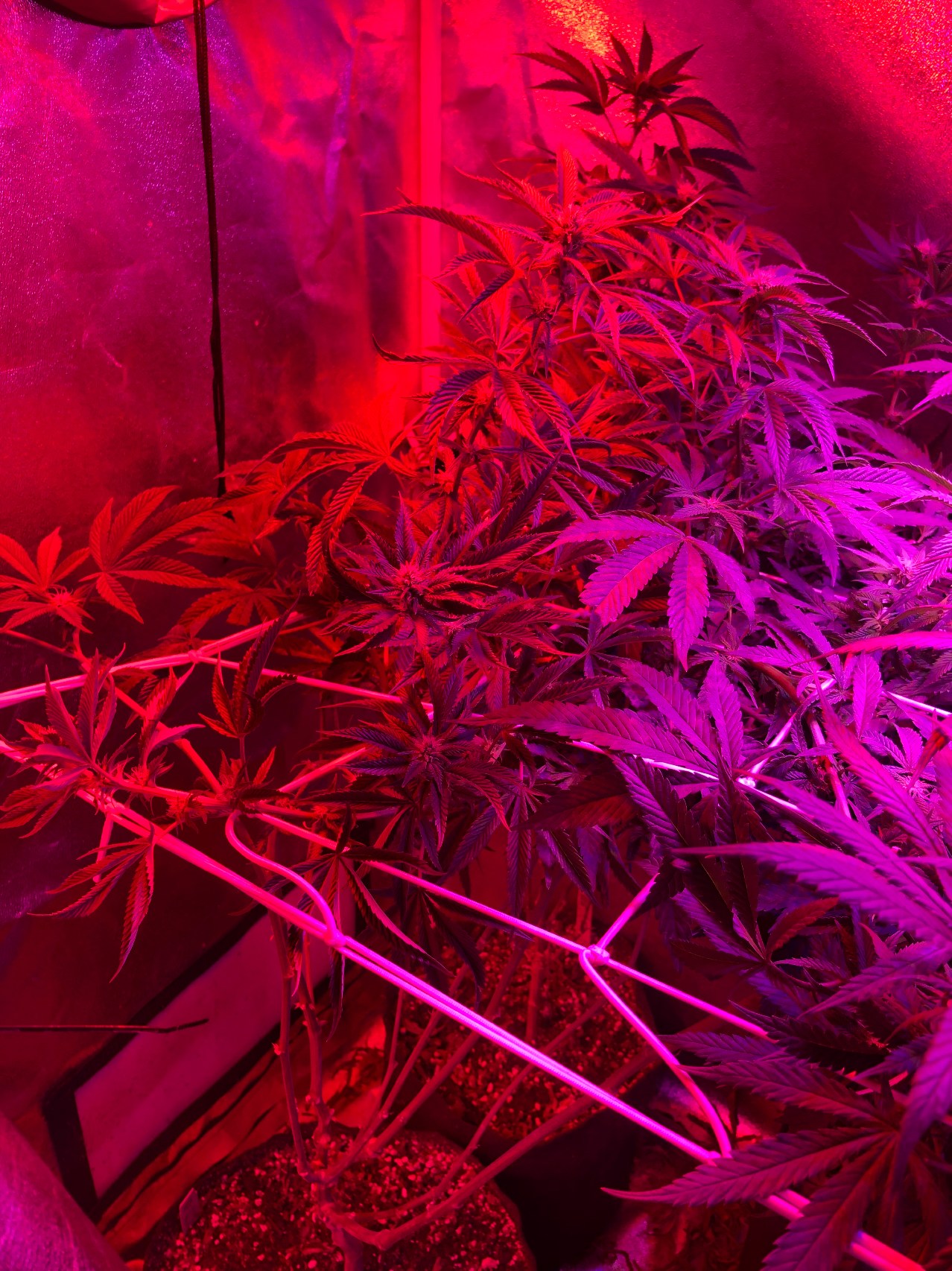 11/10/19 Day 22
4 years ago
11/9/19 Day 21 Fed Bloom + Molasses Big changes Took 2 plants out due to first grow and lack of air circulation around each plant. 6 clones only Lollipoped the whole bottom of plants
4 years ago
10/31/19 Day 12 Flower Stage Fed compost tea
4 years ago
10/30/19 Day 11
4 years ago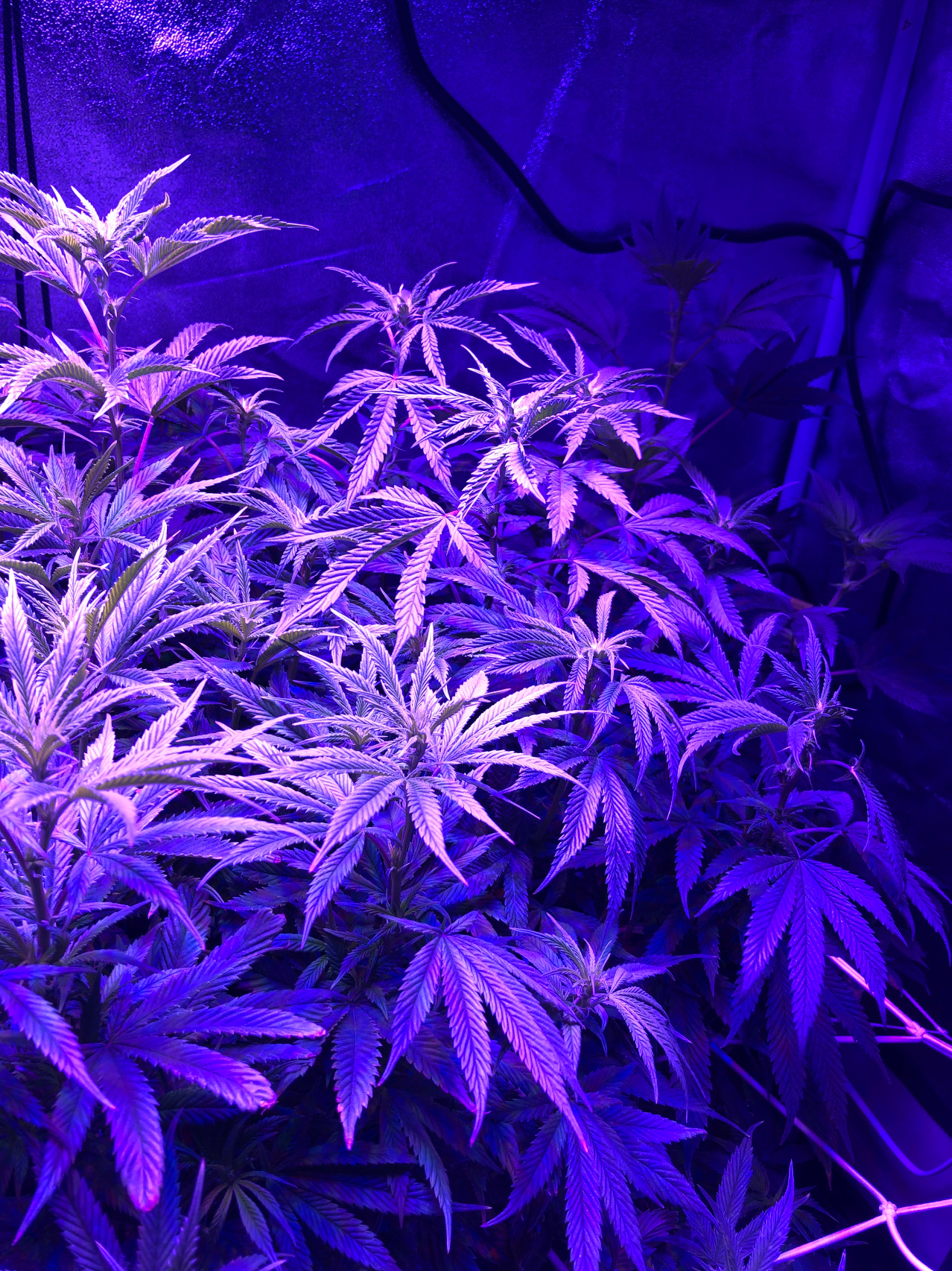 Day 10 10/29/19 Fed some Bloom and C mag Ph 6.2
4 years ago
Day 2 10/21/19 Flower stage
4 years ago
Flower Stage Day 1 10/20/19 Had the light off for 24 hours now it's at 12/12
4 years ago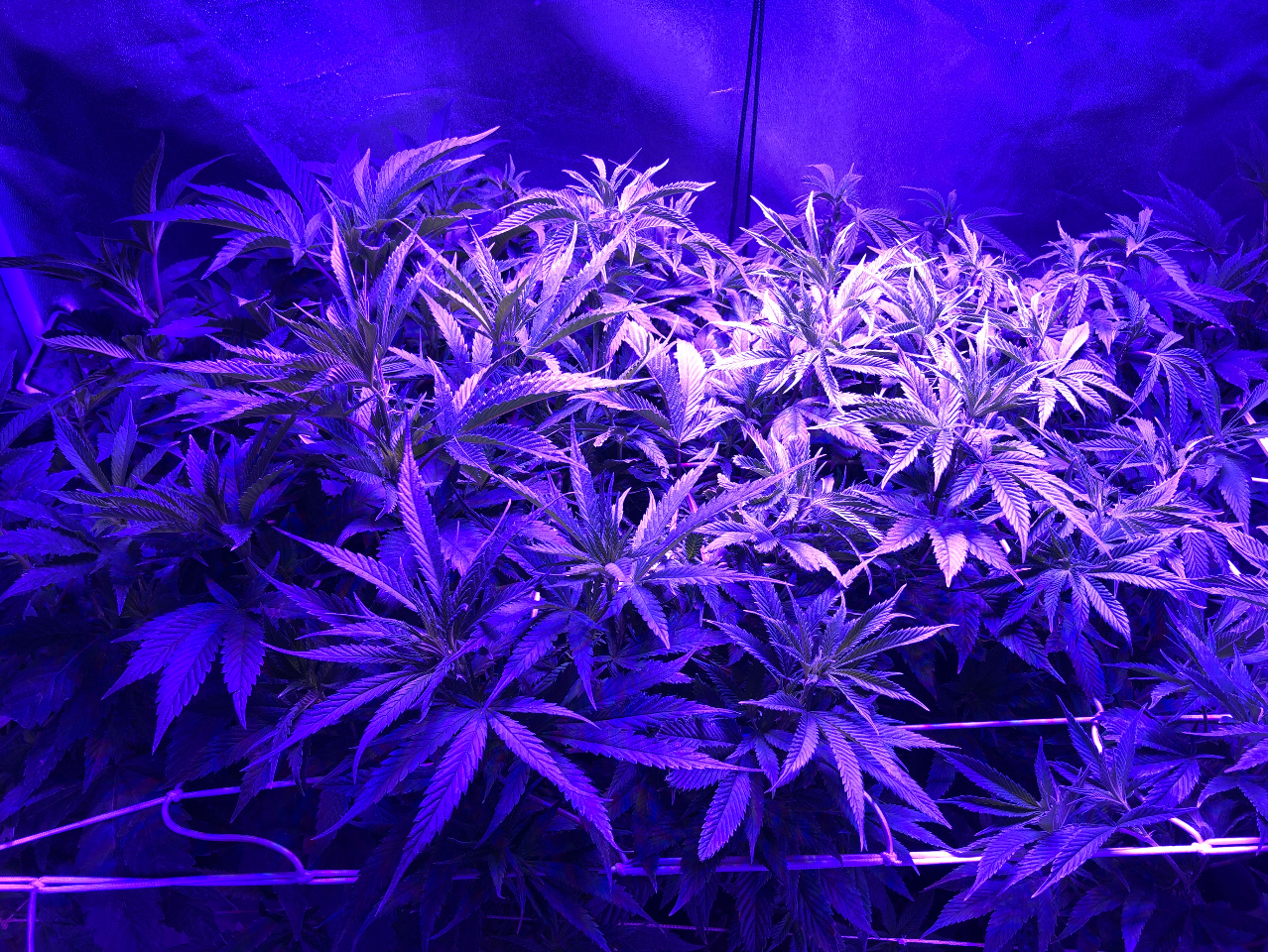 10/7/19 Day 51 Fed some PH'd water to 6.2 Will be flipping to flower in a few days just getting my equipment ready.
4 years ago
10/6/19 Day 49
4 years ago
10/4/19 Fed Grow tea and Fixed net
4 years ago
10/1/19 Added a second trellis net for the top to control the height of plants
4 years ago
9/26/19 Watered on 9/25 with left over Grow tea I had PhD to 6.2 Still vegging for a few more days will flower soon.
4 years ago
9/24/19 Watered with some Grow tea I brewed for 2 days. PhD Water 6.2 Added the trellis net like 3-4 days ago so tent evens out. Will be switching to flower soon
4 years ago
9/17/19 Fed compost tea 9/16/19 Will be adding a net soon.
4 years ago
Day 24 9/10/19 Fed some Grow tea yesterday. Topped a few more branches since the first time I did it wrong. I actually did a FIM procedure hopefully it grows more. I will be installing trelling net haven't had time.
4 years ago
Day 23 9/9/19 Fed some Grow, Cal-Mag & Molasses Also sprayed the plants down real quick. I PH'd the water to 6.2 before and after the nutrients.
4 years ago
Day 19 9/5/19 Topped all the plants, Fed compost tea 9/4/19
4 years ago
9/2/19 Day 16 Left town for a few days came back to some new growth. Looks like I need a better humidifier mine ain't working how it's supposed to. Will be making some compost tea for the plants tomorrow.
4 years ago
8/29/19 Plants looking really nice and healthy. Compost tea helped out a lot. Going to feed it some organic nutrients by Earth Juice. Only going to feed it Grow & some cal mag. Temp and humidity has been steady been trying to keep up with re filling my humidifier.
4 years ago
8/28/19 Day 11
4 years ago
8/27/19 Day 10 Clones are adjusting to there new home. Brewed some compost tea and served some for each plant including seedlings. I'm trying to keep that humidity high. Will be feeding some Earth Juice organic nutrients in 2-3 days.
4 years ago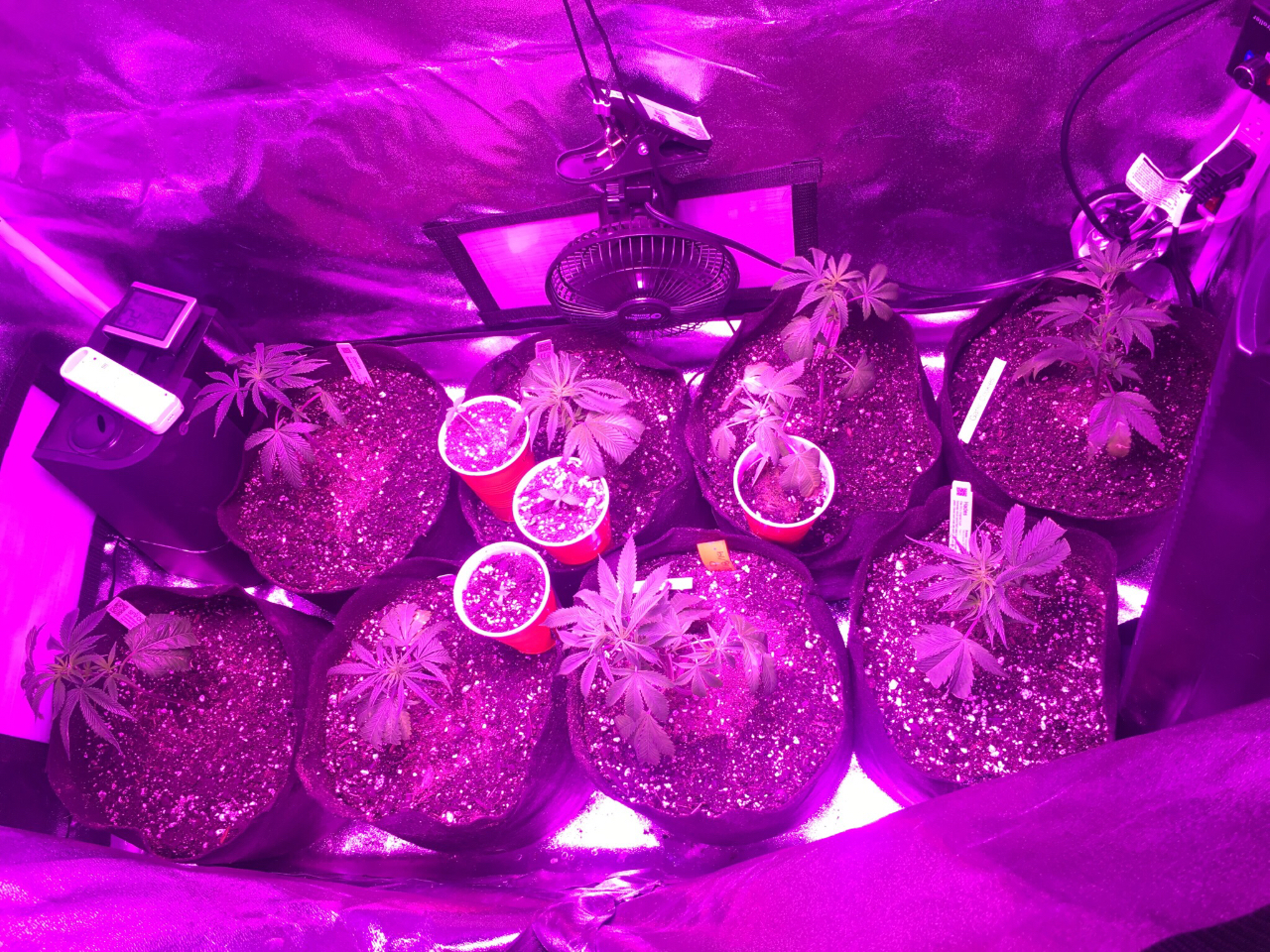 8/25/19 Day 8 Transplanted into some 3 gallon fabric pots and watered around outer layer of pots with Ph purified water to 6.2. Bought a new oscillating fan for tent and it's working amazing. 3 fans inside tent one oscillating one on top near led light and one on the bottom near the vent for fresh air. Thinking of buying a second 4" inline fan for intake.
4 years ago
8/22/19- Day 5 Added a humidifier, humidity is now higher around 81 RH. Will transfer into 3 gallon fabric pots in a few days. I will be making organic compost tea for these soon.
4 years ago
8/21/19 Clones are adapting to temps. I turned on humidifier for a few hours in the day. Temps went up high to 90. One clone still needs to adapt still a little bit droopy. 2 seeds sprouted Day 1 for the seeds
4 years ago
Plants are adjusting to temps. Will be installing humidifier soon. Watered with PH water 6.5-6.8 around outer layer.
4 years ago
Day 2: Clones are currently trying to adapt to tent humidity & temperature. Clones are barely coming back to life. One of the clones is really struggling hopefully it makes it. Will be adding a oscillating fan because light is producing some heat. I'm using a 1000 watt Growstar light. Watered around the outer layer of cup with PH water 6.5-6.8. Added a few cups with seeds just to see if I get lucky with one or two females mother plants.
4 years ago
Clones are transferred into red cups. Added some Mycorrhizal on cubes before I put into soil on every single one. Watered with PH Water 6.5-6.8
4 years ago