Tent warming gift
Feb 2022
A friend of mine had gifted some extra plants to bloom. They needed transplanting and we're all deficient on nutrients. I added 2-8-4 bloom from Gaia Green to the mix of 70/30 FF Coco and 1/4 worm castings. I have been feeding Stump Tea 10-0-0 and 5ml/gal cal mag for 3 weeks now to correct deficiencies. added trellis net and Flipped to flower on 2/15. I am excited to see what is to come. What are your thoughts on my recovery plan? Keep in mind I have my first run of seed that I am currently starting and planning to put in the same tent after this batch this is to test the BP3000 light and see what buds it can produce. These plants were over grown and deficient as hell when I got them.
Trimmed and jarred now for the cure. 8oz dead on for the 4 plants Afghani 5 1/4 oz Runtz 2 3/4 oz
8 months ago
Chopped late last night letting them hang
8 months ago
VAgrower No 55 days into flower. I found a few spider mites nothing bad but there was a few on the fan leaves. So I decided to chop about 5 day's earlier then I planned so I could trim all the fan leaves that were affected. Maybe not the best plan but it's all I could think of at the time.
Start week 7 of flower. O the smells!!!
8 months ago
First day week six! It's getting close!!!
8 months ago
Getting bigger and bigger by the day. Heads are mostly 50/50 milky and clear.
8 months ago
Some close up snap shots to start week 5 of flower
9 months ago
Moving along looks like they are starting to pack on size and frost
9 months ago
Sometimes you gotta stop and smell the flowers.
9 months ago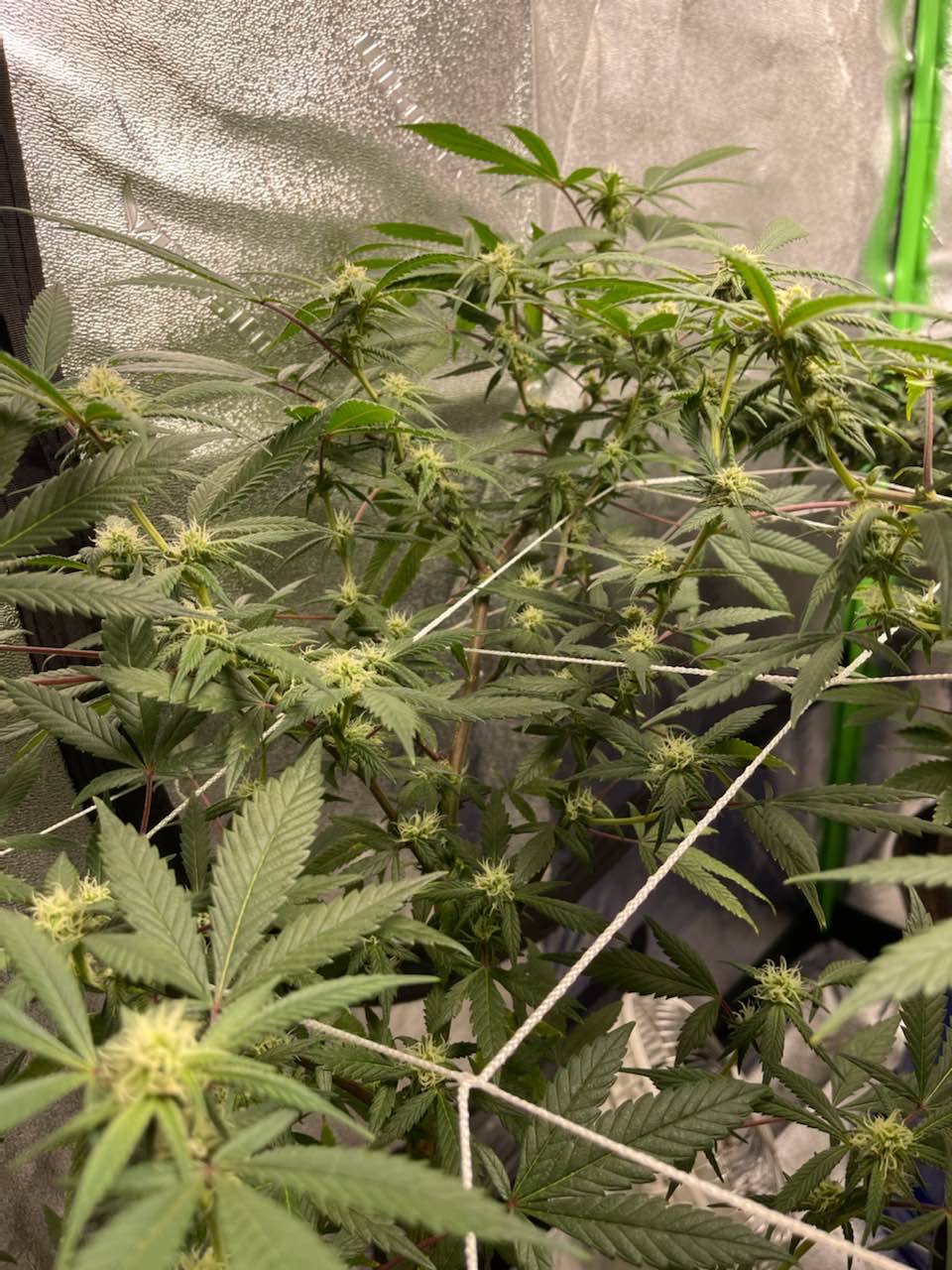 Any thoughts?
9 months ago
VAgrower Right!?!? I am planning on gifting some final product in return lol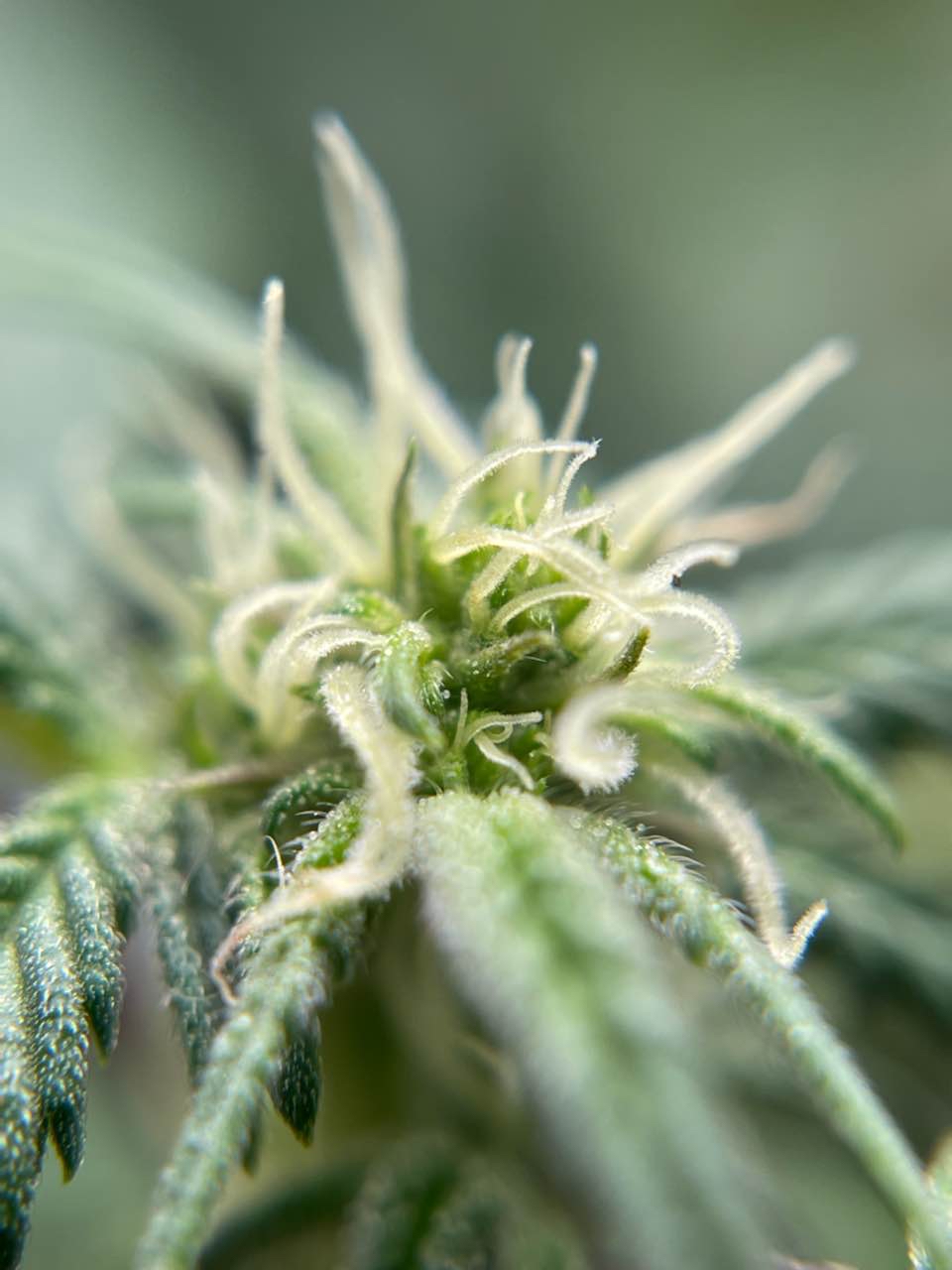 Does anyone else just sit down and stare at your plants? Or am I the only one?
9 months ago
piperboy007 All the time brother. Girlfriend makes fun of me saying " im watching them grow" 👍🏻
VAgrower My wife does the same brother!! I tell her it's my medicine in more ways than one. Mindfulness while growing medicated when smoked lol.
View 1 additional comment
Watered 1/2-3/4 gal of water ph 6.3 with 5ml cal mag per 1 gal. Topped dressed 2-8-4 and worn castings a few days ago. I creased BP3000 light to 100%.
9 months ago
Waiting game
9 months ago
Flipped to 12/12 on Feb 15. Today I added 2-8-4 and 1/3 cup worm castings and watered. How do things look?
9 months ago
First round of treatment for mites hopefully my run isn't ruined. Flipped to 12/12 on Feb 15 any thoughts on how they might recover?
9 months ago
710seth I would've waited to flip until after the mites have been ridden of and your girls grow bigger. Shit, now that you already flipped just hope your mites disappear, don't spray your buds with anything you wouldn't want to smoke or eat, and try to reduce any amounts of stress to the plant as possible or your yields might be reduced.
VAgrower I would have kept them in veg but noticed the mites the other day after I had already flipped
Fucking mites!!! I'm guessing neem oil every other day is the fix?
10 months ago
Peng That's the trouble with gifted plants
VAgrower Fair I have to run into town tomorrow I'll pick up neem oil tomorrow and treat. I am worried because I switched lights to 12/12 a week and half ago. Do I go back to 18/6 and treat this or can I do this without compromising bud quality? I only ask because I know neem oil has a very unpleasant aroma.
View 2 additional comments
Day 3 flipping to flower. I have added nutrients to some overgrown deficient plants that were gifted to me let's see how the will do.
10 months ago