pepsi
First grow
Documenting everything
Today I'm just prepping. So mixed soil 2 parts coco 1 part compost 1 part perlite Currently have flushed soil once. Have order other things today like . Thermometer Hydrometer Worm casting Perlite Compost Nutrients pack ( will update later) Buckets Syringes Pots(messed up so will return. 3 gallons instead of 3 litres 🤦‍♀️ Bat guano Other things also but forgot at this point. Will germinate seeds Tommorow.thinking of the next step. Weather straight to soil . Or leave in propergater for a 2 weeks . We will see Want to do a semi living soil. And use minimal nutrient
Update We have buds tricomes and colours
3 years ago
Canopy looking lush Amnesia 2nd week of flower
3 years ago
Yeah things have progressed my amnesias have gone into flower. And the tent is looking healthy . I think I have to many plant for size of tent . So been told it will be right Did a super crop today . And tried to clone a few . But they died with in an hour . Have started a balcony grow also will update on another grow . Happy with my first attempt
3 years ago
First signs of flower
3 years ago
As you can see after 6 days a lot had changed
3 years ago
Plants are filling out . Feeding everyday now
3 years ago
So think the plants were stunted due to not having enough light. Since adding 2 more they are filling out fast . Everybody seems happy and healthy . Feeding every 3 day with micro bloom and grow. Every 2 feedings just water was ph ing at first but now just tap water at room temperature. Plants appear happy in this schedule. These are autos . In a 18 /6 lights In 4 weeks will change to 12/12
3 years ago
Added 3 more lights today . 600watt led light. Pictures are of my biggest and smallest. Plants. So I had one with light burn on 2 leaves . Was thinking of experimenting with lollipopping it. What are the pros and cons ?
3 years ago
Today I fed with micro, grow, and bloom. 2ml of each per litre of water. Did not feed for 3days. Plants seem to of slowdown. And will be adding 2 more 600watt led lamps this week. Added a warm humidifier today to help keep temperatures up. Appears to be working . The plant that looked like it had light/nutrient burn . Is doing well and had developed more leaves.
3 years ago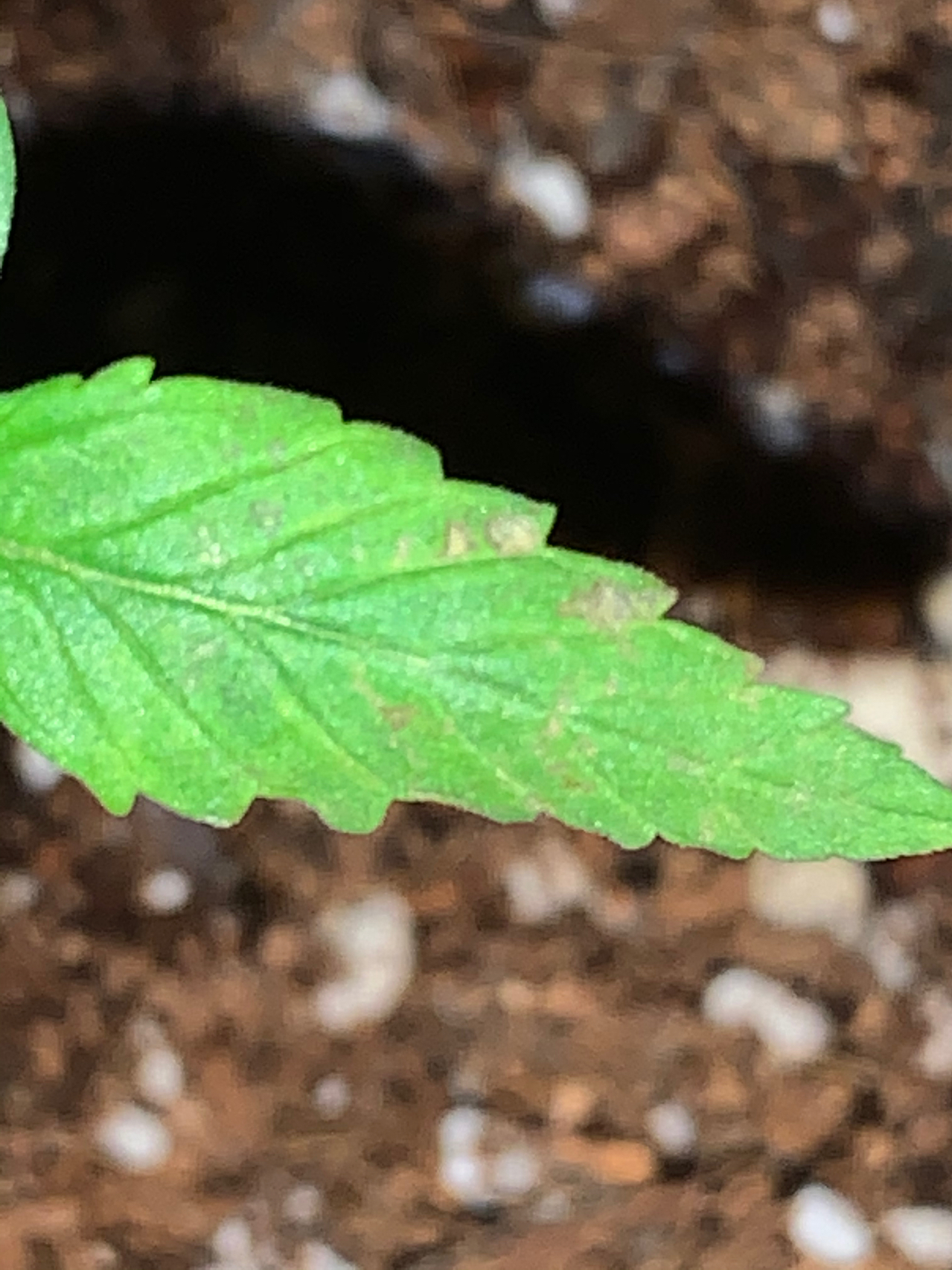 My blueberry has developed this . I fear nutrient overdose or light burn. Cc needed. It just this plant
3 years ago
Pepsi Haven't watered for 2 day . Humidifier on . Temperature was low last night around 17.c
Dazz82 Have you accidentally dripped some feed on to the leafs? If it was nute burn it would be on the very tips of the leafs and probably look white. Maybe the beginning of a potassium deficiency but you plant looks to young for that...
Pepsi Think my humidifier was to high . Was causing droplets on my leaves .
Very happy to see the next set of leaves forming. First picture is a blueberry auto 2nd amnesia 3rd badazz og
3 years ago
Pepsi Cc needed Are colours of the plants ok ?
Quick up date nothing really changed. No water today Blueberry in the picture . Now about the same size as my clipper . Will find a ruler and get an accurate measure
3 years ago
Pepsi 2nd picture a Cali orange the one with the mark . Seem to be going away
Plantman Pepsi, I just posted a couple of pics from a single flower from my last batch for your enjoyment. Had a few people test it, and the average high from 3 strong bong hits was roughly 13 hours. I have a test crew that tests everything before it ever leaves here. Hope you enjoy the pics
Everything seems to be Ok. I have raised the pots and lowered the lights. Plants seem to have liked there first feed. Blueberry doing well. And the smaller ones are catching up. The plants with the white mark. Haven't got no worst. So whatever it is hoping will go away. Blueberry in the picture . You can just see the white tip. Also amnesia has only 3 leaves . What does that mean ? Cc welcomed
3 years ago
Plantman Come on Dude! Seriously? You expect anyone to believe the seeds cracked one day, we're out of the media the next day, grew 3 inches on the next day and so on? Seriously? Give it a break! We use this forum as a way to help each other, not to blatantly lie to people!
Pepsi But that's what happened why would I lie this is my first time. I don't know what to say about that . I take it that it's very unusual
Pepsi Well not exactly the way you say it. But I germinated last Saturday . And this is where I'm at today . I moved them to the soil early as , I thought the white marks were some sort of deficiency. So tHought that might help. Would love your feedback .in why you thought I might be lying like I said it's my first time and I you tubed like crazy fir about a month.im here to learn too. So please don't think this is a dupe.
View 4 additional comments
Plants are doing par but 3 . White edges have appeared. (Cc needed) what could that be ? Today I planted in soil mix I prepared. But added worm casting as topsoil. Used rooting powder to transplant. Sprinkled in hole . Gave them there first feed . I'm using ph perfect bloom , micro and veg . Today feed 8mls of each mixed with 4 litres of tap water. Did not ph the water.
3 years ago
So all seeds but 2 have sprouted. We are seeing 2 leaves . Og cheese is in 1st place 2nd place blueberry and ammi and Cali orange are doing about the same. Question should I leave in the dome? Should I start 18/6 hours of light now ?
3 years ago
Pepsi So have taken done off. Light schedule 18hrs on 6hrs off. Humidity level seem stable and temperatures. Have put fan on to increase stem strength. Co2 bag is in tent also. Will water when needed . Root riot is very moist no water needed today . Any cc welcomed
All seed had tap roots. Today planted in root riot . And placed in dome. Light on for 18 hours 6 off.
3 years ago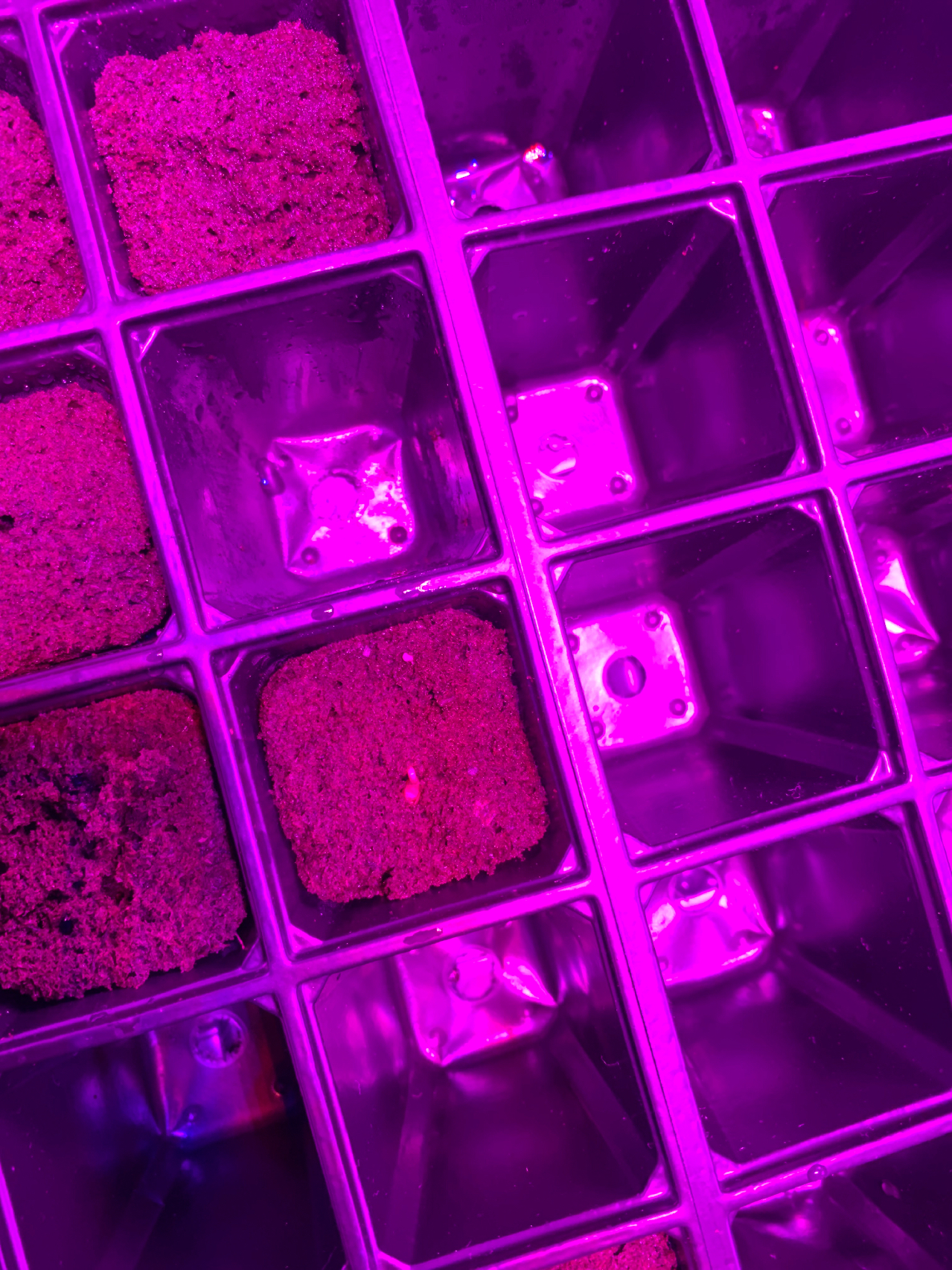 Blueberry is peeking through
3 years ago
Badazz og has sprouted
3 years ago
Germination 4strains Amnesia auto fem Badazz og cheese fem Blueberry fem California orange fem All seeds from seedman. Question should I put light on the proper gator. While I'm germinating?
3 years ago
leland3471 Nah. No light needed. I usually throw the paper towel inside a plastic baggie
020grower Je can add light when you them inside the soil en spray the inside of grow box
Have just flushed soil in prep. For seeds that will be arriving to Tommorow. Will update on what I decide to germinate.
3 years ago