The Mainline "Mix" Project
Fall '20
5 seeds were ordered. Plants will be heavily topped and LST. The 5 Strains are: White Widow, Original Highway Delight, Amnesia - K2 and Big Bud. One did not germinate. ( only the lord knows which one. I'm just hoping it's NOT Big Bud. ) Seed are planted in a quality non-fertilizer potting mix and will be transplanted/grown in cloth/smart pots. All waterings will include CalMag and Molasses during veg and bloom. Molasses are being added during veg to promote natural biological bacteria in soil. Previous grows have shown immense growth when feeding during veg also. Plants are fed RO/DI ( or captures rain water) only till pots drip heavily doing minor flushing techniques to ensure proper saturation. Water dates are determined by weight of plant/pot. VEG will be a Slow grow under cheap white Chinese LEDs. Lights have been dropped to 12" due to low wattage. LEDs has proven effective for my sufficient needs when kept close. Bloom tent has Spider Farmer2000, carbon filter/4" fan, and currently has no vacancy. Comments/advice accepted as project continues. #2/Blue is Amnesia -Sativa
Feminized maririjuana mix
Original Highway Delight has been harvested.
3 years ago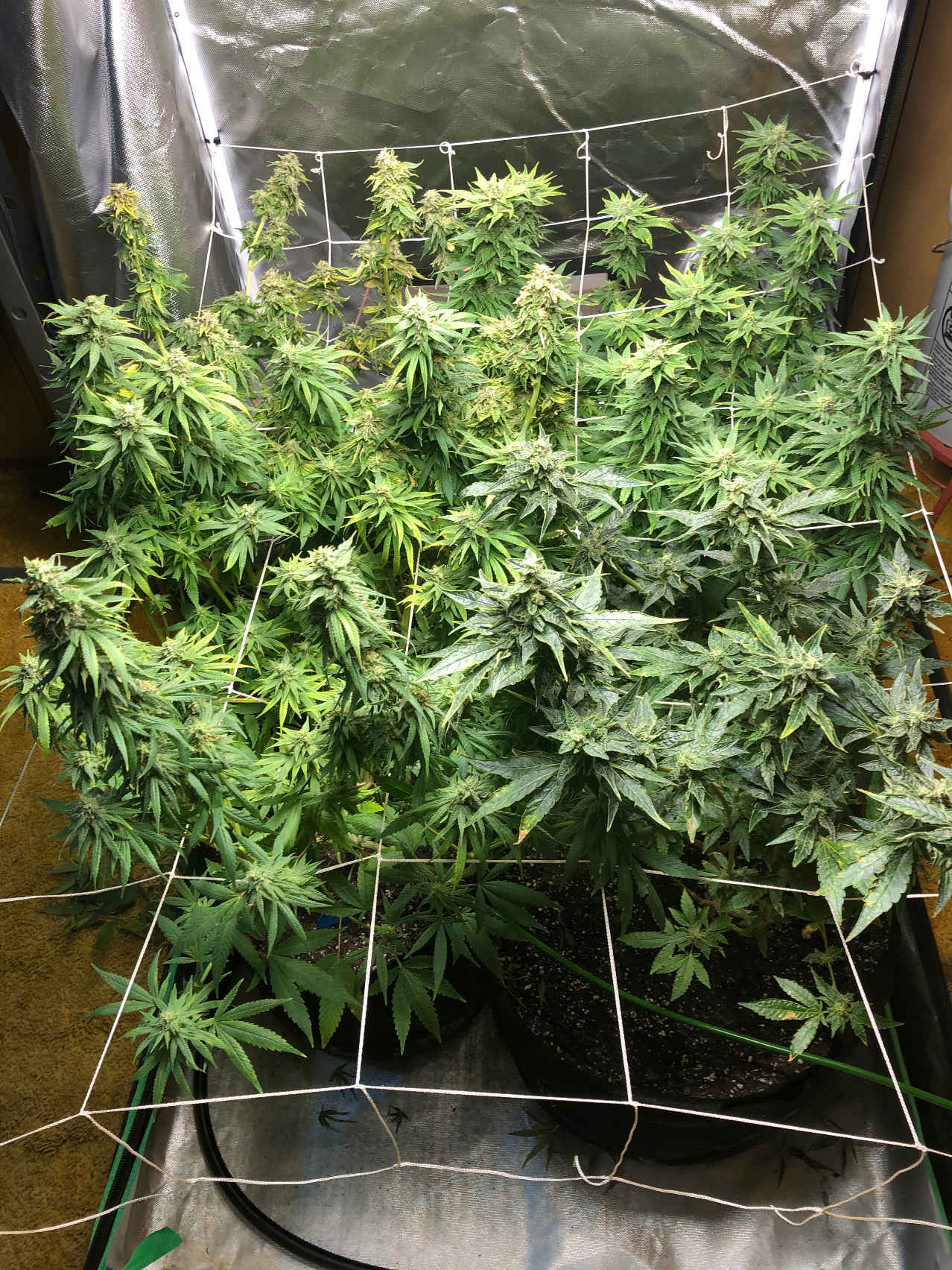 WEEK 7 Removed all fan leaves
3 years ago
Removed to net.
3 years ago
Moved the tent to access all plants.
3 years ago
All 4 strains have clearly showed differences in maturity and harvest dates.
3 years ago
A Lil bend here, a little bend there....
3 years ago
Began "Green Cleaner" treatment for spider mites.
3 years ago
Week 3 defoliation
3 years ago
I just L❤️VE the way flowers are starting to pop up in every little square.
3 years ago
4" scrog net added.
3 years ago
Plants are getting too tall. Lst on #3,4 were bent back to edge of pots. Irrigation system ROCKS ! Watering has become a breeze just add water to my Resovoir, turn on pump and everyone gets drip fed. Bent #2 back
3 years ago
Installed custom drop irrigation system. Never knew how easy watering/feeding could be. Day 3 Bloom. The growth with this soil and these strains is incredible. I had the raise the light almost 1" today.
3 years ago
The girls have been moved into their final test place in the tent. Veg will continue and change to bloom Oct 1, so it will be ready for X-Mas. Phoenix Revenge has been added to the mix and will bloom with the girls. 5-5G pots should FILL my 4x2 tent nicely.
3 years ago
The "mix" will enter bloom tent, and bloom status when harvest of White Widow is complete with drying process
3 years ago
Now that white widow harvest is done. I can devote my attention to the mainline mix
3 years ago
GranDaddyPuff #2(blue) is definitely Amnesia (Sativa). Of the 4, none are clearly White Widow. ( this is good, I have 2 in bloom and clones) 1,3, and 4 ARE K2, Big Bud and Highway delight. just don't know which ...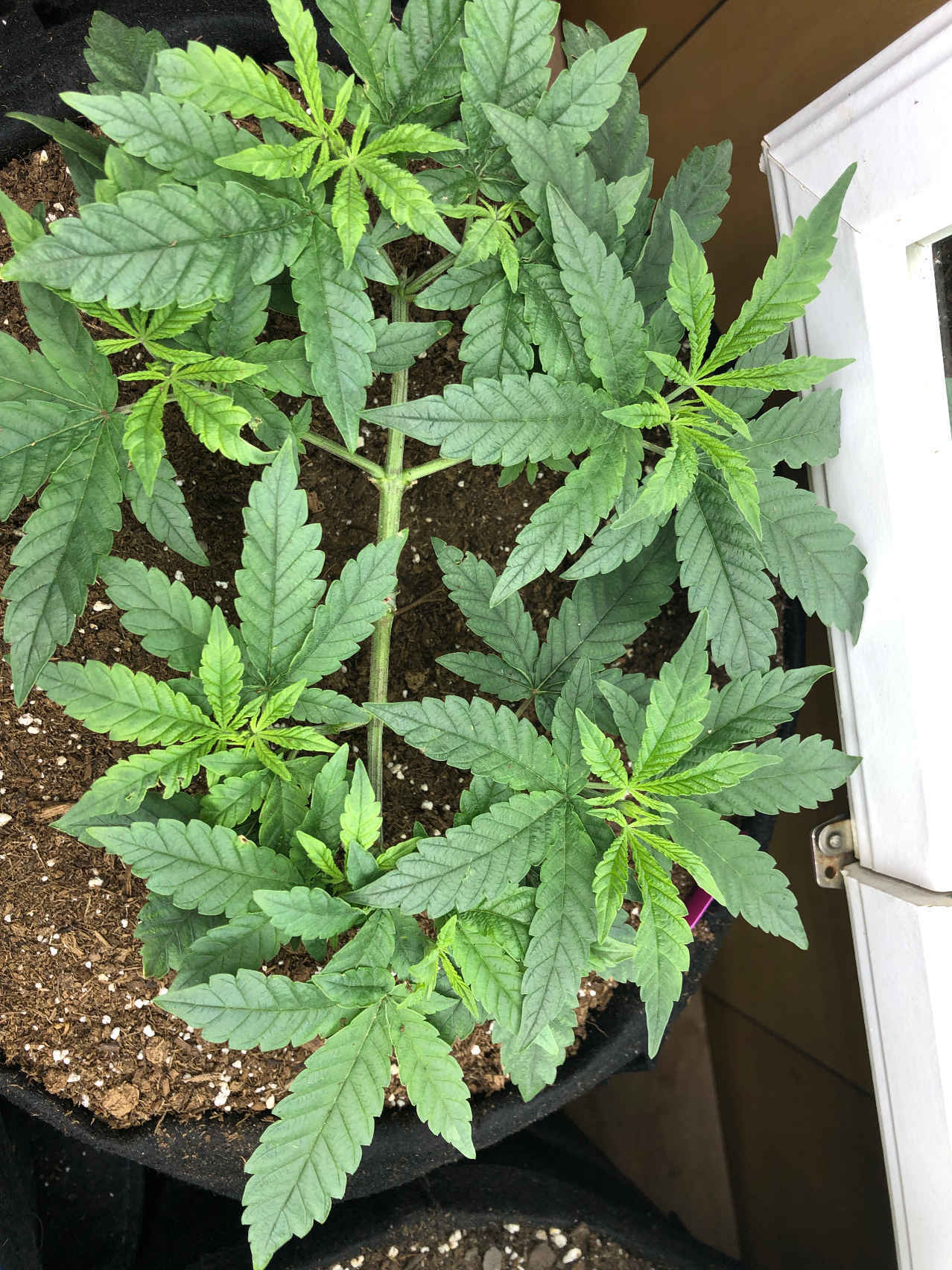 Released all the pins, and set the girls free today.
3 years ago
Nice growth everywhere.
3 years ago
Did some more readjustments
3 years ago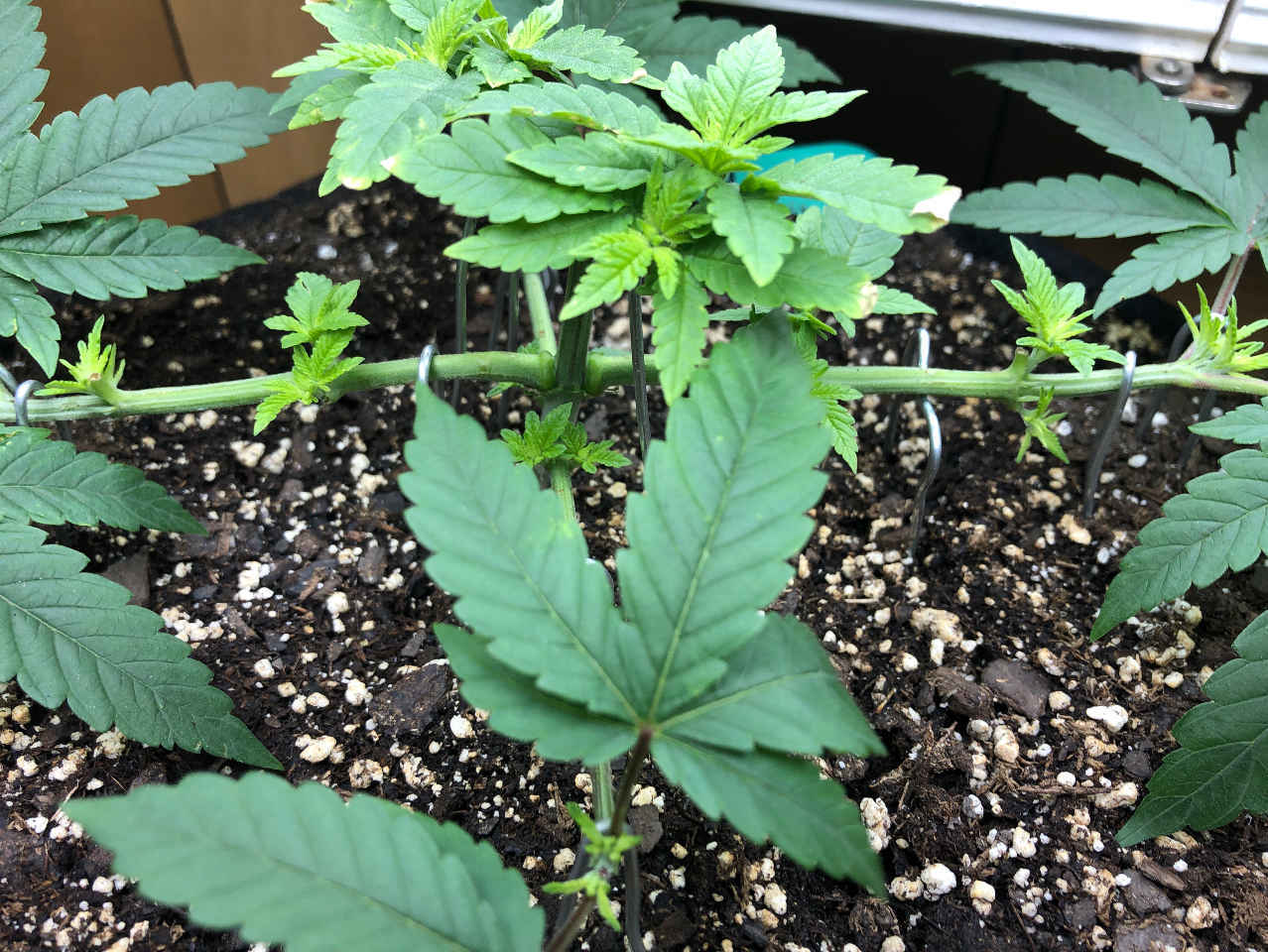 Lots of great new growth since the transplant and heavy watering
3 years ago
The tips of some of my young leaves are starting to turn a little brown, I'm wondering if it is in from the soil being too strong. A little extra watery might help on that situation no nutrients have been given lightly
3 years ago
Maddawg313 I like your stress training techniques hope you don't mind when I mimic
GranDaddyPuff I got inspiration from someone on this page also please feel free
Three remaining plants have been repotted into5 gallon cloth smart pots
3 years ago
GranDaddyPuff Plants #2,3 have received an extra 45° twist of the main stem on the first (uppermost node) to offset the main colas.
GranDaddyPuff All four plants are looking great. Main-lining will continue, to spread plants out wide until in a 5G pot and the edges are reached.
GranDaddyPuff They very interesting part is growing 4 different stains. Some Pure Sativa/Indica and some hybrids. Every plant definitely shows individualism's
All plants training have begun.
3 years ago
iiExoDiA Oof they look great. Gotta wait for the next season to start another one (outdoor)
All have been topped for a second and final time. #1 has been tied back.
3 years ago
#1 healthy and growing single transplant. All others continue to vegetate as plan.
3 years ago
#1 transplanted into 5G cloth/smart pot
3 years ago
Topped #2,3,4 down to 3rd node.
3 years ago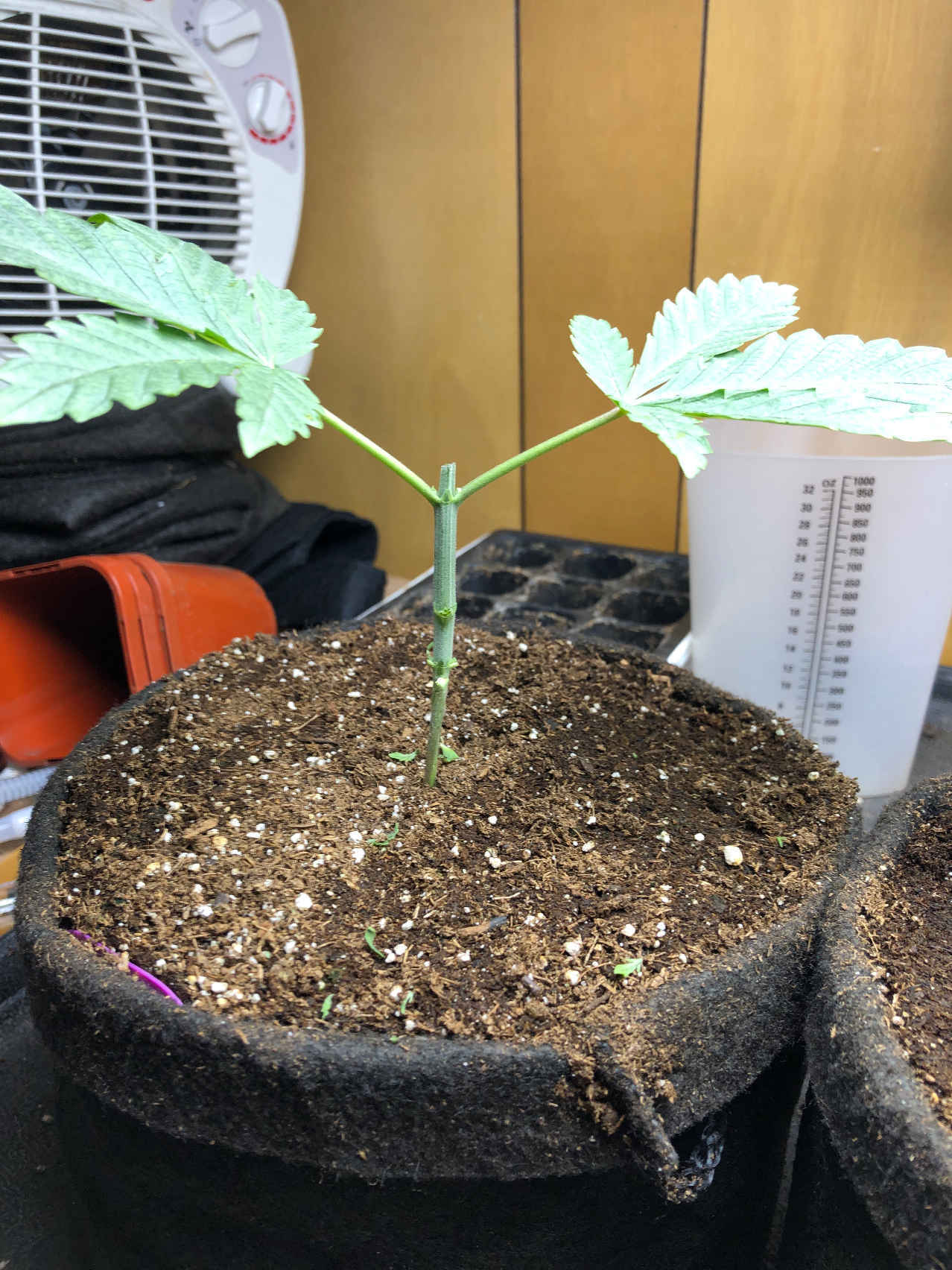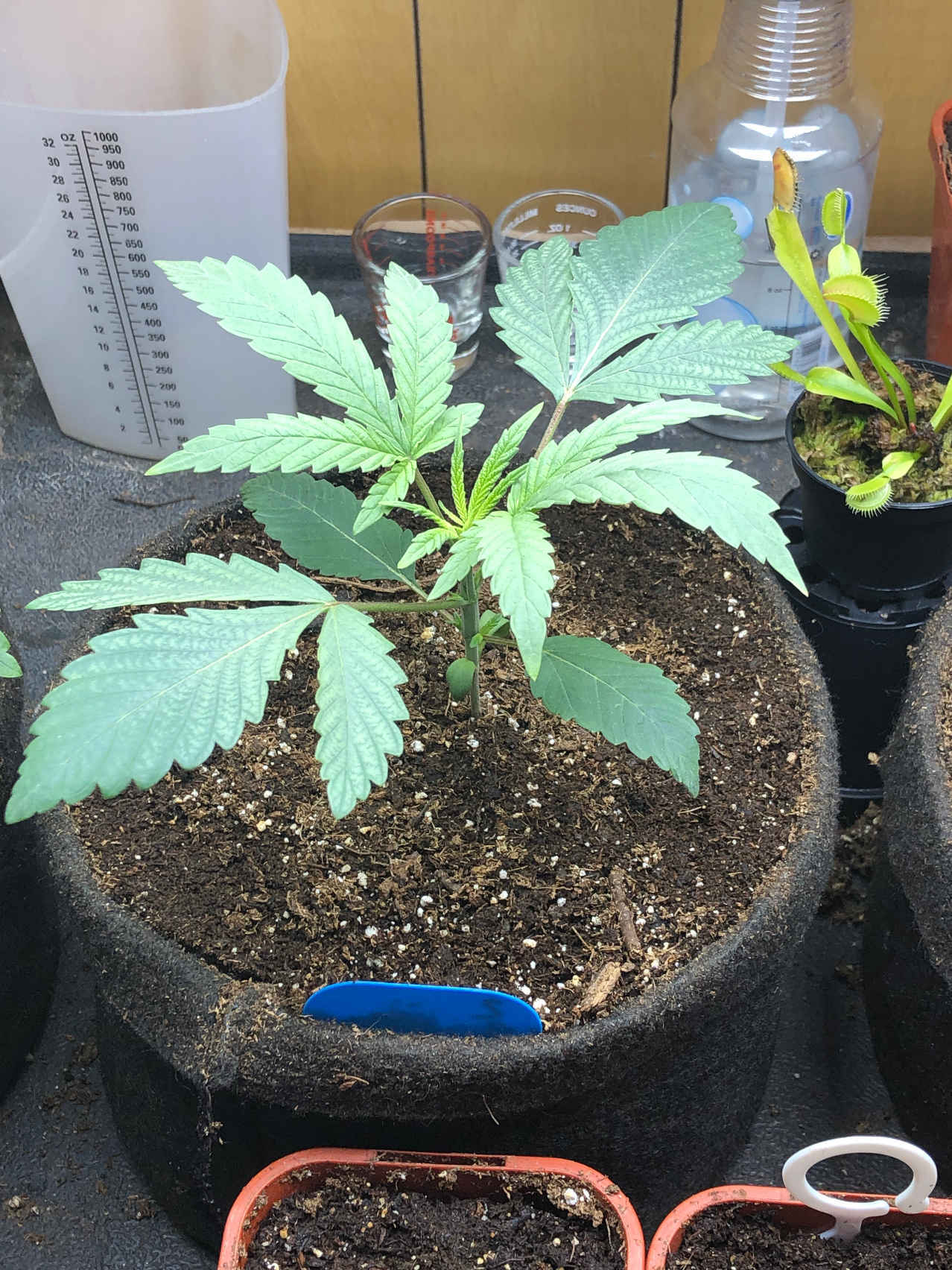 Everyone looks happy this morning.
3 years ago
GranDaddyPuff With a digital loupe they are all showing their beautiful gender already.
5th seed never sprouted.. plants transplanted 1G cloth pots.
3 years ago
3 have sprouted. Still waiting on the other 2. I germinated them later than the other 3. Tail have sprouted and seeds planted.
3 years ago
Germinated. And planted.
3 years ago