NL EXPRESS AUTO
Phoenix seeds
All popped same time same day September 18th, 4 days after planting in first and final pots.
Phoenix Seeds Northern Lights Express Auto
92 days from seed, dried and ready for the cure. Final dry weight is 89.12G! Smoked a good 10G along the way so can assume total harvest would've been almost exactly 100G of homegrown organic cannabis! For a first time grow I've definitely done a reasonably good job bringing all four plants to past the finishing line, partly down to me but more than likely more so down the the solid genetics of the three northern lights express autos from Phoenix Seeds and the one pineapple glue from Advanced Seeds. Either way I've got a good 2 months of smoke, just need to let it cure for at least a week, hopefully two weeks or more though If I can make it that long :D. What I would do differently next time around is as follows: *Check soil and water pH from the get-go, making sure to keep it in the range of 5.8-6.8 for strong and healthy growth and to avoid nutrient deficiency and if I do spot it to tackle it early on (pretty sure this stunted these ladies in terms of growth and yield) but I know now for next time.
3 years ago
Left in dark for 12 hours then chopped, trimmed and now hung to dry at about 50%rh. No signs of pests or mould throughout the entire grow so looks like I've been quite lucky and will have some nice fruits to smoke from all four specimens.
3 years ago
Very very veeeeeery close! Still not enough cloudy/amber though.
3 years ago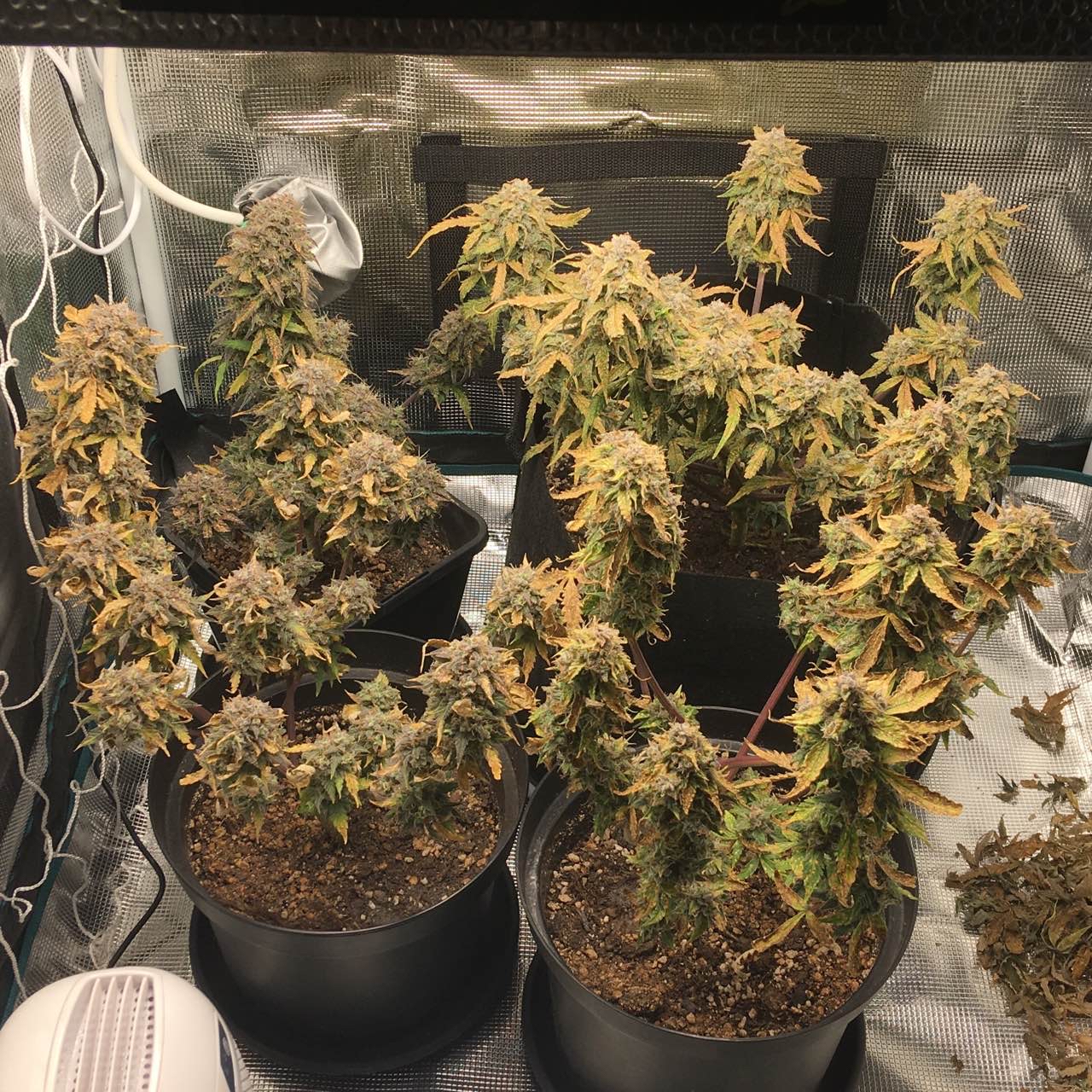 79 about half way through flushing/ 2 weeks water
3 years ago
78 - last couple days now until the chop. I'm still not seeing many cloudy or really any amber trichs so hoping they come on soon. Will chop when they're mostly cloudy.
3 years ago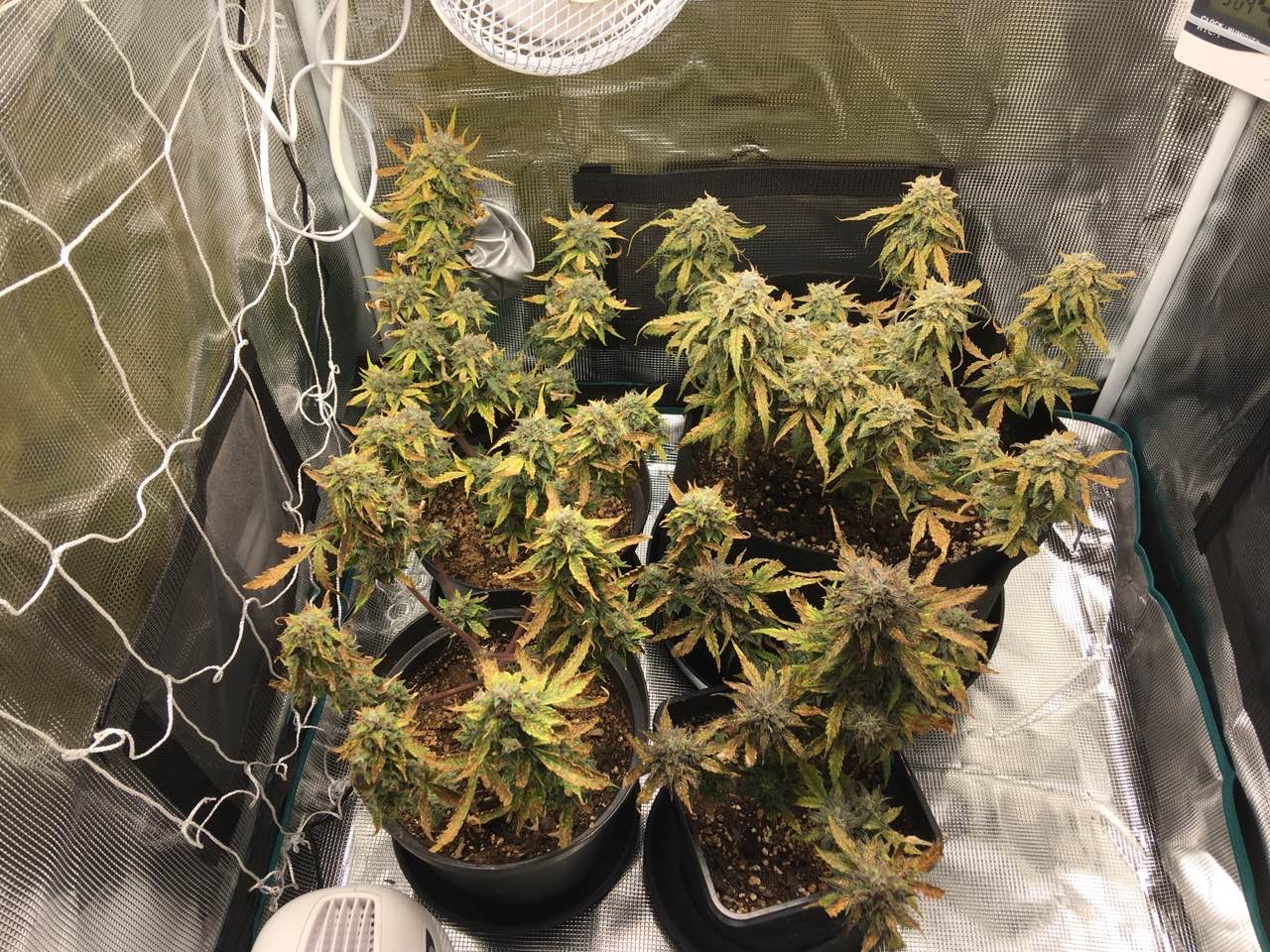 Day 70 from sprout. Also the last pic is a small larf nug taken from the topped northern lights, dried for three days and smoked today. Needed a day or two longer drying and definitely a cure for taste and high. Also was premature I just wanted to try it out. All in all, this is the first bud I've harvested and smoked from my first ever grow.
3 years ago
Day 68 from sprout
3 years ago
Watered again 7ph no nutes now.
3 years ago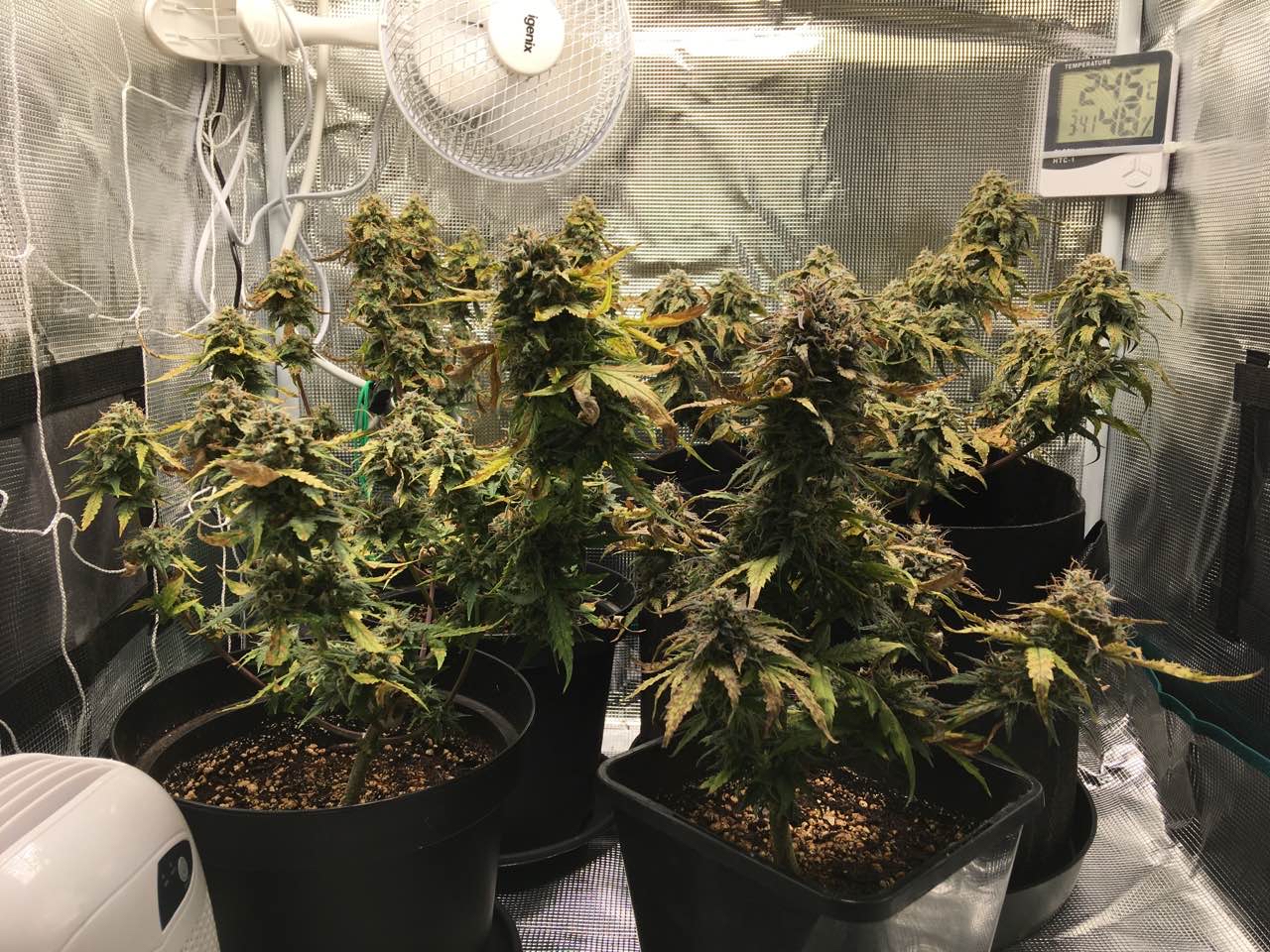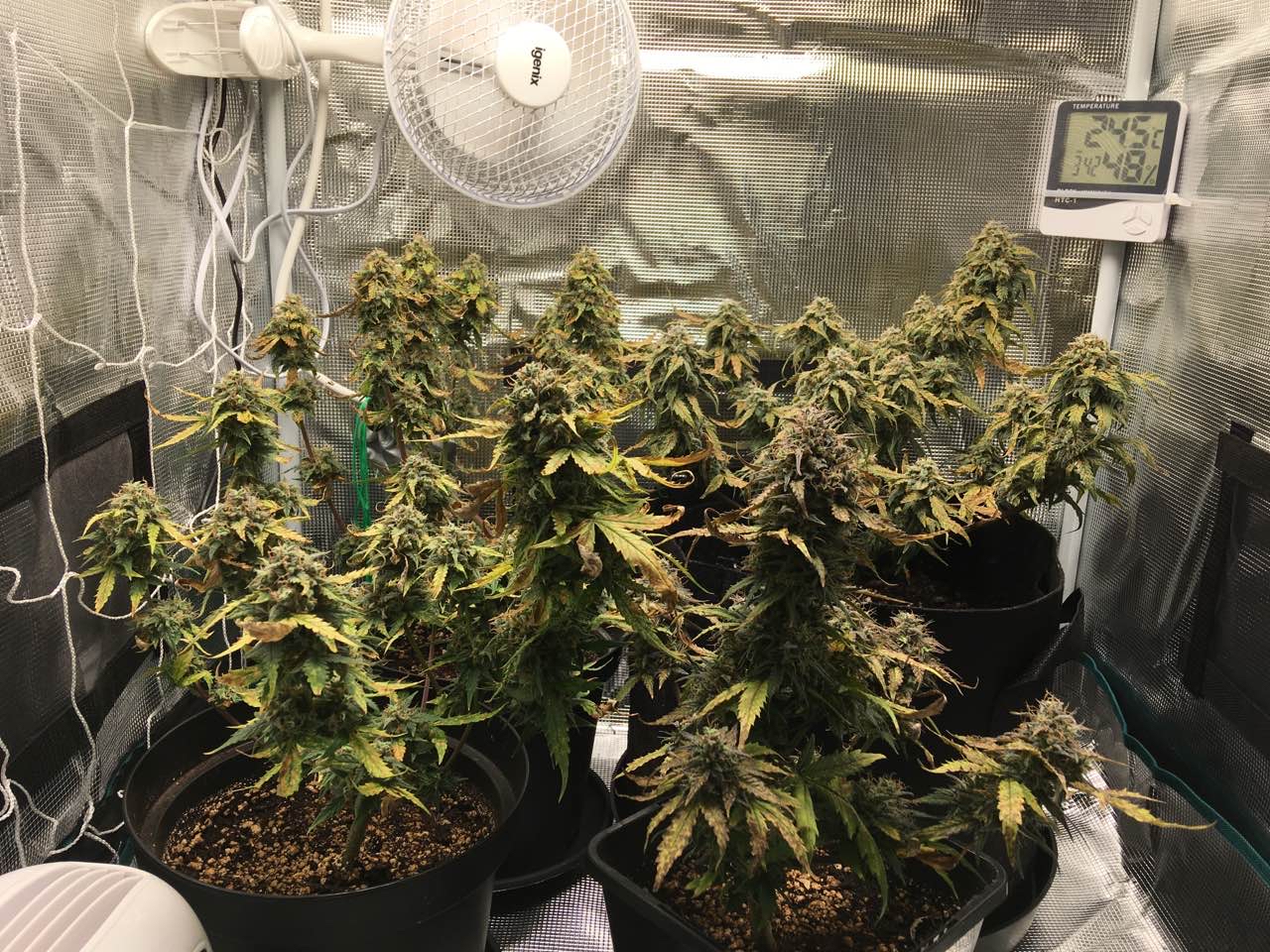 Watered just water 7ph they'll be done in a week or two.
3 years ago
68 from seed, 64 from when seeds sprouted
3 years ago
Watered 3 NLs with just water and a little calmag 7ph
3 years ago
Looking pretty good
3 years ago
Watered with nutes @ 6.5 ph
3 years ago
Watered with just water today at 7ph
3 years ago
58 watered yesterday, average ph is 6.5-7 now.
3 years ago
55, soils testing at about 7ph on all 3 NLs now which is good. Hopefully they pull through and start looking a little better before they're done!
3 years ago
Leaving to dry out a little now as have over watered in trying to correct ph. They haven't gotten much worse though one is getting a little yellow but still looks good. I've lowered the light a good 20-30cm so it's about 18 inches from canopy as I believe they're in to full flower now and probably have about 30 days to go. Hopes are that they'll bulk out in the coming week or two and so on.
3 years ago
51, not looking too much worse with the deficiencies, hopefully things are turning around. Maybe 30 days until harvest?
3 years ago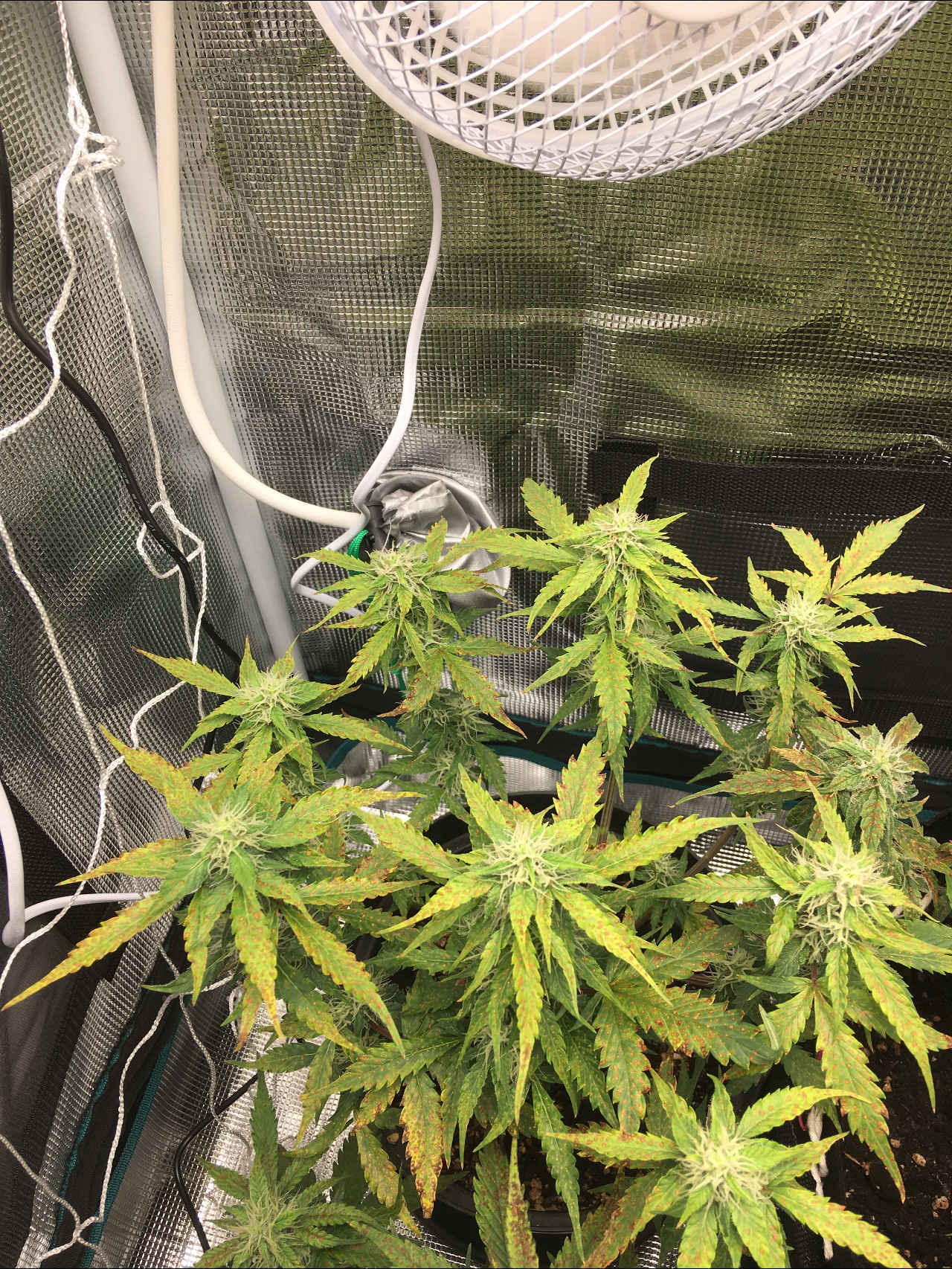 Watered at 7ph
3 years ago
There is a serious deficiency, I think it might be a combo of ph issue (tested 5-5.5ph) in all plants soils in past 2-3 weeks, I should have tested ph from the get-go but I didn't I only tested from about week 4 on as I didn't have a digital ph meter before hand thinking I would just get away with tap water and not testing but I was definitely wrong. I added peat moss to the biobizz allmix soil which has a ph of between 3.5 and 4 (which I didn't realise or even think of) and that combined with allmix which I'm pretty sure is slightly acidic in the first place had made my medium very on the acidic side, probably at about 5 from the beginning until now. I've been trying to amend with 7ph waterings, using eco thrive neutralise to eliminate Chlorine from water and ph+ from biobizz to raise ph of watering solution to 7 to (hopefully) increase soil ph. I have tested the soil in each a day after adding dolomite lime to the mix and having watered the day before with 7ph solution, and today the ph in most of them is about 6 (between 5.5 and 6) hopefully in the next week or so I can get ph up to a good 6-6.5.
3 years ago
Finally added some dolomite lime and gave another 7ph watering to all 4, need to leave for at least 4 days now without water as they've had too much recently but I need to get the ph up to acceptable levels
3 years ago
Heavy defoliation due to low soil ph killing leaves off. Fed with ph+ yesterday.
3 years ago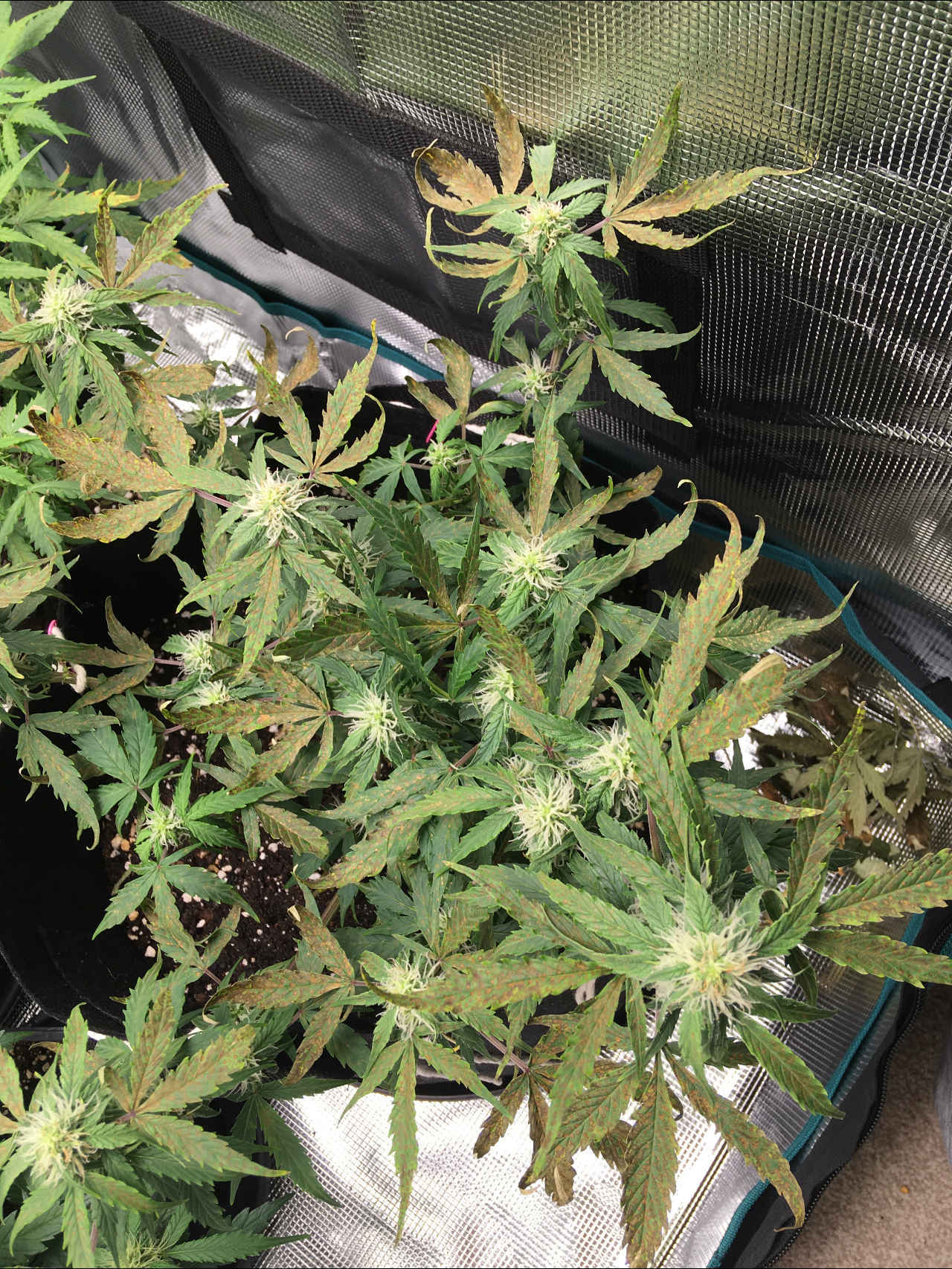 Watered with top max to make water ph 6 rather than 5. Getting lime soon to even the ph out.
3 years ago
Still watering with nutes at full strength, they're fully into flower now, should start bulking out in the next few weeks. Added dehumidifier to keep RH under 60% if possible.
3 years ago
Fed and watered
3 years ago
Watered with all biobizz nutrients and calmag YESTERDAY, but it didn't upload correctly. Picture from today. I think they're looking a bit better, time will tell.
3 years ago
Looks like it's starting to flower, started feeding biobizz calmag, bloom and top max
3 years ago
Defoliated some affected leaves on all three NLs due to possible low soil pH (5ish) and also possibly due to lack of calcium/magnesium. Watered with biobizz grow nutes.
3 years ago
D25 continued with LST and took a leaf off the big one to open up space for lower bud sites
3 years ago
Topped one and LST all three NL
3 years ago
Not much to say yet, watering every couple of days when they need it, just letting the roots work for it for now.
3 years ago
All 3 NL autos almost 3 inches on a 18/6 light cycle
3 years ago
2 days after seedlings sprouted
3 years ago
Growlow Added one pineapple glue to the mix about a week late
Day they appeared/broke through soil
3 years ago